No risk it, no biscuit for BC QB Vernon Adams Jr.: His 26 big-time throws lead the league, but so do his 16 turnover-worthy plays. He leads the league with 80 deep attempts (20-plus yard throws), and that number is 24 more than second place.
Blue Bombers WR Nic Demski quietly playing at elite level: He's currently on pace for his first 1000-yard season and his 74.7 overall grade ranks third among all CFL receivers with at least 150 snaps. Winnipeg QBs have a rating of 142.3 this season when targeting Demski, second highest in the league
Edmonton QB Tre Ford keeps on rolling: While he hasn't played enough snaps to truly qualify, his overall grade of 91.7 is first in the entire CFL. That just shows how good of a stretch he's been on.
 Estimated reading time: 9 minutes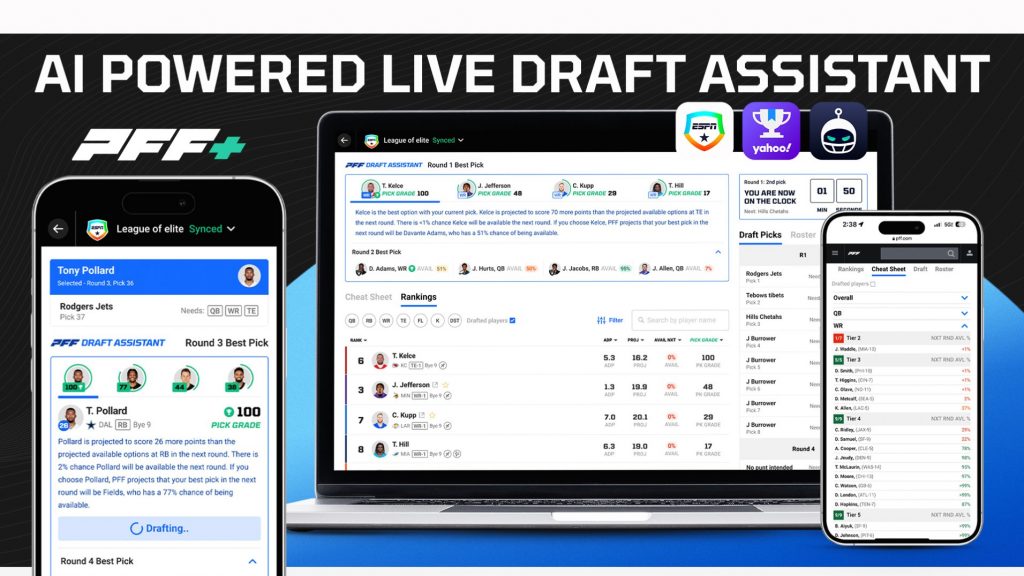 ---
With the clock ticking down to another exciting weekend of Canadian football, here is PFF's CFL Week 13 preview, highlighting the must-watch matchups and players set to shine on the field.
---
Click here for more PFF tools:
Rankings & Projections | WR/CB Matchup Chart | NFL & NCAA Betting Dashboards | NFL Player Props Tool | NFL & NCAA Power Rankings
Best Bets Tool
---
BRITISH COLUMBIA LIONS VS. MONTREAL ALOUETTES
Last week was tough for both of these teams. The Alouettes were hammered by the Winnipeg Blue Bombers in a game where they scored just three offensive points. The Lions were also crushed by the then 3-6 Hamilton Tiger-Cats. They're both looking to bounce back this week and get back on track. The Alouettes will need a big game from QB Cody Fajardo if they want to take this win. Fajardo hasn't had the best season, with a 72.9 overall grade that ranks 11th out of 17 qualified quarterbacks. The Lions defense is incredibly tough, led by elite cornerback Garry Peters (86.1 overall grade, highest defensive grade) and top-notch edge rusher Mathieu Betts (league-leading 50 total pressures). If Fajardo can't move the ball against them, it'll be tough for the Alouettes to come out on top.
MATCHUP TO WATCH: LG ANDREW PEIRSON, BRITISH COLUMBIA VS. DI MUSTAFA JOHNSON, MONTREAL
It has not been the greatest season for BC's Peirson. He is the lowest-graded left guard in terms of overall grade, and his 36.7 pass-blocking grade ranks second lowest among all starting offensive linemen. He's allowed 35 total pressures, the third-most in the CFL. He'll have his work cut out for him this week against Johnson, the CFL's highest-graded pass-rusher (87.7 pass-rush grade). Johnson has been an absolute beast from the interior this year. His 42 total pressures rank first among interior defenders, and it's 10 more than second place. Johnson is capable of completely wrecking a passing offense. If he can do it here, it might swing the game in Montreal's favor.
PLAYER TO WATCH: QB VERNON ADAMS JR., BRITISH COLUMBIA
The CFL has had its fair share of no-risk-it-no-biscuit style quarterbacks over the years. This year, Adams is leading the charge in that regard. His 26 big-time throws lead the league, but so do his 16 turnover-worthy plays. He leads the league with 80 deep attempts (20-plus yard throws), and that number is 24 more than second place. His average depth of target of 13.0 yards is first in the CFL. Adams is your classic chuck-it-deep quarterback and that makes him a must-watch every week. It's why his 85.1 passing grade ranks him third among qualified CFL quarterbacks, just barely trailing Toronto's Chad Kelly and Winnipeg's Zach Collaros.
---
WINNIPEG BLUE BOMBERS VS. SASKATCHEWAN ROUGHRIDERS
Last week was a strange one for the Bombers and QB Zach Collaros. They blew out the Montreal Alouettes 47-17, but Collaros threw two pick-sixes and finished with a 52.3 overall grade on the game, his worst of the season by far. If Collaros can play that poorly and the Bombers still win by 30 points, that has to scare the Roughriders, who are coming off their bye week but will look to build off a big win over the BC Lions in Week 11. They'll hope to get a good game out of QB Jake Dolegala, who was named the starter for this game. Dolegala's raw numbers looked good in his Week 11 start, as he had a couple of big-time throws, but he also produced three turnover-worthy plays and finished with an exactly average passing grade of 60.0. If he can clean up the not-so-good throws, he has the tools to be a good quarterback and help get the Roughriders' season back on track.
MATCHUP TO WATCH: WR NIC DEMSKI, WINNIPEG VS. HB DEONTAI WILLIAMS, SASKATCHEWAN
While Dalton Schoen and Kenny Lawler get a lot of the attention for the Bombers, Demski should be getting just as much of it. He's currently on pace for his first 1,000-yard season, and his 74.7 overall grade ranks third among all CFL receivers with at least 150 snaps. Winnipeg QBs have a 142.3 passer rating this season when targeting Demski, second highest in the league. He'll see a lot of Williams this week, who isn't having quite the same level of success this season. Williams has given up 17 catches for 221 yards and a touchdown this season and his 68.6 coverage grade ranks in the middle of the pack for halfbacks. Nonetheless, he does have an interception and five pass breakups. If Williams can at least slow Demski down, that could be huge for the Roughriders' chances in this game.
PLAYER TO WATCH: RB BRADY OLIVEIRA, WINNIPEG
No team has fed the ball to their running back like the Bombers have with Oliveira. The Canadian sensation currently leads the league with 902 rushing yards on 158 attempts. Second place is 638 yards and 131 attempts. However, it's not just volume, as Oliveira is one of the highest-graded RBs in the league at 89.3. He has only been stopped for no gain or less on 12 of his 158 attempts, the lowest percentage in the league. Winnipeg is able to get a lead with its elite passing attack and then coast by just feeding the ball to Oliveira, knowing that he'll churn out positive yards almost every time and allow them to have an easy path to victory. If Saskatchewan can bottle him up, it might stand a chance.
---
TORONTO ARGONAUTS VS. HAMILTON TIGER-CATS
What a Week 12 it was for the Hamilton Tiger-Cats, as they not only upset the heavily favored BC Lions, but they did so in dominant fashion with a 30-13 win. QB Taylor Powell played a safe game (69.9 passing grade, no turnover-worthy plays or big-time throws), and they leaned heavily on top running back James Butler, who did not let them down. They'll have their work cut out for them this week as they take on the top-seeded Toronto Argonauts. The Argos are coming off a big win over the Calgary Stampeders last week and will look to lean on do-it-all RB A.J. Ouellette, who currently has an 89.6 overall grade on the season. That's better than any player not named Chad Kelly. Toronto is rightfully favored in this Labor Day showdown, but Hamilton is more than capable of pulling off another big upset.
MATCHUP TO WATCH: WR DAMONTE COXIE, TORONTO VS. CB RICHARD LEONARD, HAMILTON 
It's been a tough season for Coxie, as injuries have plagued what could have been a breakout sophomore season for the receiver. Last week saw a big return for him, as he caught three passes for 102 yards and a touchdown, one of them a contested catch. He's a tough big-bodied receiver that's hard to cover. That's where Leonard will come in. An undersized defender, Leonard started the year as a halfback but has since switched over to outside corner, and it's been a revelation. Since he made the switch in Week 8, his 83.1 coverage grade is second among outside corners. Quarterbacks have a 46.8 passer rating when targeting him. It won't be easy to shut down Coxie, but Leonard has proven he can step up and succeed.
PLAYER TO WATCH: QB CHAD KELLY, TORONTO
As we enter the home stretch of the season, Kelly is once again PFF's highest-graded player at 90.3 overall. His 16 big-time throws rank third in the league, and his 57.4% deep ball-adjusted completion rate ranks second. Kelly is also one of the best running quarterbacks in the league (80.8 rushing grade). He doesn't run a lot but when he does, it's with purpose and almost always comes at a crucial time. Kelly is putting together an MOP-level season, and he's the player to watch every week for this elite Argonauts team.
---
EDMONTON ELKS VS. CALGARY STAMPEDERS
The streak is over! Four years since their last home win, the Edmonton Elks finally got another thanks largely to the incredible play of their new starting QB, Canadian Tre Ford. While he hasn't played enough snaps to truly qualify, his 91.7 overall grade is first in the entire CFL. That just shows how good of a stretch he's been on. Trying to slow down the league's hottest team will be the Stamps, who are coming off a tough loss to the Argos last week. Calgary played well, especially quarterback Jake Maier, who finally had a good game that didn't result in a win (81.8 overall grade in Week 12). They'll want to build on that this week and see Maier put together a stretch of good games to get Calgary back in the win column.
MATCHUP TO WATCH: LT MARTEZ IVEY, EDMONTON VS. EDGE JULIAN HOWSARE, CALGARY
Before Ford took over at QB, Ivey was one of the lowest-graded pass-blocking left tackles in the league (49.6 pass-blocking grade). In the three weeks since, he's been one of the best (71.0). He's allowed zero sacks, zero hits and just four hurries in that span. Ivey has really settled down and anchored that left side of the line. Nevertheless, that won't be easy to do this week. Howsare has an 83.7 pass-rush grade on the year, which ranks fifth in the league. His 44 total pressures rank sixth, and his 15.3% pass-rush win rate also ranks sixth. There's no doubt that Howsare is one of the best pass-rushers in the CFL this year. If he can find success against Ivey, he could really throw a wrench in the Tre Ford hype train and help Calgary get that win.
PLAYER TO WATCH: CB KAI GRAY, EDMONTON
It's easy to talk about Ford and everyone knows to watch him. However, the Elks' rookie corner deserves some praise. It's been an up-and-down season for Gray, but he's really started to settle down and anchor one of the hardest positions in the CFL. Over the last three weeks, Gray has allowed just two catches on four targets for 33 yards. He's surrendering just 0.78 yards per coverage snap this season, which is the seventh-best mark in the league. He hasn't broken up many passes, but he has done a really good job of just playing tight coverage on every snap. He's looking like he could be a future star corner for the Elks if he keeps developing on his current path.