The Birmingham Iron outlasted the Salt Lake Stallions in a hard-fought battle, 12-9, as the Iron improved to 2-0 while dropping the Stallions to 0-2. Salt Lake was undone in a battle of special teams as their kicker missed three field goals and they squandered away a chance at easy points in the red zone on two separate occasions, including a fumble by Matt Asiata and a poor snap on a chipshot field goal.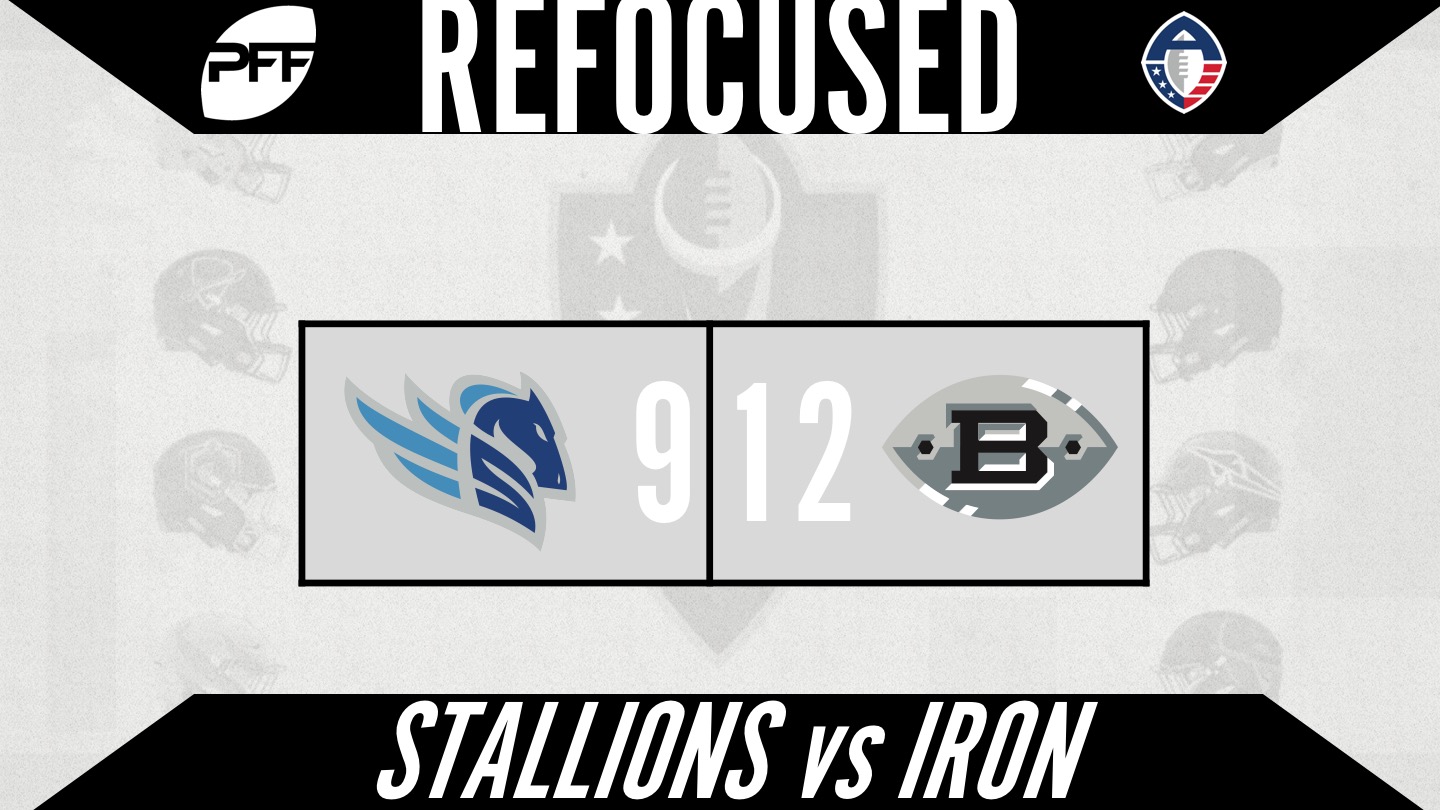 PFF's ReFocused series this season features immediate takeaways and a key to the victory from PFF's lead AAF analysts and grabbing quick first-run statistics from our team of analysts who watched every player on every play of the game. For more data and analysis from the game, utilize our Premium Stats 2.0 dashboard to expand your knowledge on the key players, signature stats and much more.

The Iron didn't take their first lead until late in the second half when Trent Richardson plunged in from 2 yards out with 5:53 remaining in the fourth quarter. Both teams missed their lone 2-point conversion attempts and multiple fumbles on punts and in the passing game made this contest a tough one to watch. Richardson finished the game with 19 attempts for 41 yards including 46 yards after contact.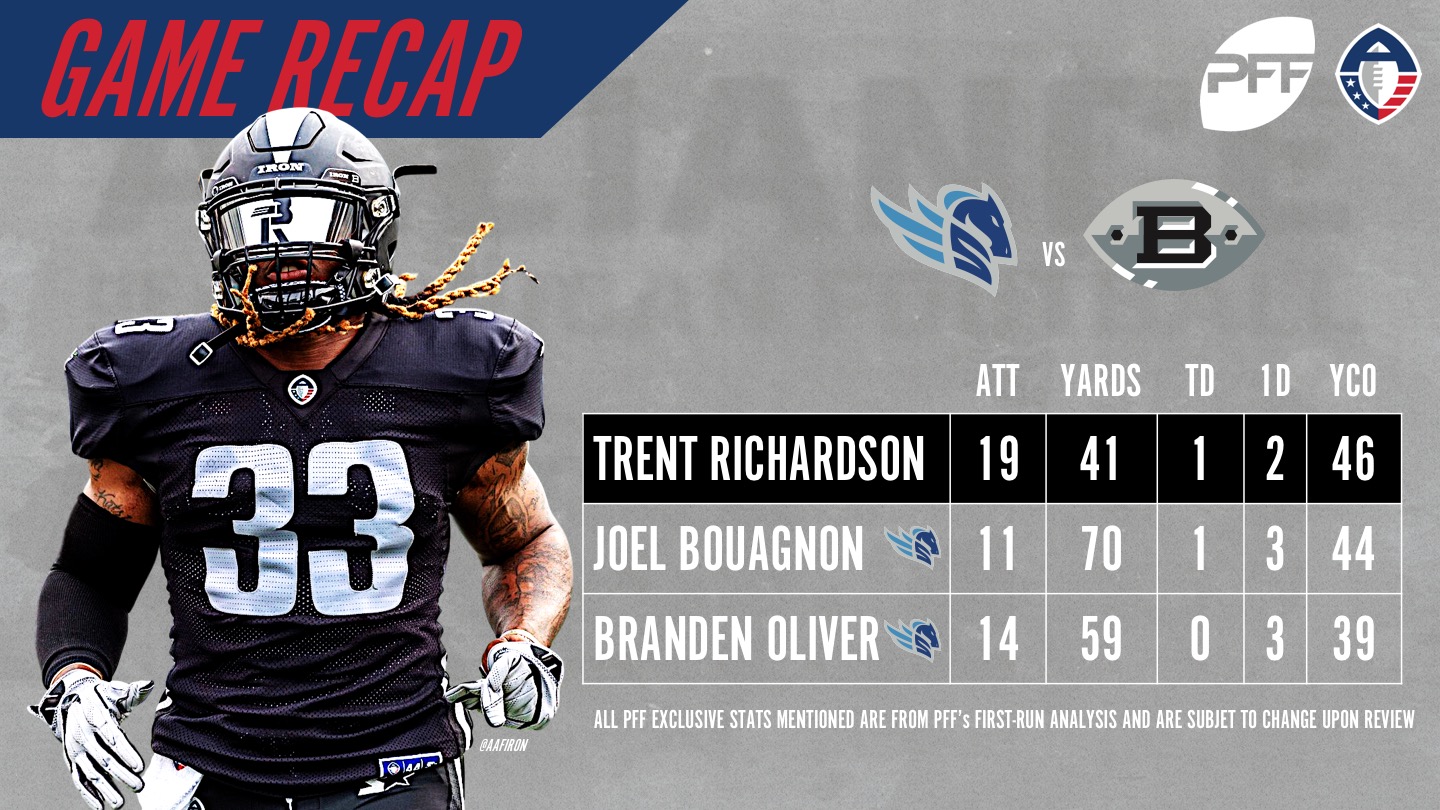 The rushing duo of Joel Bouagnon and Branden Oliver also impressed on the afternoon, gaining 44 and 39 of their combined 129 rushing yards after contact, respectively. Bouagnon's touchdown in the second quarter were the first points the Iron had allowed all season long and despite following that up with a late 50-yard field goal before halftime, those would be the only points the Stallions would score.
Stallions kicker Taylor Bertolet missed three field goals en route to the second consecutive loss for Salt Lake.
Birmingham QB Luis Perez, the talk of the town last week, had a largely disappointing day, completing 24-of-38 passes for just 184 yards. He averaged a depth of target of just 7.3 yards as he completed just 3-of-11 passes targeted at least 10 yards down the field.
The Iron defense played a pivotal role in this game after allowing 9 points (albeit, the lone touchdown came on a quick-field-changing-muffed punt), shutting down the Stallions offense in the second half. Cornerback Jamar Summers once again impressed, allowing just a single reception on five targeted passes, allowing a passer rating of just 39.6 when targeted.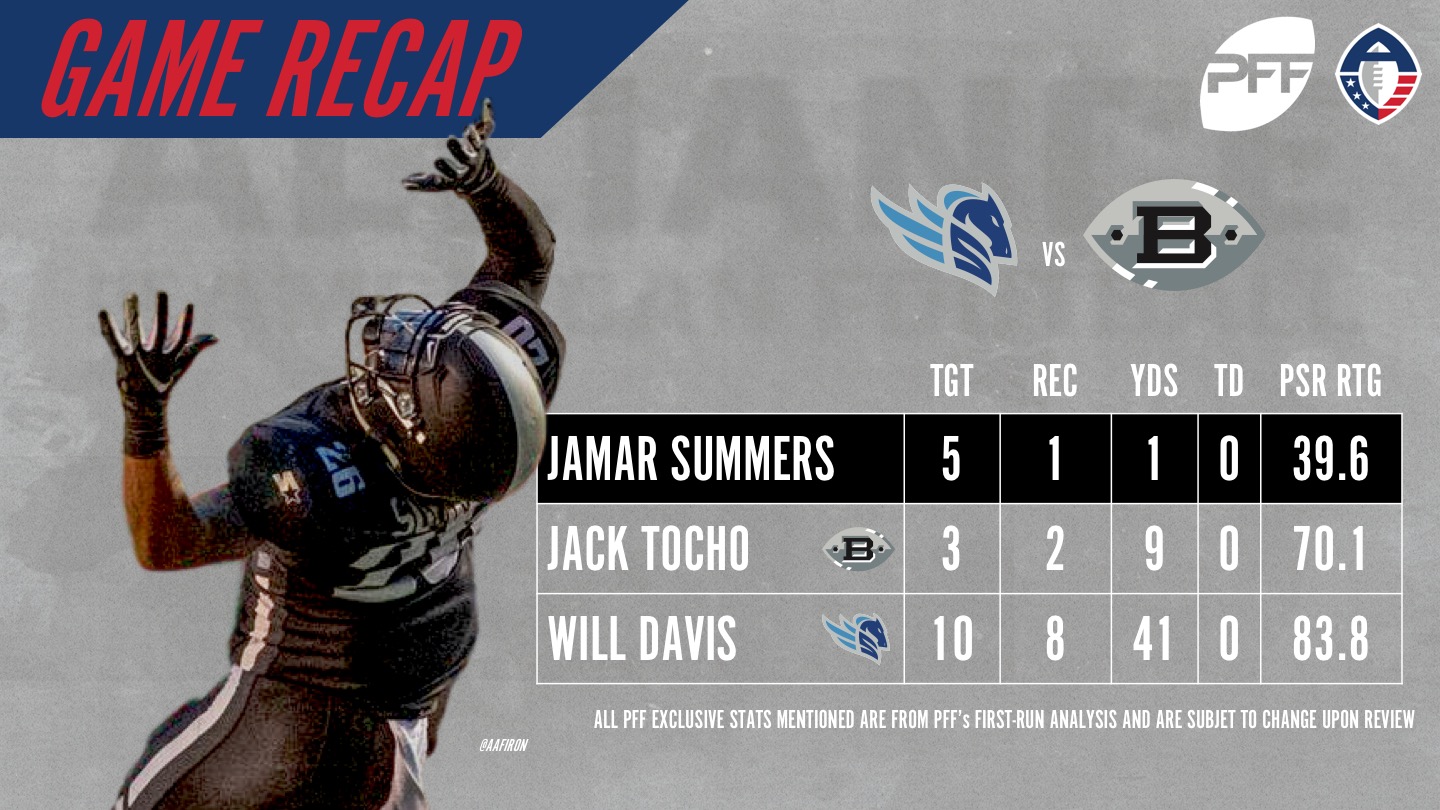 The Iron advance to 2-0 after outlasting the Stallions but must head out on the road for their first away game in franchise history in Week 3 while the Stallions will hold their long-awaited home opener next weekend.
[Editor's note: All exclusive data mentioned in PFF's ReFocused series for the AAF is from our first run and before final review. Statistics will be checked against the official game books for any inaccuracies while our team of analysts undergoes the final review process for several hours after the game's ending. All first-run data should be considered as subject to change upon review.]
For more access to AAF data – sign up for PFF Elite to check out grades and stats from every player on every play of every game from the 2019 season!