The second weekend of February brought with it a new realm of possibilities in 2019 with the kickoff to a new football league, The Alliance of American Football. Just days after the NFL's Super Bowl, the AAF took the football world by storm as they rode the wave of excitement that was another successful NFL season into their inaugural season.
Created and championed by Charlie Ebersol and Bill Polian, the AAF put forth a solid product of football that ultimately ceased football operations just eight weeks into the season despite positive fan reviews. We at Pro Football Focus began grading every single player on every single play of every single game with their first ever preseason contests and each week then thereafter.
The results from our analyst's hard work in mind, today we take a look back at what was a great product of football.
Player of the Year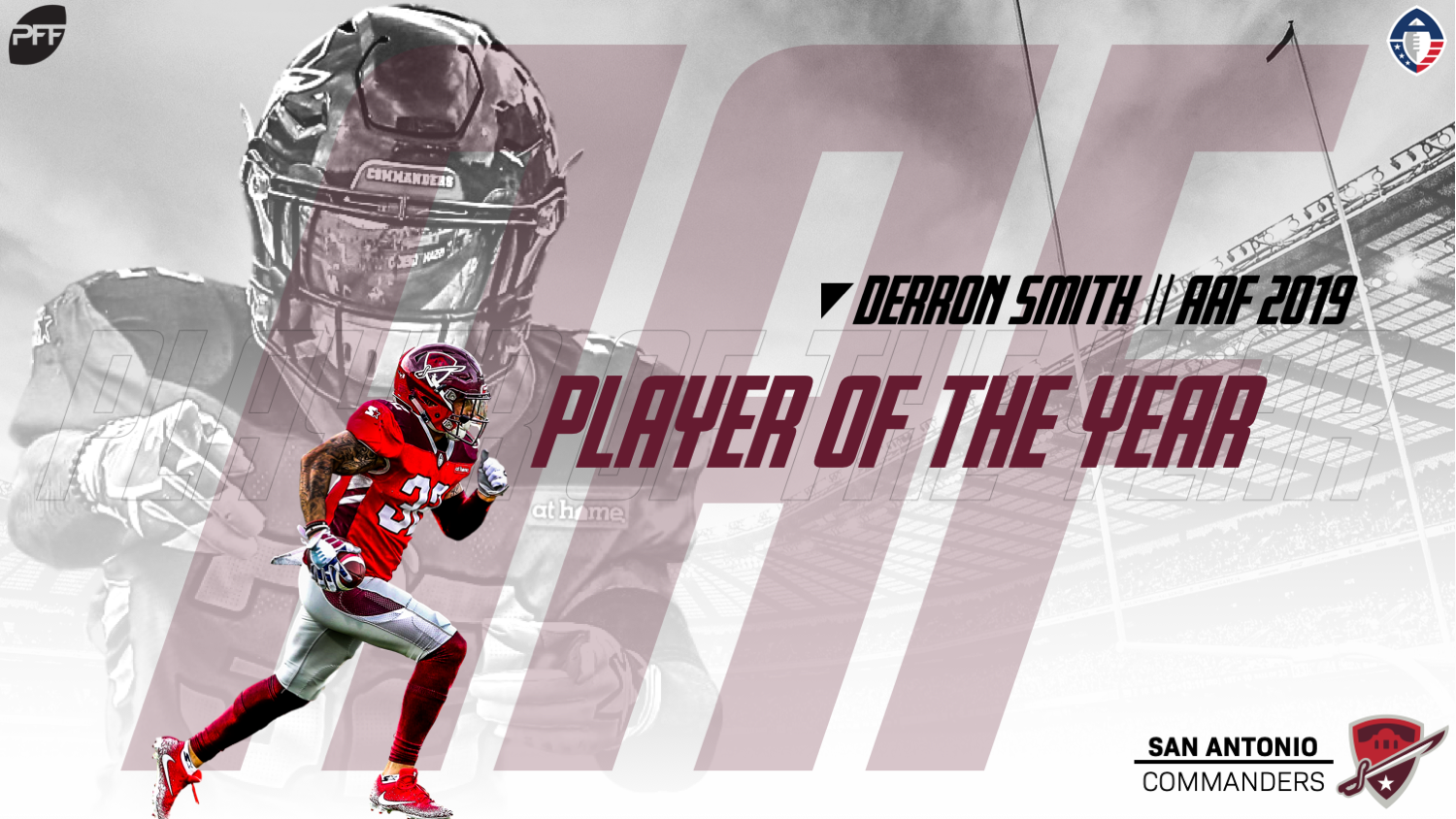 All season long, we gave readers a transparent look at our cumulative season-long overall grades and how they fluctuated from week to week in our Race for the Player of the Year. Although this race was dominated by two players, each weekly installment showcased how individual game grades factor into a player's season-long overall grade and though we won't get a final two weeks of action to finish the race correctly, we'll hand out the award to he who was most deserving.
San Antonio Commanders safety Derron Smith edges out Orlando Apollos cornerback Keith Reaser by a slim margin as Smith was absolutely dominant on the backend for the Commanders.
On 309 snaps in coverage, Smith led the league at any position on defense with his 93.2 coverage grade as he intercepted three passes and broke up another five. He stuck his head in on 37 total tackles and missed just three while his eight defensive stops were a top-10 figure among safeties. His prowess in the secondary for the Commanders make him a legitimate candidate to potentially land a spot in the NFL this next season.
Honorable mention goes to Reaser who was stingier in coverage than any other cornerback. On 30 targets sent his way, Reaser allowed just 14 receptions for 146 yards and didn't allow a touchdown all season. He made three interceptions and seven pass breakups while sporting the league's lowest passer rating when targeted at 21.7.
Team of the Year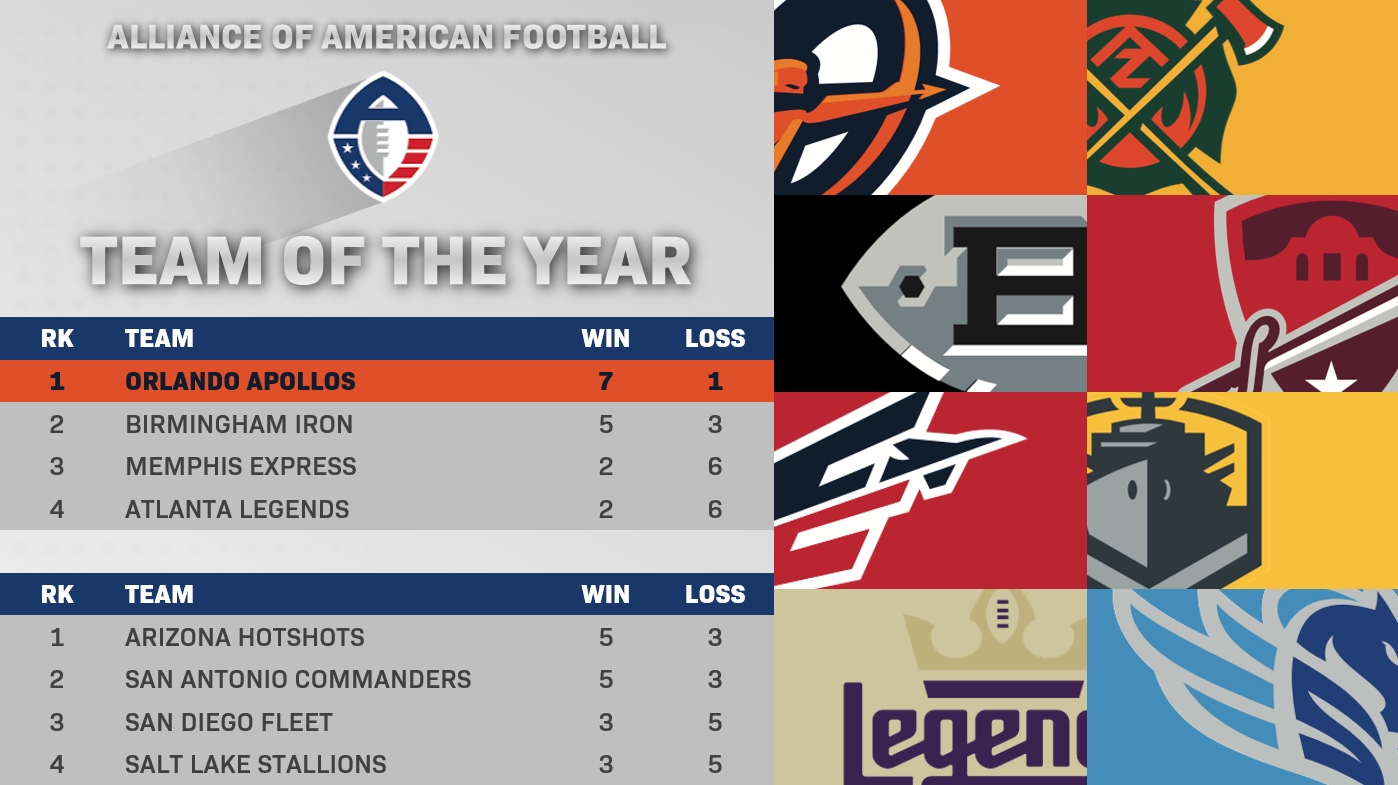 The Orlando Apollos became the talk of the AAF as they kicked off the league with the first ever touchdown to becoming the first team to secure a berth into what would have been two rounds of playoffs. They finished as the league's highest-graded overall team and a 7-1 record that was two games better than any other. They showcased similar characteristics to today's NFL standouts in that they shined in coverage and in passing, fielding the league's top passing grade as a unit and the league's second-highest coverage grade.
Quarterback Garrett Gilbert was the league's highest-graded quarterback, edging out Arizona's John Wolford, as both players should get a shot in the NFL this fall. Gilbert was remarkably efficient with the ball, tossing just three interceptions compared to 13 touchdowns and a league-leading 18 big-time throws. He targeted passes on average 10.7 yards downfield, the top average depth of target among full-time signal-callers yet finished with an adjusted completion percentage of 73.9%, the third-highest of that same group.
Gilbert goes down as the quarterback who threw the league's first touchdown when he connected with Jalin Marshall in Orlando's season-opening win over Atlanta.
Top Players
In closing football operations, the AAF left on the table several top performances from players, and it's likely the football world hasn't seen the last of several individuals. With all of our data at hand, we detail some of the top players at each position, who likely should at the very least see an invite to training camps in the NFL this summer.
Quarterback
— Garrett Gilbert, Orlando: 79.6 overall grade (1st)
Gilbert completed 60.6% of his passes despite 21 dropped balls and led the league with a combined 93 first-down and touchdown passes.
— John Wolford, Arizona: 79.3 overall grade (2nd)
Wolford's 78.4 passing grade was the highest in the league as he also showcased some impressive arm strength with decent mobility that he displayed at Wake Forest.
— Logan Woodside, San Antonio: 58.0 overall grade (5th)
When Woodside was on, the Commanders were the league's top passing attack and he finished with the league's second-highest average depth of target among full-time starters.
Wide receiver
— Charles Johnson, Orlando: 85.5 overall grade (1st)
Johnson finishes with league-leading figures in yards (687) and receptions (45) while he saw a passer rating of 123.8 when targeted.
— Rashad Ross, Arizona: 83.2 overall grade (2nd)
Ross finished with the league's top receiving grade at 85.0 and led the league with seven receiving touchdowns.
— De'Mornay Pierson-El, Salt Lake: 75.7 overall grade (4th)
Pierson-El forced the league's most missed tackles after the catch with nine and accumulated 182 yards after the catch, ranking second.
Running back
— D'Ernest Johnson, Orlando: 78.2 overall grade (T-1st)
Johnson was a real threat with the ball, forcing 12 missed tackles on just 65 attempts while averaging 3.40 yards after contact per attempt and leading the league with 13 carries of at least 10-plus yards.
— Jhurell Pressley, Arizona: 78.2 overall grade (T-1st)
Pressley finished with 18 missed tackles forced on the ground while tying for the league lead among running backs with two receiving touchdowns.
Tight end
— Nick Truesdell, Salt Lake: 80.9 overall grade (1st)
No tight end really dominated the action besides Truesdell who finished with the league lead in receptions (24), yards (269), touchdowns (3) and missed tackles forced after the catch (11).
Offensive line
— LT Brandon Greene, Birmingham: 74.3 overall grade (1st among tackles)
Greene put forth a strong effort in pass protection from the all-important left tackle position, allowing just 16 pressures from 280 pass-blocking snaps.
— C Jordan McCray, Orlando: 79.0 overall grade (1st among centers)
McCray was the league's top all-around lineman, finishing with the top overall grade among all linemen, the top run-blocking grade and a top-15 pass-blocking grade.

Defensive interior
— Mike Purcell, Salt Lake: 91.2 overall grade (1st)
On 274 pass-rushes, Purcell recorded 25 total pressures that included 11 combined sacks and hits and did all of it without missing a tackle.
— Casey Sayles, Salt Lake: 87.6 overall grade (3rd)
Opposite Purcell, Sayles finished with 24 total pressures, second at the position to only his teammate in the league.
Edge defender
— Damontre Moore, San Diego: 90.8 overall grade (1st)
Absolutely dominant on the pass-rush like you think an NFL veteran would be, Moore finished with a whopping 41 pressures on just 220 pass-rushes including a league-high nine sacks.
— Jayrone Elliott, San Antonio: 87.7 overall grade (2nd)
Elliott led the league with his 91.9 pass-rushing grade and finished with 13 of his 28 total pressures resulting in sacks or hits on the quarterback.
— Karter Schult, Salt Lake: 81.3 overall grade (7th)
Schult led the league with 49 total pressures on just 252 pass-rushes. He was dominant on the pass-rush and if he can limit missed tackles (8 on just 32 attempts), he has a real chance to stick in the NFL.
Linebacker
— Terence Garvin, Orlando: 74.5 overall grade (4th)
Garvin stands out for Orlando with his coverage prowess, intercepting three passes and breaking up three more for the league-leading 45.0 passer rating when targeted at the position.
Cornerback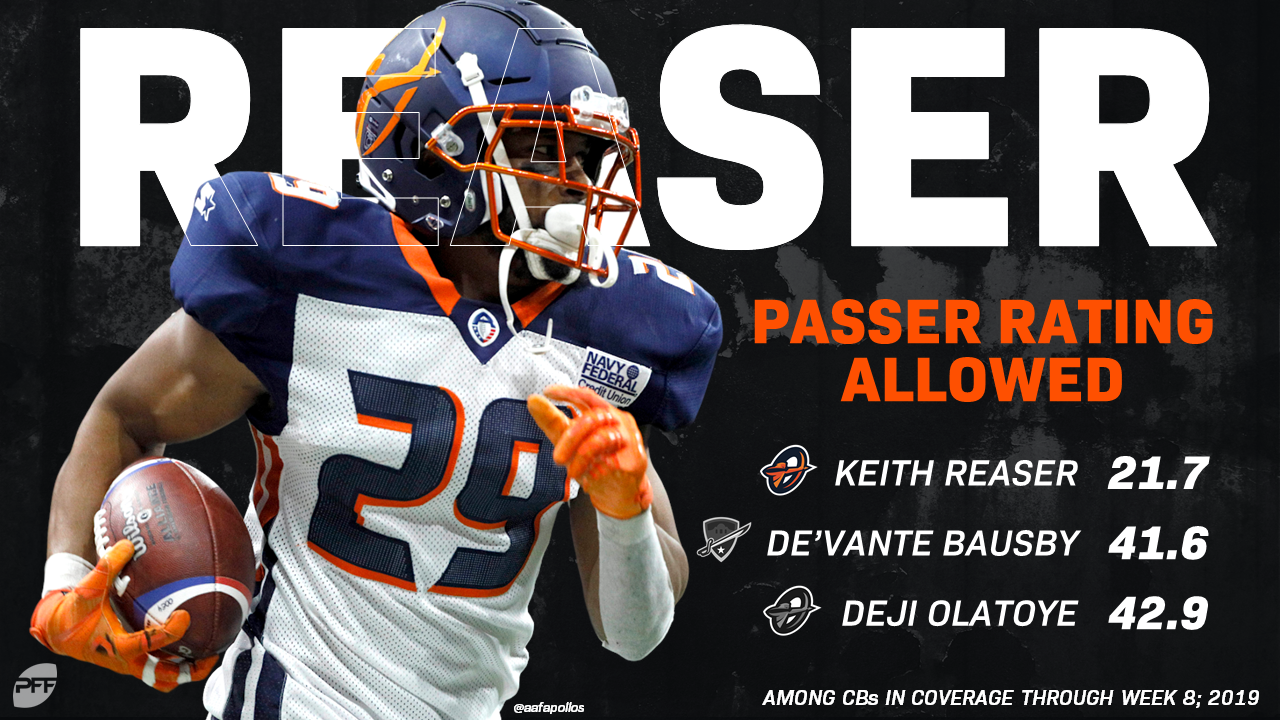 — Keith Reaser, Orlando: 92.7 overall grade (1st)
Reaser was a stalwart in coverage, giving up no reception longer than 38 yards, and no touchdowns compared to 10 plays on the ball (3 INT, 7 PBU).
— Cody Riggs, Orlando: 82.7 overall grade (2nd)
Riggs was also solid in coverage, allowing just 91 total yards on 25 targets. He also didn't allow a touchdown and had a 43.9 passer rating on throws into his coverage.
— Jamar Summers, Birmingham: 77.6 overall grade (4th)
Summers finished with three interceptions and six pass breakups as he allowed just 42.4% of the targets thrown his way to be caught and a 48.9 passer rating.
Safety
— Derron Smith, San Antonio: 93.1 overall grade (1st)
Smith was strong in coverage, run defense and with his tackling, all leading to the top overall grade among all players in the AAF.
— Ed Reynolds Jr., Atlanta: 77.4 overall grade (4th)
Reynolds was sharp in coverage and flew all over the field for a subpar Legends defense. He didn't allow a touchdown and saw just a 49.3 passer rating when targeted while missing just four total tackles on 52 attempts.