When professional football returns to San Diego this Sunday night, the Atlanta Legends and the Fleet will be playing in the only matchup where one team is guaranteed to fall into an 0-2 hole (unless they tie, of course) to start their first season in franchise history. Both teams want to win early to keep their fans' initial interest alive, so this game will be crucial for both cities. In terms of overall team grade, the Fleet (50.3) and the Legends (49.6) are the bottom two teams in the AAF after one week.

As with every other professional football team, the path to winning starts with the quarterback position. The Atlanta Legends started Matt Simms at quarterback last week, and he finished with the second-lowest passing grade (42.5) in the league. On 28 pass attempts, Simms managed only 4.5 yards per attempt, zero touchdowns, two interceptions and a passer rating of 35.7. The only quarterback who was worse than Simms (albeit on only seven dropbacks) was the Legends' backup quarterback and former Georgia standout, Aaron Murray, who finished with a passing grade of 29.1.
None of the offensive lines were particularly good in the first week, but the Legends did rank in the top half of the league in pass-blocking efficiency, allowing 11 pressures on 40 pass-blocking snaps. With that said, it's safe to say that the Legends expected a little more out of their quarterbacks. Matt Simms could be on a short leash if he does start again in Week 2, with Aaron Murray waiting for a shot to get some real playing time.
On San Diego's side, they will start Philip Nelson at quarterback after starting Mike Bercovici last week. Nelson played 13 dropbacks in relief of Bercovici in week one and completed 5-of-10 attempts for 68 yards, four first downs, and an overall grade of 62.1, ranking seventh out of 11 qualifying quarterbacks. Nelson earned an overall grade of 76.7 in his final college season at East Carolina in 2016, ranking 38th out of 146 quarterbacks, which should give San Diego fans some hope.
Despite all the troubles and uncertainty at the quarterback position for both teams, the Legends and Fleet do have one particular thing they can lean on to try and get a victory – rushing the opposing quarterback. Atlanta and San Diego currently have pass-rushing grades of 73.1 and 72.0, ranking second and third in the AAF, respectively. Last week, the Legends recorded 13 total pressures (eight hurries, four hits, one sack) and the Fleet recorded a whopping 19 total pressures (seven hurries, eight hits, four sacks).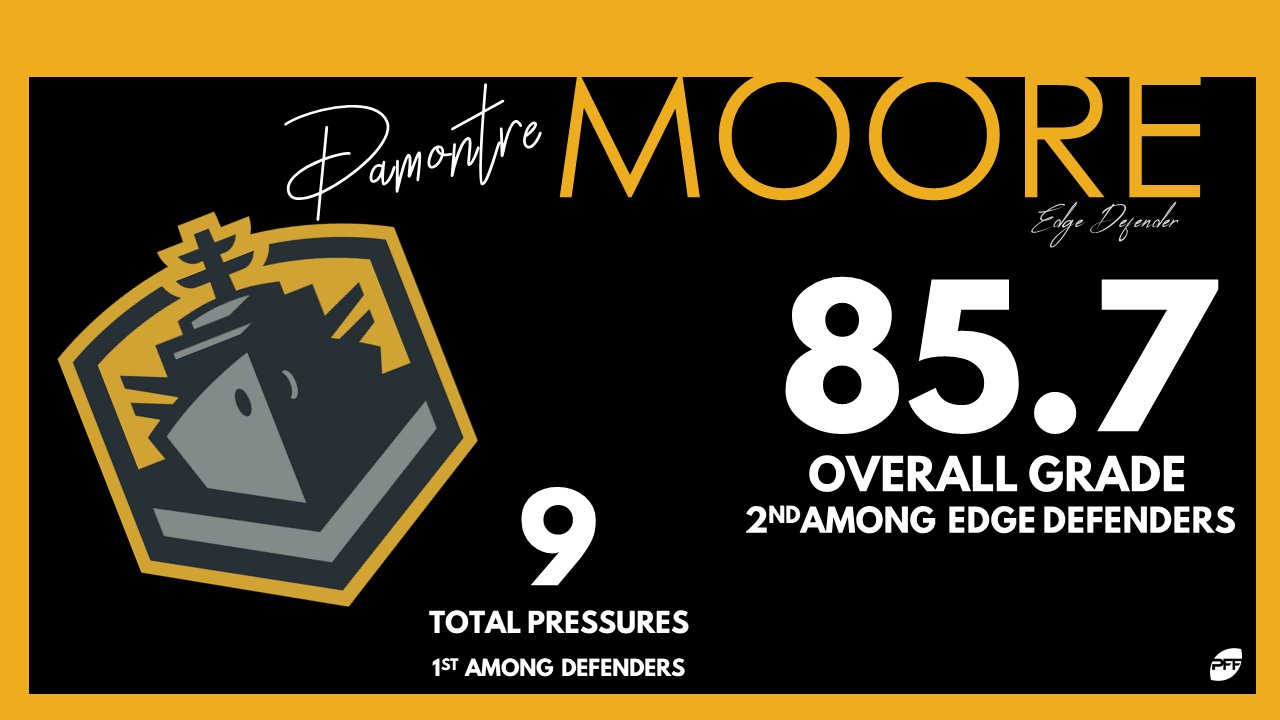 In particular, Damontre Moore of the Fleet had a monstrous game with nine total pressures all to himself, leading to a spot on the AAF Team of the Week. Moore's pass-rushing grade of 88.1 ranks second among all defensive players, and his overall grade of 85.8 ranks tenth. For the Legends, J.T. Jones had the best pass-rushing performance in Week 1, with four total pressures on 31 pass-rush snaps. Despite the pass-rushing standouts from both teams, the Legends and Fleet are two of three teams not to have a single player appear in the first top-10 rankings of the AAF season, which only creates an opportunity for someone to emerge with a huge performance and help his team to victory.
Going into week two of the brand-new AAF, the Atlanta Legends and San Diego Fleet know what they have to do – improve the passing game and continue to get after the opposing quarterback. It's a recipe for winning at all stages of football, and the fans of both teams hope to see it come to fruition on Sunday night to avoid the dreaded 0-2 hole.