The NFL draft evaluation process isn't like the Showtime Rotisserie & BBQ. You can't just set it and forget it, as it's constantly evolving with new information.
---
Click here for more PFF tools:
Rankings & Projections | WR/CB Matchup Chart | NFL & NCAA Betting Dashboards | NFL Player Props tool | NFL & NCAA Power Rankings
---
That doesn't, however, mean that we are going to simply overreact to the last thing we saw. We love large sample sizes here at PFF and the more prospects who have a large sample size of performing at a high level, the more we're willing to bang the table for them.
Related content for you: Highest-graded players at every position through Week 3 of the 2021 college football season via Seth Galina
Thibodeaux was unblockable on his 19 snaps against Fresno State, but an ankle injury has shut him down ever since. He had a 91.1 pass-rushing grade with a sack, hurry, and forced fumble.
Hamilton already has three picks in three games, which is tied for the FBS lead. His presence hasn't been solely felt there, as he also has six defensive stops, including a key fourth-down last week against Purdue. He is the special kind of all-around modern defender that every NFL team is looking for. 
Stingley gave up an uncharacteristic 45-yard score against UCLA that also featured an ugly missed tackle, but he's been lights out ever since. He's only allowed two yards total on his five other targets this season.
In his very first game at left tackle, Neal allowed four pressures against Miami. However, I'm not going to overreact to that, as he's settled into his new position in a big way ever since. He was No. 1 on Bruce Feldman's Freaks List this offseason, and his physical dominance is apparent snap after snap. 
One of the biggest risers from the PFF draft board, Hutchinson has taken his game to another level as a pass rusher. He currently owns the highest pass-rush win rate in the country and has already faced a top-50 offensive tackle in Washington's Jaxson Kirkland.
The 6-foot-4, 290-pounder has started to see some more snaps on the interior this season, and we love his versatility when projecting to the NFL. Through three games, he already has eight pressures and eight run stops. 
You needn't look much further than the Alabama tape from last week to see how dominant Elam can be. He allowed only two of his seven targets to. be caught for 36 yards, and he added two pass-breakups. He should have accumulated a third but was called for a questionable penalty.
The new QB1 on PFF's draft board. The happy feet and bouts of inaccuracy we saw a year ago have subsided massively while his electric rushing ability and howitzer arm are still very much intact. He faces his first Power-Five test in Syracuse this weekend, but his November 6th game against Ole Miss is the one to circle on your calendars.
Linderbaum's high school wrestling background shows every time you flip on the film. His hand placement and grip strength are truly second to none in the nation. After he was the highest-graded center in the country last season, he's a close second in 2021.
Best center in the country…thread pic.twitter.com/P6ghkbOwEf

— Cole Cubelic (@colecubelic) September 23, 2021
Howell was bound to regress statistically after losing his best two receivers to the NFL. That being said, he's done a nice job of bouncing back after an ugly Week 1 against Virginia Tech. It's still worrisome that he's converting pressure to sacks at a high rate, taking nine sacks on 33 pressured dropbacks.
Wilson has looked like a complete receiver with his ability to separate at all levels this season. There's just an itty-bitty drop issue that's worth monitoring. He's already dropped four of his 23 catchable passes and has at least one drop in every game. 
While Clemson has had its issues early on, it hasn't been on the defensive side of the ball. Booth has been targeted 11 times, allowing only two first downs and 45 total yards.
Enagbare's tape against Eastern Illinois and East Carolina can basically be thrown out for evaluation purposes. What he did to Georgia's offensive line, though, will be replayed in war room's across the NFL, as he earned an 82.8 overall grade with a sack and three run stops. 
When watching Karlaftis' tape, it's important to remember that Purdue relies on him to bring it every single snap of every single game. He played 59 of 69 snaps against Notre Dame and finished with a sack, a hit and two hurries. He's an all-around versatile end who's as reliable as it gets.
George Karlaftis was in his bag against the Notre Dame offensive line. Pure power here to run through the RT—play before he lined up inside and got a pressure with a spin move. pic.twitter.com/u7Ht1s8aLc

— Bobby Football (@Rob__Paul) September 23, 2021
Rattler still hasn't quite lived up to the sum of his parts. He oozes arm talent and playmaking ability; yet, he hasn't posted a single big-time throw this year compared to five turnover-worthy plays. He's still accurate as ever but is not taking good chances with the football.
Green looked like a natural at right tackle in his first two starts thereafter switching from left guard a season ago. His ability to play out in space is exactly what you look for on the edge. He allowed only one pressure on 83 pass-blocking snaps.
He's still college football's most potent pass-rusher. Anderson has racked up seven pressures, including three sacks, on only 39 pass-rushing snaps. The question is: Can he ever be more than a designated pass-rusher at 6-foot-5, 230 pounds?
Washington has fallen flat on its face out the gate but don't blame McDuffie. The junior cornerback has allowed only two completions (10 targets) for 15 yards while notching three pass-breakups. That's as lockdown as you'll see in college football.
Olave has handled his business in 2021. He went for 243 yards on 16 catches the first two weeks before inexplicably not reeling in a single catch against Tulsa. He's still the best deep threat in the country and can get open deep against anyone.
CHRIS OLAVE IS A BAD MAN⚡️

— PFF College (@PFF_College) September 3, 2021
"Icky" has taken his physical dominance to another level this year. He's allowed only one pressure through three games at left tackle and earned a 91.6 run-blocking grade. He may be a guard in the NFL, but he'll be a bully no matter where he lines up.
Harris is a terror when coming downhill, as he's already racked up 12 stops in three games for the Crimson Tide. He's the kind of athlete who can go top 10, but we still need to see more plays in coverage from him.
Gardner has only improved after packing on some serious muscle mass over the course of the offseason. The junior has allowed only two of his 10 targets to be caught for 14 yards while securing a pick and a pass-breakup in the process.
Burks had a slow start to the season, as he dropped a couple balls in Week 1 against Rice. He's since bounced back and made multiple big plays this past week. Unfortunately, his numbers may suffer downfield with Arkansas' quarterback situation.
Dean attacks like his hair is on fire, as no linebacker in college football is more willing to crank it up to full speed in the blink of an eye. That's shown as a blitzer, as Dean has six pressures on 21 pass-rushing snaps so far.
After a disappointing 2020, Jackson has lived up to the hype he created for himself after a big freshman year. He's earned an 88.1 overall grade on 115 snaps through three games this season.
Drake Jackson is a monster pic.twitter.com/eOstZYBIGm

— Kaelen Jones (@kaelenjones) September 18, 2021
The other Drake at USC, London has been the single most targeted receiver in the country this season (42 targets). He's running far more routes from the outside than ever before (84.4% of routes) and still winning. The only problem is he's already dropped more balls (five) than the rest of his career combined.
Corral has been arguably college football's most impressive performer at the quarterback position this season. He leads all SEC quarterbacks with an 89.6 overall grade. His real test will come next weekend, though, when he travels to Tuscaloosa to face Alabama.
Was offered Breece Hall for Matt Corral recently and I declined it. I'm all in. pic.twitter.com/XmCUgppQ2S

— Kevin (@Daboys_22) September 22, 2021
Bonitto, unfortunately, doesn't look too much bigger than he did last season, so he still qualifies as undersized. He's still dominating every tackle he faces, which lands him this high on the list. He's already racked up 17 pressures on 48 pass-rushing snaps. 
Sanders is still an elite athlete with an elite frame, but I'm not sure he's improved substantially in two areas we wanted to see improvement this offseason: hand usage and finishing plays. He only has an 80.1 pass-rushing grade through three games and has missed three of his eight tackle attempts.
Battle hasn't quite taken become the consistent impact player we were hoping for after last season. In fact, he only has one defensive stop this season. He's still an all-around safety prospect who can fill a myriad of roles.
After starting on the right side last year, Petit-Frere has taken exceedingly well to the left side through three weeks. He's only allowed five hurries on 114 pass-blocking snaps with no hits or sacks. 
Davis has seen a bit of an uptick in his down-to-down effort this year, which is necessary for him to sneak into the first round. Sadly, he's still a bit of a one-trick pony and hasn't seen his physical dominance translate as a pass-rusher.
Jordan Davis is an absolute unit pic.twitter.com/JPLqm7R37k

— Tyler Browning (@DiabeticTyler) September 21, 2021
Kinnard is going to be a Godsend to any gap scheme rushing attack. He's one of college football's best line-of-scrimmage movers. Kentucky is also running far more dropback passing concepts than ever before, and Kinnard is proving capable, as he's only allowed one pressure on 95 pass-blocking snaps. 
Harrison has all the physical tools in the world at 6-foot-6, 272 pounds, but he still runs hot and cold as a pass-rusher. On 55 pass-rushing snaps this season, he has only three pressures.
The big plays we saw last year haven't quite come yet this year, but he hasn't allowed any big ones, either. Joseph still hasn't allowed a touchdown in his career on 486 coverage snaps.
Michigan's Aidan Hutchinson single-handedly caused Kirkland to tumble down this list, as his play strength concerns got exposed by the Michigan edge rusher. The senior tackle allowed two sacks and four total pressures in that game. He's still a nimble 6-foot-7 with the kind of mirror ability you want to develop at tackle.
Metchie hasn't taken over the DeVonta Smith role in the Alabama offense and lit the world on fire, but then again, that's why Smith was such a special prospect. Metchie is still a talented route-runner in his own right who still needs to play with more physicality.
Of all the athletic "project" sort of tackles heading into this season, Cross seems to have made the biggest leap. After allowing 44 pressures last season, he's yielded only four on 181 pass-blocking snaps so far this year.
While Notre Dame's Kyle Hamilton has had the most impressive start of any safety this season, Brisker has been a close second. He's allowed only three catches on eight targets for six yards with a pick and two pass-breakups. This is the best pure box safety in the class.
JAQUAN BRISKER ARE YOU KIDDING ME???! pic.twitter.com/IPxaNudv15

— Onward State (@OnwardState) September 4, 2021
McKee is the only player who came from outside the top 100 altogether into the top 50. He was a former top recruit who took a two-year LDS mission before returning to Stanford behind Davis Mills last year. After a rough Week 1 where he was inexplicably rotated out every quarter with Jack West, McKee has lit it up ever since. His arm has a ton of juice, and he is capable of throwing with touch as well.
Pickens still hasn't played yet this season after tearing his ACL in April. Hopefully, he returns late for the struggling Georgia offense.
Catalon is the definition of fun to watch at 5-foot-10, 200 pounds. He already has two picks and two pass-breakups on 11 targets this season. He'll be a tone-setter for any defense he's in.
Lloyd had done the heavy lifting for Utah's defense through three weeks. He has 13 defensive stops while missing only two tackles on 36 attempts. At 6-foot-3, 235 pounds, he can be a three-down player in the league. 
The rest of the Huskies may not be pulling their weight, but Jones certainly is. He's earned an 84.3 overall grade through four games while playing over 50 snaps in each of his first three games.  
Tupuola-Fetui may not play at all this season after an offseason Achilles tear. His draft stock is still to be determined until we see him back healthy.
Strong's first three games were always going to be his biggest tests and, unfortunately, we saw much the same guy we saw last year. His arm talent is easy to love, but working after his first read and from tight pockets are still issues.
Oh my god Carson Strong. What a throw!!! pic.twitter.com/xHDCuuDmgS

— Unnecessary Roughness (@UnnecRoughness) September 18, 2021
Hall has had some extremely tough sledding this season. He's averaged less than a yard before contact this season, which is inexplicable for a college back. The junior is still breaking tackles, though, with 26 on 60 carries.
McCreary is one of the smoothest corners in college football. On 17 targets this season, he's allowed 10 catches for only 74 yards with two picks and a pass breakup.
Agude has seen a massive rise this season in his second year after transferring from junior college. His 89.8 overall grade is one of the highest in the country, and he's almost already matched his pressure total from a year ago with 15.
Faalele has impressed since coming back from a year off. While he's still not playing with the kind of killer instinct you'd like to see in the run game, he's been a brick wall in pass protection. He's allowed only three hurries in three games.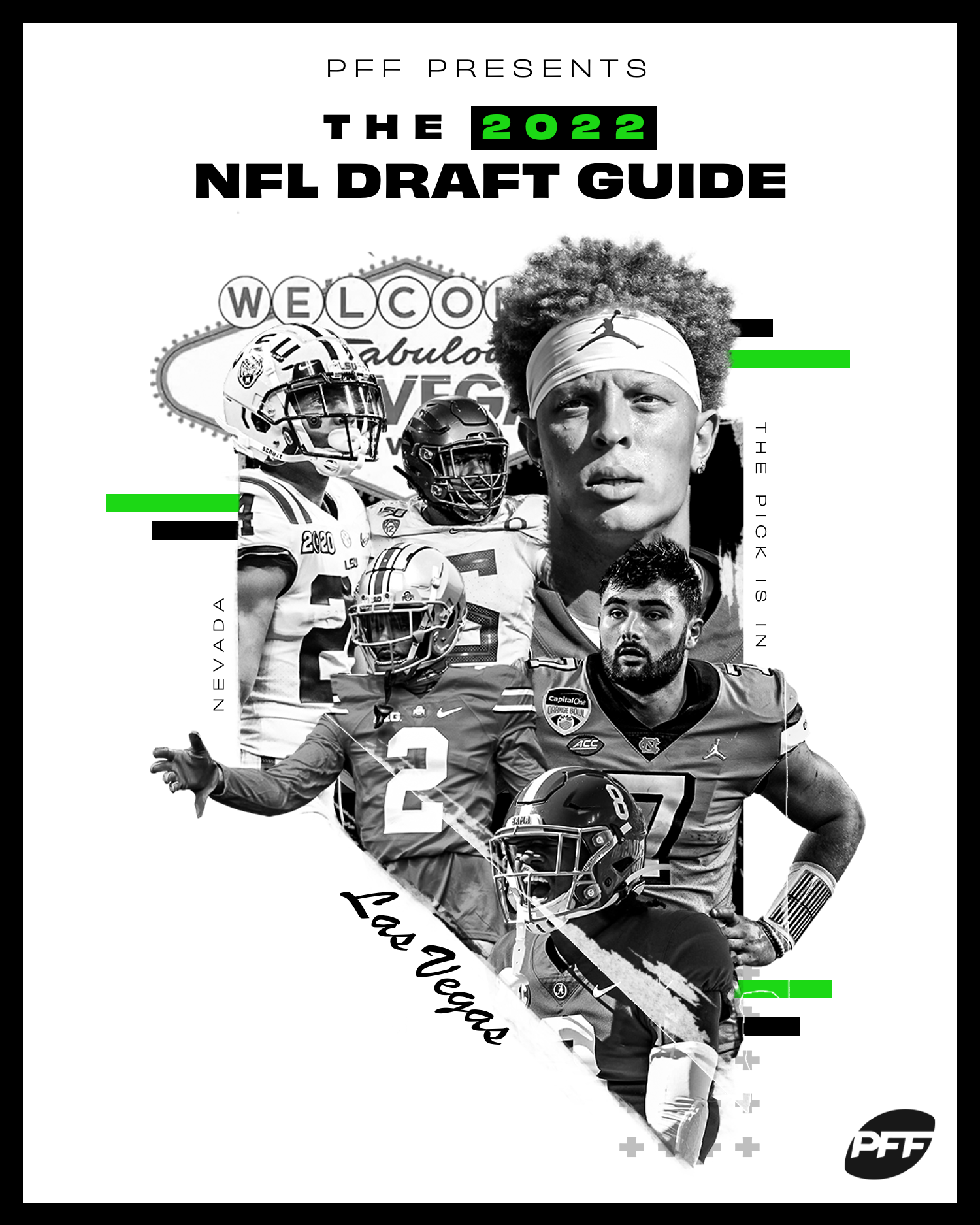 The Rest (51-100)
51. S Daxton Hill, Michigan
52. OT Zion Nelson, Miami (FL)
53. DI Perrion Winfrey, Oklahoma
54. DI Tyler Davis, Clemson
55. OT Trevor Penning, Northern Iowa
56. CB Noah Daniels, TCU
57. LB Brandon Smith, Penn State
58. DI Jermayne Lole, Arizona State
59. WR Justyn Ross, Clemson
60. CB Mykael Wright, Oregon
61. EDGE Logan Hall, Houston
62. WR Jalen Tolbert, South Alabama
63. TE Jeremy Ruckert, Ohio State
64. WR Romeo Doubs, Nevada
65. TE Jalen Wydermyer, Texas A&M
66. LB Mike Jones Jr., LSU
67. QB Kedon Slovis, USC
68. CB Josh Jobe, Alabama
69. EDGE Jordan Strachan, South Carolina
70. S Tykeee Smith, Georgia
71. IOL Thayer Munford, Ohio State
72. RB Zach Charbonnet, UCLA
73. WR Jahan Dotson, Penn State
74. CB Tre'Vius Hodges-Tomlinson, TCU
75. IOL Sean Rhyan, UCLA
76. OT Kellen Dietsch, Arizona State
77. DI Haskell Garrett, Ohio State
78. CB Derion Kendrick, Clemson
79. IOL Dohnovan West, Arizona State
80. RB Jerrion Ealy, Ole Miss
81. TE Isaiah Likely, Coastal Carolina
82. CB Kyler Gordon, Washington
83. WR David Bell, Purdue
84. EDGE Arnold Ebiketie, Penn State
85. CB Martin Emerson, Mississippi State
86. S Lewis Cine, Georgia
87. TE Jahleel Billingsley, Alabama
88. RB Isaiah Spiller, Texas A&M
89. LB Jestin Jacobs, Iowa
90. RB Zonovan Knight, N.C. State
91. DI Matthew Butler, Tennessee
92. OT Rasheed Walker, Penn State
93. LB Chad Muma, Wyoming
94. WR Dontay Demus Jr., Maryland
95. OT Max Mitchell, Louisiana
96. RB Kenneth Walker, Michigan State
97. LB Owen Pappoe, Auburn
98. S Nick Cross, Maryland
99. IOL Josh Rivas, Kansas State
100. EDGE Zachary Carter, Florida