The first half between the Pittsburgh Steelers and the Jacksonville Jaguars was not tape that you would want to show anyone to demonstrate quality quarterback play. Ben Roethlisberger and Blake Bortles combined to go just 14-for-32 for 94 yards with three turnover-worthy plays. Bortles had a passing grade of 39.9 and Roethlisberger had a passing grade of just 32.4; it was an ugly performance all around.

The Jaguars were able to mask Bortles with a strong running attack that averaged 2.0 yards before contact per rush and 2.9 yards after contact per rush in the first half. However, Roethlisberger's early struggles were fully exposed with no running game to speak of. He was inaccurate, and he had a few particularly egregious misthrows which resulted in the Jaguars getting the ball back and a tired Steelers defense getting thrown back on the field.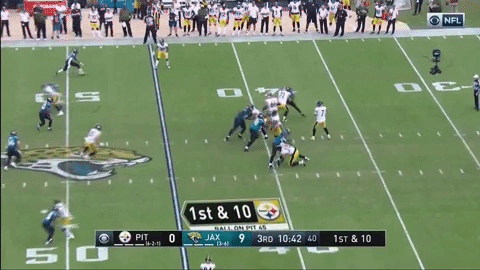 Though this play in the third quarter didn't result in a turnover due to a roughing the passer penalty, it typifies the type of poor decisions and throws that Roethlisberger was making through the first three-quarters of the game. With Calais Campbell in his face, Big Ben threw a weak pass behind Jesse James which led to a relatively easy interception opportunity for a trailing Myles Jack. It was a poor decision and poor execution, something that was not uncommon as Roethlisberger went on to record a league-low 28.9 overall grade in the first three quarters.
The Steelers defense stepped up late in the game, though, which allowed Roethlisberger a chance to turn it around. He did indeed turn around his play with an excellent performance down the stretch. As the Steelers staged their comeback in the fourth quarter, Roethlisberger's overall grade jumped all the way up to 91.5 which ranked second in the NFL among all quarterbacks in the fourth quarter this week.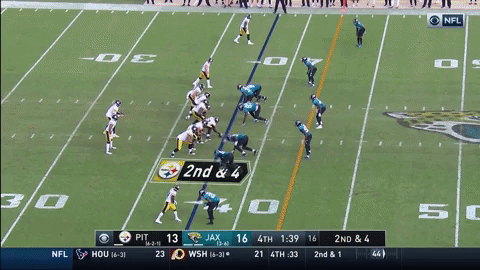 He had multiple big-time throws in the waning moments of the game, including this one on the game-winning drive. On a stop-and-go route, Roethlisberger gave a small pump fake and then unleashed a perfectly placed ball over A.J. Bouye down the left sideline where only JuJu Smith-Schuster could catch it. That throw came as the first in a string of three big-time throws in a minute for Roethlisberger, as he came up large with the game on the line.
Interestingly enough, starting slow and finishing strong is exactly what Ben Roethlisberger has done this season. Here are Roethlisberger's splits over the first five weeks of the season compared to weeks 6-10:
Weeks 1-5: 56.8 passing grade (28th), 12 big-time throws (t-5th most), 8 turnover-worthy plays (t-2nd-most)
Weeks 6-10: 89.1 passing grade (3rd), 9 big-time throws (t-6th most), 3 turnover-worthy plays (t-18th-most)
As that goes to show, Roethlisberger has improved as the season has progressed, just as he improved as the game against the Jaguars progressed. It should come as no surprise that a slow start wouldn't carry throughout the entire season for Roethlisberger seeing that he has graded out as a top-five quarterback in three of the last four seasons.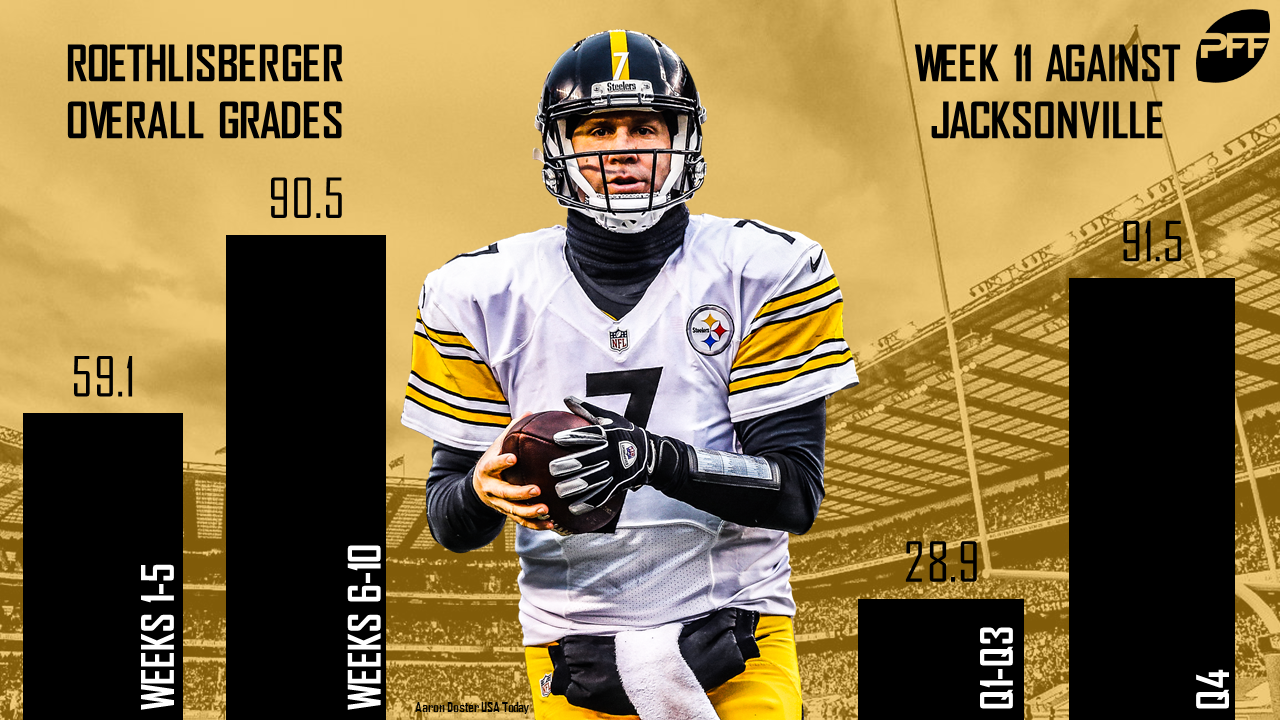 The key to his improvement over that four-game stretch between weeks six and ten was a reduction in his turnover-worthy plays. Even when he was struggling earlier in the season, Roethlisberger was still able to come up with those big throws down the field or into tight windows, but he was pairing that with a very high turnover-worthy throw rate along with a large percentage of inaccurate and uncatchable throws. Cutting down those turnover-worthy plays has allowed Roethlisberger to return to the elite form that he has shown in recent seasons.
In that way, the Jaguars game was sort of a microcosm of Roethlisberger's season. He started slow, looking nothing like a top-tier NFL quarterback, but then turned a corner and put together an elite stretch to close out the game. Roethlisberger has proven that the big-time throws will always be there at a high rate, even when he is struggling. What is unproven is whether or not he'll be able to keep down the poor decisions and passes that plagued him over the first five weeks of the season and the first three-quarters of last week's game against the Jaguars. If he can, the Steelers' offense will continue to roll as one of the top offensive units in the NFL.