Who have been the best center-backs on the ball in the Premier League this season? Using a combination of PFF's ball carrying grade and passing grade we can try to answer this question. Our ball carrying grade is the result of culminating PFF data pertaining to an individual player's dribble attempts, carries and tackle resistance when they are an established ball carrier.
1. Manuel Akanji, Manchester City
Ball carrying grade: 73.1 / Passing grade: 85.6
Swiss International Akanji has been an important player for City this season in a defense that has changed personnel often.
Akanji, who arrived at the Etihad from Borussia Dortmund last summer, has managed to carve out a prominent role despite fierce competition for places in part because of his strong on-ball skills.
He has a PFF passing grade of 85.6, ranking first among central defenders in the Premier League. This is in part due to the success of Akanji being more aggressive as a passer than Stones. That combination of progression and safety as a passer is Guardiola's dream profile for a center-back.
The 27-year-old also has a PFF ball carrying grade of 73.1, ranking 19th at his position. Being strong as a carrier and elite as a passer is what propelled Akanji to first on this list, making him the best center-back on the ball this season.
2. John Stones, Manchester City
Ball carrying grade: 73.6 / Passing grade: 84.1
Unsurprisingly it's two Manchester City players that top this list, with on-ball competence a key requirement to play in Pep Guardiola's possession-focussed teams.
Stones has always been strong on the ball since breaking into Barnsley's team in the EFL as a 17-year-old, going on to sign for Everton before City acquired him in 2016.
His PFF passing grade of 84.1 ranks 3rd among positional peers, but while Stones is not as progressive a passer as other players on this list, he is safer, rarely giving the ball away. His 94% pass completion ranks first among players with more than 150 passes this season.
Stones is also a strong carrier with a PFF ball carrying grade of 73.6 ranking 16th among center-backs this season.
3. Thiago Silva, Chelsea
Ball carrying grade: 61.1 / Passing grade: 85.3
Somehow Thiago Silva continues to be one of the best defenders in the world at the age of 38. The Brazil captain at the 2022 FIFA World Cup has the second-highest PFF passing grade among center-backs this season at 85.3.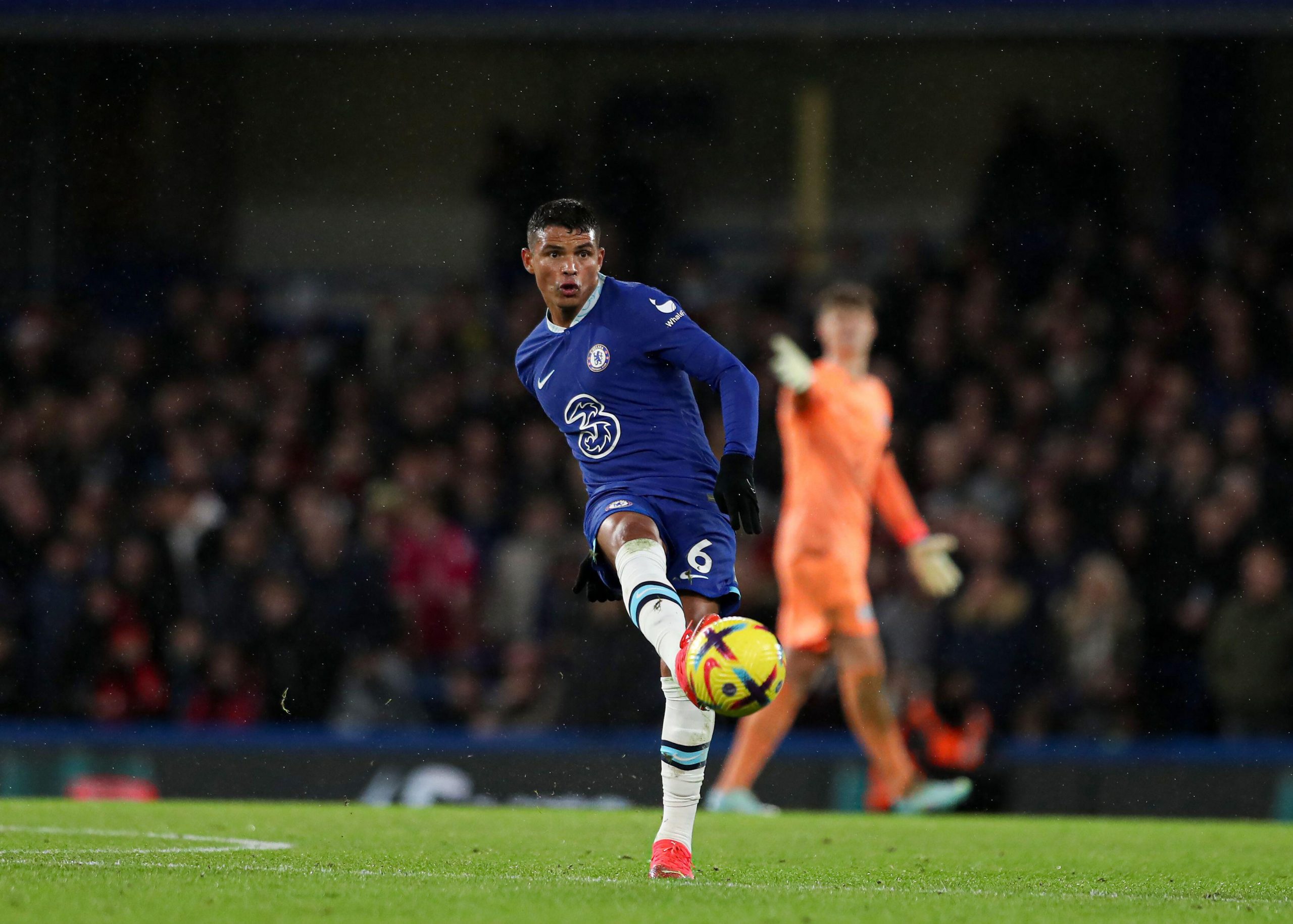 Silva has been key to Chelsea's ball progression with his 144 completed line-breaking passes ranking 5th at his position. The quality of Silva's passing is even more impressive than the volume, often passing through multiple lines at once and into tight windows.
Silva's PFF ball carrying grade of 61.1 ranks 75th at his position but similar to Dunk he rarely carries the ball out of defence, instead opting to use his much-vaunted range of passing.
4. Lewis Dunk, Brighton & Hove Albion
Ball carrying grade: 65.1 / Passing grade: 83.4
Brighton's captain has excelled on the ball in a team that has overachieved relative to most expectations this season. Dunk's PFF passing grade of 83.4 ranks 4th among central defenders in the Premier League.
Dunk's PFF ball carrying grade of 65.1 ranks just 53rd at his position, however he is not asked to progress the ball as a carrier in Brighton's system, instead encouraging opposition teams to press before passing through them.
This has seen Dunk complete 168 line-breaking passes this season, the most among defenders and third-most among all positions.
5. Marc Guehi, Crystal Palace
Ball carrying grade: 79.7 / Passing grade: 70.5
At the tender age of 22, Marc Guehi has been handed the captain's armband by Crystal Palace in recent weeks as his significance to Patrick Vieira's plans grow following his arrival at the club in 2021. His PFF ball carrying grade of 79.7 demonstrates his commanding presence at the back and ranks 3rd among center-backs this season.
Signed by Palace for £18m ($21.3m), the former Chelsea academy graduate's powerful frame allows him to hold off challenges and retain possession before advancing the ball.
Also an accomplished passer, Guehi has won three international caps for England under Gareth Southgate and has a PFF passing grade of 70.5, ranking 21st at his position.