Each week, we at PFF will break down all of the notable, draft-eligible quarterbacks and how they performed the weekend prior. Be it good or bad, get the exclusive PFF take on each of those quarterbacks you will be certain to hear about come April.
Sam Darnold, USC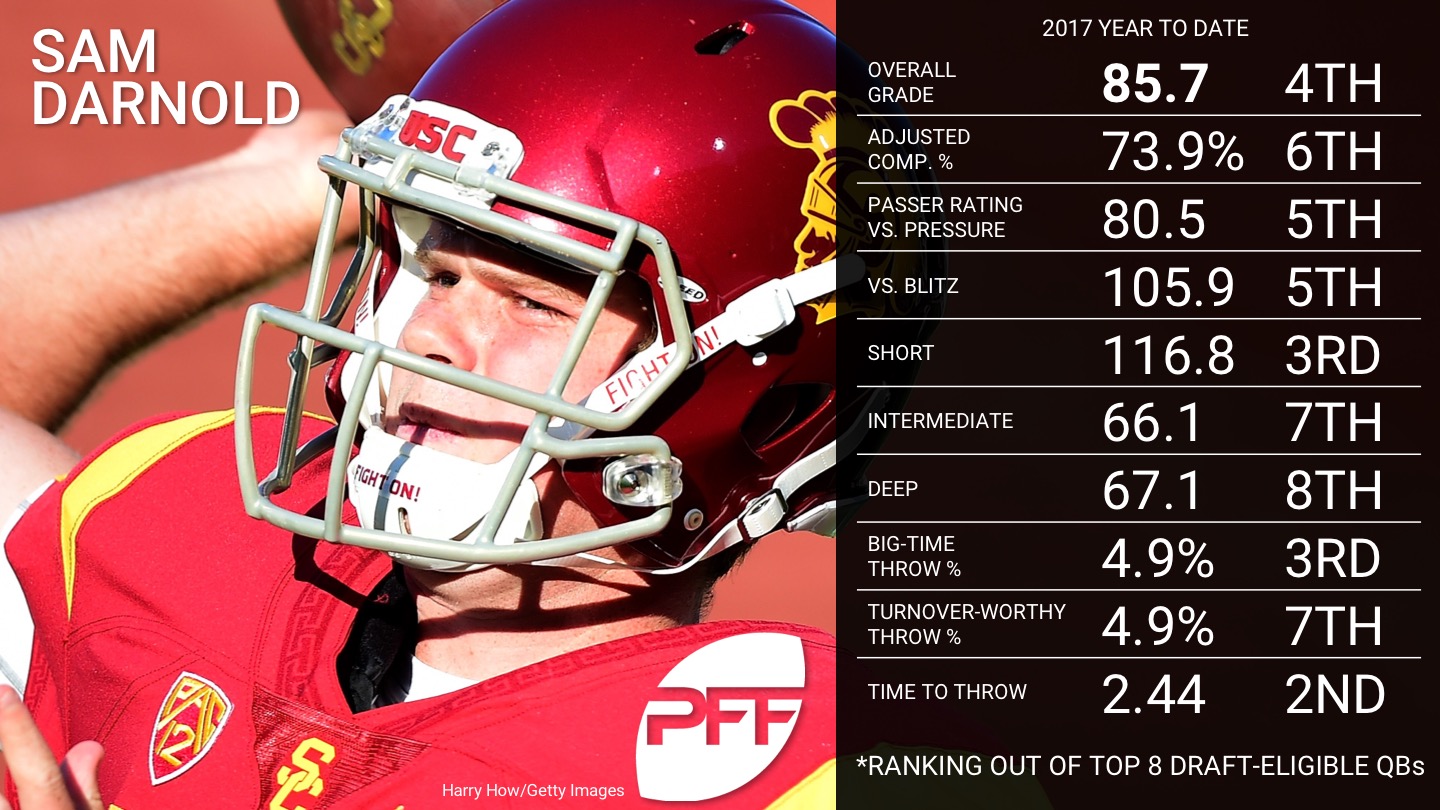 Steve Palazzolo: The deep ball continues to be an issue for Darnold who went 0-for-7 on 20-plus yard passes against Cal. While he's generally outstanding throwing down the field in between the numbers (see Texas game), Darnold had a poor interception in the deep middle on Saturday and he did most of his damage in the short game. His seven interceptions are the key storyline through four weeks, and while he's had some poor throws in there, he's also the victim of bad interception luck. That should even off over time, but we're still looking for better work down the field from Darnold and this was his worst game of the season against Cal.
Luke Falk, Washington State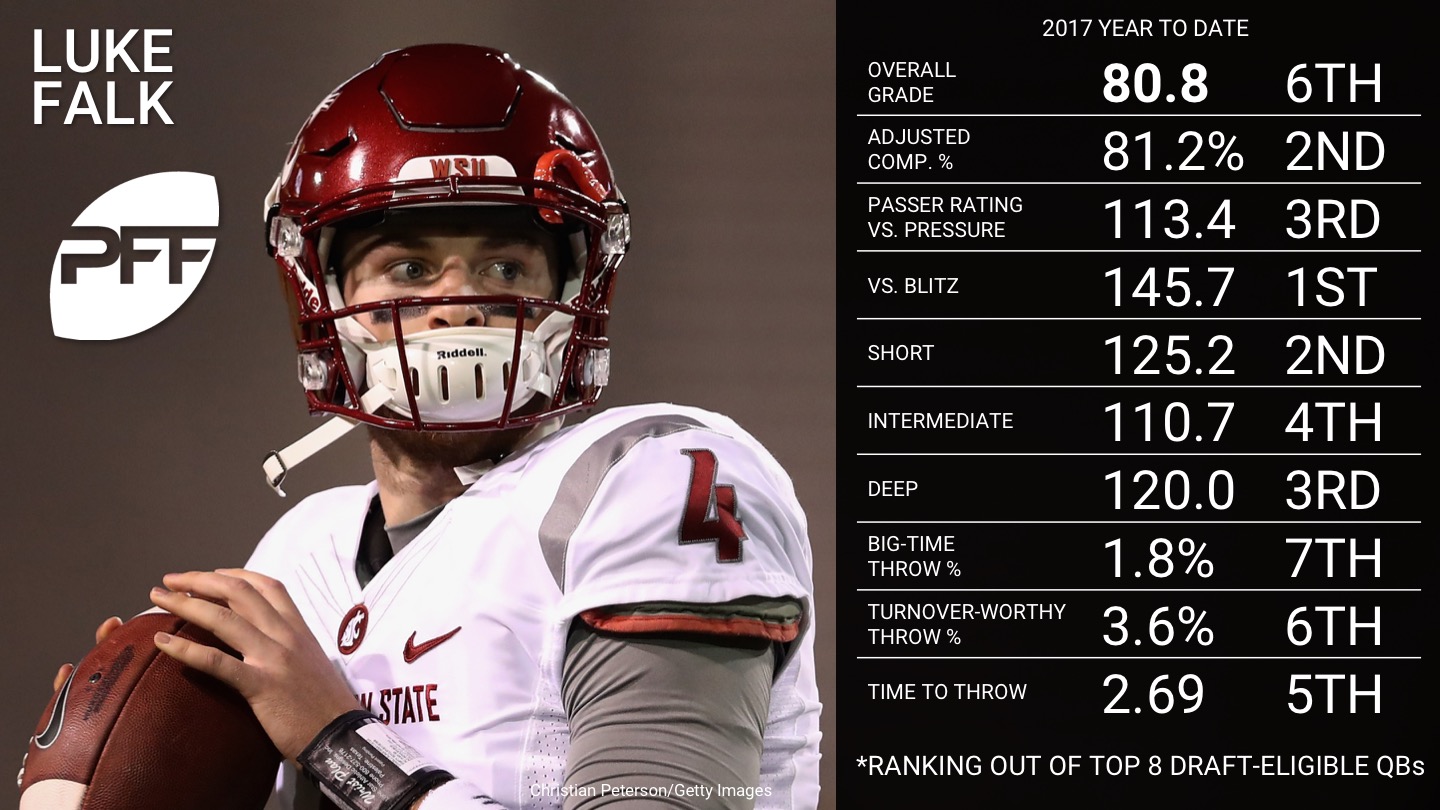 Zac Robinson: Falk played a pretty standard game by his counts, working efficiently with accuracy for catch and run opportunities in the short passing game, and hitting a number of deep crossers at the intermediate level. The lowest pressured passer in the Pac 12, Falk faced a 3-man rush on just about every snap, and made solid decisions to find completions throughout the game. He showed off his touch with two perfectly placed go balls for big gains. Typically heavily reliant on staying within the timing and structure of the offense, Falk's best play came on a 3rd and 11 in the score zone where he avoided a sack, scrambled, and found a receiver for a touchdown. Falk will need more of those plays as he gets his first big test with USC coming to Pullman on Friday night.
Lamar Jackson, Louisville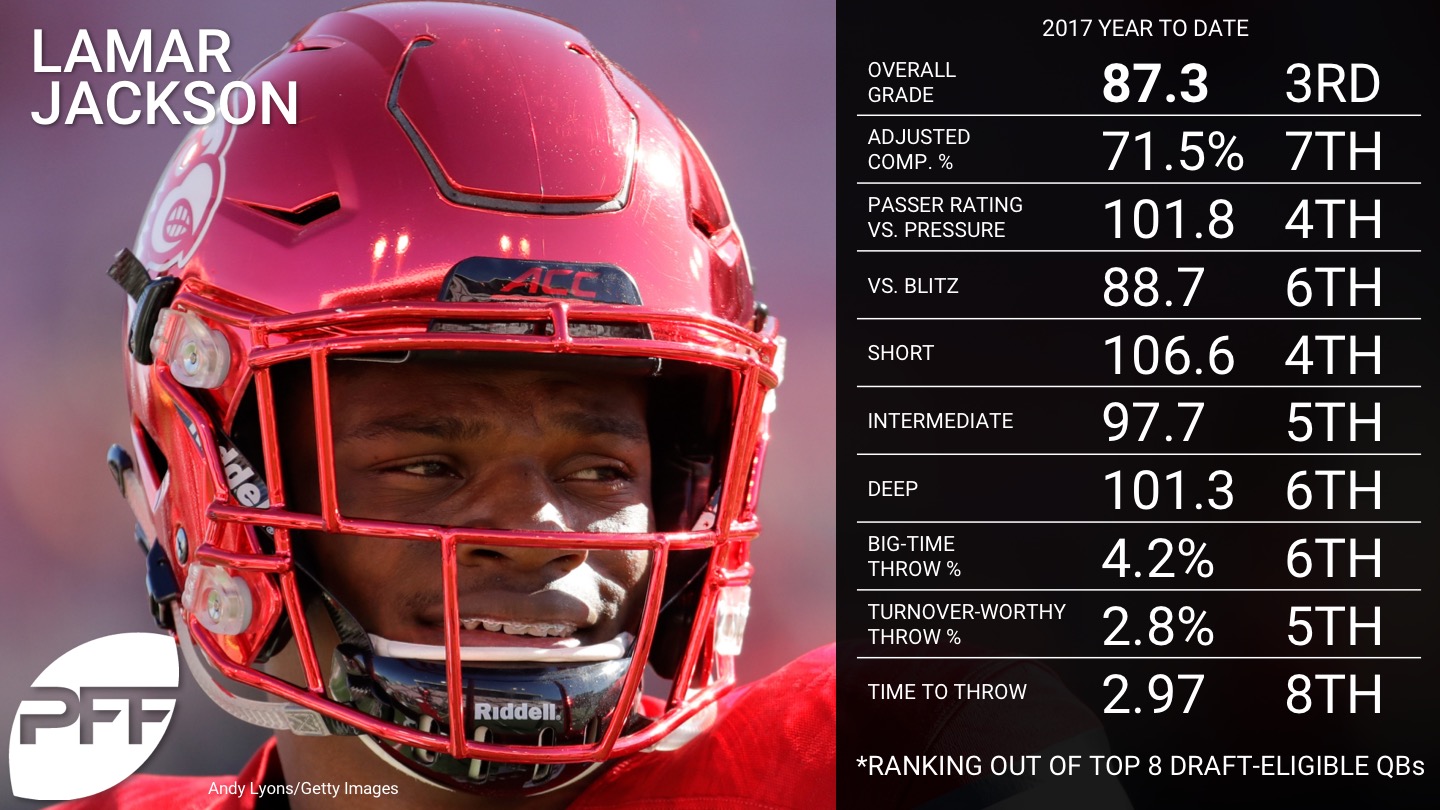 SP: Overall, it was a solid game for Jackson who was accurate for the most part, completing 18-of-22 passes for 299 yards and two touchdowns with two of his incompletions being dropped. He also threw two interceptions, the first of which wasn't his fault and came on one of the aforementioned drops, the other being a poorly underthrown deep ball for the easy pick. Aside from that, Jackson found the open man, more often than not from a clean pocket, and it was a nice bounce-back from his worst game of the season against Clemson last week.
Baker Mayfield, Oklahoma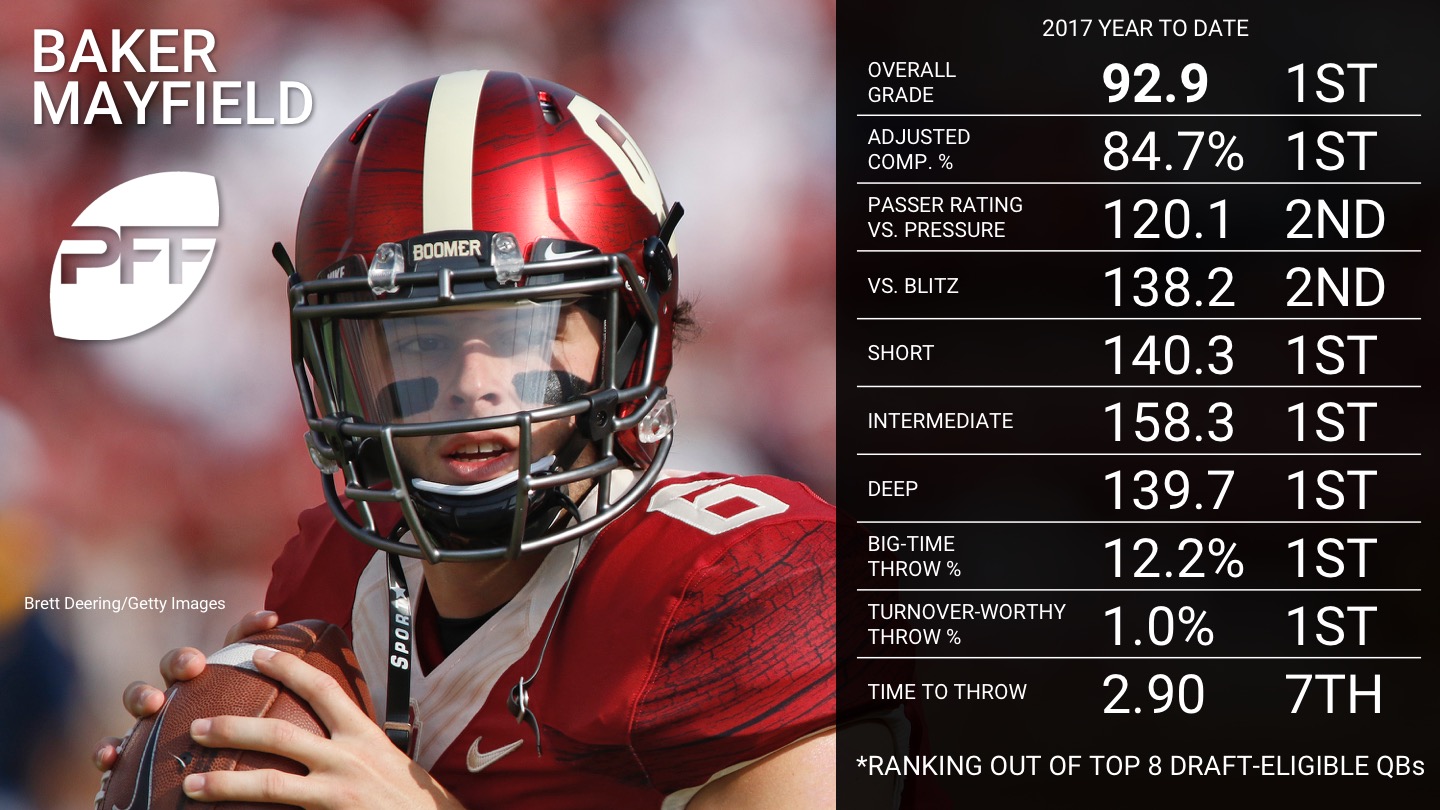 SP: Mayfield sprinkled the field with his usual helping of strong throws, whether zipping the ball in between zones, firing cover-2 shots on the move, or dropping deep balls on his receivers' hands. There was one poor decision in there as he threw a pass directly to a safety just before the half, but it was a rare miss for Mayfield who currently has the fourth-lowest percentage of negatively-graded throws in the nation. Mayfield continues to shine as a passer, and he's outperforming everyone in the draft class on a throw for throw basis.
Josh Rosen, UCLA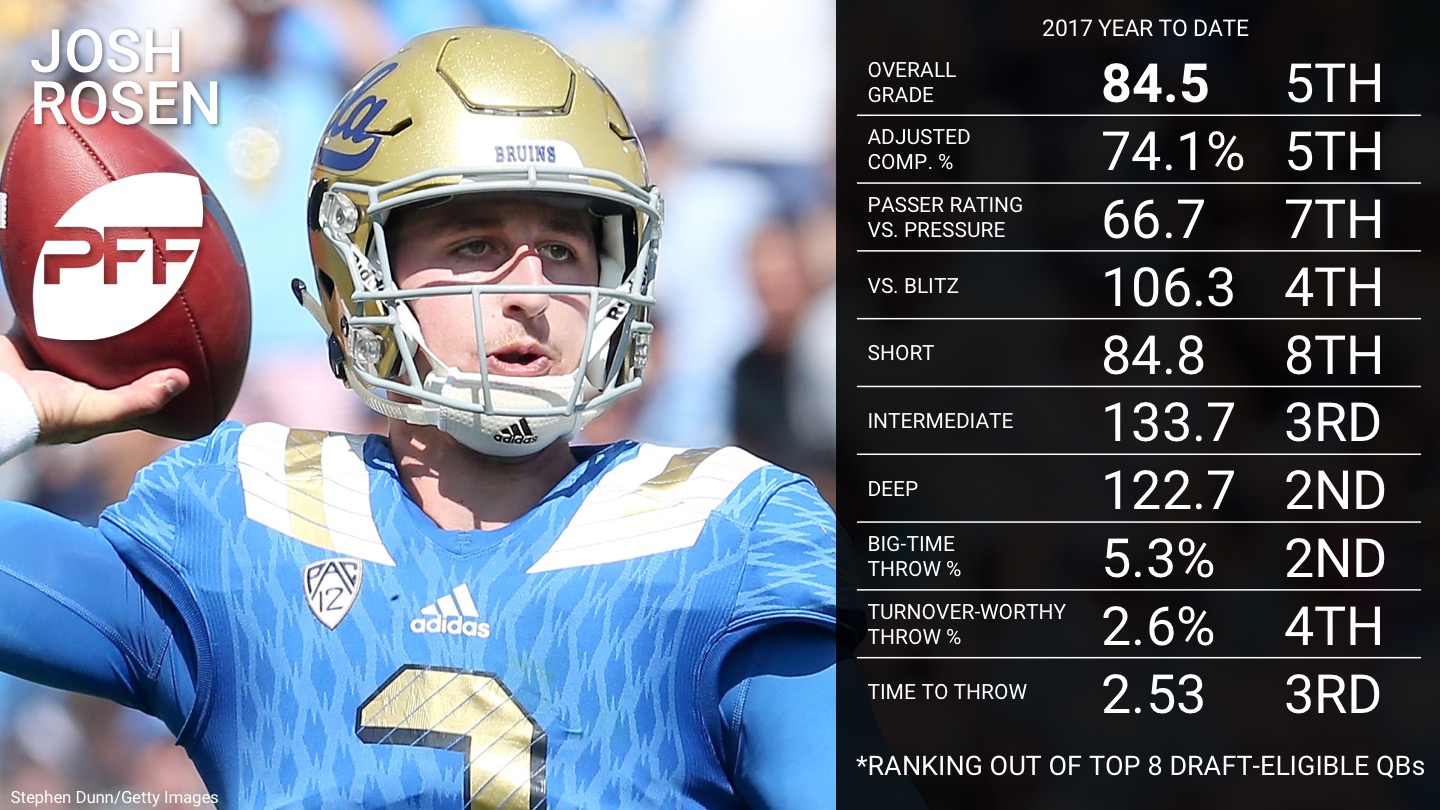 ZR: Rosen was sharp and accurate throughout the game working well in quick game and hitting a fare share of in-stride skinny posts and digs off of play action. Rosen was on the bad end of a first half interception that was dropped and deflected up straight to a defender. He was knocked around a kept making throws throughout, but ultimately a dropped would be touchdown pass on 3rd and goal, and two fumbles by his wide receivers, led to UCLA and Rosen failing to keep pace as Stanford hung 58 points. Perhaps no QB in college football is more heavily relied on to carry his team than Rosen this season.
Mason Rudolph, Oklahoma State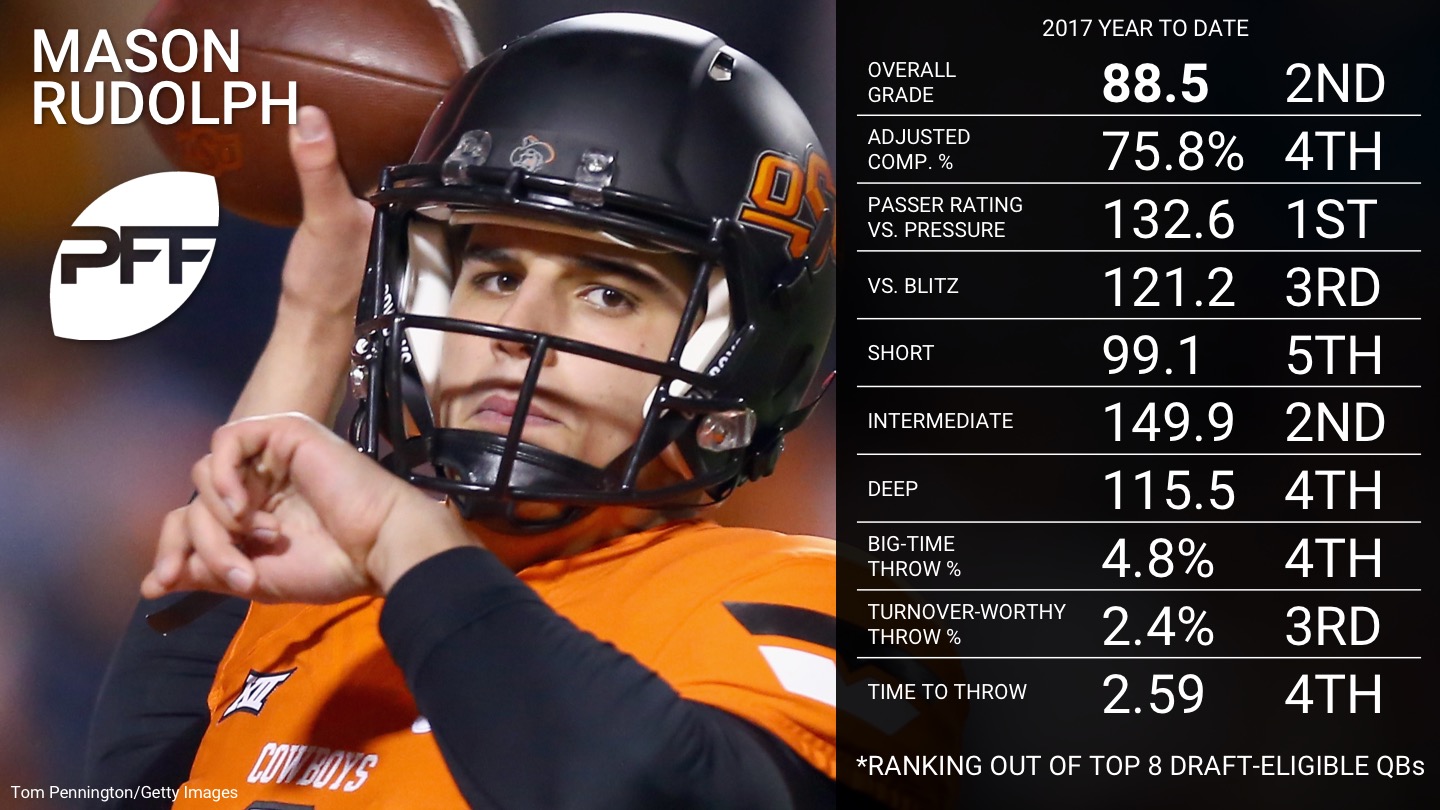 SP: After putting up gaudy numbers for three straight weeks, Rudolph came back down to Earth against TCU. He did have one of the best throws of the week as he led WR James Washington with an #InStride deep ball that was thrown 49 yards in the air, but that was the extent of his big-time throws on the afternoon. Rudolph put the ball in harm's way multiple times, including a fumble in which he held the ball far too long and lacked awareness of the pass rush and a red-zone post route that was floated and nearly intercepted in the fourth quarter. For Rudolph, it was his most challenging game of the season and the kind of game that will be used to evaluate his next-level ability, so we'd like to see a cleaner performance when faced with a solid defense once again.
Josh Allen, Wyoming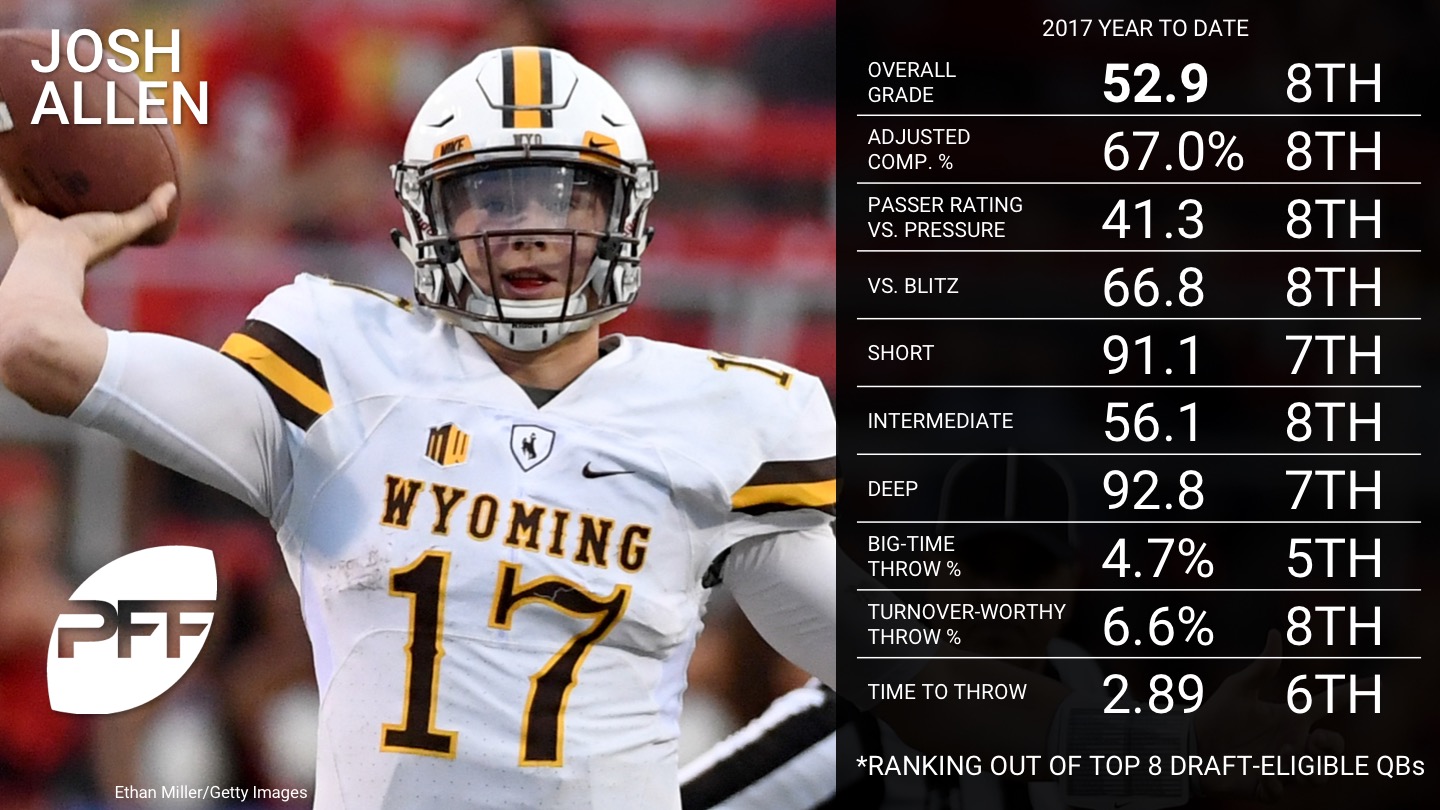 ZR: Allen and the supporting cast around him continue to struggle to get much going offensively. After a first half pocket fumble and a couple of dropped passes, the Cowboys relied mostly on the running game in the second half. He threw a near pick-6 on a quick out to his left that he left behind the receiver inside in the third quarter. Allen's best plays still come when he is scrambling or on designed bootlegs to his right, where he found a backside post for the game winner in overtime.
Mike White, Western Kentucky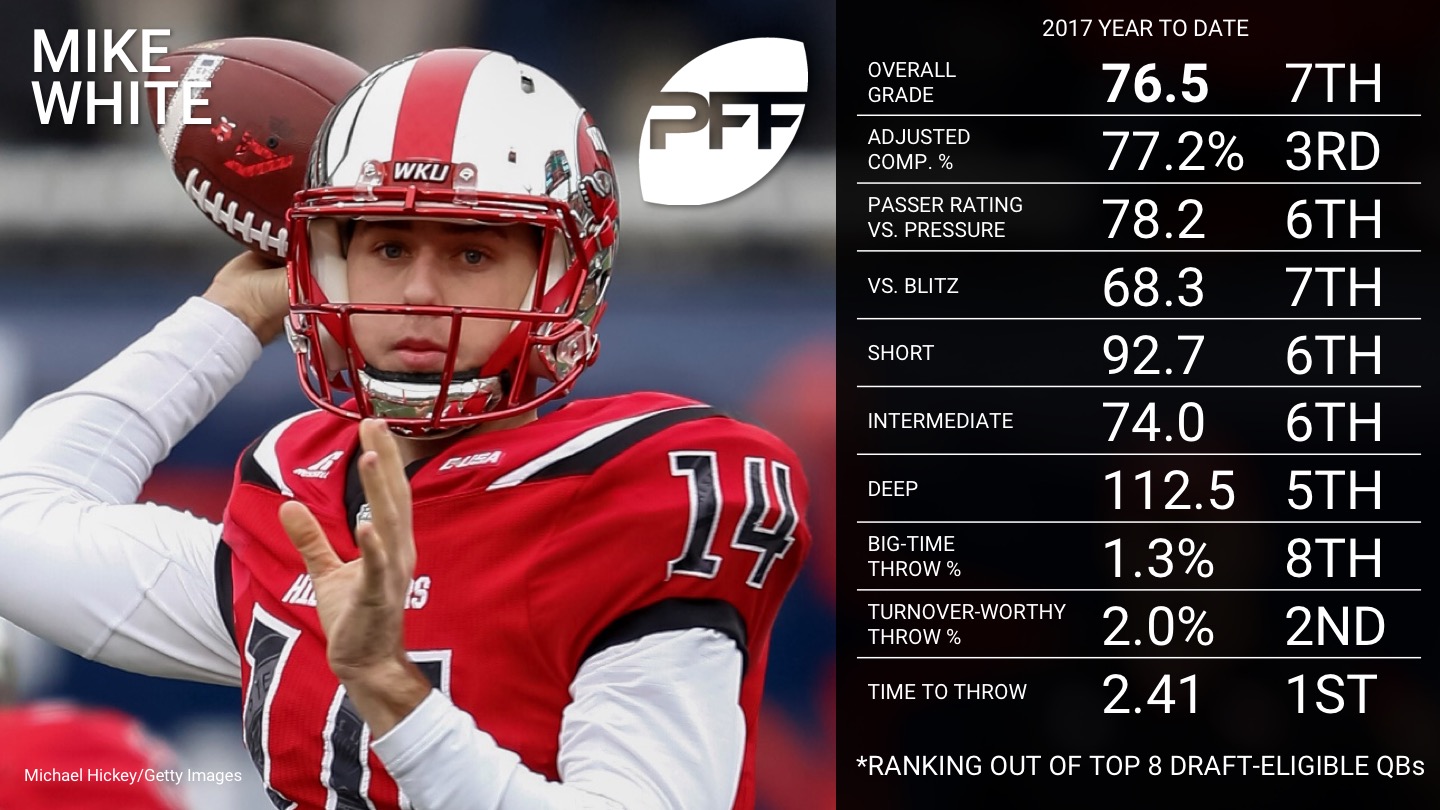 SP: White came out with a number of strong throws in the middle of the field against Ball State, ripping dig routes and post with NFL arm strength and ball location. It went sour after that as White missed a number of throws while making poor decisions on passes into tight coverage and leaving a sideline route dangerously behind for the cornerback to make a play on the ball. White was pegged as a sleeper prospect to note prior to the season, but 2017 has not gone as planned to this point.