Below is the Week 5 edition of our weekly PFF ELO rankings for the Top 25 teams in College Football. Like all ELO systems (including our version for the NFL), PFF ELO is an iterative system that updates each team's rating after each game based on two things: how well they played against their opponent and how well they were expected to play against their opponent. The PFF ELO rating system measures the former using our unique offensive, defensive and special teams grades, while the latter is determined by the PFF ELO ratings leading up to the game and where the game is played.
For example, a heavy favorite playing at home is expected to outplay the visitor, so a victory would result in only a small rise in their PFF ELO rating and a similarly-small decrease in the defeated team's, but if an upset were to happen, the visiting team would see their PFF ELO rating rise substantially, and the home team's see a similarly-sized drop.
None of our top-10 teams lost in Week 4, with Oklahoma dropping a spot after going into overtime with Army on pay-per-view and LSU falling two positions after sweating out a game against Louisiana Tech. Georgia won against a ranked Missouri team but needed some defensive and special teams touchdown luck to make that work. Alabama remains the class of college football. Full steam ahead.
Sometimes in football, the best team does not win, and PFF ELO accounts for these oddities by using our grades. Hence there will be teams rated higher or lower in this system than their win-loss record would suggest. Since PFF began charting college football in 2014, the difference in PFF ELO values alone has been able to explain over three-fourths of the variance in the closing Vegas line. Check back on our site for weekly college spread picks using this model (as well as other information) and check out PFF Greenline for our NFL version of the product.
The PFF ELO College Power Rankings are brought to you by Eckrich, the Official Smoked Sausage of the College Football Playoff.
1.

Alabama continues to be the class of the 2018 college football season and is almost 40 PFF ELO points ahead of our second-ranked team. With Tua Tagovailoa playing absolutely lights out through the first five weeks, Jalen Hurts has become an afterthought for this offense logging 12 snaps this past week. Tagovailoa has had a historic start to 2018; in the PFF era, only one quarterback from a Power-5 school has had a higher passer rating when kept clean through the first four weeks of the season, Baker Mayfield a season ago. Over 36 percent of Tagovailoa's throws have been positively-graded and he has an EPA of 0.78 per dropback.
The Alabama pass defense is in elite form led by breakout star Deionte Thompson. As a coverage unit, they have allowed a passer rating of 58.3 and generated pressure on over 40 percent of dropbacks.
2.

Georgia handled an upstart Missouri team on the road and finished with a few lucky bounces to win their first conference game. Jake Fromm took all but one snap at quarterback and he has the highest adjusted completion percentage in the SEC through four weeks. His EPA per dropback is impressive at 0.50 but with Justin Fields generating an EPA of 0.72. Head coach Kirby Smart may need to make a tough decision if needing upside later in the season.
Deandre Baker has blanketed opposing receivers having two interceptions, three passes broken up and allowed a passer rating of just 32.6 on throws into his coverage. The Bulldogs coverage unit as a whole has allowed a passer rating of 66.8 and have contested over 16 percent of pass attempts against.
3.

After posting a perfect passer rating when kept clean on Saturday, Dwayne Haskins has bumped up his passer rating on clean dropbacks to 152.9 on the season, second among qualifying FBS quarterbacks. He has settled in on Parris Campbell and K.J. Hill as his two favorite targets. Combined on 43 attempts, they have 38 completions (on 38 catchable passes), 532 yards (357 yards after catch) and six touchdowns with zero interceptions. With an average depth of target of 5.67 on targets to Campbell and Hill, Haskins is employing a quick-hitting passing attack with much success.
Ohio State continues to keep the injury timeline for Nick Bosa quiet although it's been released he'll likely miss action until November. The defense played well without him and on the season has an EPA allowed on early down passes of -0.18 with only 43.4 percent of passes being successful. A whiteout game on the road against our fifth-ranked Penn State should answer any remaining strength of schedule questions this team currently has.
4.

Saturday was a scare for Oklahoma, and thus they drop a spot in our rankings. Kyler Murray's 149.5 passer rating when kept clean is the fifth highest among qualifying college quarterbacks, suggesting that they have the goods at the game's most important position as they battle for a spot in the College Football Playoff. Down the middle of the field and deep, he's completed an outrageous 5-of-9 attempts for 240 yards and three touchdowns through four weeks.
Defensively, their 0.04 EPA allowed on early-down passing plays is third-worst in the Big 12 so far this season, a cause for concern given the strength of passing offenses in the conference so far (five teams, including OU, with offensive marks higher than 0.11 so far). It's largely been an issue in coverage, with their grade there ranking 79th thus far. That's something that needs to improve going forward for this team to really contend.
5.

Trace McSorley continues to keep defenses off balance with his rushing ability but as a dropback passer, has generated a mere .03 EPA per dropback. He has thrown a deep pass on 20 percent of attempts but has a low adjusted completion percentage of 42.9 on said deep passes. He will need to take some shots downfield to spread out the Buckeyes defense on Saturday. Running back Miles Sanders ran all over Illinois in Week 4, rushing for 200 yards with 138 coming after contact. Chipping in three touchdowns, he now has 21 forced missed tackles on the season and was named as one of our breakout stars of 2018.
If Penn State is going to hang with the Buckeyes, they have to be effective against early-down passing. To start 2018, they have allowed a successful pass on 36.5 percent of attempts. If the Penn State defense cannot force Haskins into 3rd & long, he will make quick work of the Nittany Lions coverage.
6.

Clemson has officially named Trevor Lawrence the starter for Week 5 as they are set to tee off against undefeated Syracuse. In limited dropbacks, he has generated an EPA of 0.51, in comparison, Kelly Bryant has -0.07 EPA on early-down pass attempts. He has thrown well from a clean pocket, posting a passer rating of 128.7, and is seemingly the right QB for Clemson.
Clemson's rush defense blanketed Georgia Tech in Week 4 and so far in 2018, Clemson has allowed a successful rush against on 22 percent of early-down attempts. The Tigers have made first contact against a rusher at or behind the line of scrimmage on almost 43 percent of attempts. If Syracuse wants any chance of hanging with Clemson on Saturday they need a quick passing attack that leads them on early downs.
7.

Auburn rolled to an easy victory over Arkansas in Week 4 and they are now in the middle of a brief reprieve from their brutal schedule. Jarrett Stidham continues to have luke-warm quarterback play with a passer rating when clean of 96.3. At times, he is more than adequate but far too often he fails to provide much confidence in his performance and could clearly struggle when facing off against the class of the SEC.
The Auburn run defense led by Deshaun Davis has allowed a successful rush on under 29 percent of attempts as Davis already has 22 run stops to start 2018 and has only recorded three missed tackles. Rounding things out, their pass defense is possibly better after allowing a passer rating of 61.4 to start 2018. 
8.

Alex Hornibrook led a late game-winning drive to emerge victorious against 18th-ranked Iowa in a game that felt closer than the final outcome with Wisconsin scoring twice in the final minute. Hornibrook continues to be consistent with 38 percent of throws positively graded as he hasn't made many game-altering plays with a big-time throw every 5.1 percent of dropbacks. The Badgers offense is most effective when rushing on early downs as they have a 58.0 percent success rate. Jonathan Taylor makes this offense churn, generating 21 forced missed tackles on 102 rushing attempts. His elusive rating is currently the 13th-best mark in the FBS. The Badgers have this weekend off, next up Nebraska followed by a showdown at the Big House against Michigan.
9.

The Irish made a quarterback switch Saturday, benching starter Brandon Wimbush and going with Ian Book against Wake Forest. Book was great, earning the highest offensive grade among all Notre Dame players, while earning a 126.5 passing grade from a clean pocket in the process.  Their defense ranks in the top 10 in total grade in the country, meaning that if Book can simply be an upgrade going forward, this team could be dangerous in the standings with games upcoming between Stanford and Virginia Tech the next two weeks.
10.

After struggling a bit with Louisiana Tech on Saturday, the Tigers are still in the top 10 on the strength of a defense that has generated 76 total pressures so far through four games, but with the leading player on the team earning only 10 of those, showing substantial depth. Joe Burrow has done just enough at the quarterback spot, earning a 98.7 passer rating when throwing from a clean pocket, versus 39.6 when pressured. We know the latter regresses to the mean quite substantially as the number of dropbacks goes up, meaning that we're likely to see better overall numbers from the signal-caller moving forward.
11. UCF (+4)
12. Stanford (-)
13. Washington (+1)
14. Miami (+5)
15. Oklahoma State (-4)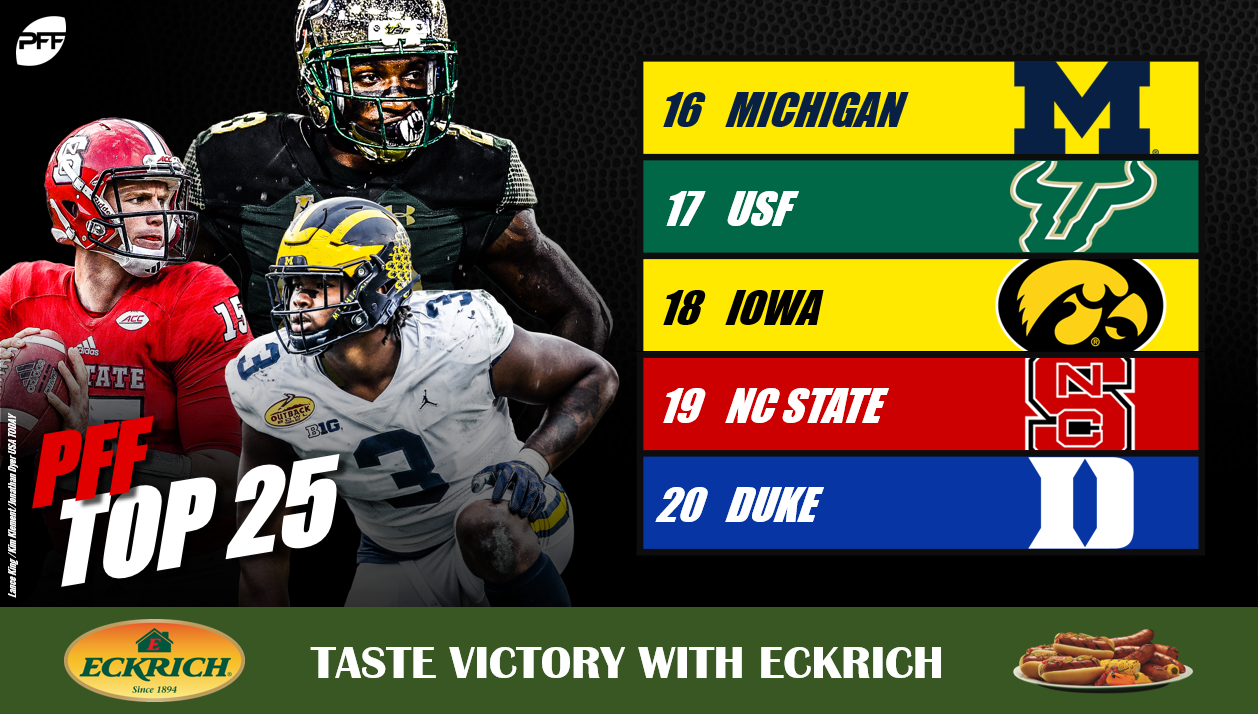 16. Michigan (+)2
17. USF (-)
18. Iowa (-2)
19. NC State  (+5)
20. Duke (+6)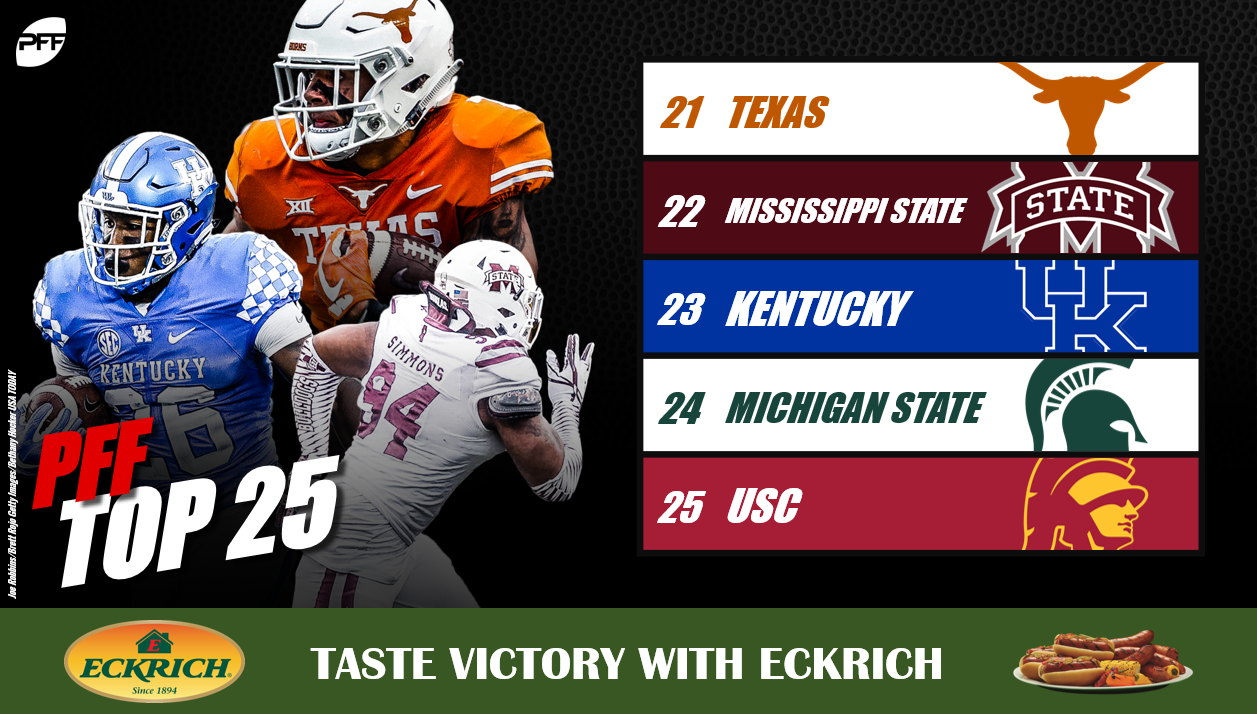 21. Texas (+4)
22. Mississippi State (-9)
23. Kentucky (+5)
24. Michigan State (+13)
25. USC (+2)