We're already through the fourth week of the season after a fun slate of games on Saturday that did nothing to change the leader atop of the race for the Heisman Trophy. After the fourth week of action, we take another look at who's in line for the Heisman in our weekly Heisman Watch.

1. Joe Burrow, QB, LSU
The leader in the clubhouse for the past three weeks did nothing to allow anyone to surpass him this week as he set LSU records in his victory over Vanderbilt. He targeted Ja'Marr Chase heavily and even vaulted Chase onto this list below but Burrow's day was outstanding. On throws targeted at least 10 yards downfield, he completed 12-of-17 passes for 275 yards and three of his scores while connecting on three big-time throws. Most importantly, he's limited himself to just three turnover-worthy passes all season long as he's taken care of the ball with near perfection.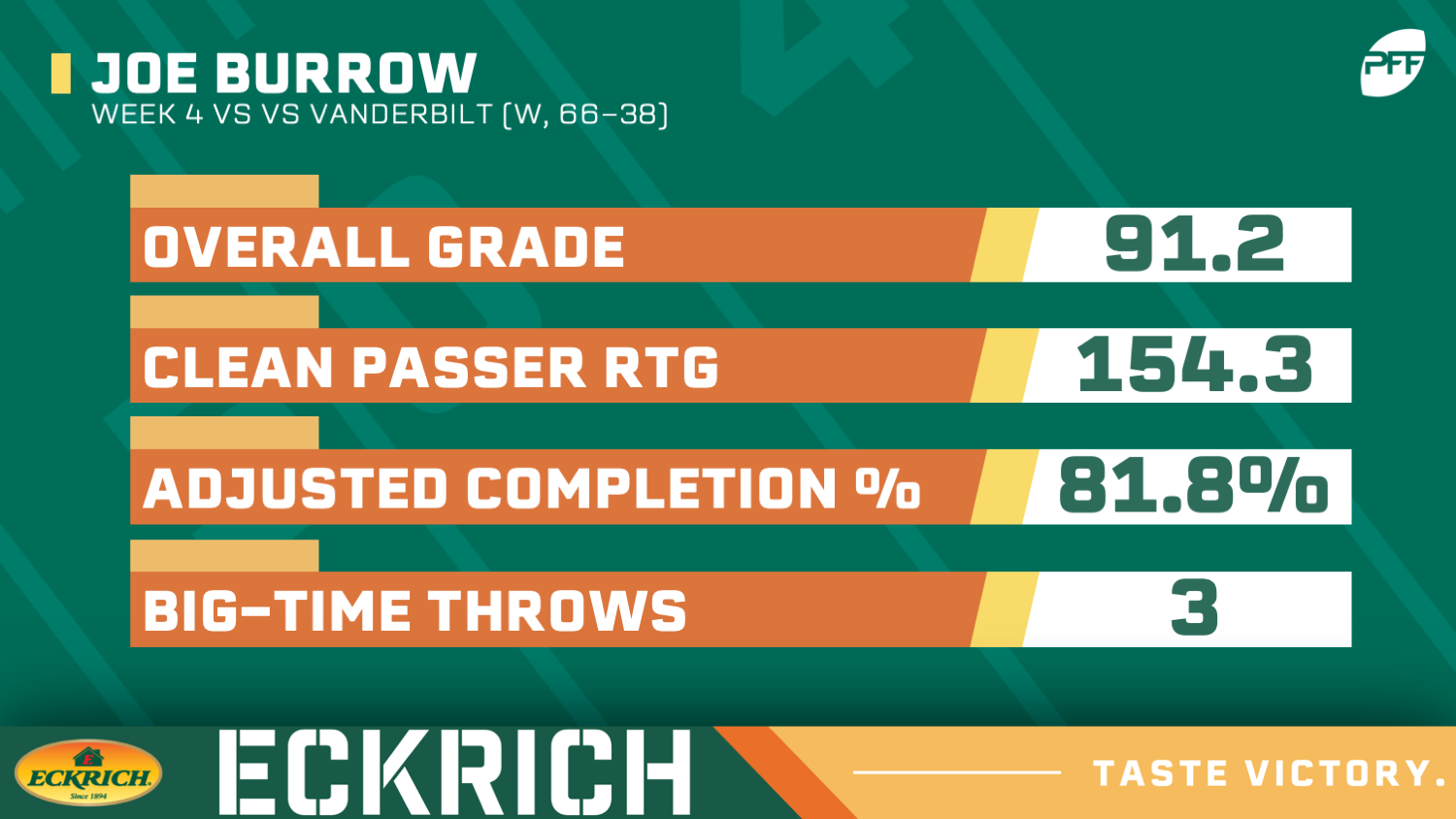 2. Jalen Hurts, QB, Oklahoma
Hurts was off this past week but his body of work to date is still impressive enough to not slip. We look back at what we said last week:
The Sooners, led by Hurts, went into LA and knocked off the UCLA Bruins convincingly. Hurts was brilliant from a clean pocket in this game, completing 12-of-15 attempts for 209 yards and two touchdowns while he was also sharp passing the ball down the field. On throws targeted at least 10 yards past the line of scrimmage, Hurts connected on 7-of-11 passes for 210 yards and all three of his touchdowns. He added 79 yards in the designed run game and had an additional 78 yards on three scrambles showcasing what makes him perhaps the nation's best dual-threat quarterback through three weeks.
3. Tua Tagovailoa, QB, Alabama
Tagovailoa needed just six completions past 10 yards downfield to total 169 yards on the afternoon on those throws as he finished the day with five touchdowns on 17-of-20 passes overall. His 17-0 TD-to-INT ratio is astounding but he's actually gotten some interception luck as he's thrown two turnover-worthy passes and is averaging just 7.4 yards downfield per attempt. Of his yards, 66.8% of them have come after the catch as he's fed his skill players with relative ease, to no fault of his own that they're open more often than not.
4. Justin Fields, QB, Ohio State
The nation's second highest-graded quarterback on throws targeted at least 10 yards downfield, Fields has been absolutely lights out as a passer so far through four weeks of the season. On those throws, he's completed 28-of-43 attempts for 571 yards and 11 touchdowns against no interceptions. He's seeing a 12.5 average depth of target for the year and throwing a catchable pass on 80.5% of his passes, which is the nation's highest adjusted completion percentage among quarterbacks who average at least a 12.2 average depth of target.
5. Sam Ehlinger, QB, Texas
Ehlinger dealt on Saturday against Oklahoma State despite not having his No. 1 WR on the field in Collin Johnson. He is currently second in the country with 12 touchdowns on passes targeted at least 10 yards downfield as he had four touchdowns on such throws this past weekend against the Cowboys. He's a big-time throw machine at this point and all signs point to the shootout between him and Hurts as the de facto Big 12 Champion decider coming up.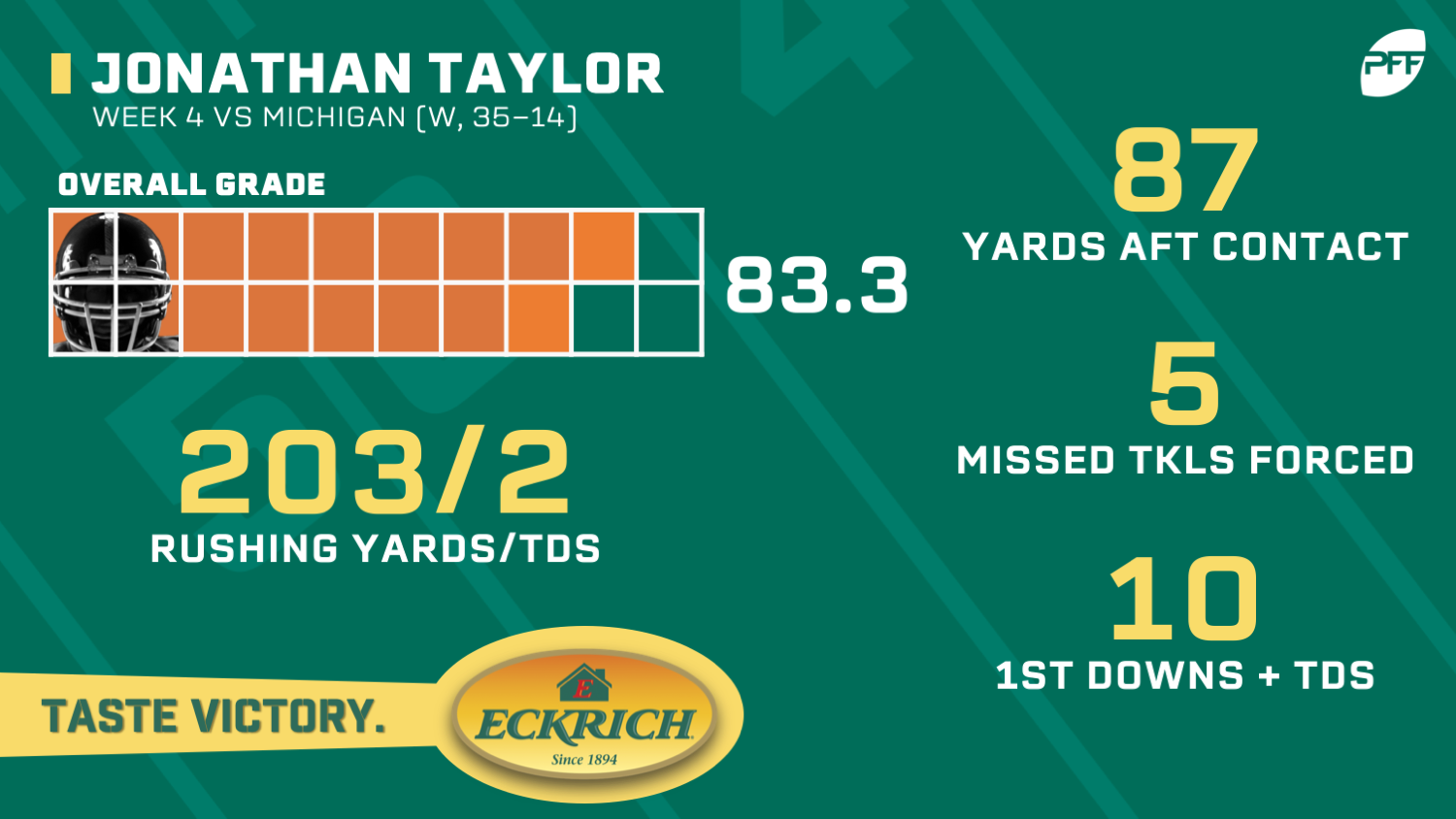 6. Jonathan Taylor, RB, Wisconsin
In a true Heisman-worthy moment, Taylor sprinted past Michigan defenders early in the first half in Wisconsin's domination over the Wolverines, untouched en route to a big game on the ground. Taylor totaled 203 yards on the ground and forced five missed tackles while 10 of his carries moved the chains for first downs or a touchdown. For the season, he's now broken 17 tackles and gained 258 of his 440 yards after contact. He's a remarkably consistent runner who's also added a pass-game prowess in 2019.
7. Chase Young, Edge, Ohio State
Two strip-sacks to his credit this past weekend, Young got it done from both sides of the defensive line. He likely doesn't need another snap this year to affirm his likely top draft spot but at this rate, more games like he had on Saturday will see him rise in our Heisman rankings as he has a legitimate shot at heading to New York at the end of the year. A year after leading the country in pressures, Young is currently the nation's highest-graded defensive player regardless of position, by a long shot.
8. Jake Fromm, QB, Georgia
Finally, a big game where he was needed to step up, Fromm did just that against Notre Dame. He is currently the nation's fourth highest-graded quarterback by passing grade as he holds a 79.5% completion percentage and has taken care of the ball throughout the season. He hasn't been tested much and that's a credit to not only the strength of opponent but also his offensive line as he's been kept clean from pressure on 75.3% of his dropbacks this year. Unfortunately for opponents, when he is kept clean from pressure, he's completing passes at a high rate and has the 11th-highest passer rating from a clean pocket.
9. Jamie Newman, QB, Wake Forest
The nation's highest-graded passer on throws targeted at least 10 yards downfield, Newman has as legitimate of a chance to win the Heisman if his team can finish the year undefeated as anyone. Unfortunately for Newman, they have games against Virginia Tech, Florida State and a mid-November trip to Clemson that will ultimately test them. However, if he continues to rely on this quick offense with delayed reads that pit to his strengths of dissecting defenses, we could very well be staring at two undefeated teams squaring off when the Demon Deacons and Clemson Tigers do battle on November 16. The winner of that game not only has the best chance of winning the ACC but the signal-caller should likely see himself to New York if Newman's current trajectory continues.
10. Ja'Marr Chase, WR, LSU
Chase has hauled in four contested catches this season and in his true breakout performance, totaled 229 yards on 10 catches including a whopping 117 yards after the catch. He's a dynamic playmaker with the ball in his hands and forced three missed tackles while seeing a perfect passer rating of 158.3 when targeted against Vanderbilt. He's churned out 13 first-down + touchdown receptions this year on just 20 total catches as he's a consistent target to convert when his offense needs him. With the injury to Terrace Marshall, he should benefit from more targets going forward.