PFF previews the four NFL games ahead of wild-card weekend, highlighting players to watch while also taking a fantasy football and betting approach to offer insight for every NFL fan.
[Editor's Note: ELITE subscribers have access to all of PFF's fantasy football projections, rankings and lineup tools in addition to PFF NFL and College Greenline, an online dashboard with predictions for the spread, total and moneyline for every FBS and NFL game every week. Subscribe today to gain access!]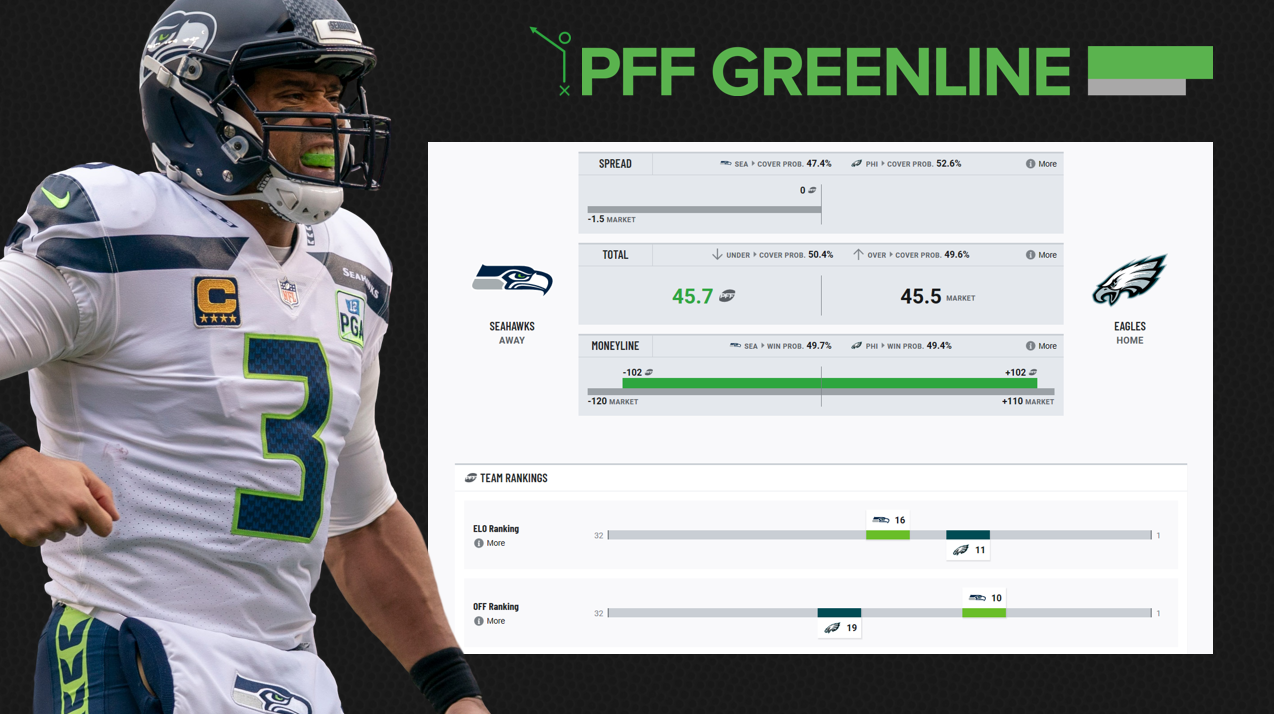 Any time you can get one of the top wide receivers in the NFL matched up with one of the top cornerbacks in the NFL, it's a win for fans. Hopkins and White certainly qualify, and when you add in the fact that the matchup is coming in the postseason, this instantly becomes one of the most compelling storylines of wild-card weekend.
Hopkins was one of the top wide receivers in the NFL once again this year. His receiving grade of 87.8 was tied for fourth-best in the league, and his 68 receptions that resulted in either a first down or a touchdown were behind only Michael Thomas and Julio Jones at the position. His pairing with Deshaun Watson creates one of the most dynamic quarterback-pass catcher duos in the NFL right now.
His opposition, White, has been one of the stingiest cornerbacks in the NFL. Among all cornerbacks who faced 50 or more targets in the 2019 regular season, White ranked second in passer rating allowed (46.3). He was also targeted 84 times without allowing a single touchdown — the best rate in the NFL. There are few cornerbacks in the league better suited to match up with Hopkins, and that battle will be the one to watch on Saturday afternoon.  
Fantasy football preview
On Saturday afternoon, Deshaun Watson and the Texans face off against a Buffalo defense that seems perfectly suited to stop their high-powered passing attack. As this tweet shows, the success of Houston's passing game has historically hinged on the health of Will Fuller (questionable with a groin injury). More specifically, the success of the passing game has hinged on the success of the deep passing game. Over the past three seasons, Watson averages 22.1 passing fantasy points per game when completing two or more deep passes in a game (18 such games). Across his other 20 games, he averages nearly half that – just 12.4 passing fantasy points per game. The bad news for him this week, is, for the third straight season, Buffalo ranks top-three in deep completions allowed per game (just 0.9 over this span).
On Buffalo's side, Devin Singletary seems a bit mispriced for DFS purposes. Singletary was stuck in a 50/50 committee alongside Frank Gore for much of the season, but that's no longer the case. Singletary sat out in Week 17, after playing on a season-high 96% of the snaps in Week 16's loss to the Patriots, marking his sixth straight game with a snap share of 70% or higher. While that good volume didn't amount to a lot of fantasy production, he did face a difficult schedule over this span – his last three games came against defenses ranking top-five in fantasy points per game allowed to opposing running backs. Houston, meanwhile, ranks bottom-five, giving up a whopping 34.3 fantasy points per game since Week 11.
Betting Preview
The kickoff to wild-card weekend has flirted with key number movement up to a field goal spread since the open. Right now, -2.5 has held with added juice coming in on the initial line. The total has moved one point since the open, but value still remains at the current number. Greenline has a strong play at the current spread, as well, with line movement expected — this is a spot to lock up right away.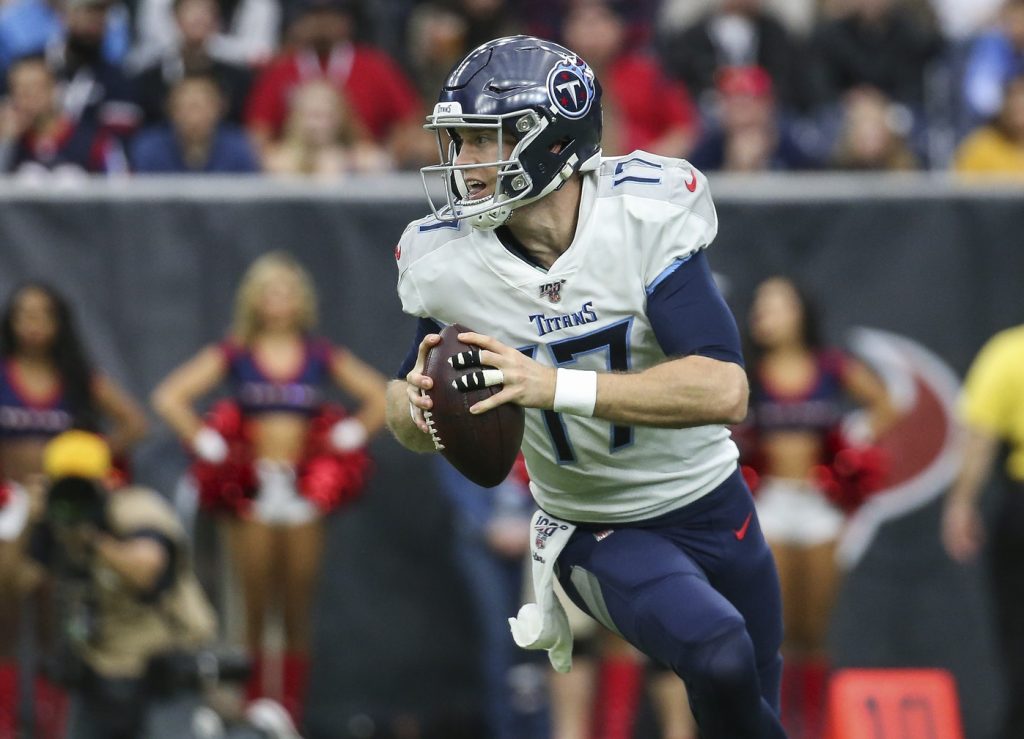 © Troy Taormina-USA TODAY Sports
Headline of the Game: Will the Titans be the team that finally ends the Patriots dynasty?
The Patriots and the Titans were both teams with something to play for last week: The Patriots needed a win to ensure a first-round bye, while the Titans needed a win to secure a playoff berth. In short, it was a chance to see the response from each team in a postseason environment. The Titans rose to the call, albeit against a Texans' team with nothing to play for, and the Patriots wilted against the Fighting Ryan Fitzpatricks at home. Those performances tell the story of the trajectory of these two teams over the second half of the season.
Through six weeks, the Marcus Mariota-led Titans were 2-4 and were forced to hand over the reins to Ryan Tannehill. Meanwhile, the Patriots were 6-0 behind a stifling defense in what looked to be another cakewalk to the top of the AFC. In the 10 games that followed, the Titans fielded the second-best offense in the NFL in terms of expected points added per play, and they were led by PFF's highest-graded quarterback of the year. The Patriots' offense, which has consistently been among the best in the NFL over the past several seasons, ranked just 18th in EPA per play and 26th in yards per play over the same stretch. 
The Patriots have the better defense, but offense is king in today's NFL. The Titans clearly have the advantage there, and because of that, they have a legitimate chance at pulling off the upset.
Fantasy football preview
Saturday night, the league's best defense takes on the league's hottest offense. The Patriots rank best in yards allowed per game (275.9), opposing passer rating (62.8), and they're 31% better than the second-best team in points allowed per drive (0.99). However, since Week 7 – Ryan Tannehill's first start – the Titans rank first in yards per play (6.94), yards per carry (5.64), and yards per pass attempt (9.00).
Tannehill leads all quarterbacks in PFF grade (92.5) and passer rating (117.5) while ranking behind only Lamar Jackson in fantasy points per start (22.5) and fantasy points per dropback (0.70). Derrick Henry averages 26.0 fantasy points per game since Week 9, which ranks second-most. A.J. Brown averages 21.3 fantasy points per game since Week 12, also second-most. However, on paper, their matchups couldn't be worse – New England ranks best in fantasy points per game allowed to opposing quarterbacks, running backs, and WR1s.
Tennessee, meanwhile, is far more exploitable defensive, ranking bottom-12 in schedule-adjusted fantasy points per game to quarterbacks, running backs, wide receivers, and tight ends. However, New England's offense feels hard to trust. Tom Brady has hit 300 yards, recorded a passer rating in the triple digits, or reached 18.5 fantasy points just once over his last 10 games. Julian Edelman averages just 6.9 receiving fantasy points per game over his last three games (perhaps due to late-season maintenance), but was averaging 17.5 (fifth-most) prior to this point. Consider this a get-right spot for him. He has one of the top cornerback matchups of the week – no cornerback has allowed more receptions, yards, or touchdowns to the slot (where he runs 68% of his routes) than Tennessee's Logan Ryan.
Betting Preview
The Patriots have found little early-week backing in their first wild-card game in over a decade. The spread opened with the Patriots as 5.5-point favorites but has dropped a full point, with bettors buying into their demise. This game will be decided by the ability of the Patriots' second-ranked defense to slow down the Titans top-rated offensive unit, according to our Massey ratings. This is a situation where you should monitor Greenline throughout the week, with any line movement opening up potential value on the spread or moneyline.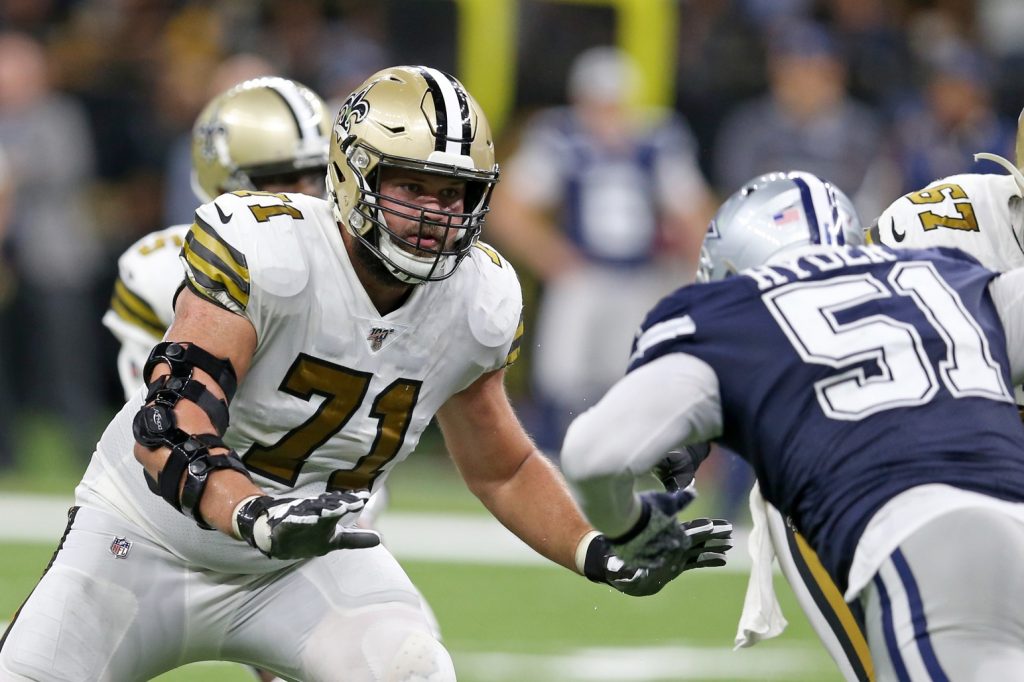 © Chuck Cook-USA TODAY Sports
Headline of the Game: Drew Brees and company should cause problems for the Vikings
The Saints' passing attack, which was once again fueled by a 90.0-plus graded season from Drew Brees, has been one of the best in the league. Of course, it also helps that Jared Cook has added another legitimate weapon that defenses must worry about outside of Michael Thomas. Cook's yards per route run mark of 2.93 since Week 10 is third at the position behind only Mark Andrews and George Kittle. Not only do they have the weapons and the quarterback, but they also have the protection for that quarterback with the top tackle duo in the NFL, Terron Armstead and Ryan Ramczyk, which has helped to allow the lowest quick-pressure rate in the NFL this season.  
On the other side, the Vikings have one of the more interesting defenses in the league. Their linebackers and safeties have combined for the highest team coverage grade in the NFL by a wide margin across those positions (94.6), but their cornerbacks, who have combined for a coverage grade of just 53.4, are a different story. Whether it's Xavier Rhodes, Trae Waynes, Mackensie Alexander or Mike Hughes, the Vikings just don't have anyone who matches up well with Thomas. It could be up to Kirk Cousins and the Vikings' offense to keep pace in a shootout.
Fantasy football preview
More than any other offense this week, New Orleans is the one you want to be investing in, playing at home with a league-high 28.25 implied point total. More than any other player, Michael Thomas is the one you want to be invested in. Thomas averages a whopping 28.1 fantasy points per game at home this year. Prior to last week, in a game that got out of hand quickly, Thomas was averaging an absurd 26.0 fantasy points per game in the nine games Drew Brees started and finished, reaching 100 yards in eight of these games. This week's matchup almost couldn't be better – Minnesota is giving up the second-most fantasy points per game to outside wide receivers.
Minnesota runs their offense through Dalvin Cook, but he's dealing with a shoulder injury and is averaging just 36.0 rushing yards per game since Week 11. And the matchup almost couldn't be worse – New Orleans ranks top-three in yards allowed per carry (3.65) and rushing fantasy points allowed per game. After Cook, the offense runs through Stefon Diggs, who quietly ranks top-five in yards per route run and receiving yardage market share. He too has a brutal matchup, drawing shadow coverage from Marshon Lattimore. Across his last seven shadow games, stud WR1s like A.J. Brown and Julio Jones combined to average just 3.6 fantasy points per game against his coverage.
Betting Preview
PFF's seventh-ranked Vikings travel to the Big Easy to take on the second-ranked Saints. The Saints have been bet out past a touchdown spread, with little value present at the current price. Both offenses sit in the top three of our Massey offensive rankings, pushing this total out two points since the open. This number is the highest total on the wild-card weekend but needs some more movement to open up value.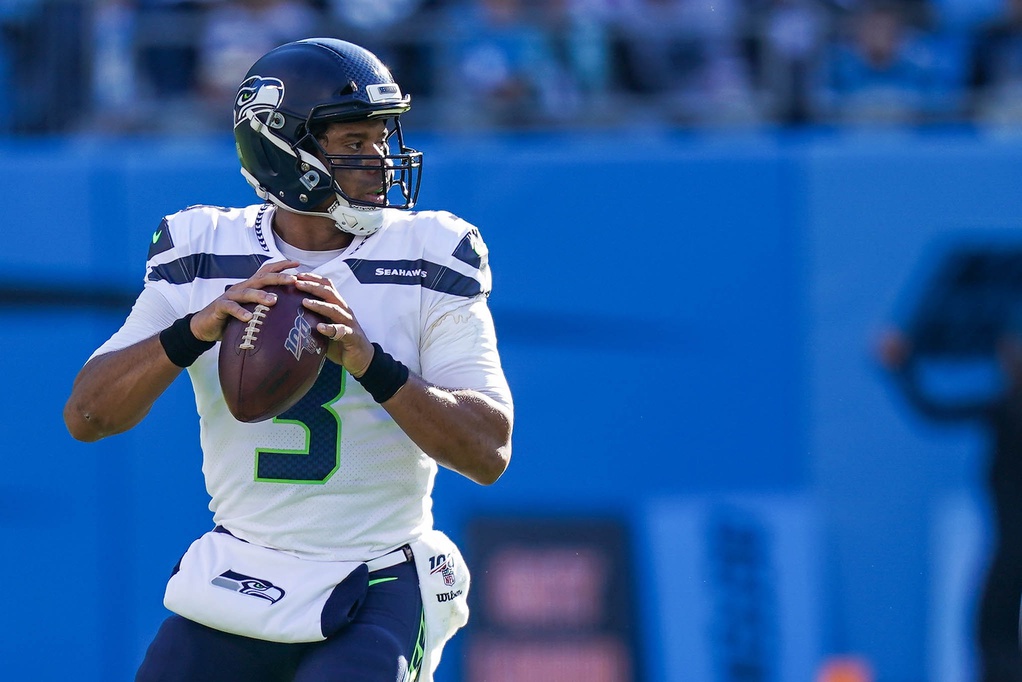 © Jim Dedmon-USA TODAY Sports
Headline of the Game: Which quarterback can do more with less: Russell Wilson or Carson Wentz?
The Eagles' injury report right now, especially on the pass-catchers, is not ideal. Desean Jackson has run just 38 routes this season, which has resulted in running back Miles Sanders leading the team with 165 yards on passes 20 or more yards downfield. Their leading wide receiver, Alshon Jeffery, failed to crack 500 yards receiving in 2019 before being placed on IR. Zach Ertz, who has over 100 more targets than the next closest pass-catcher, is dealing with an injury, as well. The options for Wentz right now are bare. It's showing in the results, as his 6.8 yards per attempt to wide receivers are the lowest of any quarterback in the NFL this season.
Wentz will have to shoulder a large portion of the load, and so will his counterpart in Wilson. Though the MVP chatter has died down in recent weeks with several duds, Wilson has been simply awesome this season. He has made the most of heavy pressure behind one of the worst pass-blocking offensive lines in the NFL, and he's brought the Seahawks back from behind on numerous occasions as PFF's highest-graded quarterback when trailing. Wilson has done all of that with a roster that really has no business being 11-5. It's what makes the matchup with Wentz and the Eagles so compelling — the result will likely come down to which quarterback is able to do more with less. 
Fantasy football preview
When these two teams faced off in Week 12, Seattle won by eight points with Russell Wilson attempting just 25 passes. Including the quarterbacks, Zach Ertz (27.1) and Rashaad Penny (18.9) were the only players to reach even 12.0 fantasy points. Penny won't be active this week, and the Eagles have otherwise been stout against the run – that was the most rushing fantasy points they've allowed this year and they rank fifth-best overall.
However, the other matchup is worth highlighting, though Ertz is questionable. The Seahawks have given up the second-most fantasy points per game to opposing tight ends (15.2). Over the last two weeks, Dallas Goedert has totaled 34.6 fantasy points on 22 targets. With Ertz out last week, Joshua Perkins played on 78% of the snaps, turning six targets into 15.0 fantasy points.
While tight end is the matchup to exploit against Seattle, Philadelphia is even more exploitable via outside wide receivers. In each of the past three seasons they've given up the most fantasy points per game to opposing outside wide receivers (where D.K. Metcalf runs 89% of his routes). However, they're much tougher against slot wide receivers (where Tyler Lockett runs 69% of his routes), giving up the fewest fantasy points per game to opposing slot wide receivers. Metcalf is a solid DFS gamble because of this, averaging 13.1 fantasy points per game over his last nine games.
Betting Preview
After opening as a pick 'em, Seattle has found early-week backing, pushing out to two-point favorites. Two of the six worst defenses in the NFL are represented in this matchup, but the total has held at 45.5 since the open. Check Greenline early, as a small lean on the moneyline currently exists, but any additional line movement could soak up the value.