For some dumb reason, I really thought the week between the NFL scouting combine and the beginning of free agency would be slow — joke's on me. Aaron Rodgers is back, Russell Wilson and Carson Wentz were traded, eight players were franchised, multiple players have signed extensions, and there are still days to go before free agency.
Read ahead for answers to questions about Jimmy Garoppolo, how the Seattle Seahawks could replace Wilson, what's going on with Jarvis Landry and more.
---
Click here for more PFF tools:
Draft Guide & Big Board | Mock Draft Simulator
Dynasty Rankings & Projections | Free Agent Rankings | 2022 QB Annual
Player Grades
---
It's a fascinating question, especially as it pertains to the Indianapolis Colts.
No one seems to know for sure what the Colts will do at quarterback after trading Wentz, but Garoppolo, who's expected to be traded by the San Francisco 49ers, is one intriguing option.
The issue is that Indianapolis might have painted itself into a corner if it deals Wentz and then turns around to trade for Garoppolo. That means the Colts value Garoppolo more than Wentz. So, they traded a second-round pick, a seventh-round pick and Wentz for a second-round pick and two third-round picks — one of which is conditional and can turn into a second. The Colts will likely have to pay more than that for Garoppolo simply based on what they got for Wentz.
Garoppolo might be worth more than Wentz anyway because he doesn't come with baggage, has the intangibles, is known as a locker room leader, etc. He's also graded better both last season and over the last three seasons.
| | | |
| --- | --- | --- |
| Metric | Jimmy Garoppolo | Carson Wentz |
| 2021 overall grade | 71.5 | 70.9 |
| 2021 passing grade | 70.5 | 67.9 |
| 2016-2021 grade | 80.7 | 81.8 |
| 2016-2021 passing grade | 78.7 | 78.7 |
| 2019-2021 grade | 76.9 | 74.5 |
| 2019-2021 passing grade | 74.8 | 70.8 |
I wouldn't look for the Patriots to make a major splash move via free agency or trade to acquire a wide receiver. If they trade for a wide receiver, I think it would be someone who would easily fit within their cap. There aren't a ton of inexpensive veteran wide receivers out there, so maybe they could acquire someone still on a rookie contract.
Sometimes it's difficult to trade in-conference, but the Baltimore Ravens have a backload of wide receivers on rookie contracts in Miles Boykin, James Proche and Devin Duvernay.
Patriots wide receiver N'Keal Harry, a 2019 first-round pick, is a candidate to be traded, according to a source. I also wouldn't be shocked if Nelson Agholor was on a different team next season.
It seems doubtful that the Jacksonville Jaguars would re-sign D.J. Chark at this point, but I actually think bringing back Allen Robinson would be an interesting option now that the Jaguars have figured out their quarterback situation.
The splash move at offensive tackle would be to sign Terron Armstead, but that seems unlikely after they franchise tagged Cam Robinson for a second straight year. I'm not sure if tagging Robinson officially precludes Jacksonville from taking an offensive tackle first overall, but signing a big-ticket free agent wouldn't make sense unless Robinson is traded.
It's possible, but that would be investing a ton of resources in finding a quarterback when the team still has other needs.
I think the smart move for the Commanders would be to take another position at No. 11 overall and then wait it out in the second round to see if one of those top five or six QBs (Malik Willis, Kenny Pickett, Matt Corral, Desmond Ridder, Sam Howell, Carson Strong) are still there when they're picking. It's a strange draft where a QB taken in the second round might wind up being better than the first QB off the board.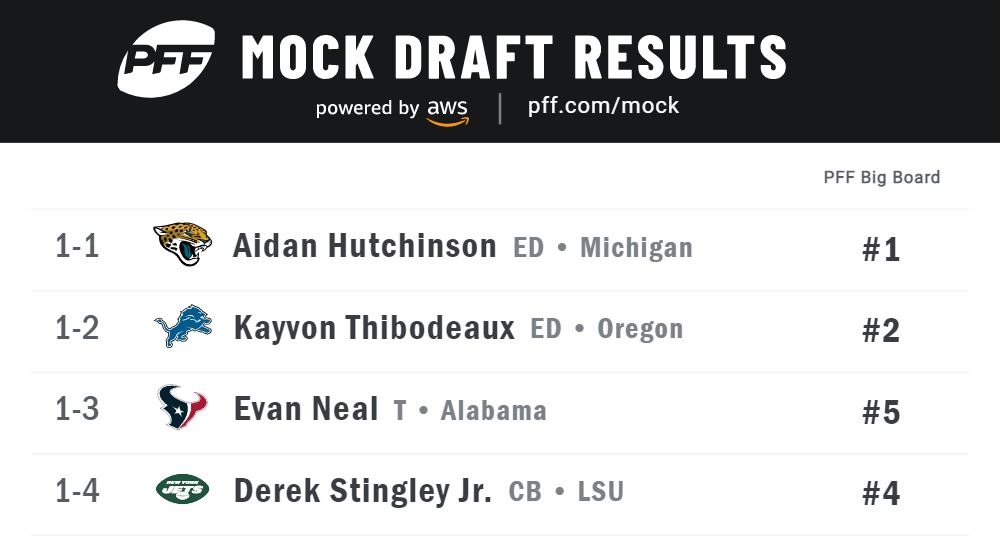 One of the Georgia defensive tackles – either Jordan Davis or Devonte Wyatt – would make a lot of logical sense given the Los Angeles Chargers' issues defending the run last season.
I'm not sure if Davis will be there at No. 17 overall after running a 4.78-second 40-yard dash with a 32-inch vertical leap and 10-foot-3 broad jump at 6-foot-6 and 341 pounds. Wyatt's workout was not too shabby, either. He ran a 4.77-second 40-yard dash with a 29-inch vertical leap and 9-foot-3 broad jump at 6-foot-3 and 304 pounds.
The Seattle Seahawks, who will have two first-round picks next year to move up and down the draft board. And if they start Drew Lock, Geno Smith or Jacob Eason this season, then their own pick will be pretty high on the draft board.
If the right player falls to them at No. 9 overall – I think they like Willis – then they should jump, but I think it's unlikely that Willis will be there. It might not be the worst thing to take a player at another position at No. 9 overall and then use a second-round pick on someone like Corral or Ridder — both of whom I also believe they like in this draft.
Their other option is to trade for someone like Kirk Cousins if the Seahawks aren't interested in a rebuild. I'd imagine general manager John Schneider would be more interested in a hard reset than head coach Pete Carroll.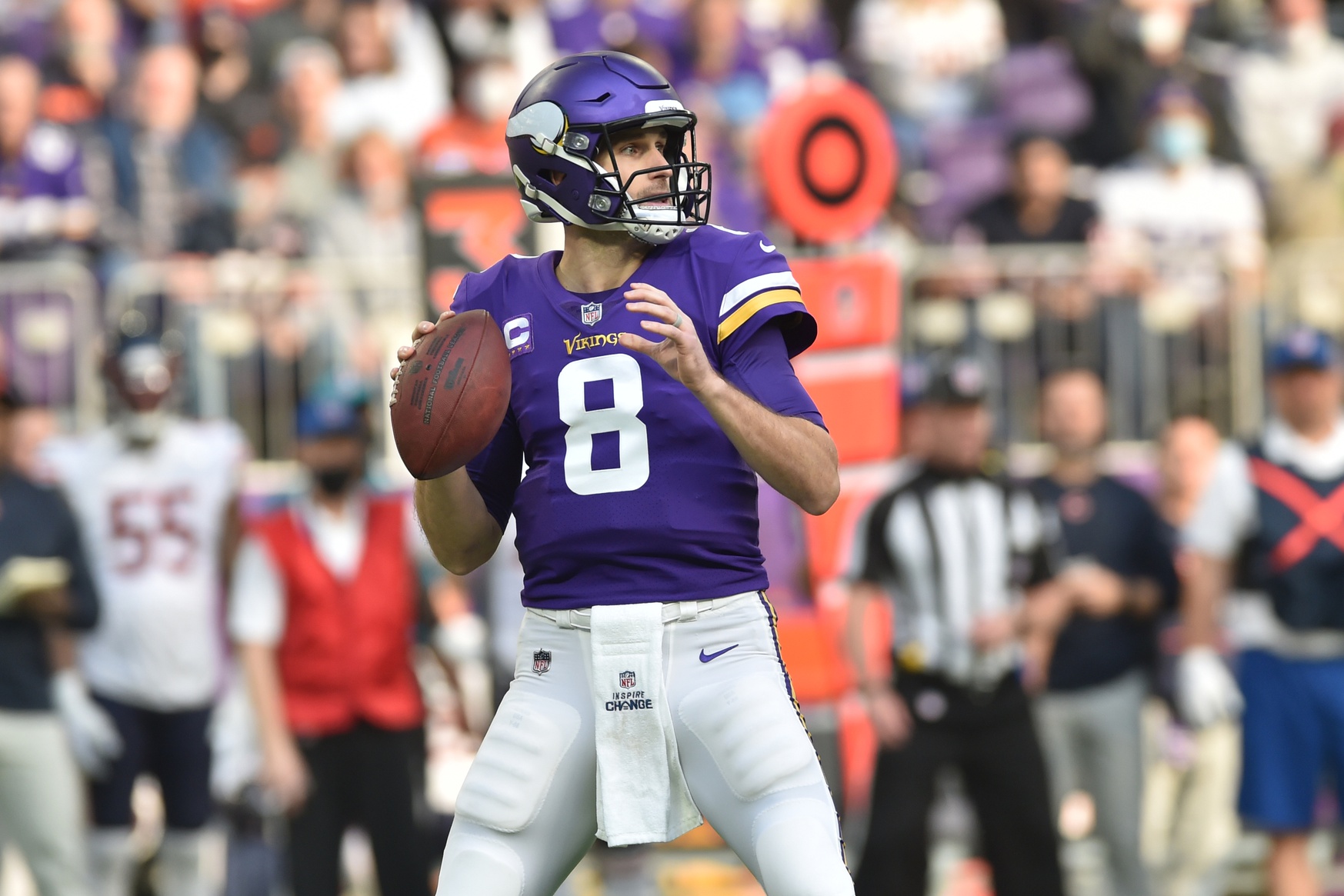 I'll take both of these questions at the same time. The Buffalo Bills and Kansas City Chiefs would be attractive options if the Cleveland Browns cut or trade wide receiver Jarvis Landry. The Browns are currently weighing their options with Landry, according to a source. If Landry landed with the Bills, then Buffalo likely would move on from Cole Beasley. The Chiefs have needed another consistent passing target in their offense for years.
As far as cornerbacks go, I could see Mike Hughes returning to Kansas City. Charvarius Ward might be out of their price range, however.
My best guess is Jameis Winston.
It's doubtful. But as I reported earlier this week, Carroll "loves" Cousins.
The Denver Broncos. I expected the Seahawks to trade Wilson, and I understood the relationship had run its course, but on paper, it still doesn't make sense to deal an elite quarterback in his prime.
The Broncos gave up a lot for Wilson, but they have a franchise quarterback for the first time since Peyton Manning. That's worth its weight in gold.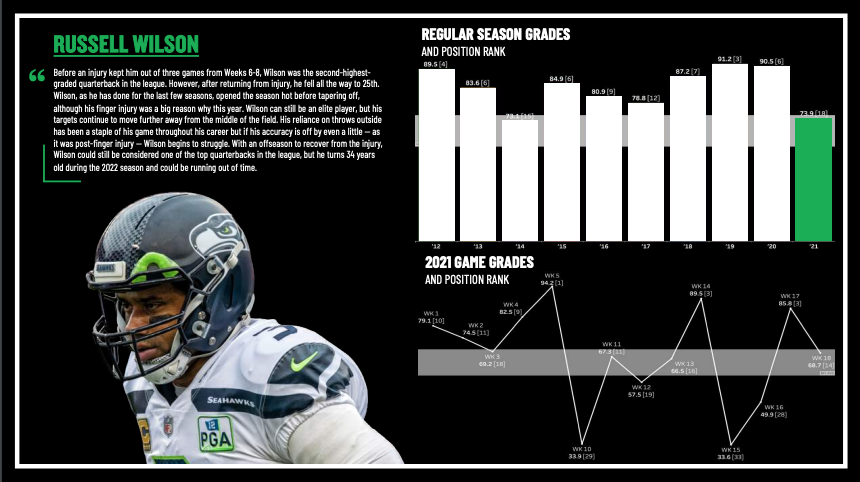 I'm not sure if I'd call him a value option, but I think free-agent wide receiver Marquez Valdes-Scantling is a good fit as a speedy option in the Las Vegas Raiders' offense. He could get around $10 million per year since guys like Mike Williams are corralling $20 million.
I like Gardner Minshew's potential, but if a team acquires him, it has to acquire another veteran quarterback or start planning for the future if he doesn't pan out.
I don't hate the idea of Minshew with a team like the Colts, but I think they'd also need to sign someone such as Mitchell Trubisky or Marcus Mariota or draft a quarterback in the first two rounds. 
I can understand some frustration from Dallas Cowboys fans who see reports that the team will release or trade Amari Cooper, but I also see what they're doing. Cooper is a better player than Michael Gallup, but Cooper also might cost twice as much as Gallup on a per-year basis and even more than that on the cap in 2022. If the Cowboys can sign Gallup, tight end Dalton Schultz and defensive end Randy Gregory to long-term contracts, then all three players combined could only have a slightly higher cap hit than Cooper alone. The Cowboys could lower Cooper's 2022 cap hit by restructuring his contract, but that's only pushing that $20 million into the future. Gallup, Schultz and Gregory aren't $20 million per year players, and having those three guys in a Cowboys uniform in 2022 is more valuable than keeping Cooper.
If the plan is to keep as much of the 2021 squad together as possible, then some concessions need to be made. That being said, Cooper will probably still earn a contract worth $20 million per year if he's released, which is why I think a trade makes more sense. If Mike Williams is worth $20M APY, then so is Cooper.
A potential La'el Collins trade would save less in cap space, but the Cowboys like Terence Steele.
They're here!
Update: I have picked up the truck. pic.twitter.com/JBtmB9H5Iw

— Doug Kyed (@DougKyed) March 10, 2022
Dude, you're not a snowboarder.
Explaining the inside joke of Austin not being a snowboarder would take too long and probably not be funny. But it made me laugh a lot at the combine, and that's all that matters.