Every season there are a handful of rookies who come into the league and make an impact right away, both in the real game and for fantasy football. When it comes to IDP, there are a few names we will want to keep our eye on when we're rolling through our drafts.
Today, we're looking at eight first-round rookies from this year's draft who are set up to be IDP contributors to fantasy teams in 2019.
The Steelers traded up 10 spots in this year's draft to grab Bush, and he should see significant playing time all season long. Pittsburgh has been in the market for a Ryan Shazier replacement ever since his injury, and it appears that they have found him in Bush. Expected to be utilized in the box and in coverage, Bush may never leave the field this season, which means that he will be a production monster when it comes to filling the stat sheet, as he did in his NFL debut Week 1 of the preseason, tallying 9 solo tackles, 2 assists, and a QB hurry on 38 total snaps.
The other big name among rookie LBs (also named Devin) was the first LB off the board in the draft, landing alongside a great linebacker mentor and IDP legend in Lavonte David. White entered the draft as PFF's top-rated LB because of his amazing coverage ability and elite athleticism. White, similar to Bush, will be given the opportunity to start right away in a system that has been very fantasy-friendly to inside linebackers these past few seasons. With David likely being used to rush the passer more, it should open up plenty of tackle opportunities for White, who should have no problem manning the middle against the pass or the run.
A very deep defensive line class this season should mean we can count on quite a few rookies to burst onto the IDP scene. With Kyle Williams now retired, there is a big hole in the middle of the DL for the Bills, and Oliver should be more than capable to fill that hole. Oliver brings a skillful pass rush from the interior as well as the ability to defend the run. The Bills also have the luxury of moving him all over the line if needed to get the most out of his skillset. Oliver is likely to be a huge part of the Bills defense going forward and something that we can't undervalue in our drafts.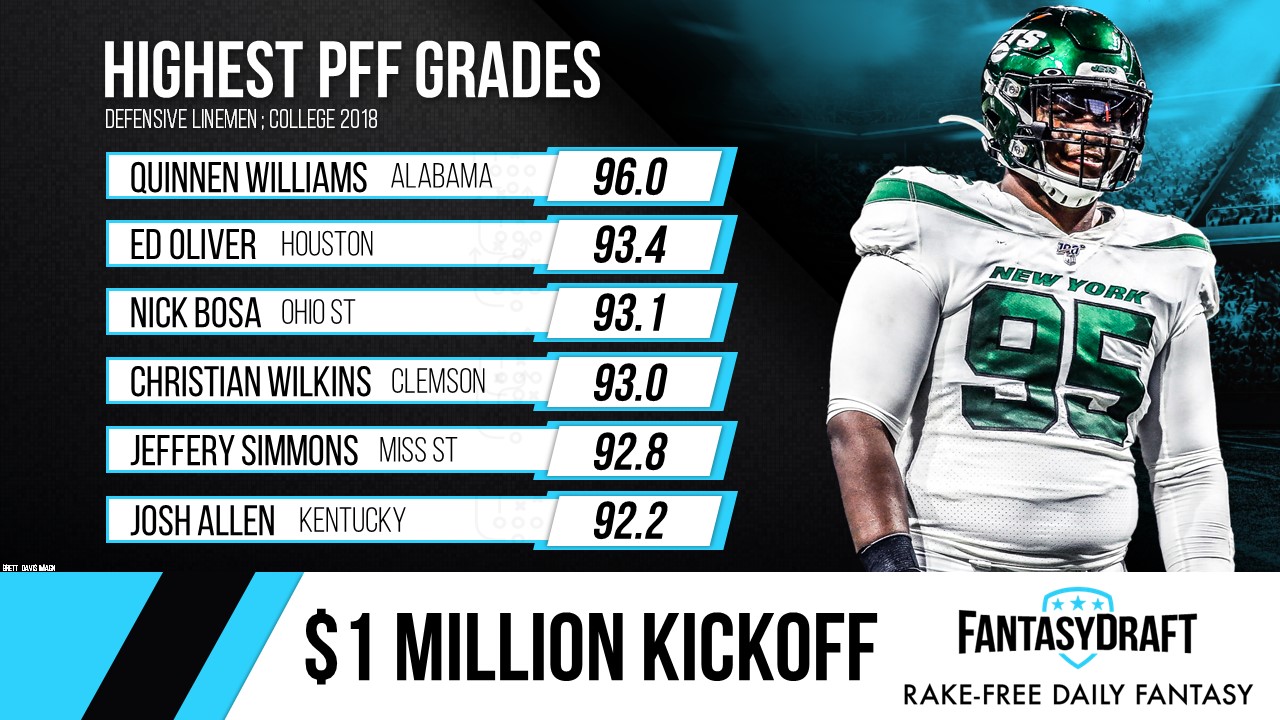 Finishing the 2018 season with a ridiculous 96.0 overall grade, Williams may be the best DT prospect we've seen enter the league since Aaron Donald in 2014. Williams is a do-it-all type of player from all over the defensive line, and when it comes to fantasy, there isn't much more you could hope to ask for. Finding a landing spot on the Jets and Gregg Williams' defense will likely allow the former Alabama star to continue to hone his craft as an elite pass rusher and O-line nightmare. If your league requires DTs then feel confident in the fact that you will be getting yourself a nicely polished rookie should you land this beast that terrorized SEC defenses last season.
In a draft where DBs didn't come off the board until later than usual, there's only really one rookie safety I would feel confident about starting right off the bat in 2019. A true box safety, Abram was practically guaranteed a starting spot on Jon Gruden's defense when he was taken 27th overall in this past draft. Abram will have plenty of tackle opportunities as the team's starting SS, especially with a weaker LB corps in Oakland, Abram should be able to get in on quite a few plays this season and may even be in contention for the team's leading tackler.
The Raiders, formerly an IDP wasteland outside of the now-departed Khalil Mack, now have two potential fantasy stars on their defense thanks to this year's draft. Say what you will about where the Raiders drafted Ferrell, but for fantasy purposes this was as good a scenario as we could hope for for the former Clemson pass-rusher. Ferrell will likely step right in as a starter for the Raiders on the edge and be their go-to talent to chase the quarterback. With a lack of depth at the position for Oakland he can expect to see a lot of snaps leading to lots of opportunities for fantasy points.
Bosa was dominant as an edge rusher at Ohio State. Even with a limited sample size in 2018, the younger of the Bosa brothers showed tremendous potential throughout his college career. Despite a core injury sidelining Bosa for much of last season, the talent is there, and the reason why he went No. 2 overall in this year's draft. In just three games last year, Bosa racked up 4 sacks, 6 hurries, and 4 QB hits, totaling 14 pressures on just 114 snaps. With an ankle injury sidelining Bosa for the preseason, and potentially the start of the regular season as well, we will want to be slightly cautious to not draft him too high, but at the same time, if he gets on the field for the majority of snaps this season, expect him to pick up right where he left off at OSU.
Even with the landing spot designating him as an outside LB in Ron Rivera's new base 3-4 scheme, Burns has caught the attention of many IDP-ers this preseason, grading 87.0 overall through the first three preseason games, landing 4 sacks on 5 pressures and adding a forced fumble and 4 defensive stops on 66 snaps. Burns really came out of his shell for the Florida State in 2018 where he posted a career-high 90.5 pass rush grade by picking up 8 sacks on 66 total pressures. Now after being taken 16th overall by the Panthers this year, it's looking like Burns will have plenty of opportunities to continue to get after the QB in Carolina, meaning he should be extremely useful in fantasy leagues that heavily favor sacks.