Position battles obviously matter in a big way for fantasy football. Figuring out which player will dominate the workload over a teammate, drafting the right guy of a battle, it's key.
But sometimes there isn't one right answer.
The Miami Dolphins have both Kenyan Drake and Kalen Ballage in their backfield for 2019. And for all intents and purposes, that's it — the other five running backs and fullbacks on the roster combined for 14 NFL carries in 2018 (all from Bengals third-stringer Mark Walton) and 74 in their career (60 from Kenneth Farrow). Rookies Myles Gaskin, Patrick Laird, and Chandler Cox round out the backfield, with the seventh-rounder spent on Gaskin the only draft capital expended on any of them. In other words, there's not much there.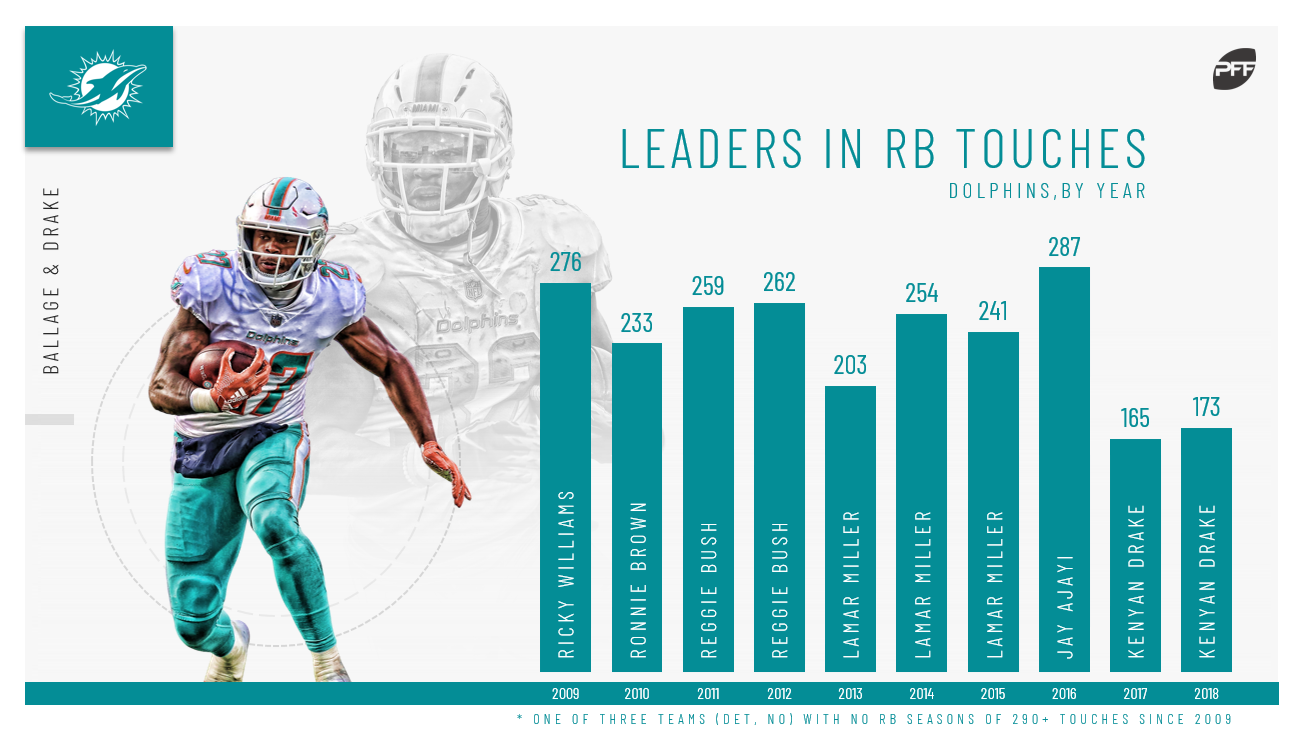 Theoretically, that should lead to big usage from Drake. After all, he has 286 carries in his career, 120 last year, compared to Ballage's lowly 36 carries as a rookie in 2018. But we have two years of data now to say that Miami has no interest in giving Drake anything resembling a bell-cow workload; despite only part of a year of Jay Ajayi in 2017 and the remains of Frank Gore in 2018 as his backfield competition, Drake hasn't reached even 200 touches in a year in either of his seasons with significant playing time. And it's not just a Drake thing, or an Adam Gase thing — the Dolphins are one of only three teams around the league (along with Detroit and New Orleans) to not have a single back top 290 touches in a season in the last decade, despite five (now six) different head coaches in that time.
The upshot here is that it might make sense from our outside perspective that Drake might be the No. 1 back, but there's going to be more of a timeshare in Miami than that. And early camp reports back that up, with reports out of Miami that it could be a true split between Ballage and Drake, that maybe Drake has a small lead in touches, but even then, Ballage has been working ahead of him in camp.
That's frustrating, on the one hand. Drake has been a perfectly fine back in his career — his PFF rushing grade of 81.3 was fifth-best in the league in 2017, and his 4.29 yards after contact per attempt led the league. Both numbers slipped in 2018, down to 68.4 and 2.68, respectively, but he's still shown better than Ballage in his limited play. As a rookie last year, Ballage managed only a 56.1 rushing grade, and while he did have 4.06 yards after contact per attempt, about 70 of those came on one monster rush; take that out and he barely averaged 2.00. (He did have an eight-touchdown game in college, which is only so relevant, but any opportunity to mention it, you know?)
But that only matters so much; playing time is playing time, and it looks like Ballage will get plenty of it. So it comes down to draft value. Right now, per Fantasy Football Calculator ADP, Drake is going off the board 28th among running backs, between Tarik Cohen and Tevin Coleman. Ballage, meanwhile, is going 48th, between Peyton Barber and Carlos Hyde. If the spot in ADP isn't enough of an indicator, the names surrounding each player should be: Drake is expensive, and Ballage is just about free.
Considering they're looking like they'll be in a workload split or close to it, that means that the way to handle this is clear: Don't draft Drake at this price. Feel free to draft Ballage as a flex play flyer option. You don't want to have to rely on either guy, but the cost to obtain makes Ballage much more appealing.