Travis Kelce just led all tight ends in PPR scoring for the fourth straight season. He also led the position in points per game, though in that regard, the final results were really close, with Kelce edging out George Kittle by barely a tenth of a point.
In other words, once account for the two games Kittle missed, the top two fantasy tight ends were essentially equal players in 2019. They'll be facing off in this year's Super Bowl. But looking ahead to 2020, then, who should fantasy players prioritize?
By Value Over Replacement Player, both players would have been well worth a first-round fantasy investment. Kelce and Kittle outscored the No. 12 fantasy tight end by more than 7.0 fantasy points per game. For perspective, only Christian McCaffrey (+16.8), Michael Thomas (+11.2), Lamar Jackson (+10.4), Dalvin Cook (+8.2), and Chris Godwin (+7.5) ranked higher by VORP.
Kelce and Kittle should be the first two tight ends selected in 2020 fantasy drafts. It's just the specific order that we need to figure out.
The case for George Kittle
Without question, Kittle is the league's most dangerous receiver with the ball in his hands. Over the past two seasons, he leads all receivers in yards after the catch, yards after contact, and missed tackles forced. And, he isn't just in the lead – he's in the lead by a landslide.
2018-2019 leader and runner-up in…
Yards after the catch
George Kittle
1494
Michael Thomas
1091
Yards after contact
George Kittle
790
Michael Thomas
632
Missed tackles forced on receptions
George Kittle
37
D.J. Moore
30
It's also not that difficult to get the ball in his hands. He led the position in drop rate in 2019, dropping just one of his 106 targets.
This next point may sound hyperbolic, but it's not. On a per-route basis, Kittle might be the most-efficient receiver in football (at any position), or the most efficient receiving tight end we've ever tracked at PFF.
In 2018, Kittle set a PFF-era record for yards per route run by a tight (2.82). In 2019, he shattered that record, averaging 3.11. This led all players at all positions – the first time in PFF history a tight end led all players in yards per route run – and ranked second-best of the past decade, just barely behind only Julio Jones' 2016 (3.12). Keep in mind, Kittle played most of this record-breaking season with a broken bone in his ankle.
And, somehow, we're still doing him a disservice, neglecting his skills as a blocker.
In 2018, Kittle led all tight ends in PFF grade. In 2019, Kittle led all players in PFF grade (95.0) – the highest ever by a tight end. Factored into this is Kittle's ability as a blocker – he's ranked top-five in PFF run-blocking grade in each of the past two seasons.
Kittle might genuinely be the second coming of Rob Gronkowski. Among all non-quarterbacks, there's an argument for him as the most valuable offensive player in football. But of course, real football isn't the same as fantasy football. Even if he is the best tight end in football, that doesn't necessarily mean he's the best tight end in fantasy football.
The case for Travis Kelce
What Kelce lacks in youth (four years older than Kittle), he makes up for in pedigree.
Over the past four seasons, Kelce has finished first, first, first, and first among tight ends in fantasy points. Among all wide receivers, he would have ranked top-10 in fantasy points in each of the last three seasons.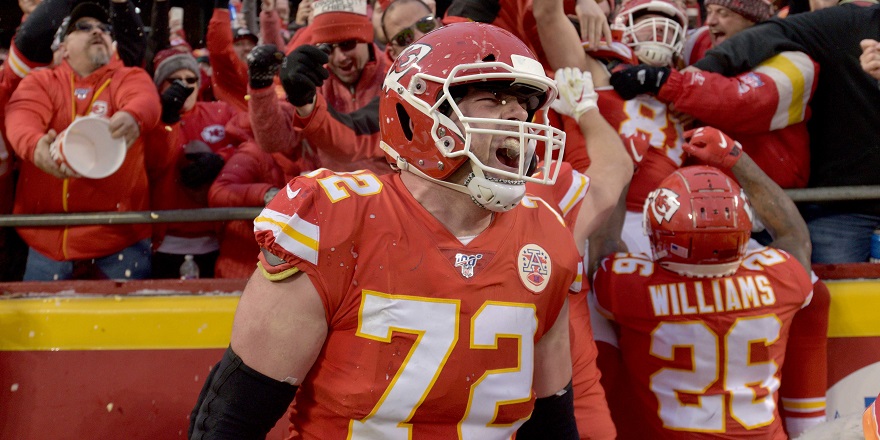 What Kelce lacks in efficiency (in comparison to Kittle), he makes up for in volume.
In fact, because Kelce is a worse blocker than Kittle, he's actually at something of an advantage for fantasy. You don't get any fantasy points for a successful pancake block. If you're staying in to block, you're not running routes, and you're not earning fantasy points. Last season Kelce was asked to pass block half the time Kittle was – 8% to 16%. San Francisco also ran the ball at a much higher rate, probably (at least partly) due to Kittle's skills as a run blocker.
Last year, Kelce led all tight ends in routes run (552), while Kittle ranked 17th (340). Even on a per-game basis, to account for the two games Kittle missed, Kelce was still running 1.42 times as many routes as Kittle. Though they were much closer in targets, that's a massive advantage, and one Kittle can't overcome on talent alone.
Kelce also has one more advantage – though he's not as efficient as Kittle, Patrick Mahomes is certainly more efficient than Jimmy Garoppolo. In 31 career starts, Mahomes totals 9,412 passing yards and 76 passing touchdowns, or the most by any quarterback in that many starts all time. To his receivers (by receiving fantasy points available per game), Mahomes has been worth 1.24 times as much as Garoppolo.
The decision: Travis Kelce
It's a close call. Kittle is clearly the better option in dynasty leagues, because of his age. But in redraft leagues, both tight ends should be off the board by the end of the second-round. But, ultimately, Kelce is your better option — Kittle's efficiency is no match for Kelce's volume and superior quarterback play.