The Seahawks trailed all day against the Jaguars Sunday, which created a favorable game script for Russell Wilson to sling the ball all over the field. A bunch of his receivers benefited from the comeback attempt, especially Tyler Lockett and Paul Richardson, who both caught long touchdowns. But those big plays didn't pull the conservative Jaguars out of their game plan. A bottom-three blitzing team (18.7 percent blitz rate) in general, the Jaguars brought extra rushers on just two of Wilson's 31 pass attempts. Both of those passes found security blanket Doug Baldwin and helped him to keep touch with the team's other receivers, but the lack of a consistent effort to blitz is what held Baldwin in relative check and held TE Jimmy Graham without a catch. On the season, Graham has five of the team's 12 blitz touchdowns, and he and Baldwin are second and first on the team in blitz target rate.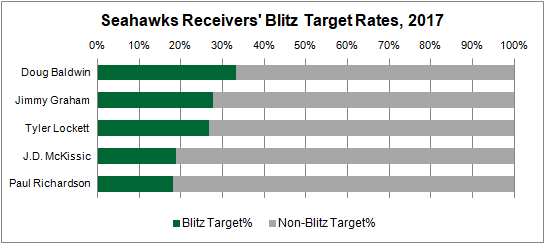 Don't shy away from Graham and Baldwin this week as the Seahawks take on the Rams. They are top-five with a 38.3 percent blitz rate, more than double that of the Jaguars. And they aren't the only players primed for a big week. Research I did over the offseason shows that many players provide security blankets for their quarterbacks against blitz-heavy teams while others see fewer targets. Here are the players I recommend to use and avoid because of their blitz matchups in Week 15.
Players to target
Aaron Rodgers should finally return from his collarbone injury this week against the Panthers, and no one will be happier to see him than Nelson. For the first five weeks this season, when Rodgers was still healthy, Nelson was the No. 6 receiver in standard scoring and the NFL leader with 6 touchdowns. He has yet to score since the injury.
As long as Rodgers is healthy, Nelson is a top-10 fantasy receiver, but he makes for a particularly good play this week. The Panthers blitz on 43.0 percent of their opponents' pass plays, the second-highest rate in football. With Brett Hundley under center, Davante Adams has been the Packers' primary blitz target with more than a third of the team's total blitz targets, including 10 of last week's 13 and both of his scores. But Nelson is Rodgers' security blanket. When teams blitz Rodgers, Nelson sees his percentage of the team's targets increase by nearly 6 percent, more than double the increase Adams sees.
Subscribe to PFF Edge to continue reading
Already have a subscription? Sign In