Even the most ardent SEC hater can't deny the conference's dominance when it comes to NFL talent. They've had the most draft picks of any conference for 16 straight years.
In 2022, the SEC set their high water mark for draft picks with 65. And don't expect that to change in 2023. Twenty-three of the 25 players listed here were represented on PFF's preseason top-50 draft board. That means nearly half of the best draft prospects in college football belong to one conference.
Pick a position, and you can almost guarantee one of the top few prospects at it in the country is playing in the SEC.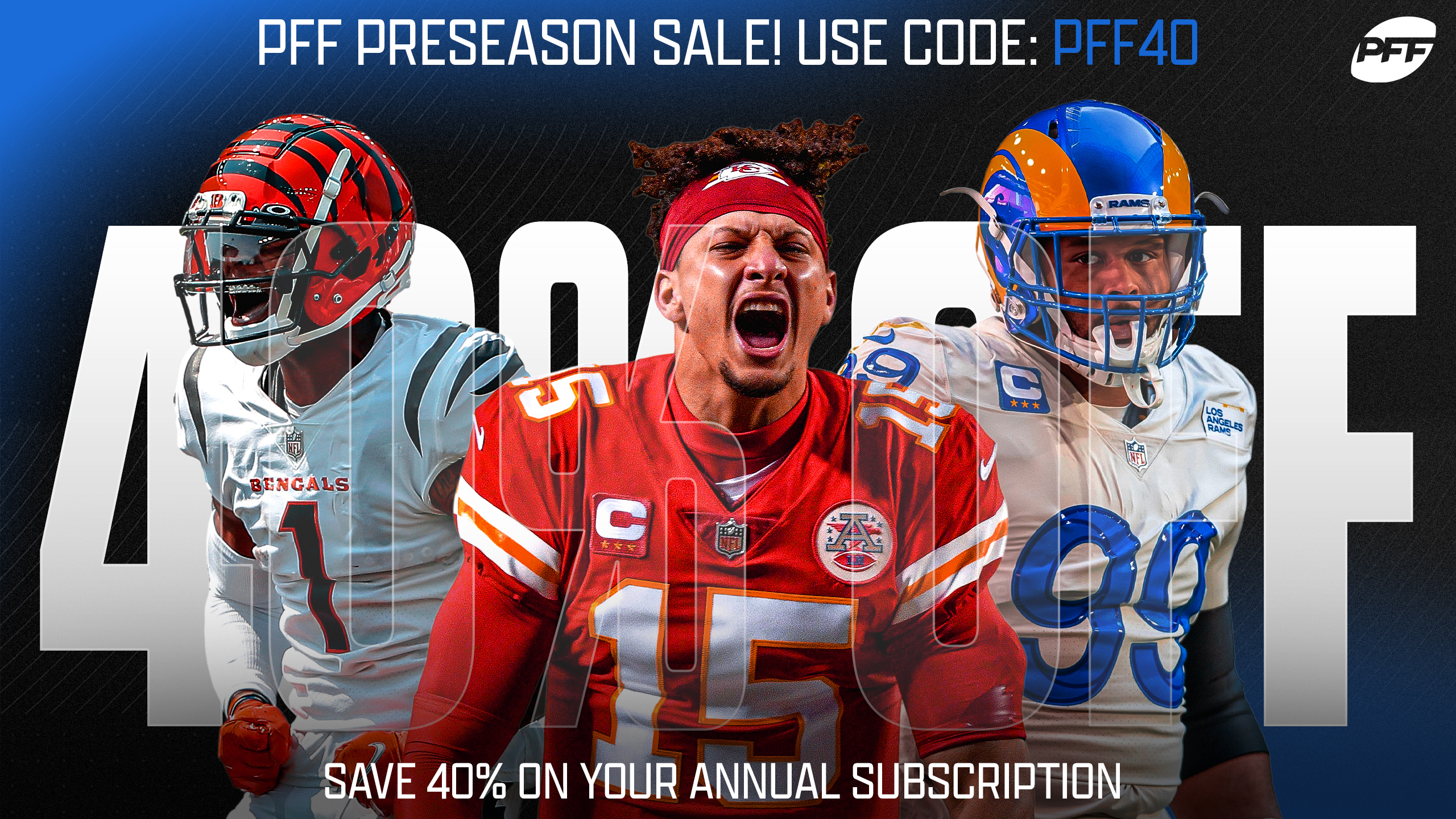 ---
As the current top prospect on the 2023 PFF draft board, Young is obviously the top prospect in the SEC, as well. What Young did against the most talented defense in college football over the past decade makes me fairly confident about how he'll fare against NFL defenses. It cannot be understated how ridiculous Young was in two games against Georgia last season. Just take a look at his stats against the Bulldogs' defense compared to every other quarterback in college football.
| | | |
| --- | --- | --- |
| | Bryce Young | Rest of College Football |
| Passing Grade | 83.7 | 53.1 |
| YPA | 7.7 | 5.1 |
| Comp % | 59.4 | 54.70% |
| TD | 4 | 6 |
| INT | 2 | 14 |
| Passer Rating | 88.8 | 59.4 |
As long as he gets his weight up into the 200s, it's difficult to see Young slipping out of the top five in the 2023 NFL Draft.
Can't wait to watch Bryce Young again this season ???????? pic.twitter.com/CfkmLxTzql

— Alabama DieHards (@DiehardsAlabama) July 11, 2022
If we didn't push up quarterbacks for positional value, Anderson would be the no-brainer No. 1 overall player in the country. It's almost scary how much power he plays with for someone listed at only 243 pounds. Most evaluators would call that undersized, but he doesn't need to put an ounce of weight on his frame to still be the first non-quarterback taken off the board next spring. He led the nation last year with 82 pressures, including 15 sacks and 11 hits. Anderson's got about as clean a game as you'll see from a true sophomore.
Will Anderson's speed to blow up this split IZ is crazy! pic.twitter.com/Gf2T0K0CHa

— Full-Time Dame ???? (@DP_NFL) January 13, 2022
With an ideal blend of power, length and quicks, Carter could challenge Quinnen Williams for the best defensive tackle prospect since PFF began grading college football in 2014. Playing alongside two other first-round defensive tackles in 2021, Carter outgraded both as a pass rusher with a 90.0 grade in that regard. The only box left to tick is how he'll fare on a full-time workload after playing only 396 snaps last season.
Trying to study ELIGIBLE prospects… Get away from me #88!

Jalen Carter… Wtf. Did he change gaps on his own here, anticipating the run to the left?! And then was still able to fall back into the B-gap. Damn. pic.twitter.com/QLjrF5B56X

— Ben Fennell (@BenFennell_NFL) October 20, 2021
When the ball goes Boutte's way, good things happen. LSU quarterbacks have had a 131.0 passer rating when targeting Boutte over his career, but the Tigers simply haven't had a signal-caller capable of finding him consistently. He has an explosive gear to him that not many receivers in the country can match, and that shows up most often with the ball in his hands. On 82 career receptions, he's broken 20 tackles and averaged 7.4 yards after the catch. It's why he's WR1 on the PFF draft board.
Kayshon Boutte lined up in the slot >>>>> pic.twitter.com/Lbq2Fb2RME

— luca (@thekanyegatti) July 9, 2022