For quite a few months, the NFC North was low on early picks early in the 2022 NFL Draft. The Detroit Lions benefited in that regard from last season's Matthew Stafford trade, but the Chicago Bears lost their 2022 picks by trading up in 2021.
Fast forward to now, and the Green Bay Packers have extra picks in return for sending Davante Adams to the Las Vegas Raiders, while the Bears have an extra second-rounder from trading Khalil Mack to the Los Angeles Chargers. The Minnesota Vikings sit with just three early picks, one in each round, as they try to thread the "we're not rebuilding but also we are rebuilding" needle.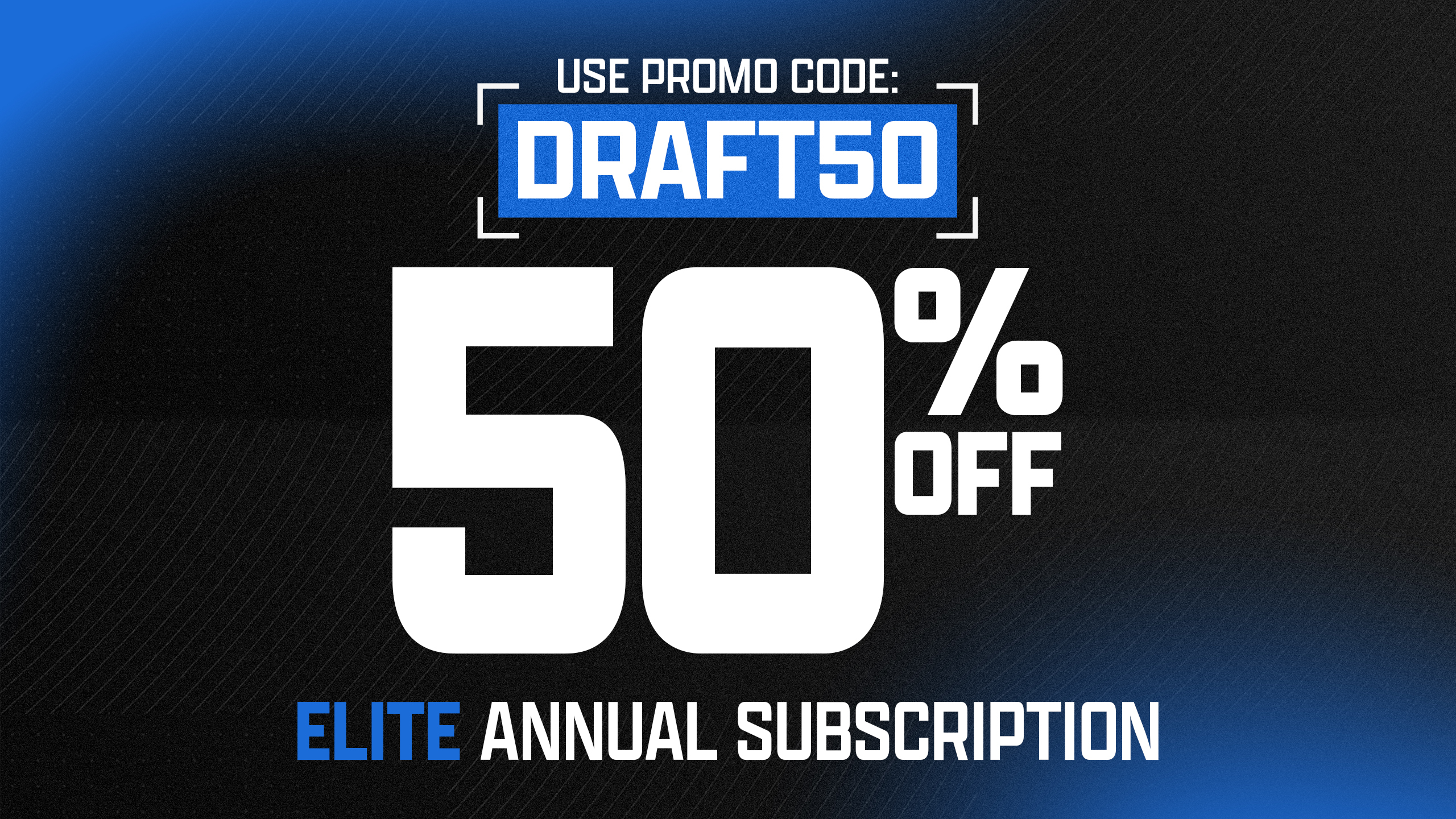 ---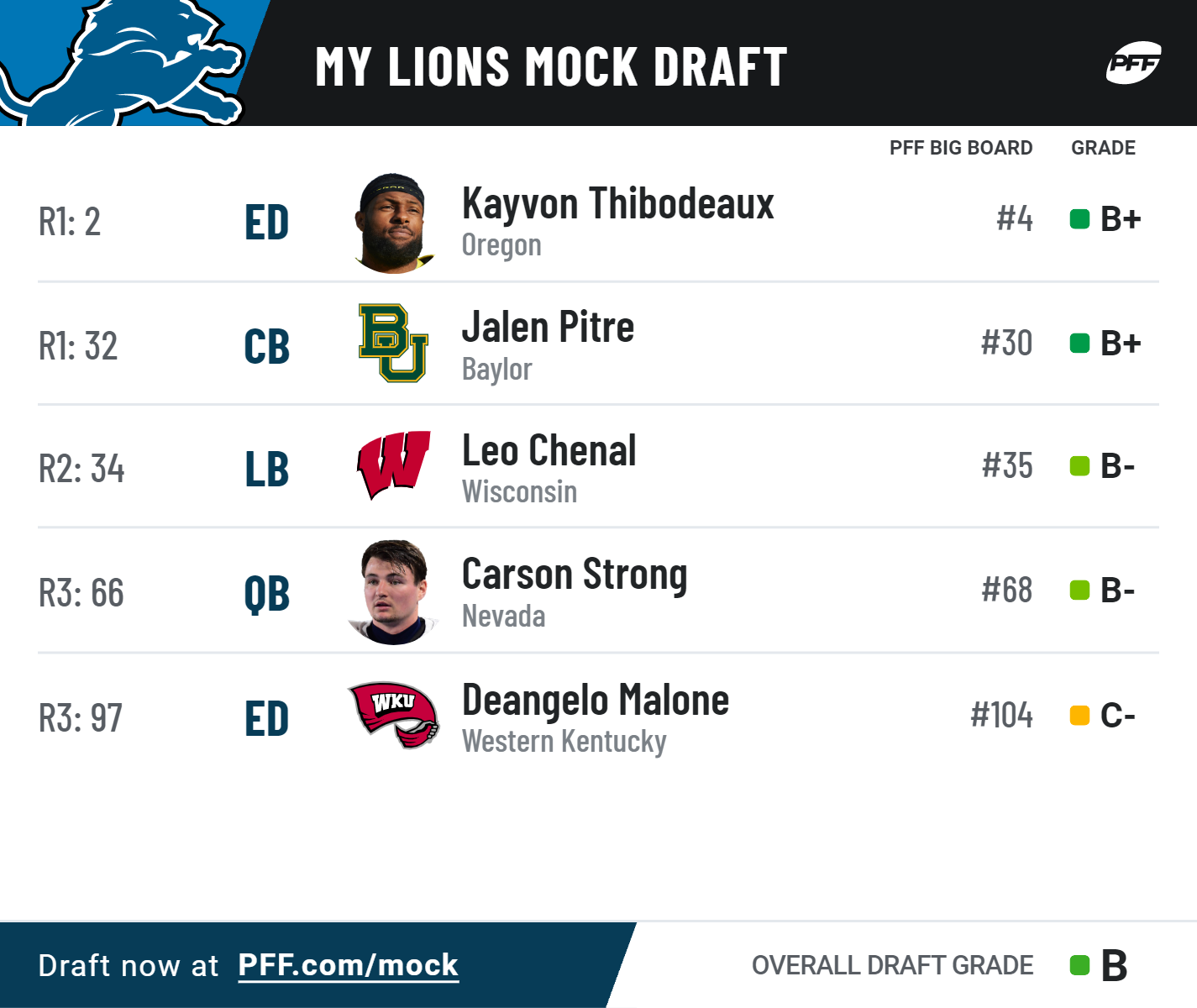 Detroit really can't go wrong with any player here from a process standpoint. Unless the Lions go completely off the board, there are six or seven players who are viewed as No. 1 overall prospects in this class.
Kayvon Thibodeaux is the pick here because in most years he's the player who might project the closest to what a true No. 1 overall pick should look like. He's long and explosive, but his tape and production never matched the lofty expectations he was given as the top overall recruit in the country as a high schooler. His ceiling is as high as anyone's in this draft.
With their next pick, the Lions select Baylor's Jalen Pitre. If Pitre lives up to expectations, he's really the modern-day Sam/nickel linebacker, a player who does not have to leave the field based on the offense's personnel grouping.
Slot coverage was a weak point for the Lions last season, with the team finishing 24th in slot coverage grade last season. AJ Parker handled most of those snaps and finished with a 58.7 coverage grade. Detroit needs a playmaker here, and Pitre could be a great pick. Meanwhile, linebacker Leo Chenal helps the Lions up the middle of their defense. This was another soft spot for them last year, especially against the pass, as they finished with a lowly 29.5 coverage grade from players lined up in the box last season — last in the league. Their box players also missed the most tackles in the NFL in 2021.
With Carson Strong, the Lions take their shot at a quarterback who boasts a lot of upside. Strong has the acumen to play the position, but his physical tools aren't quite there right now. Coming off a bad knee injury, Strong is statuesque in the pocket. Still, he consistently makes the right decisions. Even while dropping back a whopping 611 times last season, his turnover-worthy play rate was just 2%, one of the lowest in the country.
Finally, the Lions take another swing at an edge rusher with Deangelo Malone. At just 6-foot-3 and 243 pounds, he can get pushed around a bit, but he uses his speed and hands to good effect and played well against the Power Five opposition that Western Kentucky faced in 2021.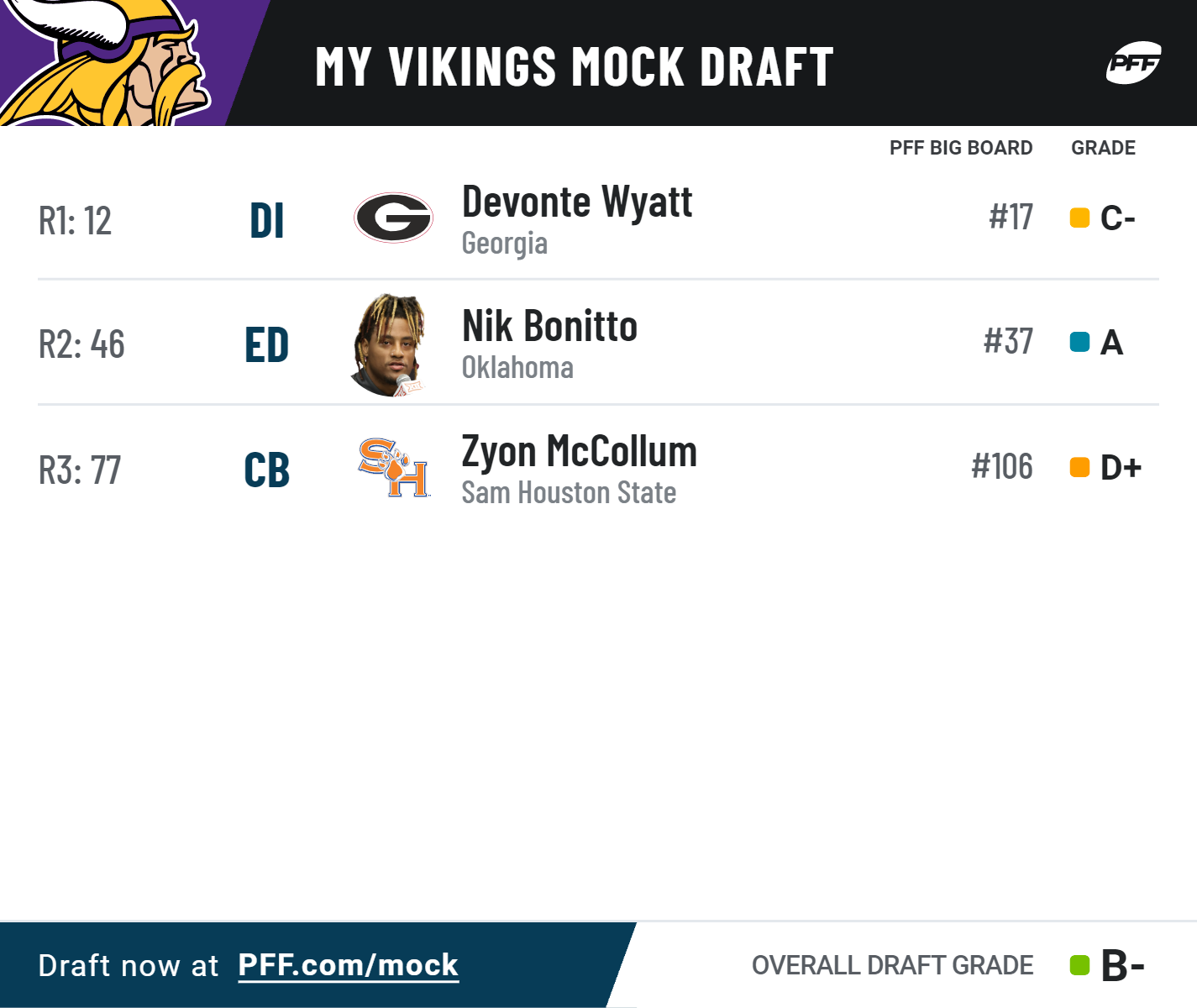 The Vikings are in a nice situation to take the best player available at No. 12 overall. Outside of receiver, they could target any position group. Iowa center Tyler Linderbaum was an option here, but we went with Georgia interior defender Devonte Wyatt. The team signed Harrison Phillips in free agency but could still use a player like Wyatt who can play both three-technique and nose tackle. Minnesota would love it if one of the Tier 1 prospects fell to them, but taking another player to shore up the middle of their defense would go a long way no matter what.
Edge defender Danielle Hunter's future in Minnesota remains murky, and even though the team signed Za'Darius Smith in free agency, they have an out after one year. Bonitto is a speed rusher who loves to try to capture the edge against offensive tackles and use his very good "dip and rip" to get after the quarterback. He's not going to win with power too much against the run, but he can knife inside at times to disrupt plays in the backfield.
The Vikings would love it if a cornerback fell to them early, but it doesn't seem like Derek Stingley Jr. or Ahmad Gardner will make it to Pick No. 12. And at Pick No. 46, they are in a no-man's land at that position, with quite a few nice players probably being picked in the Nos. 25-35 range.
Eventually, the Vikings are going to find a cornerback. So here, they go with Sam Houston State's Zyon McCollum. McCollum ticks all the athletic boxes. His 40-yard dash, broad jump, 20-yard shuttle and three-cone each came in above the 94th percentile at the position.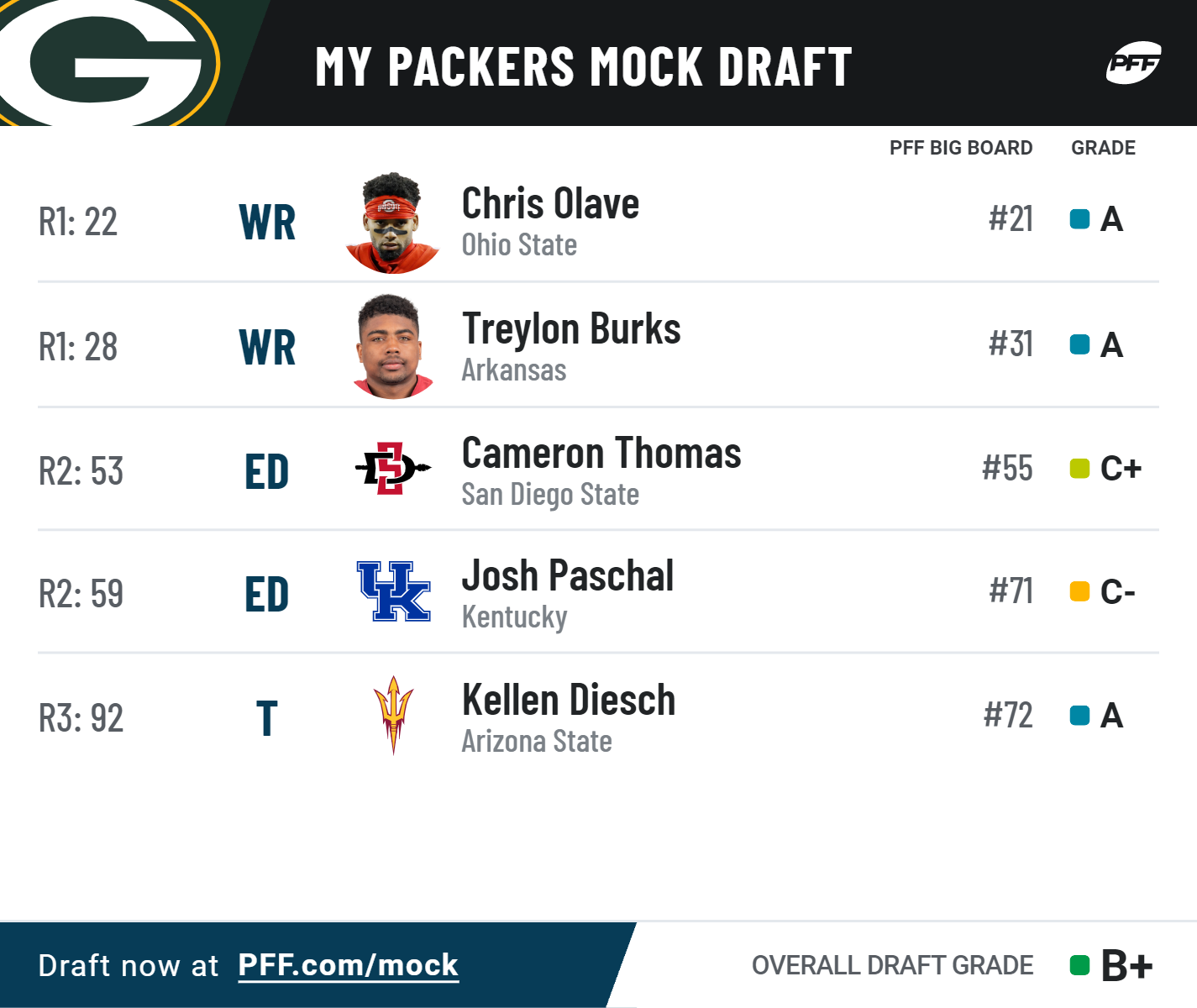 The Packers double up on important positions with their first four picks here. To start, they completely reshape their receiver room by drafting Chris Olave and Treylon Burks.
Olave will hopefully replace some of Davante Adams' production on the more detailed routes present in the Packers' offense. Olave is fast but would probably be better as the team's new "possession" type receiver. In Burks, the Packers are getting a Marquez Valdes-Scantling replacement who also can fill some of the void left by the Adams trade. The team is going to need a player who can touch the ball in front of the line of scrimmage and make plays like Adams did. Burks can do that on screen passes and handoffs. He also has the speed to win deep on vertical routes.
The two edge rushers in Round 2 above have similar traits. They're big bodies who, at the college level, played both inside and outside. Both suit the Packers' defense and at their peak can be moved around. Of course, the downside is they become "not quite an edge and not quite an interior player." In Cameron Thomas, Green Bay gets a player with really nice lateral quickness. And in Josh Paschal, the team gets a bulldog type with a lot of power, as evidenced by his 30 reps on the bench — which ranks in the 94th percentile.
Chicago, with only three picks in the first three rounds and none in the first round, is desperate to find prospects who can play right away. The team's free agency haul left a lot to be desired, and if the Bears are going to compete with quarterback Justin Fields under his rookie contract, they need to hit on players who can play right away.
George Pickens would easily be a first-round receiver if not for his ACL tear last spring. All the skills are there, and he burst onto the scene as a freshman in 2019 with an 88.0 receiving grade. While his college career did not pan out the way he would have liked overall, a healthy Pickens is a star. He plays with an aggressiveness that shows up when he run blocks and in his ability to get off press coverage. He has a nice catch radius and great burst when gaining separation.
With their next second-round pick, the Bears address the possibility that both Eddie Goldman and Akiem Hicks don't re-sign. Logan Hall can potentially play edge rusher in the NFL, but he played inside at Houston — his tenacity showed up every play. One of the lankier interior players we've seen — his height is in the 97th percentile but his weight is just in the 21st — he actually uses his hands very nicely. He's a violent rusher.
The Bears also lost offensive tackle Germain Ifedi to free agency, and even if they do end up bringing back Jason Peters, that's certainly not a long-term fix, let alone a short-term fix. They'll have Teven Jenkins at one tackle spot. and ideally a rookie such as Jamaree Salyer can come in to compete with Larry Borom, their other 2021 offensive line draft pick, for the other tackle spot. The Bears could draft an interior offensive lineman here, as well — anything to help their offensive line.