With the 32nd selection of the 2018 NFL Draft, the Baltimore Ravens have selected Lamar Jackson. The former Heisman Trophy winning Louisville quarterback was selected 32nd overall after finishing the 2017 season with a 90.3 overall grade. Baltimore traded up with Philadelphia to select Jackson, giving up Round 2 (52), Round 4 (125) and a 2019 second-round pick in exchange for the Eagles' Round 1 (32) and Round 4 (132).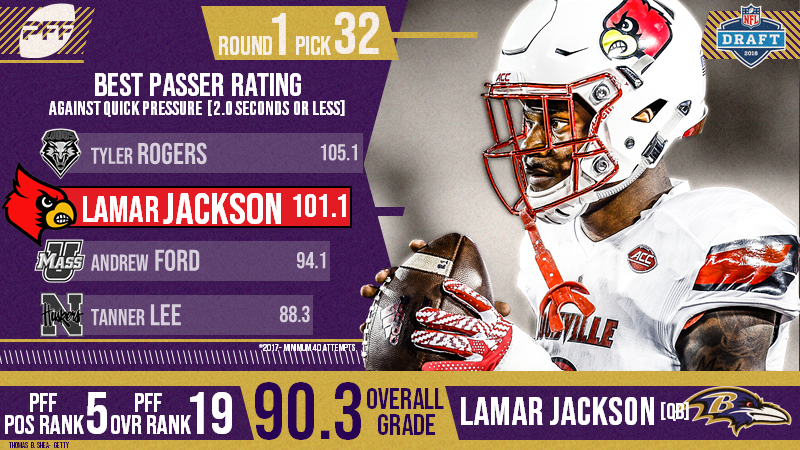 Jackson ranked 26th among draft-eligible quarterbacks in adjusted completion percentage from a clean pocked in 2017 (75.0).
He forced 50 missed tackles this season, the most among draft-eligible QBs.
2018 NFL Draft – Round 1: 1 | 2 | 3 | 4 | 5 | 6 | 7 | 8 | 9 | 10 | 11 | 12 | 13 | 14 | 15 | 16 | 17 | 18 | 19 | 20 | 21 | 22 | 23 | 24 | 25 | 26 | 27 | 28 | 29 | 30 | 31 | 32