Regardless of position, just being able to stop the run isn't good enough anymore. The best NFL defenders, including interior defensive linemen, need to positively contribute against the passing game, whether it's as a pass-rusher or in coverage.
Here's a list of the FBS' highest-ranked interior defensive linemen entering the 2019 NFL Draft in pressure percentage (total pressures/pass-rush snaps) in 2018.
[Editor's Note: To view more of Pro Football Focus' advanced stats and grades for draft-eligible players, check out our 2019 NFL Draft Guide. All EDGE and ELITE subscribers already have access to the guide, and for those who don't, you can get your copy for as low as $9.99!]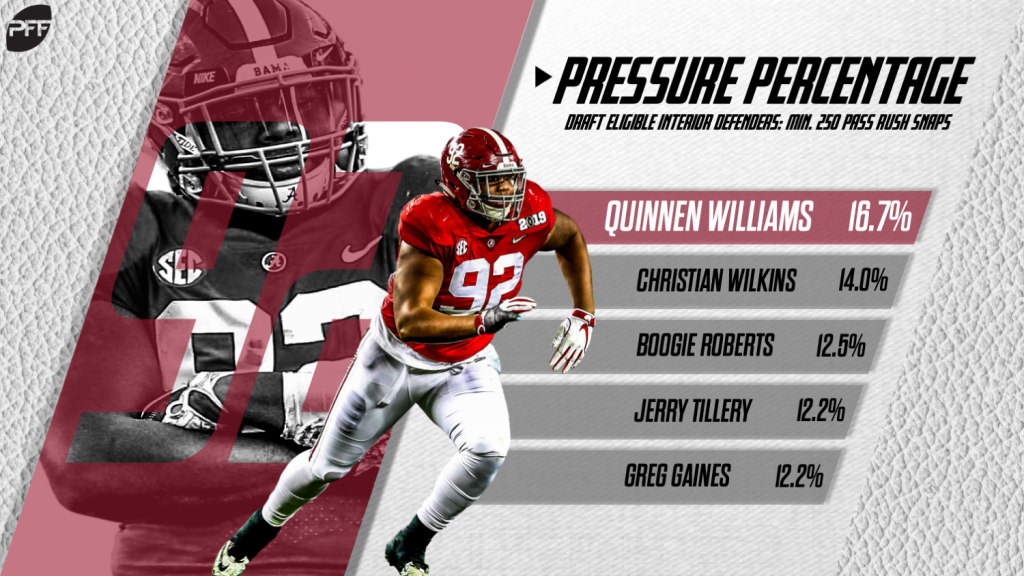 1. Quinnen Williams, Alabama (16.7%)
A consensus top-five selection in the 2019 class, 'Bama defensive interior Quinnen Williams was a one-man wrecking crew rushing the passer in 2018. He recorded 55 total pressures (29 hurries, 16 hits, 10 sacks) across his 330 pass-rush snaps, earning an impressive 19.4 pass-rush win percentage and a 92.5 pass-rush grade in addition to his top-ranked pressure percentage.
2. Christian Wilkins, Clemson (14.0%)
Christian Wilkins is one of three highly-regarded players coming out of Clemson this year, and he's highly regarded for good reason. The 6-foot-3, 315-pounder recorded pressure on 14.0% of his pass-rush snaps last season, picking up 47 total pressures and a 91.0 pass-rush grade in the process.
3. Boogie Roberts, San Jose State (12.5%)
The only interior defensive lineman on this list coming out of a Group of Five conference, San Jose State's Owen "Boogie" Roberts totaled 34 hurries, six hits and two sacks across his 335 pass-rush snaps. He also ranked seventh in pass-rush win percentage (14.9%) and sixth in total pressures (42).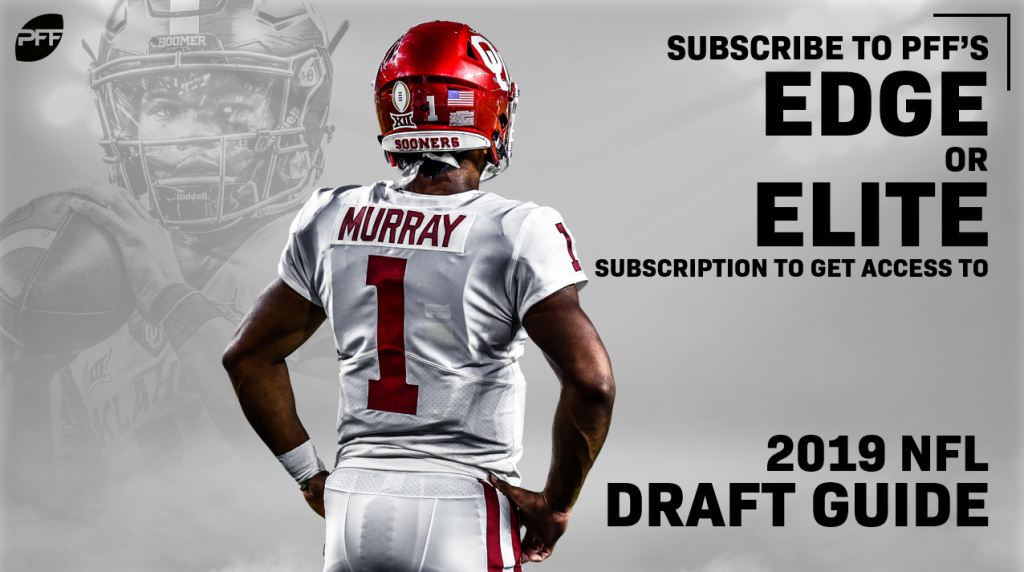 T-4. Jerry Tillery, Notre Dame (12.2%)
Notre Dame's Jerry Tillery is a long, athletic specimen that tied for first with Williams in pass-rush grade (92.5) and tied for fourth with the next guy on this list in pressure percentage (12.2%). Tillery recorded the third-most pressures (48) of any interior defensive linemen, tallying 33 hurries, seven hits, and eight sacks.
T-4. Greg Gaines, Washington (12.2%)
Washington big man Greg Gaines isn't as long or as athletic as Tillery, but he still managed to tie the Notre Dame alumnus in pressure percentage (12.2%) in 2018. He also ranked fifth in total pressures (45) and ninth in pass-rush win percentage (14.1%) on the year.