The 2018 NFL Draft is right around the corner, and January 15 marked an important day in that process. On Monday of this week, all early declarations for the 2018 draft had to be made. While some have decided another year in school is in their best interest, the list of draftable players grew, and we here at Pro Football Focus are here to sort it out for you.
With eyes on the 2018 NFL Draft and a loaded talent pool at cornerback across the country, here are the top-9 at the position in terms of passer rating when targeted, a key PFF Signature Stat.
[Editor's Note: These stats below reflect only cornerbacks who played at least 25 percent of their respective team's snaps in coverage this past season. The standard passer rating for a quarterback for simply throwing an incomplete pass is 39.6.]

1. Jaire Alexander, Louisville Cardinals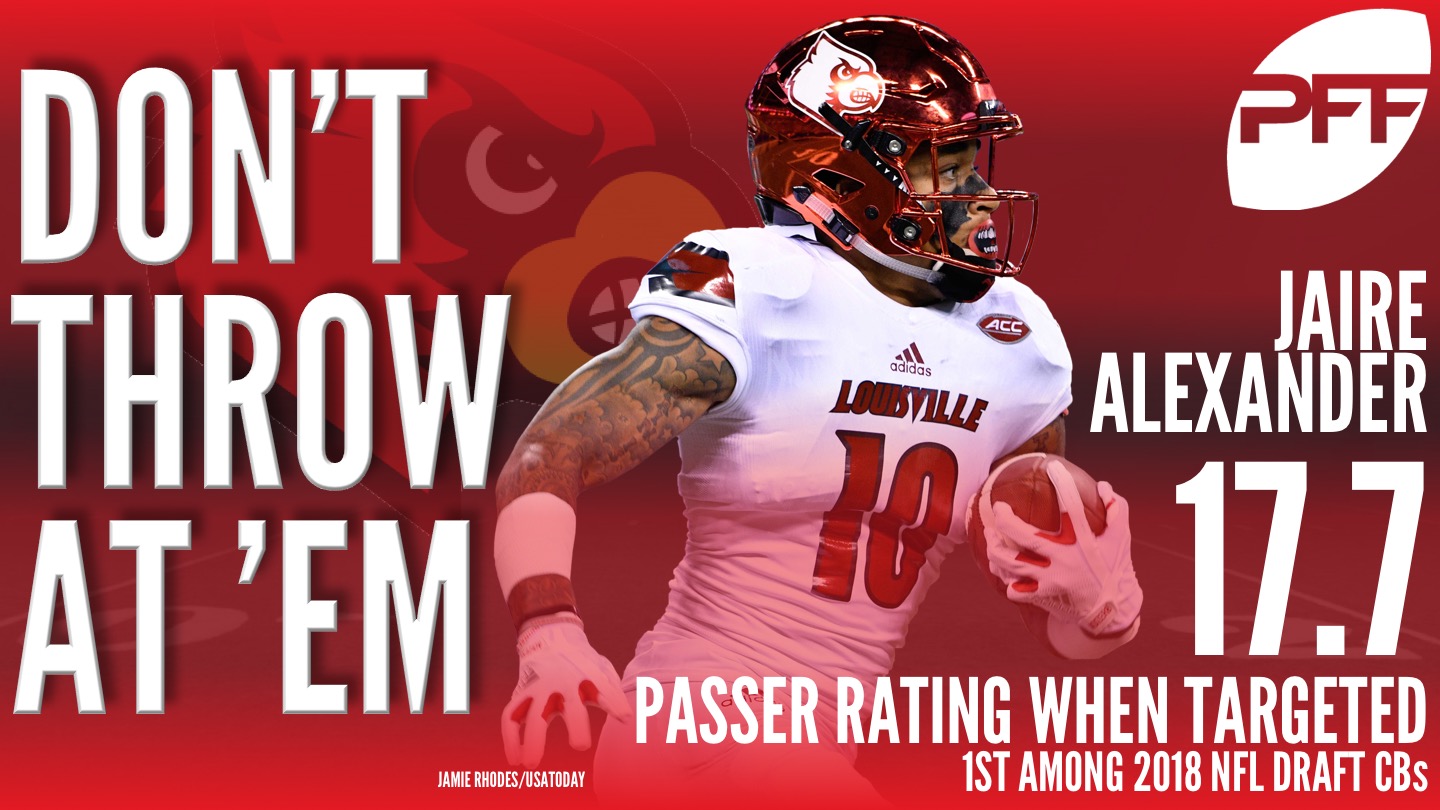 Passer rating allowed: 17.7
Alexander saw the field for only 314 snaps this season for Louisville, but when he did, he was lights out. He was targeted every 7.8 snaps he spent in coverage and allowed just 0.29 yards per his 148 coverage snaps, the second-lowest mark among all draft-eligible cornerbacks. On the season, he made more plays on the ball than he allowed passes to be caught, allowing just five receptions while intercepting a pass and recording five pass breakups. Alexander's 17.7 passer rating when targeted was nearly 10.0 points clear of No. 2 among draft-eligible cornerback and just 0.1 away from the national low among all cornerbacks this season.
2. Greg Stroman, Virginia Tech Hokies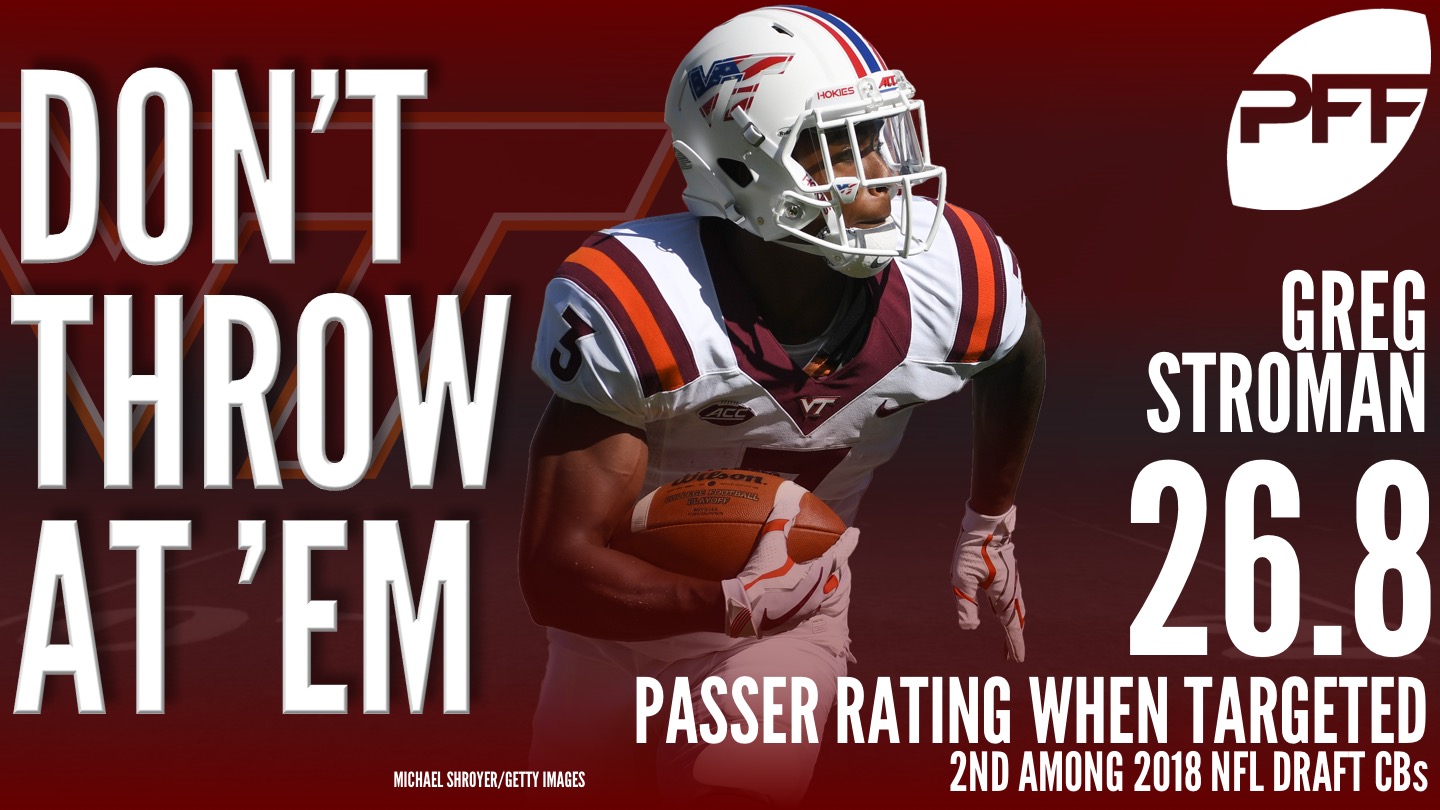 Passer rating allowed: 26.8
Stroman finished the season with the second-lowest passer rating when targeted among the 2018 NFL draft class, thanks in large part to his four interceptions and his high volume of forced incompletions. He was targeted 47 times in coverage, yet Stroman allowed just 12 receptions and only 54 yards after the catch this season. He finished the year with 14 total plays on the ball, including his four interceptions and another 10 pass breakups. Stroman's 25.9 snaps played per reception allowed ranked sixth among all draft-eligible cornerbacks in 2017.
3. Jalen Davis, Utah State Aggies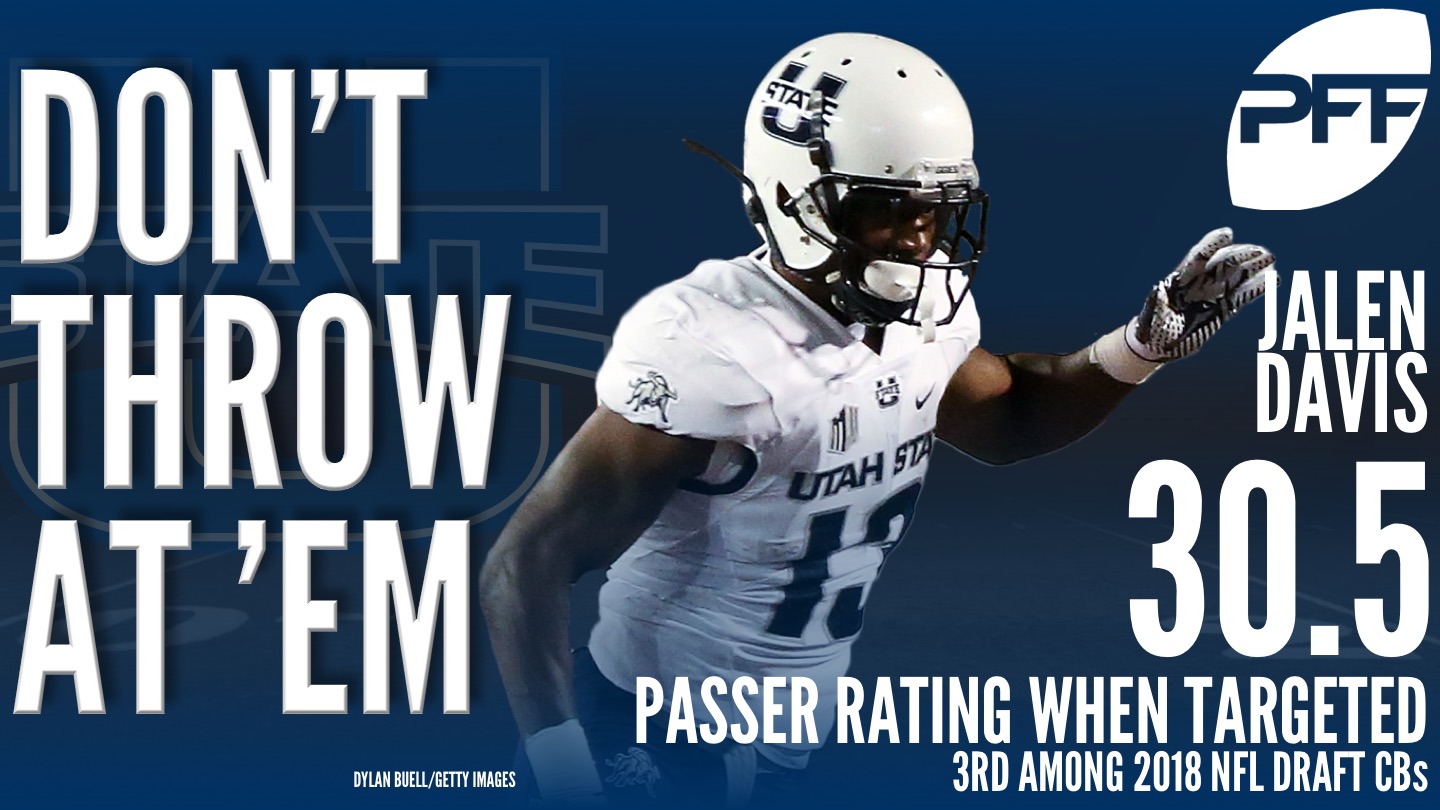 Passer rating allowed: 30.5
Perhaps the lesser-known of this heralded group, Davis was rock solid in coverage for the Aggies in 2017. He finished with the third-most interceptions among all draft-eligible cornerbacks and also recorded a whopping 12 pass breakups. He was heavily targeted, seeing a targeted pass come his way for every 4.9 snaps he spent in coverage, the 15th-highest rate among the cornerback class for 2018, yet allowed receivers to haul in a pass on every 11.7 coverage snaps. Over his four-year career with Utah State, Davis racked up 11 career interceptions and 24 career pass breakups.
Subscribe to PFF Edge to continue reading
Already have a subscription? Sign In
[All PFF Elite & Edge subscribers will have access to in-depth scouting profiles on all the top prospects in PFF's 2018 NFL Draft Guide, on February 26, 2018]