Last week, we kicked off our 'quick look' series, examining the 2019 NFL Draft class at wide receiver and those who stood out on deep passes a season ago and followed that up with the 2019 NFL Draft class at running back on the ground and through the air. The draft class has its standouts at both receiver and running back.
That being said, who will be the standouts on defense, trying to stop those aforementioned playmakers on offense this fall? More specifically, which defensive backs will be tasked with defending the deep pass and manning up with some of the talented receivers we've seen for this year?
PFF has a variety of different metrics for coverage and below we take a look at each one, highlighting those who stood out in 2017.
*Reminder: for this study, we've put a snap count limitation on returning draft-eligible players. To qualify for write ups below, a player must have spent at least 175 snaps in cornerback coverage last season.
Snaps in coverage per targeted pass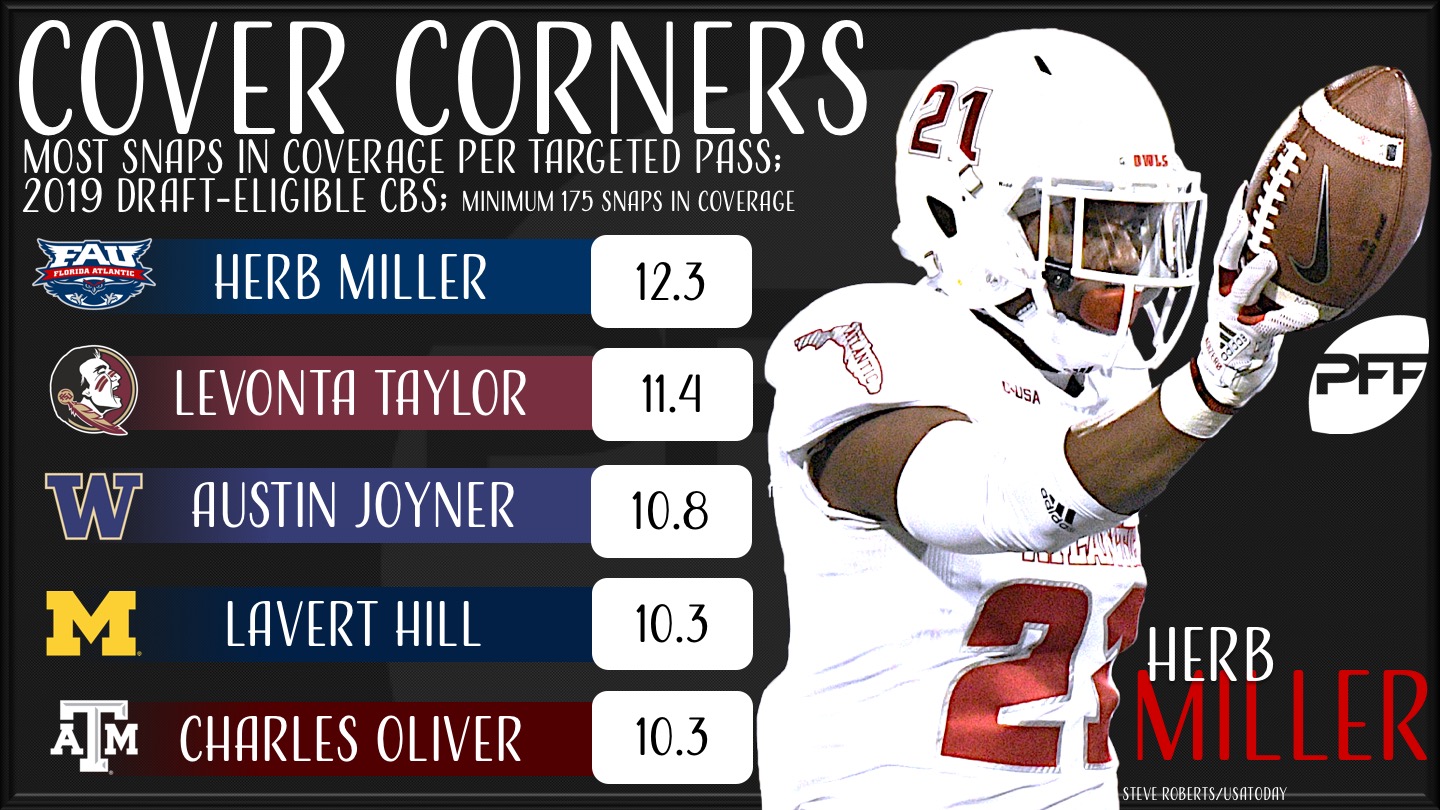 Cornerbacks, by nature, will spend the majority of their time in coverage against the offense's passing attacks, that's a given. One of PFF's first coverage metrics at the individual level takes into account the amount of times a cornerback played a snap in coverage and sees how many times he was targeted per snap in coverage. What this ultimately does is showcase how many times a cornerback was tested in his coverage. A cornerback with a heavy target share will have more opportunities for plays on the ball but also have more chances to allow catches, yards, touchdowns, etc.
FAU CB Herb Miller returns having been targeted just once every 12.3 snaps he spent in coverage a season ago, leading the way among all draft-eligible cornerbacks. Miller was targeted 22 times over the course of 270 coverage snaps while FSU's Levonta Taylor finds himself right behind him at 11.4 snaps per target. Taylor finds himself all over the tops of these lists as Seminole fans should get used to seeing his name in print as we get closer to the season.
Snaps in coverage per reception allowed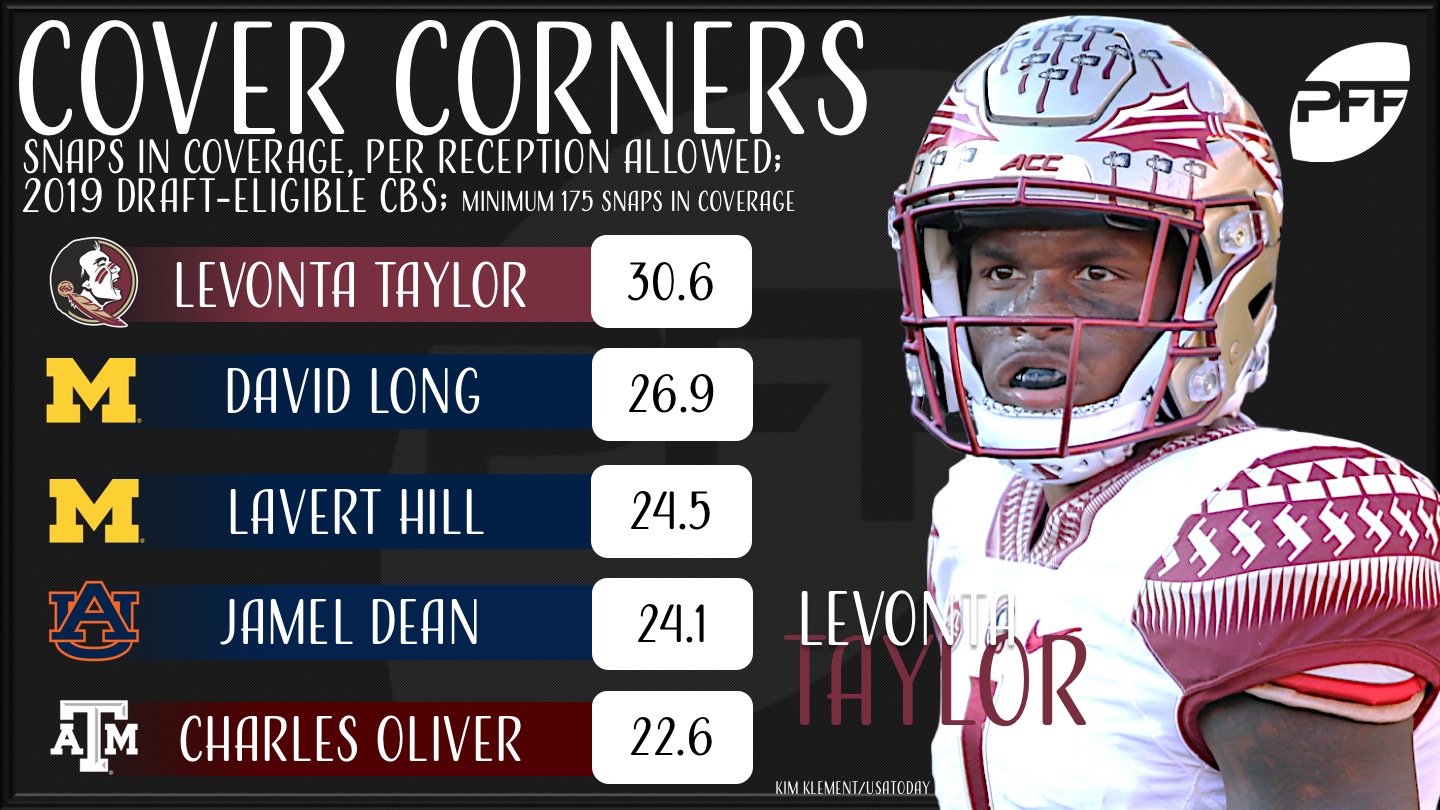 While limiting targets is one thing in it's own right, there are multiple reasons why a defender may not have been targeted in coverage over the course of the season. A better indicator of limiting an opposing offense from a cornerback coverage standpoint is looking at how many receptions were allowed, per snap in coverage. Target shares aside, these cornerbacks allowed the fewest receptions, per snap(s) in coverage a season ago.
We mentioned Taylor, and he leads the pack here. He spent 398 snaps in coverage a season ago and only allowed 13 receptions. He was targeted 35 times to boot and came down with two interceptions and two pass breakups. Only two other returning draft-eligible cornerbacks spent more than 350 snaps in coverage and allowed fewer than 20 receptions a season ago.
Michigan teammates David Long and Lavert Hill also find themselves on this list, having allowed a reception for every 26.9 and 24.5 snaps in coverage, respectively. Long  allowed nine catches on 242 snaps in coverage while Hill allowed 13 on 319 and they each pulled down two interceptions.
Yards allowed per snap in coverage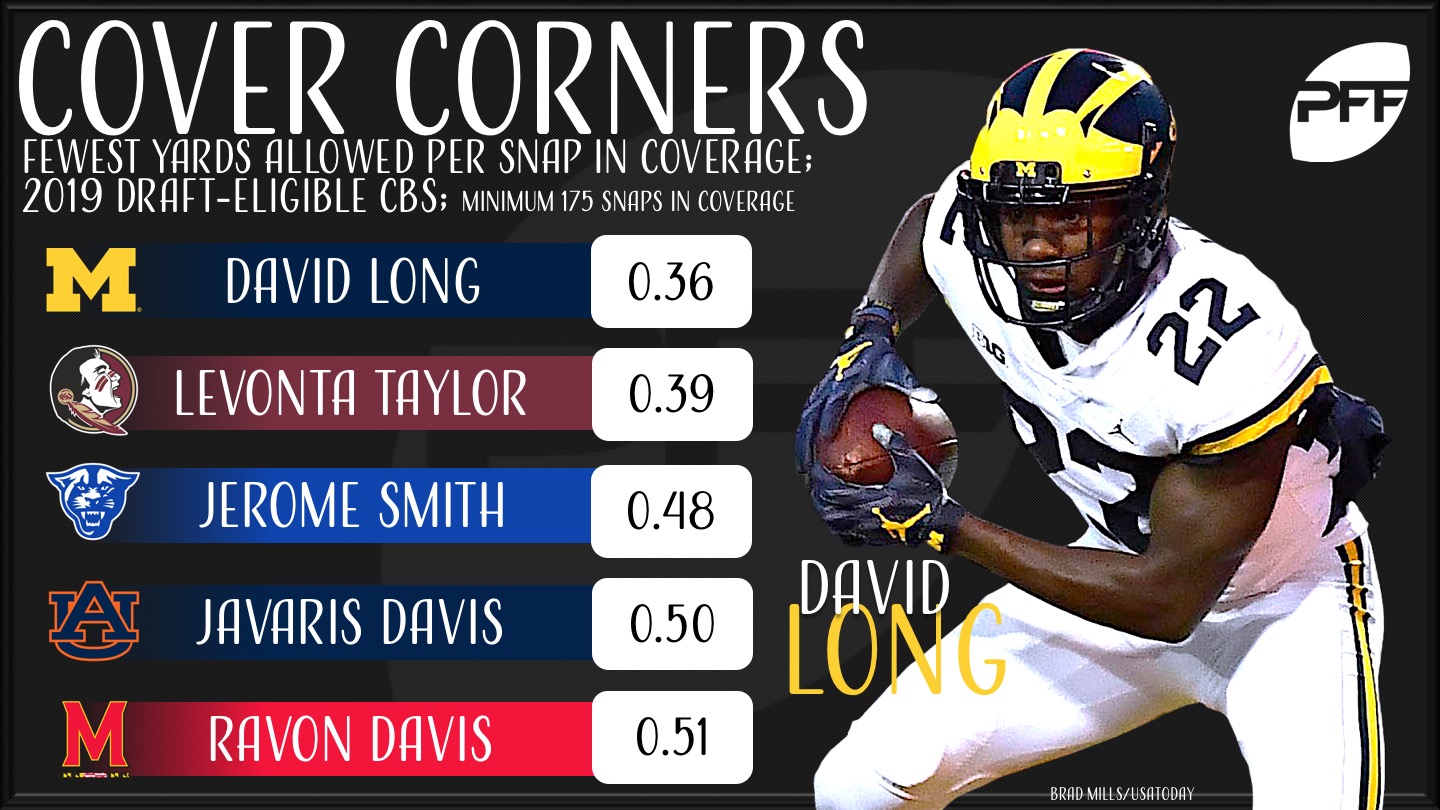 Just because a cornerback returns with a high number of snaps per target or a low number of receptions allowed, doesn't always mean he was successful in coverage. A variety of factors could go into why a cornerback was not targeted or didn't allow a reception, not just stingy coverage. There are receiver drops, quarterback mistakes, offensive schemes and variety of other reasons why some players may stand out in certain aspects and not in others. With that in mind, we take a look at the next PFF signature statistic to really show the effect a cornerback can have on the individual level in coverage.
Yards allowed per snap in coverage is pretty simple and straightforward. How many yards did a cornerback allow in coverage, per snap, without regard to target share, scheme, alignment, etc.? This showcases just how stingy a cornerback was as the primary defender in coverage by depicting just how many yards per snap they allowed.
Long finds himself squarely atop this list, having allowed just 88 yards in his coverage last season. Once again, Taylor also finds himself right near the top of another stat, allowed just 0.41 yards per snap he spent in coverage. Georgia State CB Jerome Smith cracks the top three here as well, allowing 185 yards per 386 snaps he spent in coverage (0.48 yards per snap) last season.
Passer rating allowed when targeted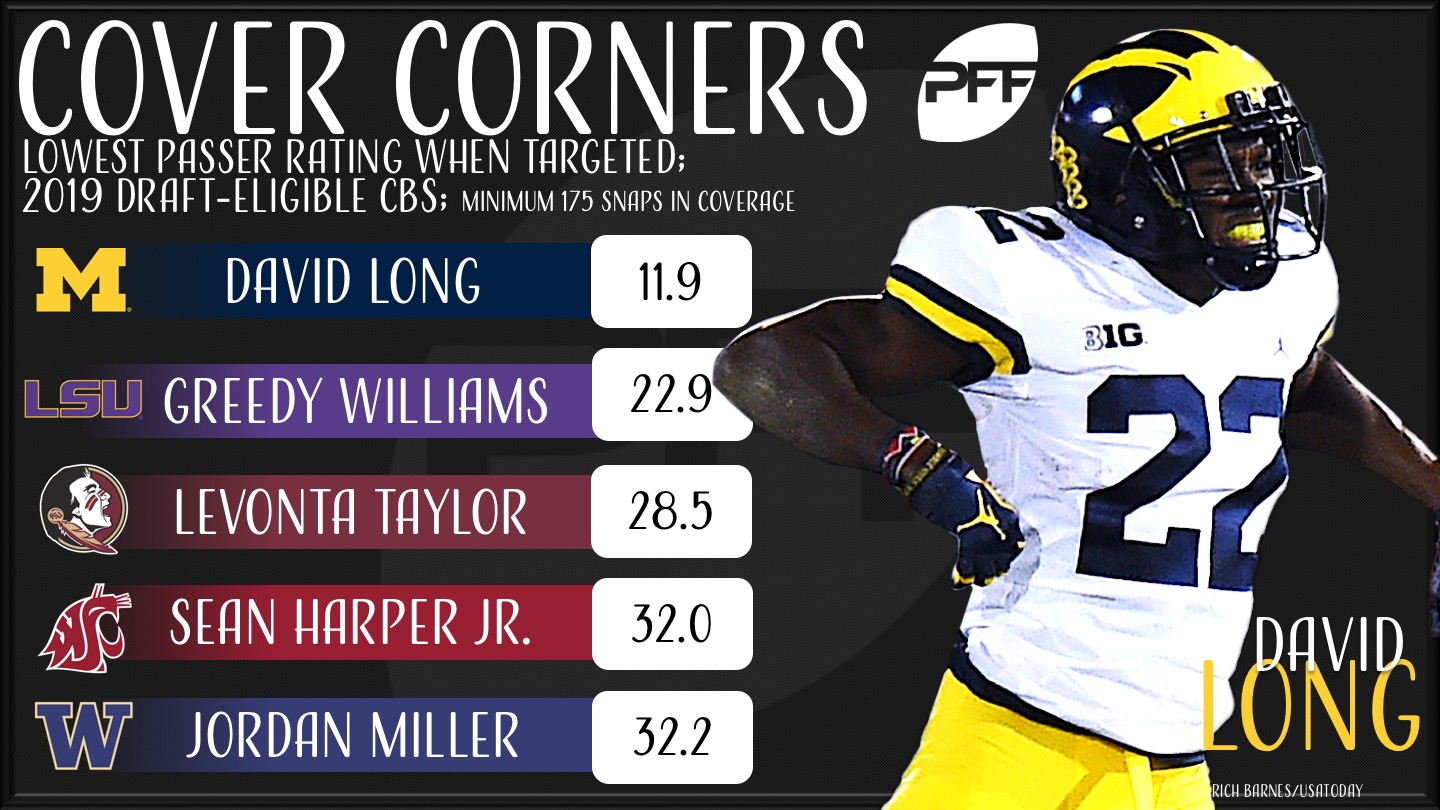 Perhaps the most easily identifiable of PFF's coverage statistics, passer rating when targeted may actually be the most complex, for the non-math geniuses. That's where PFF comes in handy. Every quarterback generates a passer rating based on completions, attempts, yards, touchdowns and interceptions. What we've done is taken into account this passer rating based solely when each individual player is the primary coverage defender (and when each receiver is targeted, see our receiver write up).
For example, a quarterback would receive a 39.6 passer rating for simply throwing the ball into the dirt (you may have heard PFF's Sam Monson say this a time or eight) or at the feet of the coverage defender for a basic incompletion. For a quarterback to throw a 39.6 passer rating or under when targeting one defender, those passes must be incomplete, intercepted or at the very least kept out of the end zone. In total, 11 draft-eligible cornerbacks return having spent at least 175 snaps in coverage and allowing a quarterback rating of less than 39.6 into their coverage.
Michigan's Long leads the group, setting the PFF College record for lowest passer rating allowed by a cornerback in the process at 11.9. Long was targeted 29 times, allowed nine receptions for just 88 yards (18 after the catch) and no touchdowns while picking off two passes and breaking up another four. LSU breakout star Greedy Williams recorded six interceptions across his 66 targeted passes and saw a 22.9 passer rating when targeted.
Taylor once again finds himself on the top portion of this list, fielding the ACC's best returning passer rating against of 28.5. Lesser known Clifton Duck of Appalachian State recorded the eighth-lowest passer rating when targeted (35.5) among draft-eligible cornerbacks during his sophomore season following a very impressive freshman year in which he allowed just a 62.9 passer rating into his throws. He now has 11 career interceptions and seven career pass breakups to his name as a Mountaineer.