The 2018 NFL Draft class saw its fair share of deep threats at wide receiver. Whether it was James Washington and Marcell Ateman hauling in Mason Rudolph bombs, DaeSean Hamilton routinely making a miraculous deep catch or Tre'Quan Smith exploding onto the scene on the end of McKenzie Milton's passes, the crop of receivers headed to the NFL could surely make highlight-reel plays.
So what about those returning receivers who are 2019 draft-eligible and their deep prowess? Are there any that jump out from last year? Are there some that do certain things on the receiving end of deep passes better than others?
We examine those today in our quick look at the potential stars on the end of deep passes in the 2019 NFL Draft class.
Reminder: PFF considers a deep pass as any pass targeted 20 or more yards past the line of scrimmage in the air.
Sure hands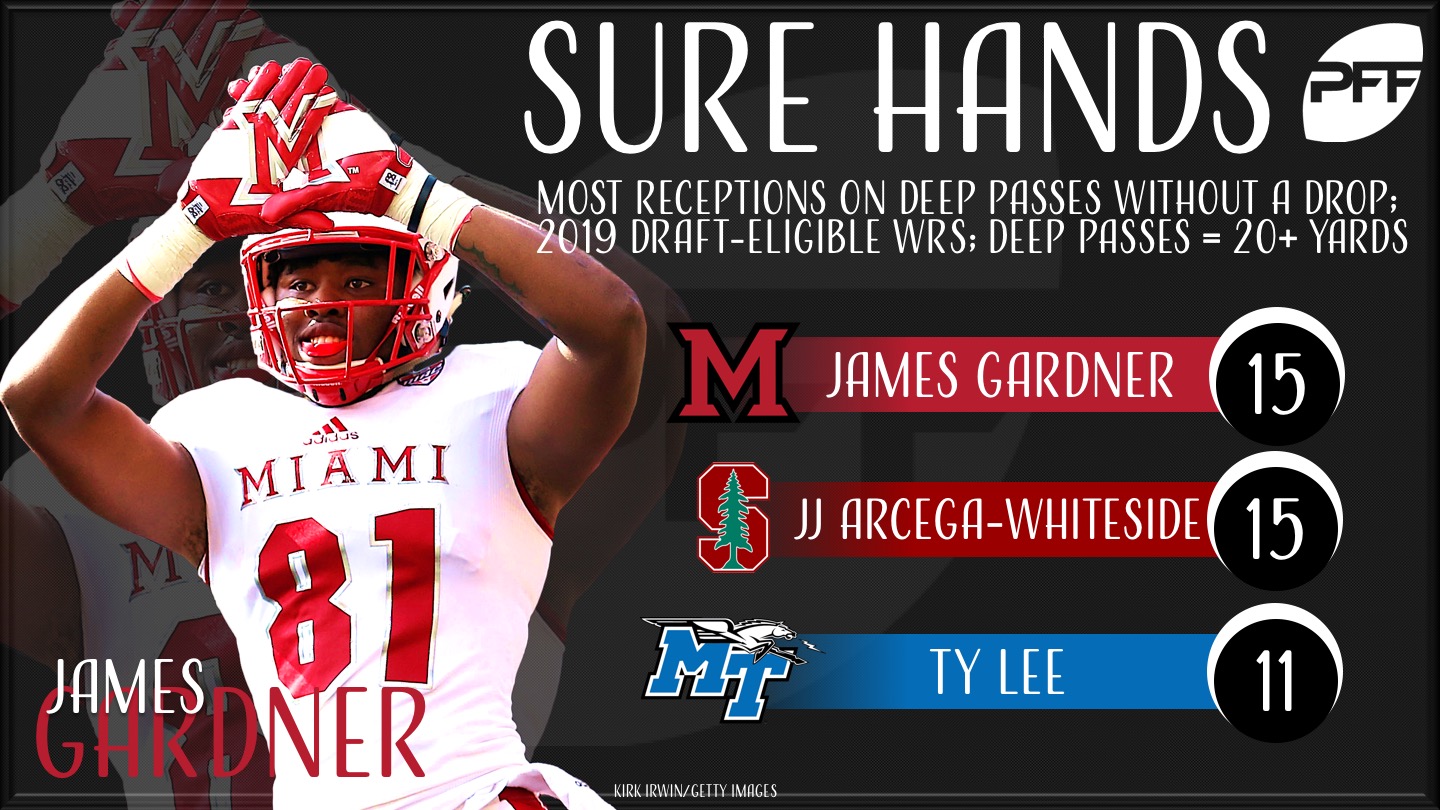 While he may not have been the flashiest of receivers last year, Stanford's JJ Arcega-Whiteside did more than his fair share of damage when given the opportunity. The key thing with Arcega-Whiteside, he made his opportunities count. He hauled in all 15 catchable deep passes thrown his way in 2017, bringing in 458 yards and two touchdowns on targets at least 20 yards downfield without a drop.
Joining him atop that list is Miami (Oh.) WR James Gardner, who also hauled in all 15 catchable receptions on deep targets in 2017. Gardner topped Arcega-Whiteside in yards (476) and touchdowns (six) however as the he was targeted on deep shots on 42.4 percent of his cumulative targeted passes a season ago.
Several other players who may not have burst onto the scene last year but could be threats to do so this year also displayed sure hands on deep passes. Those include North Texas' Jalen Guyton, Alabama's Darius Slayton, Nebraska's Stanley Morgan Jr. and MTSU's Ty Lee, all four of whom did not record a drop on their catchable deep targets in 2017.
Racking up the yards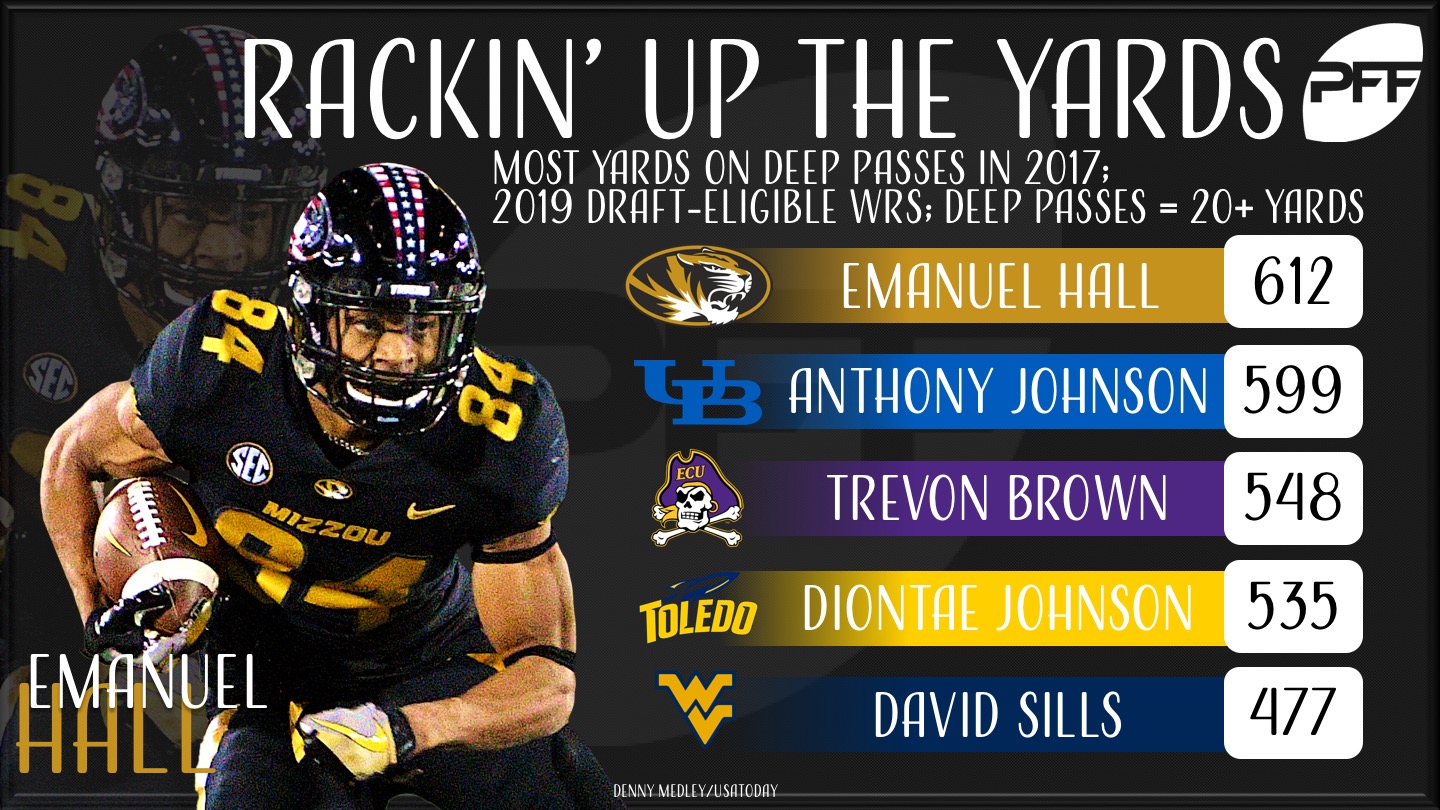 Missouri WR Emanuel Hall leads all returning receivers including those that are eligible for the 2019 NFL Draft with his 612 yards off deep passes. He topped the charts off of just 13 receptions, averaging a whopping 47.1 yards per deep catch. Toledo receiver Diontae Johnson finished atop the charts in terms of average reception for those with at least 10 deep receptions, however, averaging 48.6 yards per catch.
Johnson also finished fourth in total deep receiving yards, racking up 535 yards on 11 catches. Standout Buffalo receiver Anthony Johnson and ECU's Trevon Brown finished second and third, respectively, with 599 and 548 yards on deep passes last season. Brown's numbers certainly were buoyed by his 95-yard deep touchdown reception in Week 2 against West Virginia but he still was a viable threat all season long for the Pirates.
Checking in on the list of top yards as well, but a bit further down were a trio of receivers who could both stake claim to top receiving unit in the country and also each hear their names called next April. Ole Miss receivers DaMarkus Lodge (343), A.J. Brown (337) and D.K. Metcalf (337) ranked inside the top 31 in terms of deep receiving yards last season. Interestingly enough, Brown and Metcalf each hauled in 337 yards on seven deep receptions in 2017. A full offseason with QB Jordan Ta'amu may prove highly beneficial for this receiver trio as they look to get the Rebels back on track.
Making the targets count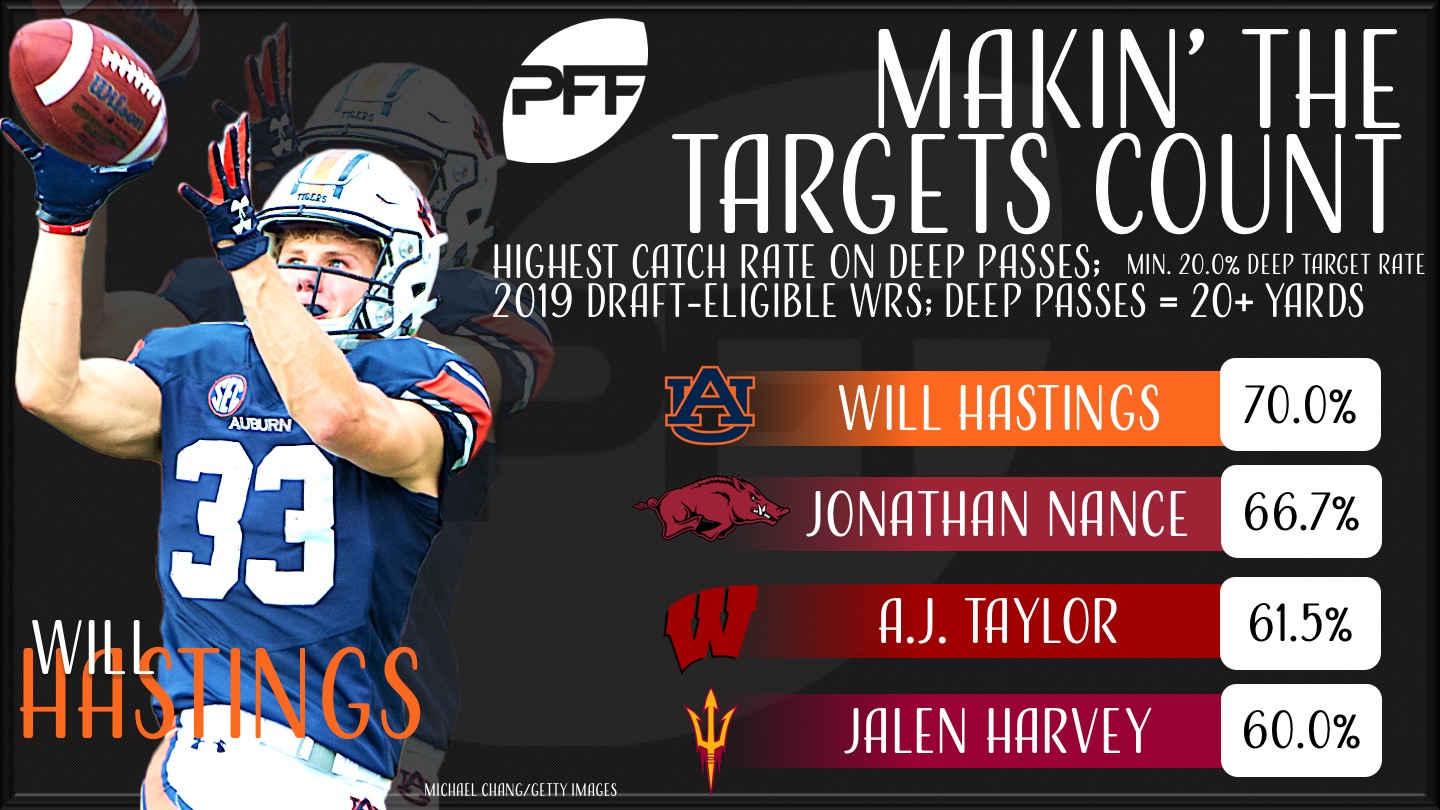 Of all draft-eligible receivers with at least 20.0 percent of their targets coming by means of deep passes, Auburn's Will Hastings recorded the highest catch rate at 70.0 percent. Hastings was targeted on 10 deep passes (out of 41 total targets) and recorded seven receptions on seven catchable targets. Four of those went for touchdowns and only Arkansas WR Jonathan Nance (66.7 percent), Wisconsin WR A.J. Taylor (61.5 percent) and Arizona State WR Jalen Harvey (60.0 percent) cracked the 60.0 percent mark for catch rate on deep passes.
UCF WR Dredrick Snelson saw 31.7 of his total targeted passes a season ago come on deep passes, recording a catch rate of 55.0 percent. In all likelihood, not only will his total targets go up but his deep targets will also skyrocket as he'll likely take the place of the aforementioned Tre'Quan Smith in the high-powered UCF offense. Snelson is a name to remember if he can have the kind of year Smith had in 2017.
Cashing them in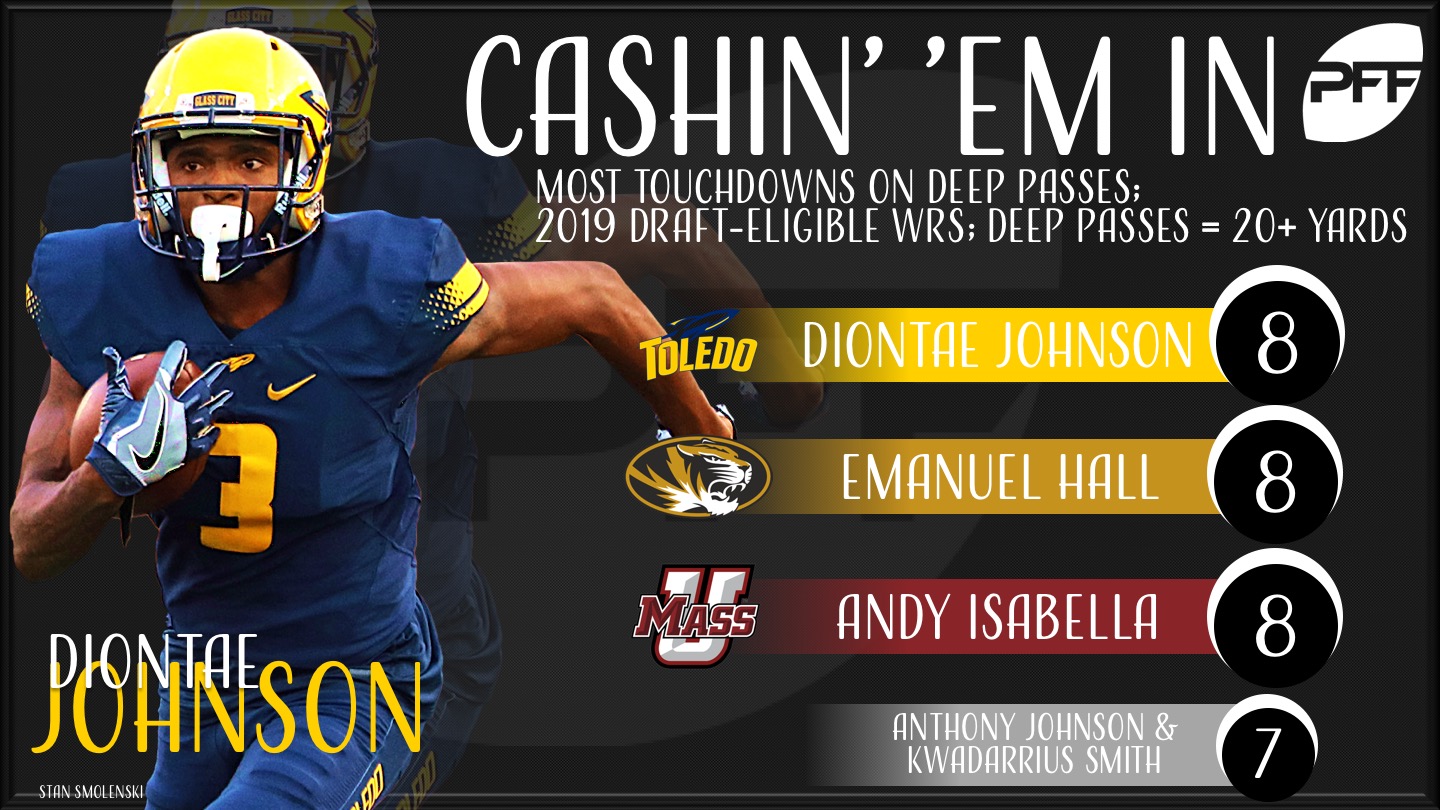 Catching deep passes is one thing; taking them to the house is another. Hall, Diontae Johnson and lesser known UMass WR Andy Isabella lead the draft class with eight touchdowns on deep receptions a season ago. Johnson did his on just 11 receptions while Isabella recorded 12 and Hall had 13 deep catches.
Also cashing in touchdowns on deep passes were MAC receivers Anthony Johnson and Akron's Kwadarrius Smith who finished tied for fourth with seven. Snelson, Brown, Gardner, Wyoming's C.J. Johnson and Coastal Carolina's Malcolm Williams each finished with six touchdowns on deep receptions to round out the top 10.