• Bryce Young and Will Levis go Nos. 1 and 2: The Colts trade up to the top spot to select Young, while the Texans draft Levis to pair with Quentin Johnston at No. 12.
• Bears trade back, land Will Anderson Jr.: Chicago is set to acquire an elite defender in the draft, and they do so here with Anderson, who racked up 207 pressures in three seasons at Alabama.
• Vikings pair Jordan Addison with Justin Jefferson: Minnesota forms a scary wide receiver duo by drafting USC's Addison with the No. 23 overall pick.
Estimated Reading Time: 10 mins
---
With Super Bowl 57 now over, the first-round order of the 2023 NFL Draft is settled … for now. The willingness to wheel and deal top draft choices has increased massively in recent years, and for the first time since 2016, it looks likely that the No. 1 overall pick will be on the move.
---

---
It'll take a premium to move up for a prospect like Bryce Young (Pick Nos. 4 and 36 and a 2024 second-rounder is what I'd project), but it's well worth it for the quarterback-starved Colts. What Young did to an NFL defense in Georgia's 2021 unit makes me worry a lot less about his size going forward. 
Not only is a franchise quarterback required for any team to even think about making it through the AFC for at least the next half-decade, but that player better also be capable of high-end play. Levis brings that to the table with a unique blend of arm strength and mobility that will leave evaluators salivating over what he could become. 
Arguably the best defensive tackle prospect PFF has graded in nine years of charting college football, Carter has the blend of quicks and power that can be a headache for opposing offensive coordinators. The fact that the Cardinals spent two top-100 picks on the edge position last year tips the debate between Carter and Will Anderson Jr. toward the interior.
Trading back to Pick No. 4 makes the most sense from the Bears' perspective because they'll be drafting a player here in Anderson who they'd be more than happy to draft at No. 1 overall if there were no quarterbacks available à la 2022. Anderson racked up 207 pressures in three seasons with the Tide.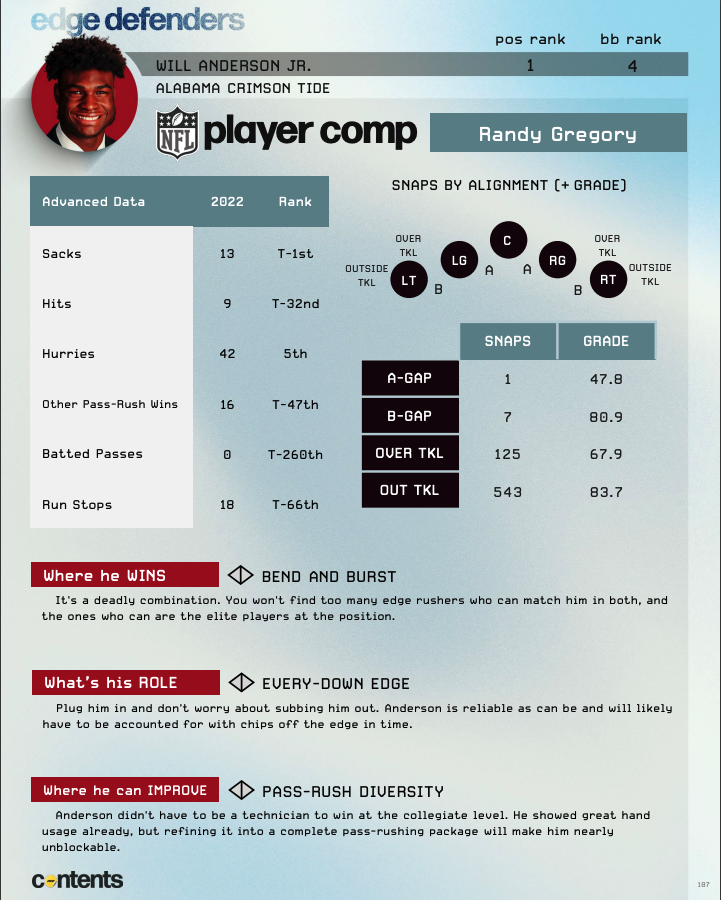 Wilson is what the Seahawks have been missing off the edge: an every-down difference-maker who can kick inside on third downs and cause problems. At 6-foot-6 and 275 pounds with a wingspan of more than 7 feet, Wilson possesses unique tools that won't have him available for long in this draft.
Head coach Dan Campbell is going to take one look at Witherspoon's tape and demand he be a Detroit Lion. Witherspoon is the feistiest cornerback in the draft, and he got after it in press coverage last season. He allowed only one yard from a press alignment all year. The Lions ran the fourth-most press snaps on defense last season, meaning Witherspoon should feel at home right away.
The Raiders need all the help they can get along the offensive line at this point. Johnson isn't a finished product by any means after only one season starting at left tackle, but he still earned an 83.1 overall grade and has all the tools to develop into an elite player at the position.
You might be asking yourself, "Isn't this high for a prospect who projects to guard?" To that, I'd say: "not with what Arthur Smith wants to do offensively." They were the run-heaviest team in the NFL last season and rely on their offensive linemen to be athletes who can play in space. Skoronski is precisely that, the type of player who can pair with Chris Lindstrom to boost the Falcons' rushing attack to a scary level.
Calling Stroud a consolation prize here would be doing a disservice to how good of a prospect he is. He's an accurate and efficient pocket passer who is tremendous at avoiding sacks. He earned overall grades of 92.2 and 88.9 in the past two seasons.
James Bradberry was one of the best free agent signings of 2022, but he came to Philadelphia on a one-year deal and very likely played his way out of the team given their tight cap situation. Gonzalez is a similarly long cornerback who picked off four passes and broke up six more this past fall.
It may not be a need (although it will be if the Titans cut Bud Dupree), but Van Ness is too perfect a fit for Tennessee to pass up. The Titans love to create havoc with their line via stunts and slants, and Van Ness is a true havoc creator. His ability to sink low and walk back offensive linemen is as good as it gets in the draft class.
The Texans got the quarterback at No. 2, and now they've given Levis a rangy weapon to haul in some of those slightly off-target passes that he's no stranger to. The 6-foot-4, 215-pounder is also deadly after the catch, having racked up 45 broken tackles on 115 career receptions.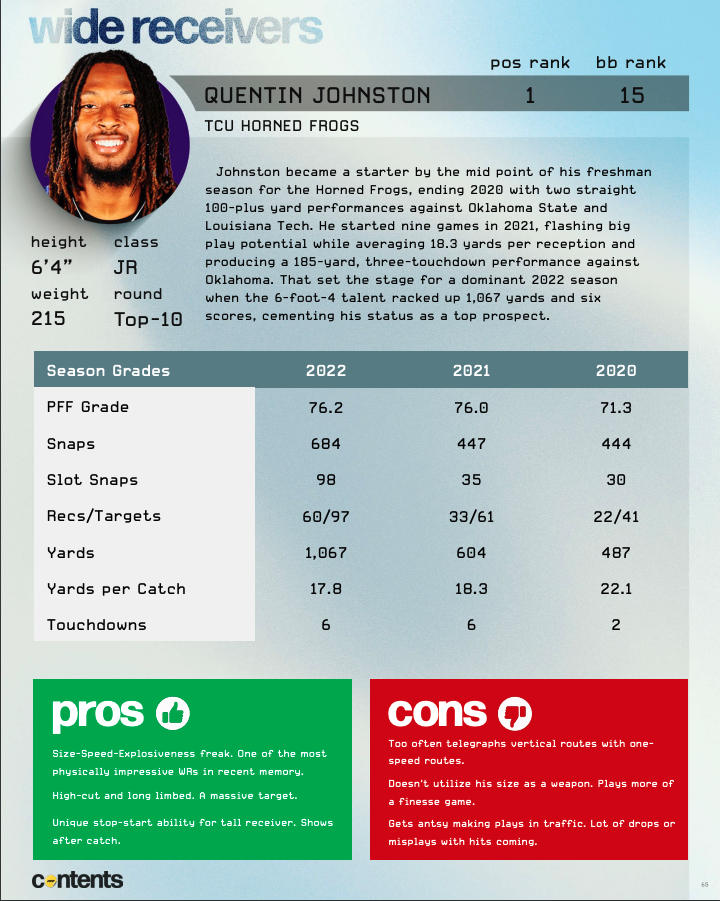 While it seems like the Jets want to part ways with this pick to secure a quarterback, if they can't do that, then providing better protection for whoever is behind center is paramount. Jones is an ascending tackle with grown-man play strength already at only 21 years old. He allowed only nine pressures this past season in his first full year as a starter.
Branch was built to play defensive back for Bill Belichick. He has the best instincts and is the best tackler of any defensive back in the draft class. For his entire college career, he missed only four tackles on 174 attempts.
The Packers love athletes along the defensive line, and if one of Murphy's caliber is staring them in the face, general manager Brian Gutekunst is going to pull the trigger. Murphy is very reminiscent of Rashan Gary as a prospect, with high-end flashes but average production (79.0 grade in 2022).
With Daron Payne hitting free agency, the Commanders may very well choose to reload at the position to keep their defensive line a strength. Bresee never quite lived up to the lofty expectations attached to being a No. 1 overall recruit (2020), but that was due in large part to a torn ACL in 2021 that he came back from and still earned an 82.0 pass-rushing grade this past fall.
Mike Tomlin is going to have a hard time passing up Joey Porter's son given the drastic need at the position. Porter is one of the longest cornerbacks in the class and broke up nine of the 30 targets into his coverage in 2022.
The first round couldn't shake out too much better for Detroit if this is how it goes. They get a defensive cornerstone with their first pick and a special developmental prospect to be the quarterback of the future with their second. Oh, and Richardson is so special athletically that offensive coordinator Ben Johnson can get him involved in certain packages without him being the starter.
Banks is a long, nimble cornerback who could backfill the potential losses of Jamel Dean and Sean Murphy-Bunting this offseason. Head coach Todd Bowles needs aggressive press cornerbacks to execute his scheme defensively, and Banks can be that after allowing only 26 catches on 60 targets for 258 yards in 2022.
Kancey was the best pass-rushing defensive tackle in college football last season, earning a 92.4 grade in that regard. He just happens to be only 6-foot and 280 pounds. The Seahawks are no stranger to smaller defensive tackles, with Poona Ford patrolling the middle of their defensive line for the past five seasons. Kancey can be an every-down three-technique and live in opponents' backfields.
Many are mocking speed receivers to the Chargers, but they could use someone ultra-reliable, as well. Mayer is that and then some. He dropped only seven of his 145 catchable targets the past two seasons and went 30-of-49 in contested situations.
Bijan and Lamar Jackson in the same backfield is just too much dynamism to pass up. Do you want to take your run game to unstoppable levels? Because adding the PFF College single-season broken tackle leader will do that.
Addison is a dream scenario for the Vikings. He's not just a separator, but also one who will make you pay down the football field if you tilt your safeties toward Justin Jefferson. He won the Biletnikoff Award, given to college football's top receiver, in 2021 and tallied 25 touchdowns over the past two seasons.
With Evan Engram hitting free agency, the Jaguars can stand to secure another receiving tight end to build rapport with quarterback Trevor Lawrence. After all of the drops Lawrence has suffered from his receivers over the past two years, Kincaid would be a sight for sore eyes. The tight end dropped only two of his 109 catchable passes at Utah.
Head coach Brian Daboll has been a master at scheming to talent, and in the right role, there may be no better receiver in this class to scheme to than Smith-Njigba. He is nearly unguardable on option routes over the middle of the field and can easily take on a Cooper Kupp– or Amon-Ra St. Brown-esque slot role.
Hyatt brings the kind of juice that the Cowboys were missing in 2022 at receiver. His ability to take the top off defenses is second to none in the draft class. His 677 yards on deep receptions led all of college football this past season.
The Bills' 2022 offensive line was a patchworked mishmash and arguably the weakest position group on the entire roster. Torrence can easily take over the left guard spot left vacant by 34-year-old impending free agent Rodger Saffold. 
One of the keys to the Bengals' defensive emergence under coordinator Lou Anarumo has been the prioritization of versatility. They want players who are flexible enough to play in different roles, and that applies to the nearly 6-foot-5, 280-pound Georgia Tech defensive lineman. White is still a work in progress after starting his career at tight end, but he's a freaky athlete who can play outside or inside. He can even drop into coverage.
There's a good chance that Jarvis Landry and Michael Thomas will be wearing different uniforms in 2023. At that point, it's a bare-bones Saints receiving unit. Flowers would give New Orleans an electric duo — with Chris Olave — of separators who can win to every level of the field.
The Eagles are no strangers to adding juice to their defensive line, and Smith brings just that. It becomes even more likely if soon-to-be 35-year-old Brandon Graham retires this offseason. Smith is undersized but explosive as can be, and he plays with great leverage. He would ensure the Eagles' third-down package remains scary.
Travis Kelce has proven to be ageless, but at some point the 33-year-old future Hall of Fame tight end will slow down. Then, he can pass the torch to the most athletic tight end in the draft class. Even before that, though, adding the most athletic tight end in the draft class who can get vertical like a wide receiver to the Chiefs' 12 personnel package would be scary.