The Philadelphia Eagles have a rare thing going for them after a Super Bowl loss to the Kansas City Chiefs in that they still have a top-10 pick in the 2023 NFL Draft thanks to a trade with the New Orleans Saints.
With two picks in the first 30 of April's draft, they are positioned to restock their roster with more top talent as they look to make it back to the Super Bowl. So, what are their options with both picks?
Let's dive into PFF's Mock Draft Simulator to explore.

---
Option 1: Stay at Nos. 10 and 30, select the best players available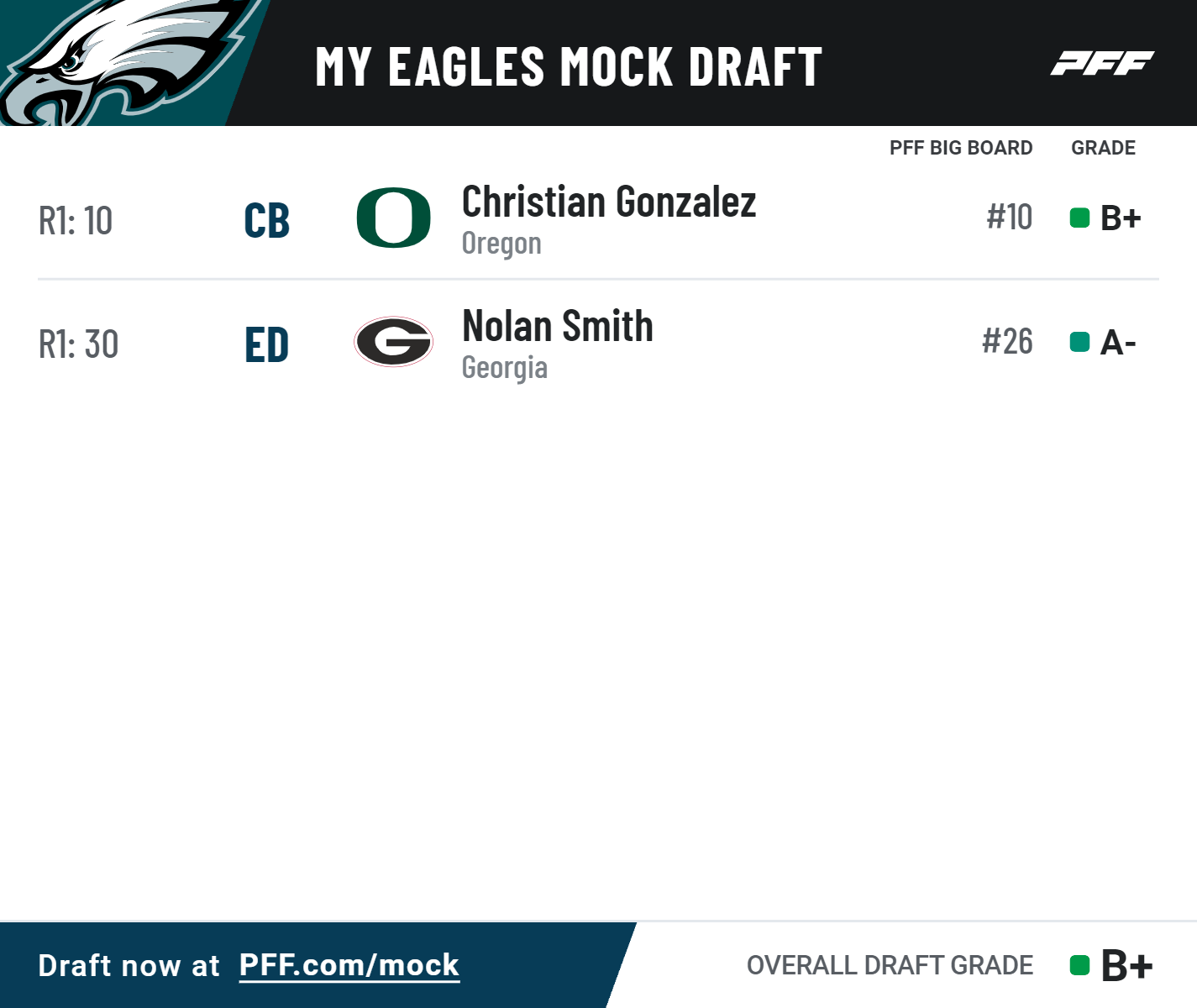 In this scenario, four quarterbacks were selected in the first nine picks, leaving the Eagles in position to land one of the top players in the draft with the 10th pick. James Bradberry and Chauncey Gardner-Johnson are currently set to be free agents, and Alabama's Brian Branch and Oregon's Christian Gonzalez were the top players available. Gonzalez ranked fourth among Pac-12 cornerbacks this season with an 81.4 PFF coverage grade.
The Eagles fielded a dominant defensive line in 2022, but Georgia's Nolan Smith would be a tempting prospect if he's still there with the 30th pick. His best season was in 2021 when he produced an 85.0 PFF grade.
---
Option 2: Trade back from No. 10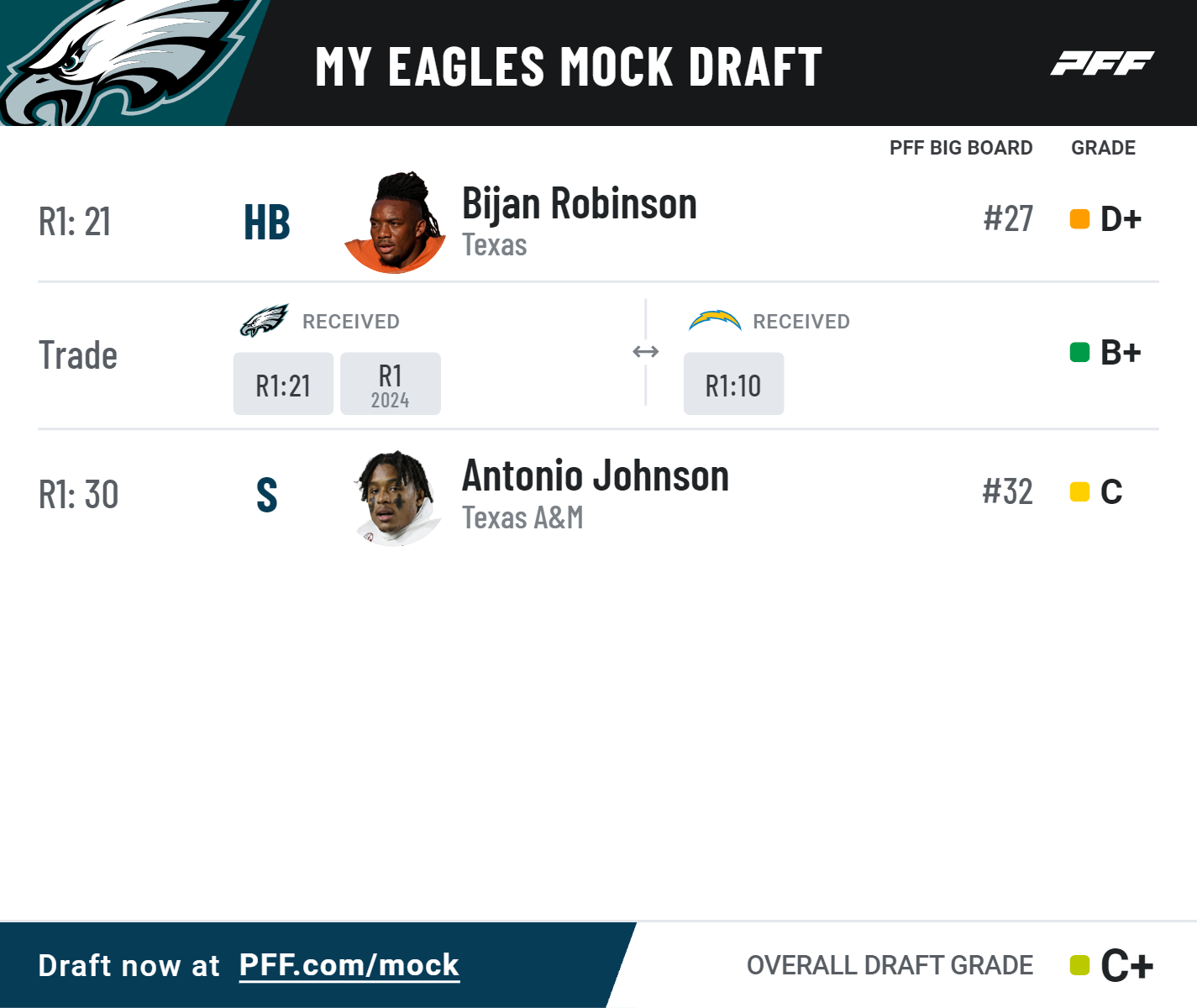 It worked last year in the draft, so why not try the same again? Here, the Eagles swap Pick Nos. 10 and 21 with the Los Angeles Chargers and add a 2024 first-round pick.
Texas running back Bijan Robinson was then available at Pick No. 30, despite his average draft position in the mock draft simulator being inside the top 25 picks. The Eagles selecting Robinson is a little bit of a luxury, but it's difficult to not get excited about a prospect who broke a PFF record with 104 missed tackles forced last season.
---
Option 3: Shock everyone and draft a quarterback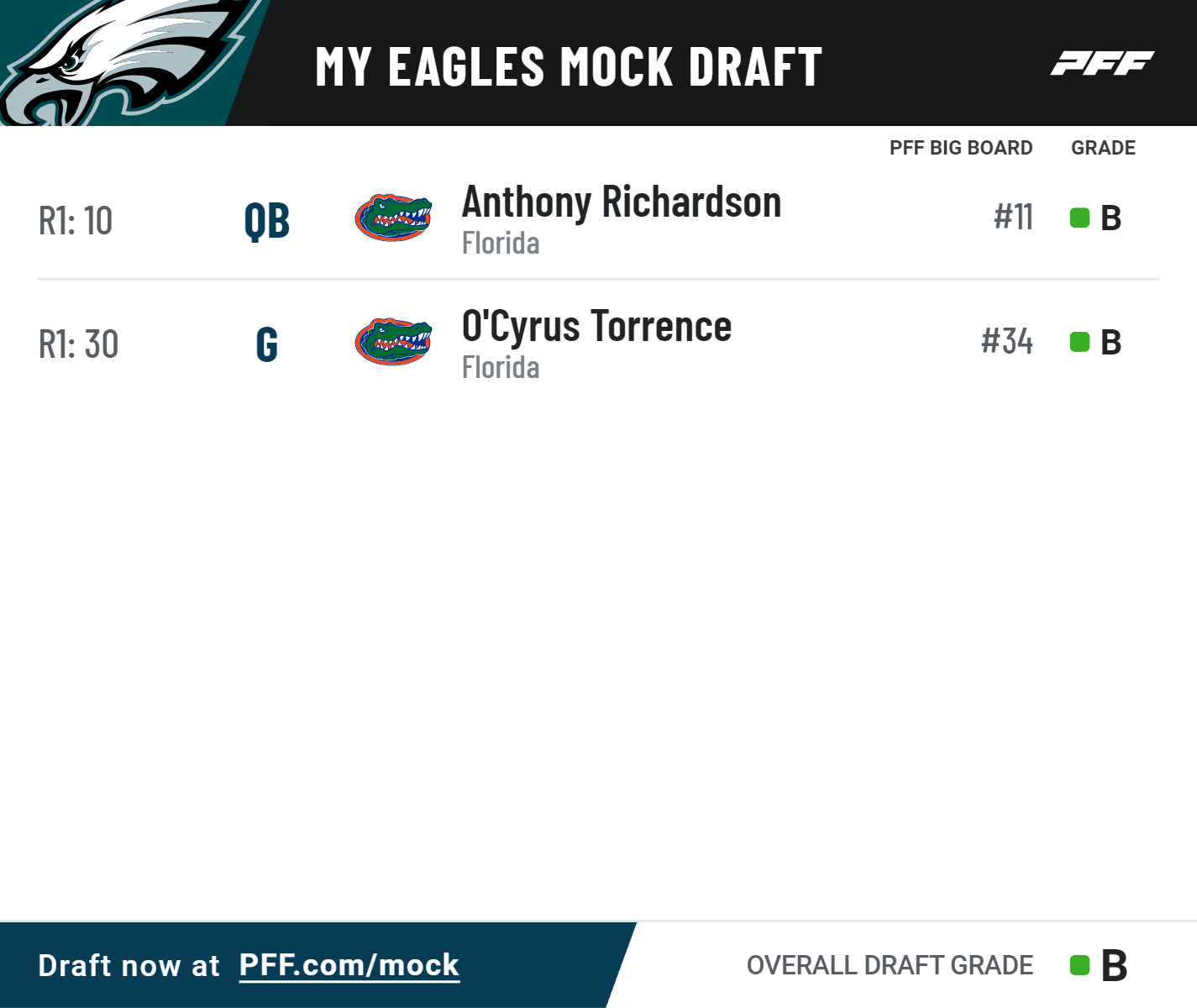 Firstly, I am not saying that this is what the Eagles should do. Should they be faced with the option of drafting one of the top quarterbacks Pick No. 10, though, there are those within the analytics community who see value in it. With a long-term extension for Jalen Hurts looming, this would allow the Eagles to not have to spend big at quarterback, something that helped them build the roster that went to the Super Bowl this past season.