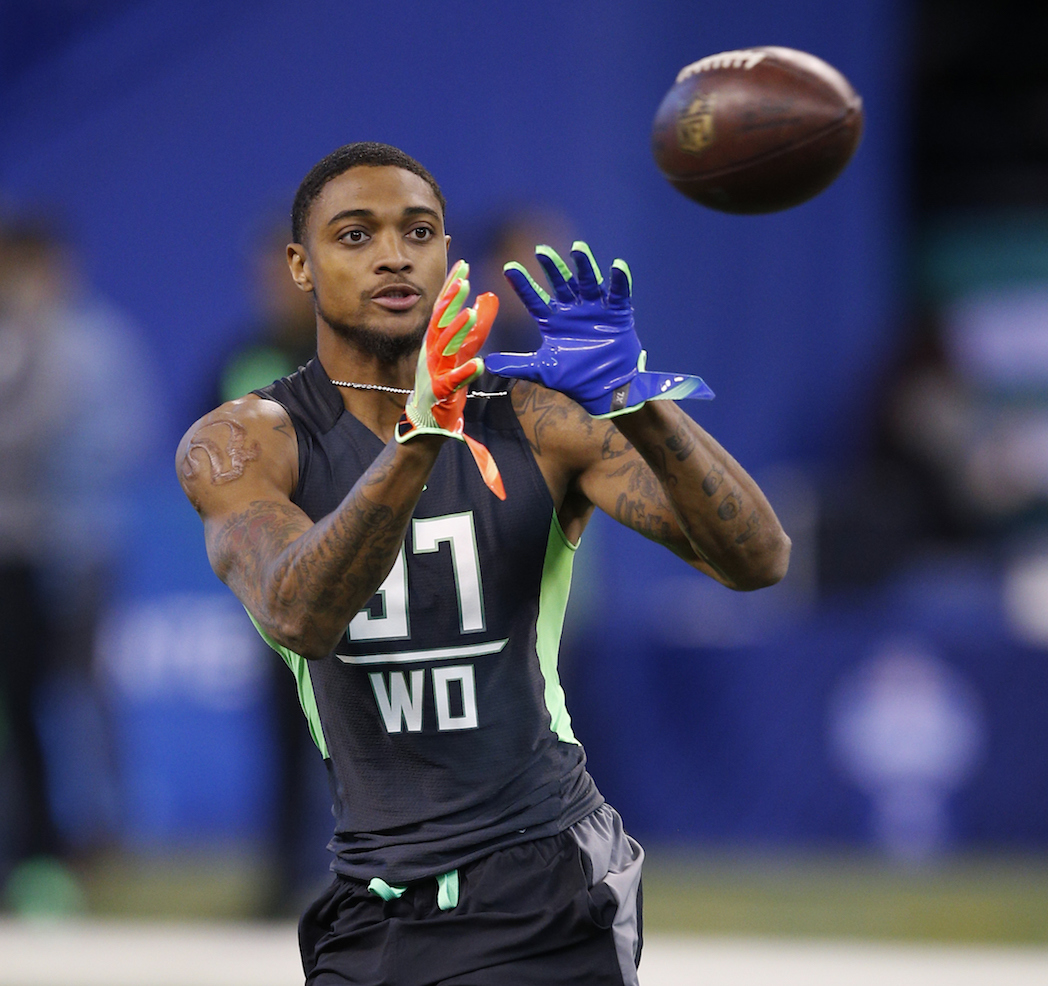 INDIANAPOLIS, IN - FEBRUARY 27: Wide receiver Tajae Sharpe of Massachusetts in action during the 2016 NFL Scouting Combine at Lucas Oil Stadium on February 27, 2016 in Indianapolis, Indiana. (Photo by Joe Robbins/Getty Images)
Below is the PFF draft profile for Massachusetts' Tajae Sharpe, which incorporates PFF's college grades and scouting intel from our team of analysts. To see all of PFF's 2016 scouting reports, click here.
Position fit:
Outside wide receiver. 586 of his 839 snaps came on the outside, but did see 244 snaps from the slot in 2015
Stats to know:
At +24.9, he had the fourth-highest receiving grade of any receiver in this draft class
What he does best:
• Good hands, dropped just seven passes from 204 catchable over the past two seasons
• Nice footwork as a route runner, helping him catch 77 percent of the passes thrown his way on hitches
• Big frame that he uses well, catching 73 percent of the passes thrown his way on slant routes in 2015
• Incredibly productive, admittedly against lesser competition, racking up 2,588 yards between 2014 and 2015 at UMass, and averaging a respectable 2.46 yards per route run
• Caught all six passes thrown his way on comeback routes in 2015, another indication of how well he can use his body to shield the ball from defenders
Biggest concerns:
• Competition level. Sharpe played just two games against Power-5 opponents in 2015, so there is a concern that lesser opponents helped inflate his grade somewhat. The counter point to that however, is that he graded at +4.6 as a receiver in those two games
• Can he separate downfield? Forty yard dash time of 4.55 seconds and vertical jump of 33.5 were both in the bottom 38 percent of combine participants. This is backed up by the fact that he caught just 33 percent of the passes thrown his way on go routes
• More of a possession receiver. Caught at least 57 percent of all passes thrown his way on routes with an average depth of target of 11.6 yards or lower, and just 40% on routes with an average depth above that
Bottom line:
Sharpe is an interesting prospect given just how productive he was at UMass. You do have to be cautious when there is such little work against top competition however, and his route breakdown does suggest a player who will be much better as a possession receiver and a team's third or fourth option at the position.