Weighing in at 5-foot-11, 221 pounds at the 2019 NFL Scouting Combine, Boise State running back Alexander Mattison is built like a wrecking ball. He draws comparisons to other NFL backfield beefcakes like Shonn Greene and Joique Bell.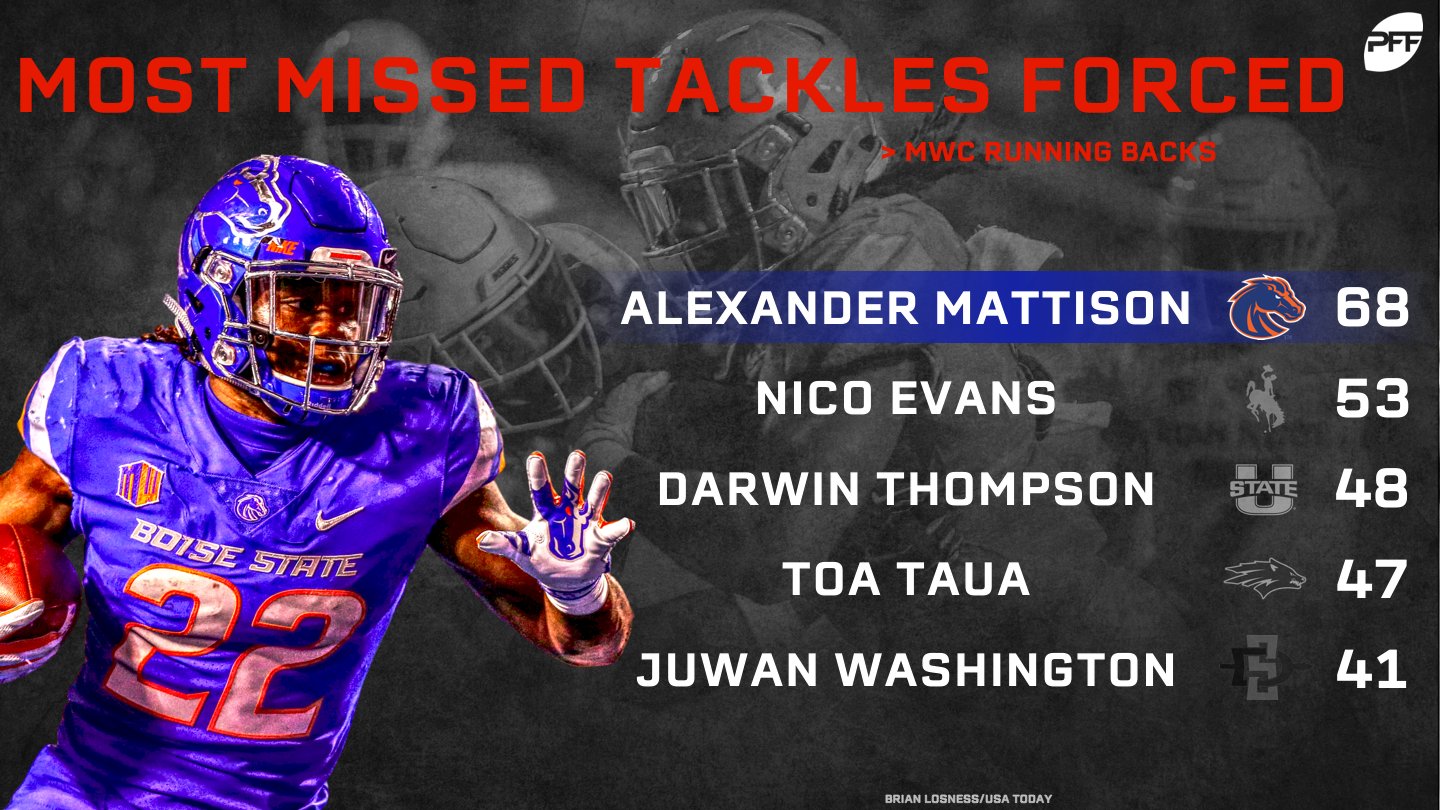 But Mattison isn't your typical big boy. He's a value-add in the passing game with much more in his arsenal than a lowered shoulder; he's a natural pass-catcher and makes defenders miss with great jump cuts, sidesteps and the occasional hurdle.
And NFL teams are in love. 
"A lot of the conversations [with NFL teams at the Combine] were about their opinion of me as a player, what they looked at on film," Mattison said in a March interview with Pro Football Focus. "It wasn't a lot of feedback telling me what I should work on as much as it was commending some of the things I do and getting to know me."
Mattison added NFL teams were quick to compare him to fellow Boise State alumnus Jay Ajayi, but they said he was the more athletic back of the two. Several coaches also said they aren't the biggest fans of how often he opts for the hurdle, but agreed with him that it is indeed effective while also speaking at length about his balanced running style split between power and shiftiness – "swifty" also comes to mind for some.
"I think I'm different in that I'm a well-rounded, balanced back," Mattison said. "I mean, I'm physical, but at the same time, I can make you miss. [Boise State running backs] Coach [Lee] Marks would call me swifty. But at the same time, I will punish people if I need to… I have that agility in my back pocket, and I have that right shoulder in my back pocket, too.
"I'm not specifically a power back. I'm not just a speed back. I'd like to say I'm a combo, an elusive, physical running back. I think when you pop on the tape, you'll see that I'm not one specific kind of back and that I'm capable of being different kinds of backs in multiple different kinds of situations."
Mattison's loaded back pocket brimming with his right shoulder, agility, hurdles, etc. are easy to catch on his game film. In the play below, he shows off his sidestep to avoid the unblocked defender at the line of scrimmage, hurdles another a few yards down the road and lowers his shoulder at the tail-end of the run to get in the end zone.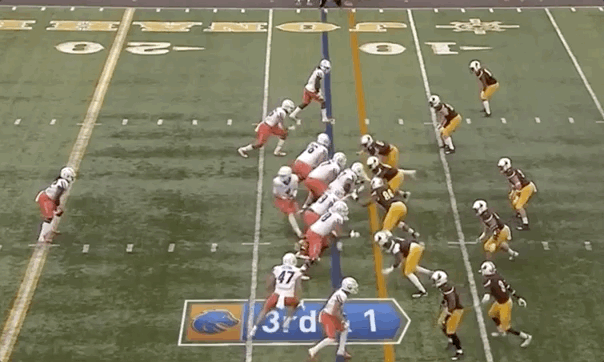 Here, Mattison leaves the first defender tackling air at the line of scrimmage, shows no hesitation as he hurdles his own teammate on the ground and instantly makes another miss as soon as he touches down on the ground post-hurdle.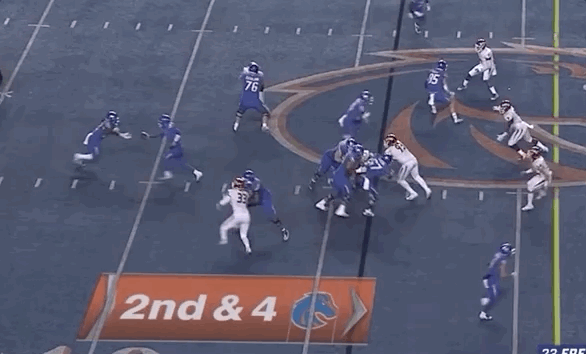 Mattison averaged 0.225 forced missed tackles per attempt in 2018, ranking 25th among all FBS backs in 2018. He also averaged 2.85 yards after contact per attempt and picked up a first down or touchdown on an impressive 27.8% of his carries this past season. His 81.2 overall grade ranked 29th among FBS backs with 300-plus offensive snaps.
Adding his 2017 production to the mix, Mattison ranks 19th in two-year overall grade (83.1), and 21st in forced missed tackles per attempt.
Mattison, despite his high marks over the last two years, was adamant that the NFL team that picks him isn't getting a finished product.
"Coming out of the backfield, I'm pretty versatile, which is a big plus, especially with the NFL now there's a need for running backs that can catch the ball out of the backfield, protect the quarterback and run with the ball in their hands," Mattison said. "I'm a smart player. Along with that, my work ethic. I'm only going to get better. That's the only option for me. I want teams to understand that there's no option of being satisfied at any point. And I believe it should be that way for anybody."
"I'm trying to be better than the best, so I attack that every day."
Mattison earned just a 61.4 pass-blocking grade and a 59.6 receiving grade in his final two years at Boise State, and he knows it's an area where he needs to improve at the next level. Two major components of Mattison's daily attack are improving his pass-catching ability and pass protection. He said he is currently working on being more aggressive as a pass-catcher, "snatching the ball out of the air and leaving no doubt."
In pass protection, Mattison is exploring new techniques and working to "switch things up" as a pass blocker to avoid approaching every rusher the same way.
"I've been evaluating film and trying to correct myself and critique myself," Mattison said. "I'm trying to establish my own way of blocking that is both efficient and going to allow me to play for a long time."
Mattison said 40% of his preparation, both in and out of season, is dedicated to film study. He uses film to critique himself and pull positive takeaways from other successful backs to improve his technique in multiple areas of the game.
 "Film is a big part of what I do in preparing," Mattison said. "If I see something that I like, I go out there and try and practice it and perfect it. Even now, I'm watching a lot of film on not only myself but of those guys that already in that position I'm trying to be in."
He also takes no days off in the gym, as expected given his absurd frame.
"I would definitely say I'm in there a lot," Mattison said. "And every time I'm in there, I'm going hard. There's no days off. There's no light days with me. Even if it's a so-called light day, I'm attacking that full speed at a 100 percent. I'm making sure I'm doing everything I can to make sure that I'm ready to play, and not only ready to play but so I'm ready to play for a long time."
Equal parts gym rat and film junkie, Mattison is dedicated to improving what is already an impressive skillset – we're not surprised he's drawing high praise from NFL camps. He's the complete package.