The pads have been put away for the season as we enter the workout portion of NFL draft season. While workout numbers certainly do not trump what a player actually does on the football field, there's plenty of value if the numbers are used properly. And whether used properly or not, we know that all 32 NFL teams will be using the information gathered in Indianapolis at the 2018 NFL Scouting Combine to shift their respective draft boards.
With that in mind, here are just a few of the players for which the NFL Combine will have a big impact.
CB Minkah Fitzpatrick, Alabama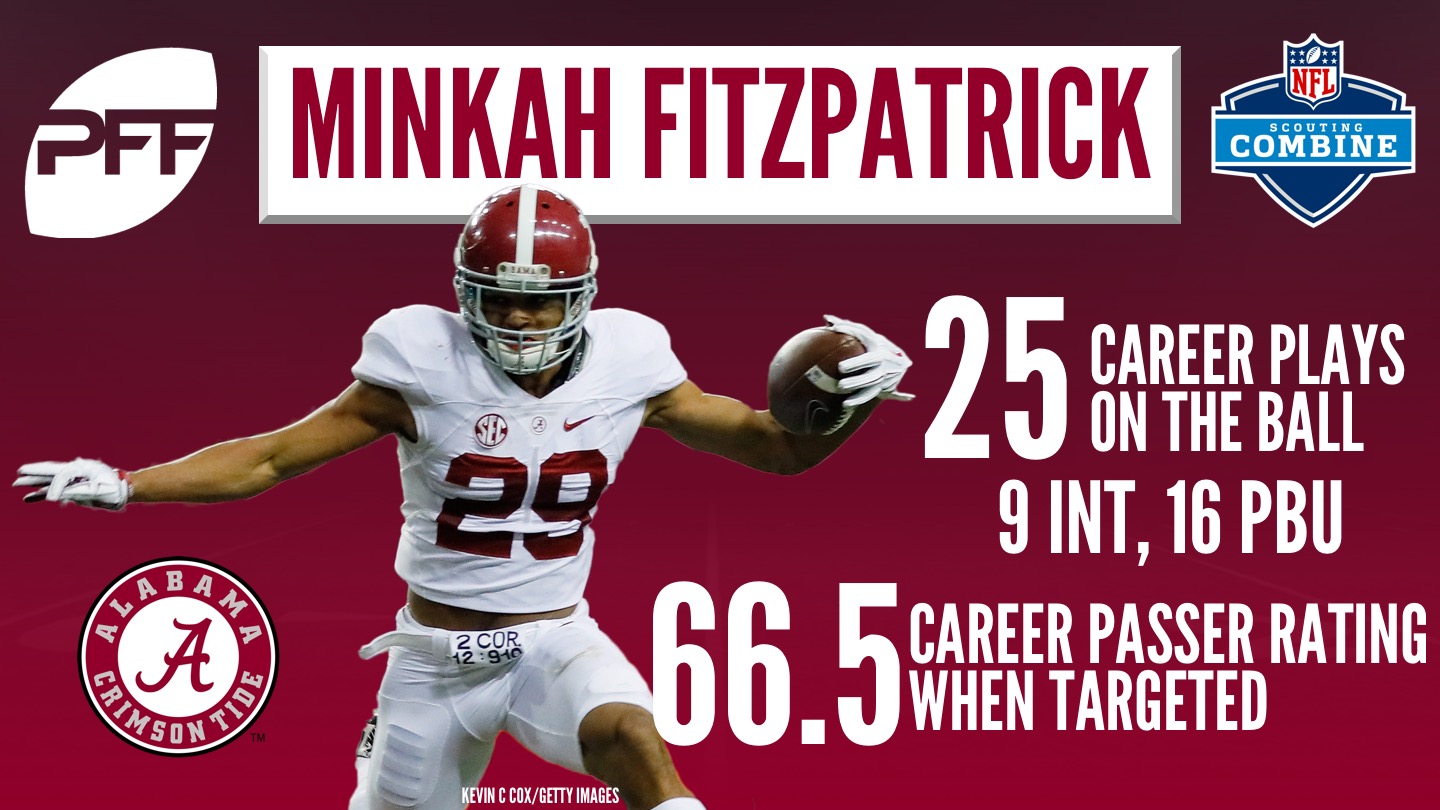 There are already plenty of comparisons to Jaguars cornerback Jalen Ramsey, but for Fitzpatrick to match those comparisons, he needs a big workout. The one difference between Fitzpatrick and Ramsey was Ramsey's one full year playing on the outside during his last year at Florida State, while Fitzpatrick has generally played Alabama's "star" role as more of a slot player. He projects well in a similar do-it-all role at the next level, but his size, length and speed will be under the microscope to see if he's a top-five talent that can play on the outside like Ramsey.
WR Michael Gallup, Colorado State
One of the most productive receivers in the draft class, Gallup is a smooth runner with good game speed. Of course, a strong 40 time often trumps game speed when it comes to league perception and if Gallup runs well, he'll have one of the best combinations of production and workout success in the class. As a receiver, he has the wheels to eat up ground on cornerbacks and the feel to make defenders miss after the catch, so confirming those attributes on the turf in Indianapolis will only increase the stock of one of the draft's most underrated receivers.
Edge Bradley Chubb, NC State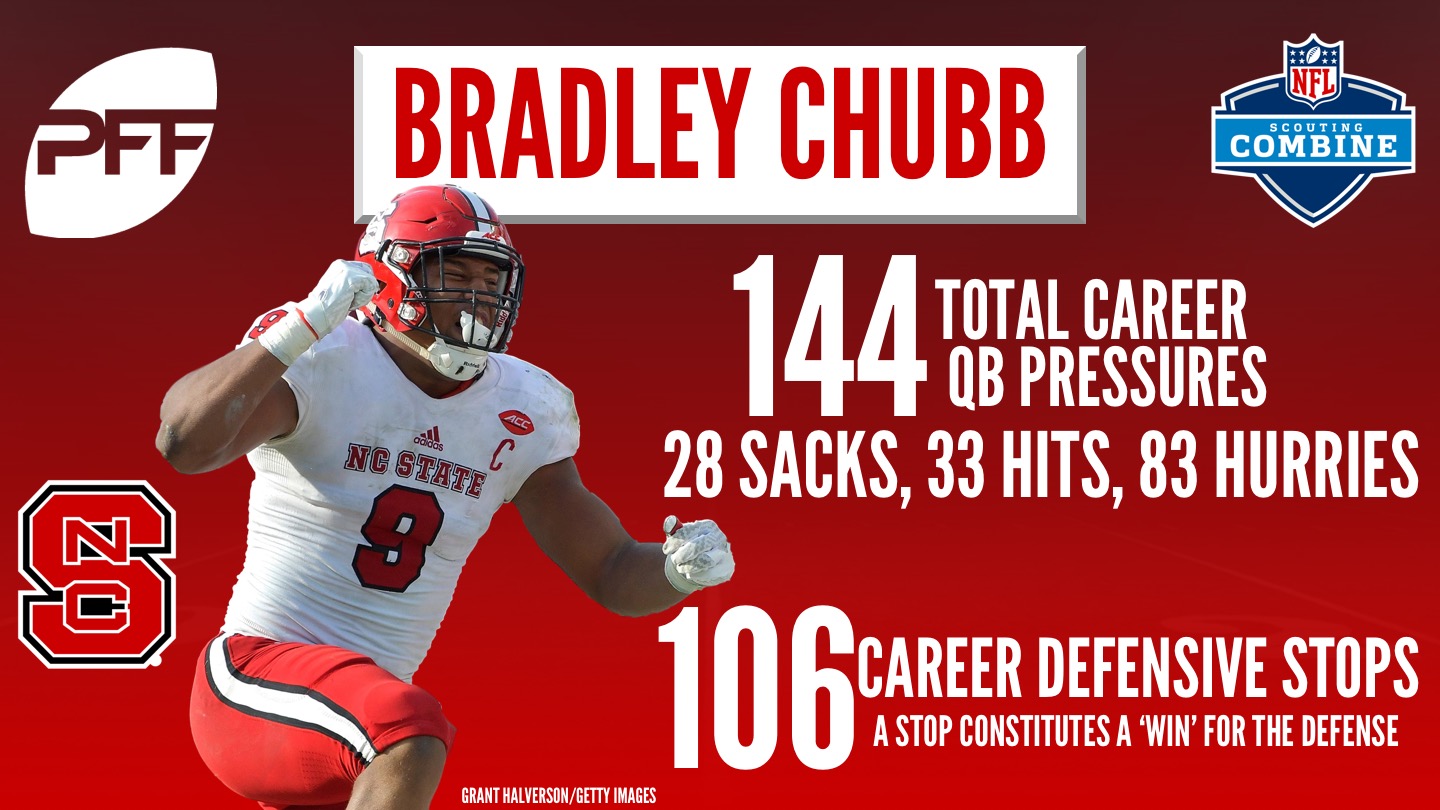 An expected first-round pick, Chubb had an excellent career at NC State, improving his play in all four seasons. He's not a slam-dunk pass-rusher, however, and his testing may be a good indicator as to what kind of impact he'll have at the next level. He's excellent against the run and he's certainly improved his ability to get after the quarterback, but he needs to show that he can turn the corner consistently to warrant the top-10 overall selection.
LB Tremaine Edmunds, Virginia Tech
Edmunds doesn't look like a traditional linebacker at a listed 6-foot-5, 250-pounds and just getting his measurables make him an intriguing storyline during combine weekend. His size and movement skills make him as unique as it gets at the linebacker position, so it'll be nice to see what that looks like in terms of combine numbers. Edmunds is one of the players who could benefit most from the workouts and may be a hot name by the end of the weekend.
RB Saquon Barkley, Penn State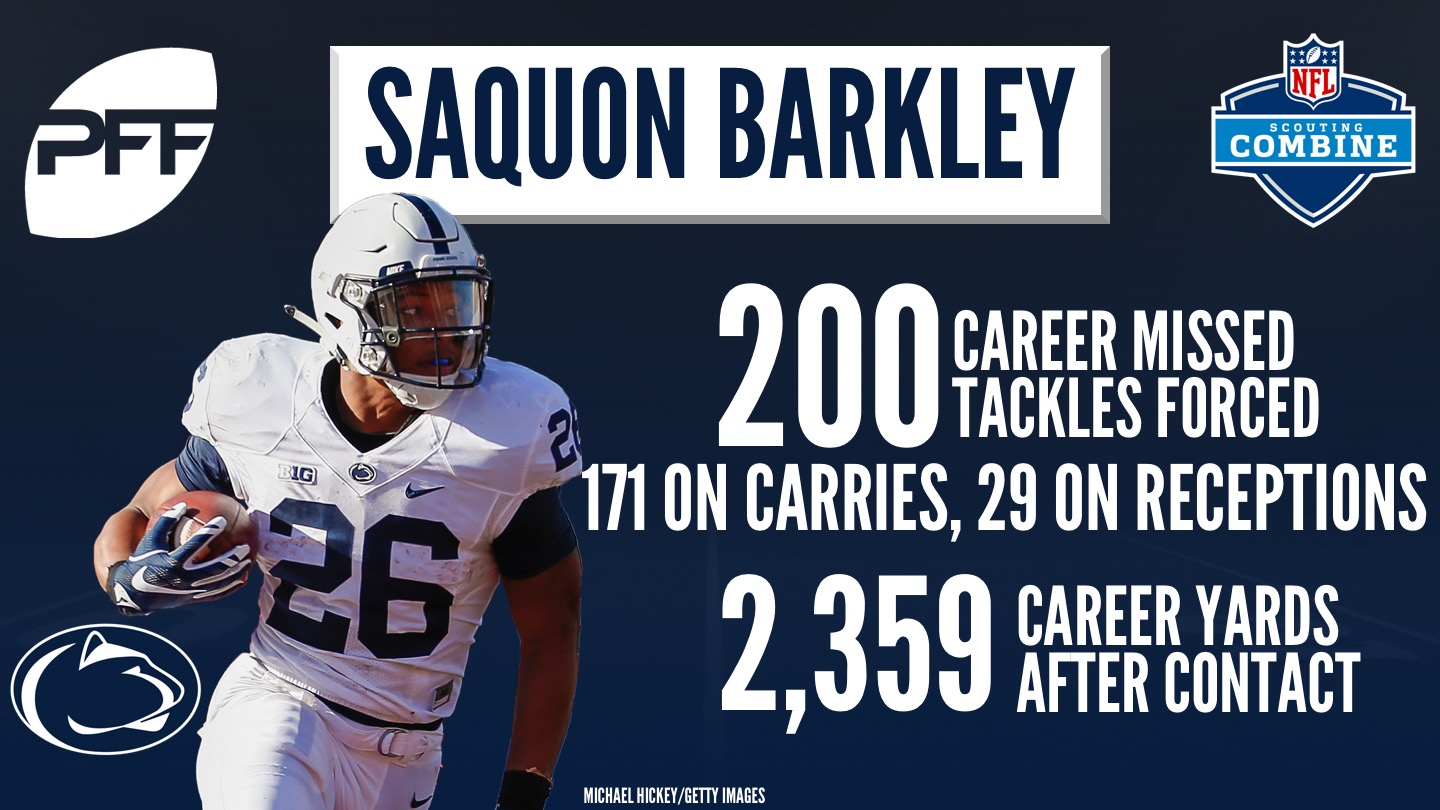 It'd be nice just to watch Barkley squat or perform Olympic lifts after he showed off his power in viral videos last summer. Instead, the general testing will have to do and seeing Barkley's straight-line speed and lateral agility should confirm his next-level big-play ability. He had the ninth-highest percentage of his yards coming on breakaway (15-plus yard) runs at 56.8 percent last season while leading all FBS running backs in receiving yards with 632.
TE Dallas Goedert, South Dakota State
On the field, Goedert is a 260-pound mismatch weapon, as he looks like a wide receiver the way he runs routes and creates yards after the catch. We're assuming the workout will show the same, and he may walk out of Indianapolis with more first-round hype than he's currently receiving. Goedert led all tight ends with 573 yards after the catch, nearly 100 more than the next-closest tight end and averaged 8.1 YAC/reception.
Edge Arden Key, LSU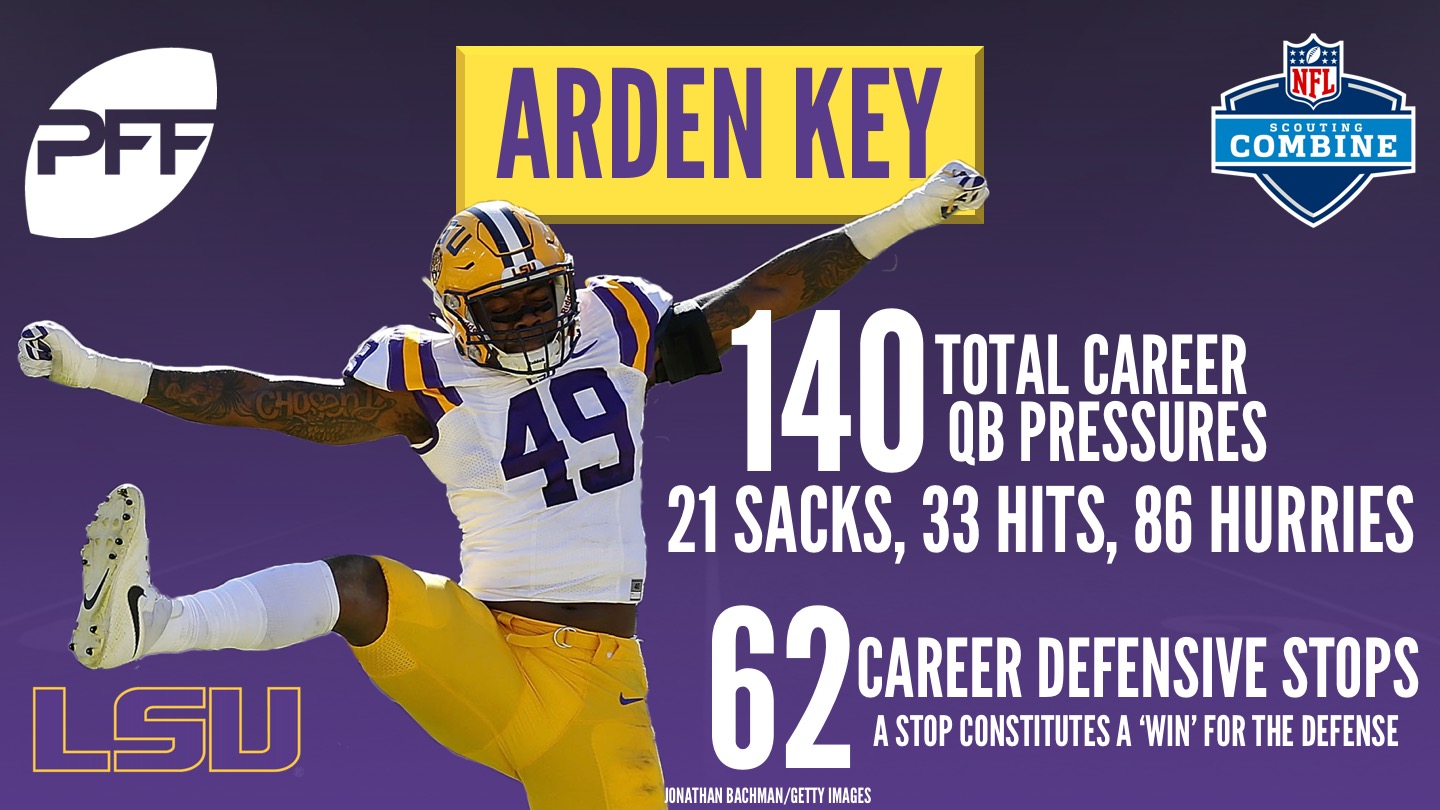 Key's trip to Indianapolis may be as much about the interview process, as he will have plenty of questions to answer after taking time off from football last spring. On the field, Key was not nearly as productive as his 2015 or 2016 seasons, and a clean workout will go a long way toward putting a subpar 2017 performance in the rearview mirror. At his best, Key is one of the top pass-rushers in the class and a good workout will put him back on the map.
LB Leighton Vander Esch, Boise State
There's plenty of buzz that Vander Esch will be one of the top performers at the NFL Combine, but he's more than just a workout warrior. He had a breakout 2017 season, flying to the ball against the run to lead all FBS inside linebackers in both run stops (57) and run-stop percentage (15.9). He was solid in all phases last year, playing his way into the first-round conversation, and his workouts will determine where his draft stock will land in April.
CB Denzel Ward, Ohio State
Some players have great straight-line speed, while others rely on quickness. Ward has an excellent combination of both as he has the speed to run down the field with the fastest receivers, though he's quick enough to hang with shifty slot receivers. Those skills should be on display in Indianapolis as Ward's 40-time and agility drills could help him solidify a first-round grade across the league.
Edge Marcus Davenport, UTSA
Davenport already looks the part with his long frame and he emerged as a potential first-round pick with an excellent 2017 season. He had nine sacks, six QB hits and 35 hurries on just 257 pass-rushes, using his power to compress the pocket off the edge. Davenport's athleticism will be under the microscope at the combine as a good workout, combined with his excellent size, could lock up a first-round spot.