If you're the GM of an NFL team at the moment, there's a very good chance you have a need along your offensive line in the upcoming draft. At any given time, there are 160 starting offensive linemen in the NFL. Last year, only 82 played 900 or more snaps (close to a full season). That means over half of the starters in the league will miss significant time at one point or another. With a league-wide shortage of offensive linemen, finding those who can fill in competently at multiple positions is at a premium.
These are the guys in the draft class who have either shown the skillset to play multiple positions or have actually done so proficiently already at the college level.
Isaiah Wynn
During his three years as a starter for Georgia, Wynn waffled back and forth between left tackle and left guard for the Bulldogs. Below are his snap breakdowns by year: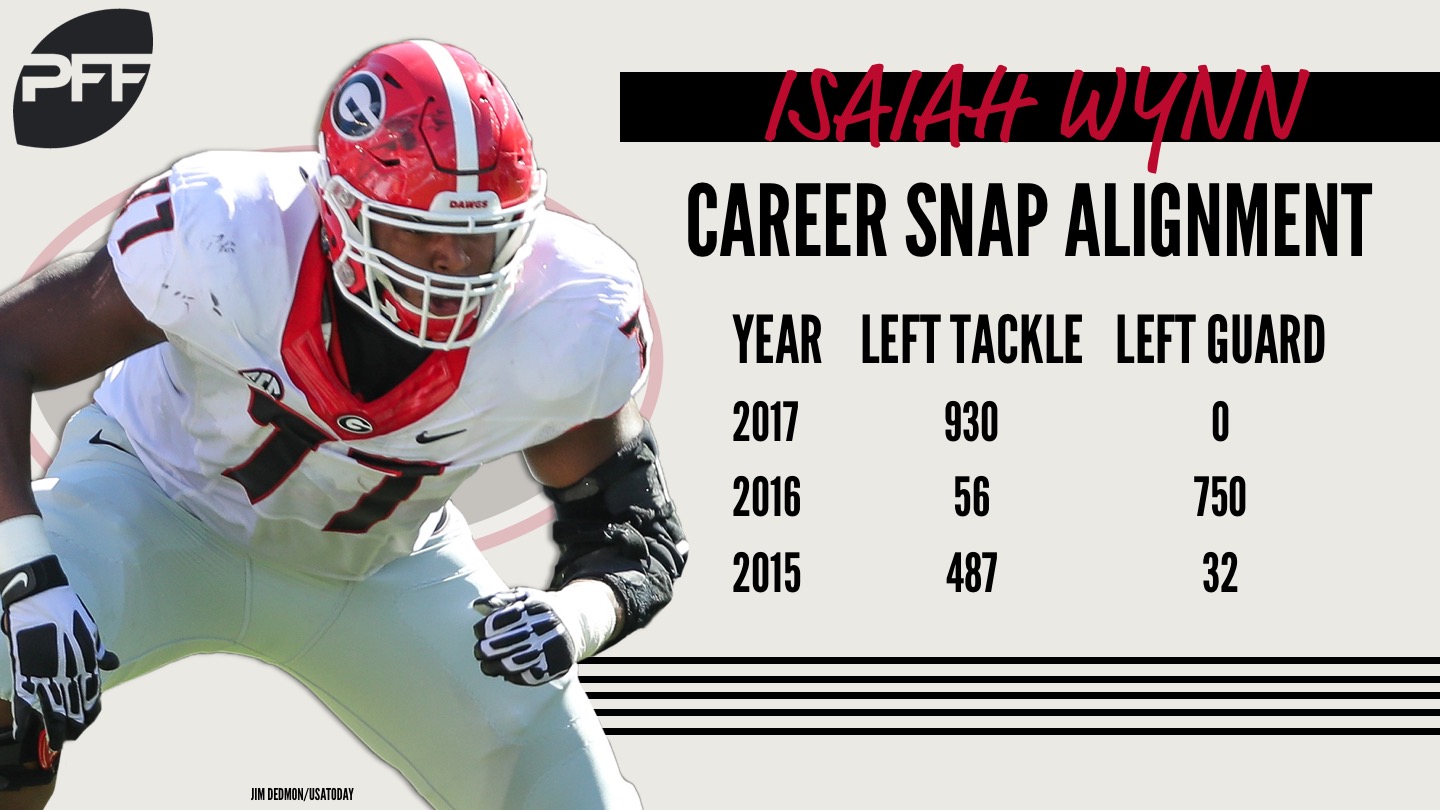 Wynn was solid those first two seasons, with 83.9 and 81.9 overall grades in 2015 and 2016, respectively. He didn't take his game to the next level, though, until this past season when he posted an 88.0 overall grade and allowed only five pressures all season long. The leap has some NFL teams reportedly still willing to try him at tackle despite measuring in at 6-foot-3 with 33 3/8 inch arms at the combine. We here at PFF certainly believe he's talented enough to play tackle in the pros, but even if he doesn't stay their full-time, he could certainly fill in in a pinch.
Frank Ragnow
Ragnow is PFF's top-ranked center heading into this draft and the only one earning a first-round grade. If you needed guard help instead of center though, Ragnow would still be worthy of that first-round selection. Ragnow saw a 78.9 overall graded guard as a sophomore in 2015 before becoming PFF's highest-graded center in 2016. He was back at center this past season for every game he played except when he filled in at right guard against Alabama. Against one of the most talented defensive lines in the nation, Ragnow posted an 87.2 overall grade in that game. That kind of flexibility on the fly is rare.
Mike McGlinchey
Positional versatility doesn't always refer to sliding to different positions along the offensive line. Sometimes simply being able to play the same position on the opposite side can provide value. McGlinchey did just that at Notre Dame, when he went from one of PFF's highest-graded right tackles as a sophomore to one of our highest-graded left tackles as a junior and senior. Ask any NFL offensive lineman about having to switch sides and they'll lament such a transition. Even Tyron Smith went from PFF's fourth-highest graded tackle as a rookie right tackle in 2011 to the 40th-highest graded tackle after switching to the left side in 2012. It's not quite like learning to shoot a basketball with your other hand, but certain aspects of the position have to be completely relearned. The fact that McGlinchey didn't miss a beat doing it during his college career bodes well for his swing ability at the next level.
Mason Cole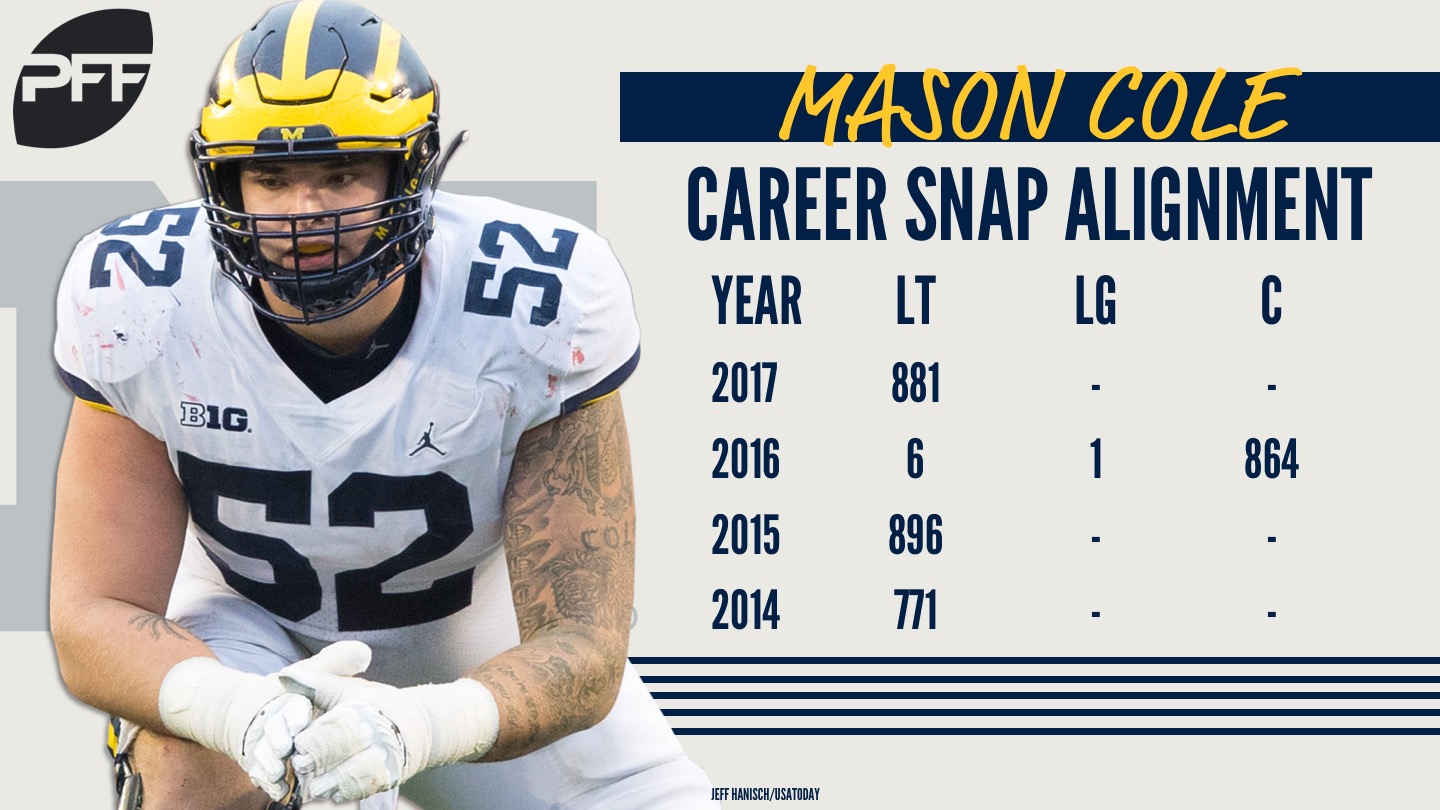 Few offensive linemen cross trained more over the course of their college careers than Cole. The Michigan offensive lineman played 3,473 snaps in his career as a four-year starter. Of those, 2,554 came at left tackle and 864 at center (with the rest being as extra tackle or split to the slot), as he went from left tackle to center then back to left tackle last year. Cole was solid at both, posting an 84.5 overall grade this past year at left tackle and an 83.7 overall grade in his season at center. He'll likely end up inside at the pro level due to his limited length (32 1/8 inch arms), but the ease with which he bounced around is intriguing.
Austin Corbett
This one is purely a traits projection. Corbett played nothing but left tackle in his four years at Nevada, but has the perfect frame that's capable of playing every single position along the offensive line. At 6-foot-4 1/8, 306 pounds with 33 1/8 inch arms, Corbett wouldn't look out of place at tackle, guard, or center. We think his best position is likely center at the next level, but he could realistically end up anywhere based on team preference.