Playing general manager for all 32 NFL teams in the form of mock drafts is a fun way to pass the time until next week's NFL Draft, and the new PFF Mock Draft Simulator that debuted last week is one of the better ways out there to do it. The truth is, though, that no one knows what is going to happen come next Thursday night. Sure, Joe Burrow is probably going to get selected by the Cincinnati Bengals at first overall, but the simple fact is that even the most accurate mock drafts have a low hit rate.
Filling needs in the draft not only ignores the rookie learning curve, but also how quickly rosters turnover. The Jags passed on Jamal Adams, Marshon Lattimore, Deshaun Watson, & Patrick Mahomes to draft a RB because they didn't *need* those other positions only 3 years ago

— Mike Renner (@PFF_Mike) April 13, 2020
As PFF's Mike Renner points out in the above tweet, pushing players up your board so that you can draft for need is a fool's errand, as roster turnover in today's NFL can quickly turn a position of strength into a position of weakness. Most mock drafts, however, operate by filling needs first and foremost.
Here, I flip that on its head and look at some potential first-round bargains at perceived positions of strength. These aren't the most realistic team-prospect matchups, but that, of course, is the point.
[Editor's note: Check out PFF's 2020 Mock Draft Hub, NFL Draft Big Board and NFL Mock Draft Simulator. PFF Elite subscribers can also download the 1,100-page 2020 NFL Draft Guide.]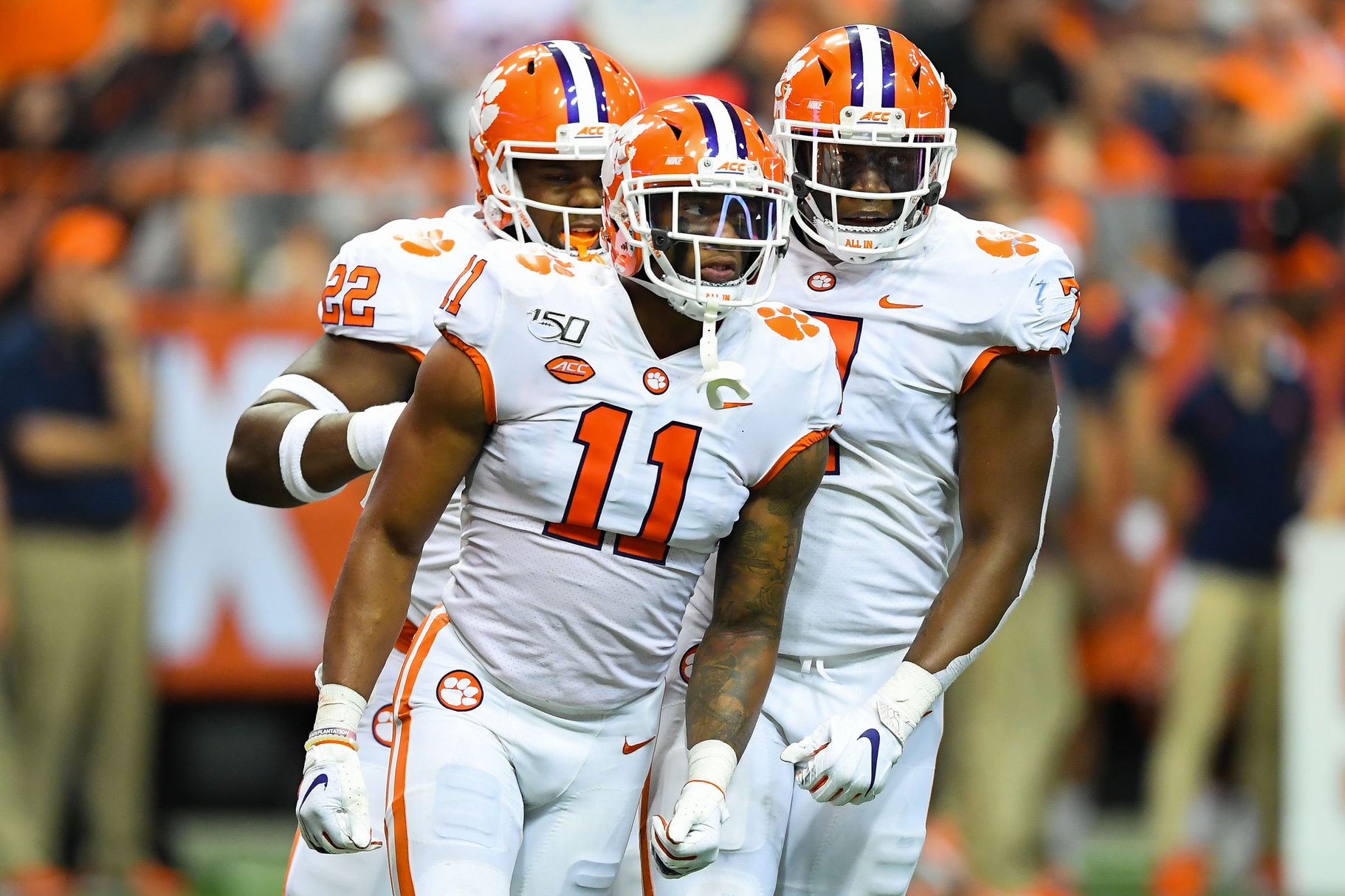 Everyone and their mother is mocking either Justin Herbert or Tua Tagovailoa to the Chargers in the first round. But what if they didn't attack quarterback early and instead opted to ride out the 2020 season with Tyrod Taylor, leaving the door open to target their quarterback of the future in the 2021 NFL Draft?
You have already been inundated with reports of Simmons' ability to do it all on Clemson's defense, but it's hard to overstate just how impressive playing over 100 snaps at four different position designations and recording 80.0-plus PFF grades in run defense, pass-rushing, tackling and coverage is. His college-to-pro projections are favorable, and he should thrive in a multi-faceted role at the NFL level, similar to the one filled by players such as Jamal Adams or…Derwin James.
Like James, Simmons is in the class of dynamic athletes who are capable of playing multiple roles and are seemingly purpose-built for modern NFL defenses. Putting him on the field with players like James, Joey Bosa, Casey Hayward Jr. and Chris Harris Jr. (among others) brings a whole lot of talent to that side of the ball.
Los Angeles will likely end up going quarterback, but it's hard not to get excited about this potential fit.
Pick No. 8: Arizona Cardinals — WR CeeDee Lamb, Oklahoma
Getting a legitimate No. 1 wide receiver was at the top of Arizona's needs this offseason, even though they added players like Christian Kirk, Andy Isabella, Hakeem Butler and KeeSean Johnson in recent drafts. Then, they went out and swindled the Houston Texans to acquire DeAndre Hopkins. That need at wide receiver fell to the back burner, but that doesn't mean they shouldn't still consider going after one of the game-changers at the top of this loaded wide receiver class. What better option than Kyler Murray's former teammate, CeeDee Lamb?
Deciding between Lamb or Jerry Jeudy as WR1 in this year's draft class is really splitting hairs — at this stage, it looks almost impossible to go wrong with either option. PFF's Mike Renner says of Lamb in the PFF Draft Guide, "Lamb is the most advanced wide receiver prospect I've seen since we started grading college players six years ago. That's not to say he's the best, but the little things about the position he's got down pat."
Whether it be his hands (12 drops on 245 career targets), after-the-catch ability (11.0 yards after the catch per reception and 26 broken tackles on 62 receptions in 2019) or some of the best route-running and releases in the class, Lamb does it all at an elite level. Pairing him with Hopkins (who happens to be his NFL comp in the draft guide) would create an entertaining offense in Arizona as Kyler Murray heads into his second season.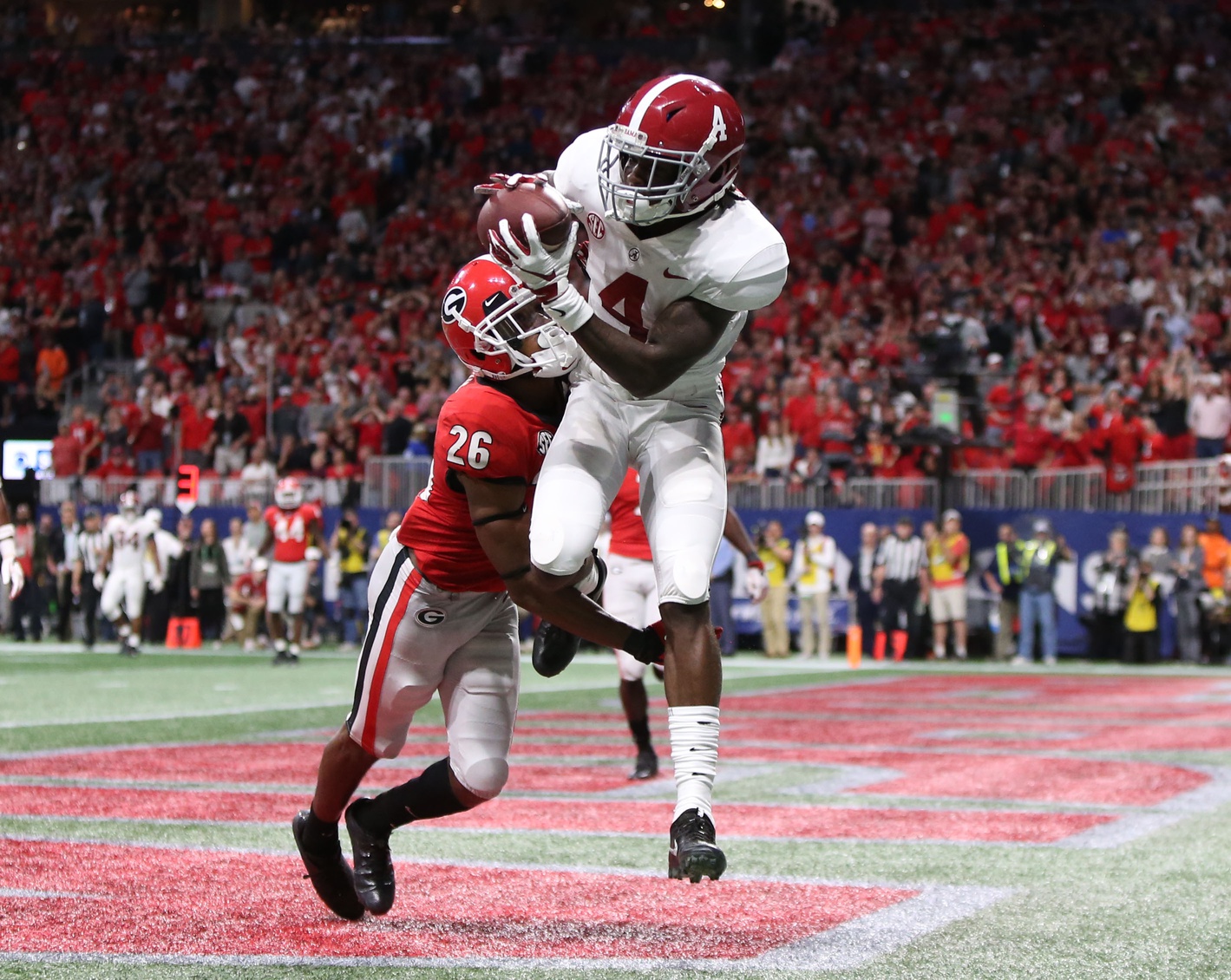 It is hard to get better than the one-two punch of Mike Evans and Chris Godwin at wide receiver, both of whom were top-10-graded wide receivers during the 2019 season. And with Tom Brady set to be distributing the ball to them, there is a lot of optimism about the 2020 season in Tampa Bay. Now, imagine that offense with two of the best wide receivers in the NFL, arguably the greatest quarterback of all time (who is both a good fit for the Tampa Bay offense and not as washed up as you think he is) and the fifth-ranked prospect overall and No. 1 wide receiver on PFF's Big Board.
Jeudy has legitimate deep speed and ridiculous ability in the open field with movement skills that border on unnatural. He played almost a 50/50 split out wide vs. in the slot last season for Alabama, and he could share the slot duties with Godwin, a player who also saw his fair share of action inside last season, as well. On a team that had so many options in the passing game, Jeudy dominated the market share, drawing 100 or more targets in 2018 and 2019 while recording a passer rating of over 125.0 in both years on those looks. If Jeudy falls this far and the Buccaneers do pull the trigger, I preemptively apologize to NFL defenses across the league for the suffering they will most likely have to endure.
Pick No. 23: New England Patriots — CB C.J. Henderson, Florida
Yes, cornerback is probably last on the list of the Patriots' "needs," and Henderson is unlikely to be available to them at pick 23. Stranger things have happened, though.
Even though it isn't an area of need for New England, this is a terrific fit and a potential steal for the Patriots if Henderson were to fall this far. Aside from Jeffrey Okudah, he is the top man-coverage cornerback in this draft. He has unteachable athletic traits, and his exceptional feet allow him to stay in the hip pocket of his man. You can see how that translated to production in Henderson's 2018 campaign with the Gators, a year in which he allowed just 18 receptions across 365 coverage snaps all year.
That is a skill set the Patriots are going to covet more than most, as they are one of the NFL's leaders in man-coverage rate. He wouldn't step into an every-down role with Stephon Gilmore, Jason McCourty and J.C. Jackson already on the roster, but a player who fits so well into their scheme would be hard to pass up. As we know, areas of strength don't stay strengths forever.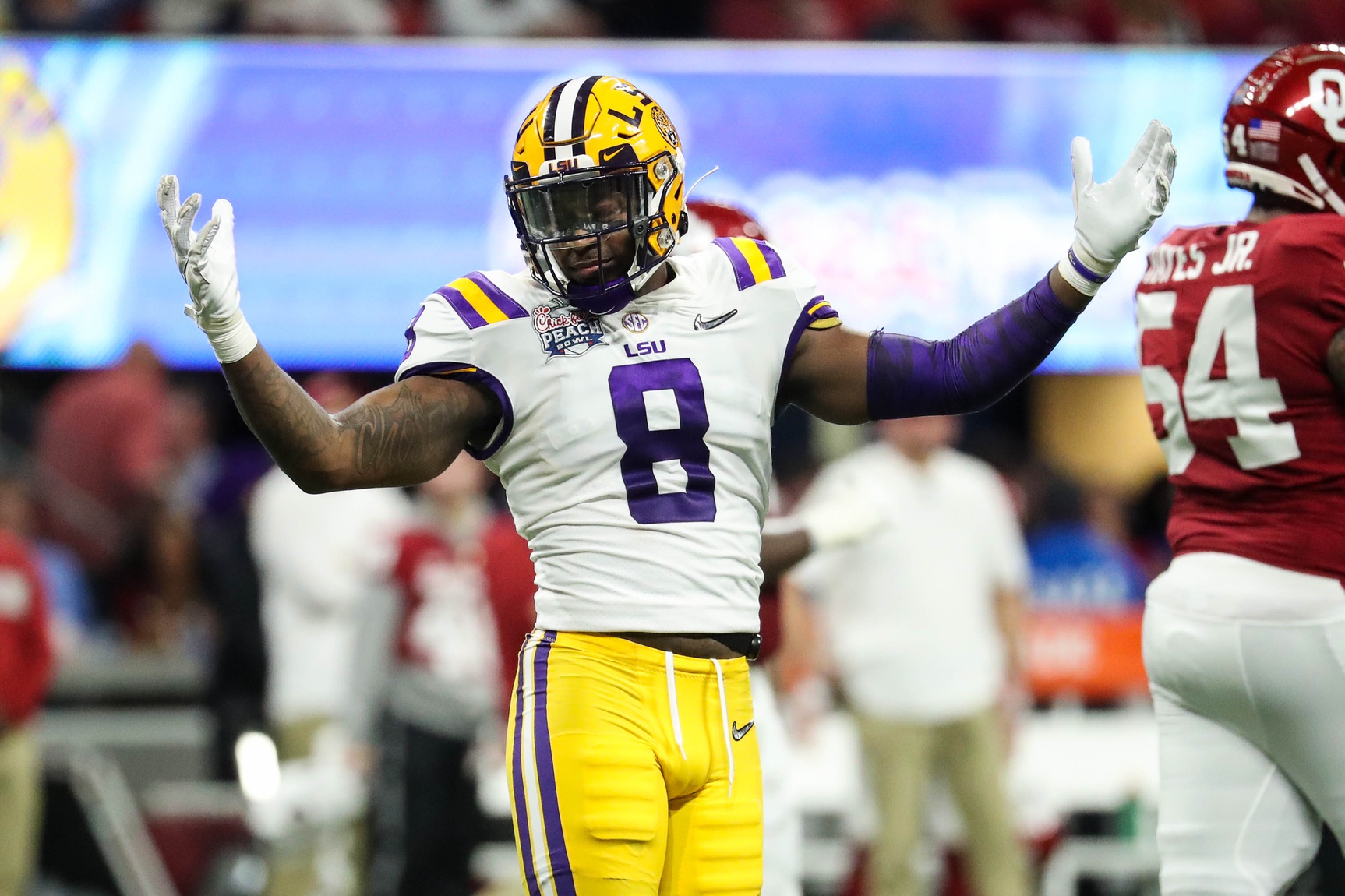 Pick No. 27: Seattle Seahawks — LB Patrick Queen, LSU
I've talked about the Seahawks' refusal to budge off traditional base defense this offseason when I attempted to give them players such as Nickell Robey-Coleman in free agency to fill the slot cornerback role, but they have not made any moves to add a player like that as of yet. Let's look at it from another angle, then.
If they're going to throw a base defense out on the field for 69.9% of their defensive snaps (31 percentage points higher than any other team in 2019), then adding another strong coverage linebacker can't hurt.
Queen comes in at exactly this spot on the PFF Big Board (27th), and he's also the top linebacker on our board (depending on how you classify Isaiah Simmons). He simply has the kind of freakish athletic ability that will allow him to be a sideline-to-sideline player on that Seattle defense. That showed up on the tape last season at LSU, where he picked up an 82.0 grade in coverage. Seattle already has veteran stalwarts in Bobby Wagner and K.J. Wright at the position, but if they're going to continue to throw three linebackers out there on the field, Queen would add some more juice to the position as Wagner and Wright both enter their 30s.
Pick No. 28: Baltimore Ravens — S Grant Delpit, LSU
The Baltimore secondary is loaded with the recent additions of Earl Thomas and Marcus Peters. It's also a secondary that returns slot cornerback Tavon Young next season, a player whom the Ravens invested pretty heavily in before the 2019 season. The way they like to move players around in their secondary and get creative on the back end lends itself to adding someone like Delpit, though, even if it isn't an area of need.
And he could very well be available at this pick, as NFL teams will have real concerns about his tackling issues (36 missed tackles over the past two seasons). As the PFF Draft Guide says, missed tackles be damned. What Delpit can do in coverage is special — he has the ability to break on routes and the kind of length that can erase tight ends or bigger slot receivers. Along with the time that he spent at free safety, Delpit played a significant role in the slot at LSU, and he could be a versatile coverage defender who would only elevate a coverage unit that is already thought of as one of the best in the NFL.
Pick No. 32: Kansas City Chiefs — WR Michael Pittman Jr., USC
With Sammy Watkins returning on a restructured one-year deal for the 2020 season to join Travis Kelce, Tyreek Hill, Mecole Hardman and Demarcus Robinson, the Chiefs don't really need another receiving option (as evidenced by their Lombardi Trophy). What if they did add another first-round talent to that receiving corps, though?
Watkins' future beyond next year is uncertain, and Robinson hasn't shown that he adds all that much to an offense after recording overall grades of 54.5, 60.2 and 54.9 in 2017, 2018 and 2019, respectively. Adding a player like Pittman would only make this offense that much more difficult to defend, and he would give them another option under contract for multiple seasons beyond 2020.
Pittman was one of the largest risers on the latest PFF Big Board, jumping to our sixth-ranked wide receiver and the 22nd player overall on our board. At 6-foot-4 and 223 pounds, he is a very good route-runner, and he has some of the best hands in the draft class. In his career at USC, Pittman only had five drops on 176 catchable passes. And on short and intermediate routes, he will get open and he won't botch those opportunities with drops. Pittman also has strong speed for his size, evidenced by his 4.52-second 40-yard dash in Indianapolis at the combine. There are other areas that the Chiefs could go, but Pittman's fit on this Kansas City offense would be fun.