• Flexibility in the first round: Thanks to their moves in the trade market and free agency, the Dallas Cowboys can target almost any position in Round 1.
• Defense with the first two picks: While the Cowboys could easily target offense with either pick, the defensive players available when Dallas was on the clock were too good to pass up.
• Think you can do better? Fire up PFF's Mock Draft Simulator and send me a screenshot on Twitter to prove it.
Estimated reading time: 7 minutes

---
The 2023 NFL Draft is a little over a month away, and the Dallas Cowboys are sitting pretty.
Even though teams traditionally upgrade their roster through free-agent additions throughout March, the Cowboys primarily opted to take advantage of the NFL's trade market, sending Day 3 picks to the Indianapolis Colts and Houston Texans for veterans Stephon Gilmore and Brandin Cooks. 
Additionally, the Cowboys did well to retain some of their most important impending free agents — Tony Pollard, Donovan Wilson and Leighton Vander Esch — while combing through the bargain bin to find players such as Chuma Edoga to fill the rest of their ancillary needs.
The result is that the Cowboys enter the draft without pressing needs, meaning Dallas can be flexible in how it attacks the draft instead of predominantly focusing on selecting players at positions of need.
That flexibility can turn into myriad outcomes, but here's one potential reality: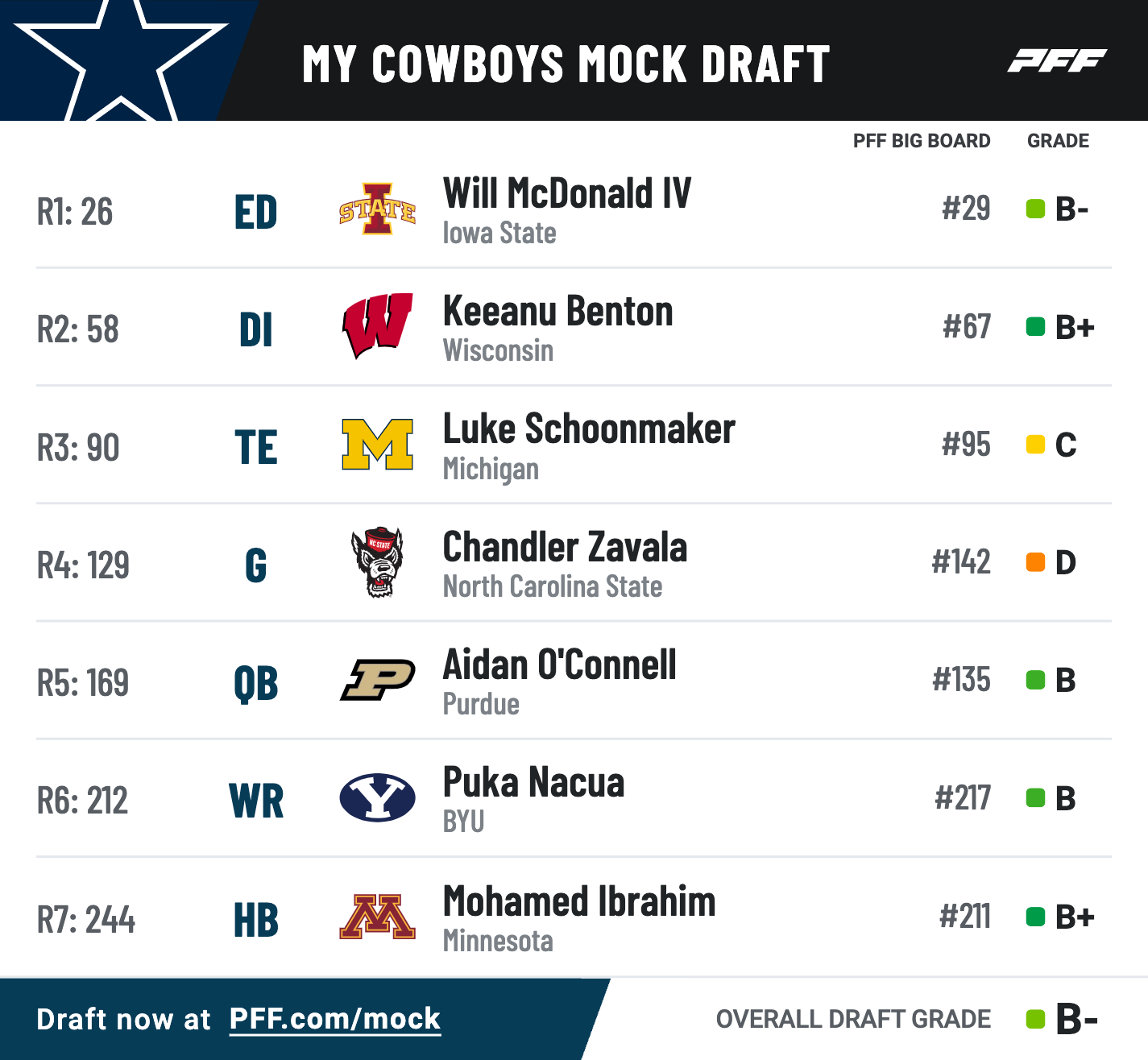 ---
One of the strongest signals of Dallas' interest in a prospect is when a member of its coaching staff runs a prospect's pro day position drills.
In 2022, defensive coordinator Dan Quinn ran Sam Williams' position work during Ole Miss' pro day before the Cowboys ended up taking the Rebels' edge defender in the second round of that year's draft.
Therefore, Cowboys fans' ears should have perked up when it was revealed that Quinn ran McDonald's position work during Iowa State's pro day, as it's a strong indication of Dallas' interest in drafting the former Cyclones pass-rusher.
When you turn on McDonald's tape, it's easy to see why the Cowboys would be interested. Despite playing out of position for long stretches, McDonald displayed promising pass-rush traits, displaying an electric get-off, impressive upfield burst, uncanny bend to contort his body and corner to the quarterback and an improving pass-rush toolkit.
In fact, when McDonald was able to rush from more traditional alignments against true pass sets, he put together some of the most impressive tape in the class, culminating in a 91.5 pass-rush grade against true pass sets that ranked in the 96th percentile among college edge defenders.
Will McDonald gets Darnell Wright with the cross chop spin #SeniorBowl pic.twitter.com/ntLdyuGSKf

— Tyler Browning (@DiabeticTyler) February 2, 2023
McDonald proved this during Senior Bowl week, where he posted pass-rush wins against highly-touted offensive tackles in Darnell Wright and others. 
Even though McDonald is slight (6-foot-3 and 239 pounds with 34-plus-inch arms) and struggles to effectively defend the run, his ability to get after the passer is tough to pass on in the first round.
---
While the Cowboys have effectively filled the holes on their roster, nose tackle is one spot that could still use an upgrade.
Enter Benton, who is one of the most exciting nose tackle prospects in the class. Unlike most 305-plus-pound defensive tackles, Benton actually displays some pass-rush ability, making the prospect of adding him to Dallas' interior defense even more enticing.
If your team needs a nose that can also hit quarterbacks a lot (cough cough Buffalo), may I interest you in one Keeanu Benton? pic.twitter.com/CrCJfXD5HU

— Brett Kollmann (@BrettKollmann) March 7, 2023
Benton posted a 74.0-plus pass-rush grade in three of his four seasons since joining the Bardgers in 2019, and his 86.1 pass-rush grade across his four seasons lands in the 81st percentile among college defensive tackles despite spending a large portion of his time at nose tackle. Benton's burst and violent hands enable him to create a ton of problems for interior offensive linemen.
He needs to clean up some technical issues against the run, especially when taking on double teams, but he has all the characteristics to thrive in that area with additional development.
Benton would be an ideal young nose tackle to pair with Johnathan Hankins (if re-signed) up front for Dallas' defense.
---
Schoonmaker is an older prospect (24 years old) but is oozing NFL-caliber traits that make him an intriguing mid-round target.
Luke Schoonmaker is a TE prospect in the 2023 draft class. He scored a 9.85 RAS out of a possible 10.00. This ranked 17 out of 1046 TE from 1987 to 2023. https://t.co/Jd1VNkpNhF #RAS pic.twitter.com/XG9SXr7pyD

— Kent Lee Platte (@MathBomb) March 22, 2023
Listed at 6-foot-5 and 251 pounds with a 4.63-second 40-yard dash, the former Michigan tight end has the physical traits to be a mismatch weapon in the passing game. He's not quite there yet, but subtle improvements as a route-runner and at the catch point could enable him to be a more productive receiver in the NFL than he ever was in college.
Luckily, while he develops as a pass-catcher, Schoonmaker has the blocking ability to make an impact immediately, showing a strong latch and impressive ability to create open running lanes on the edge.
Luke Schoonmaker Michigan

*Tall, lean target
*Long Strider
*Agile releasing off the LOS
*Fluid body control
*Extension of the offensive line
*Blocking immediately pops
Gets hands inside
Constantly fighting to win hand leverage
Creates lift… pic.twitter.com/3MkpAkBWkV

— Erik Turner (@ErikJTurner) March 4, 2023
Schoonmaker would pair extremely well with Jake Ferguson and Peyton Hendershot on the Cowboys roster, giving the team a young, three-headed monster to lead the position into the future. 
---
One of the most underrated players in the entire class, Zavala has starting-caliber traits but continues to fly below the radar.
Listed 6-foot-5 and 325 pounds, Zavala possesses the play strength you'd expect from someone his size but also displays impressive movement skills for such a big human being.
I've been impressed with what I've seen from Chandler Zavala (NC State IOL 64). Watch how he locks out the defender and turns him. pic.twitter.com/53ACBddowu

— Russell Brown (@RussNFLDraft) March 21, 2023
Those traits enabled Zavala to grade exceedingly well in pass protection, and he allowed only eight pressures across his two seasons at NC State en route to back-to-back 79.0-plus pass-blocking grades in 2021 and 2022. Additionally, Zavala shows well in the running game, as he does an excellent job torquing defenders out of their gap to create running lanes for his backs.
Honestly, I'm not sure what is more surprising — the fact that Zavala wasn't invited to the combine despite his impressive tape or that he's still available in the fourth round in this scenario. Either way, the rest of the NFL's loss is the Cowboys' gain, as they get someone who can grow into their starting left guard by Year 2 or 3.
---
Cowboys owner Jerry Jones has already made it known that he'd like to draft a developmental quarterback every year, which is why the Cowboys opt to take O'Connell here in the fifth round.
Aidan O'Connell ain't scared of those tight windows…

Purdue #NFLDraft pic.twitter.com/Ba3VbdCGOL

— Matt Waldman (@MattWaldman) December 20, 2022
The former Purdue QB is a well-sized (6-foot-3 and 213 pounds) quarterback who has experience and finds success from within the pocket.
While he's not likely someone who is going to compete with Dak Prescott at any point, he could develop into someone who can compete with and beat out Cooper Rush for Dallas' backup quarterback gig. 
O'Connell's lack of athleticism to make plays when things break down in the pocket is worrisome, but he wins enough in other areas that makes him someone worth developing as a fifth-round pick.
---
On Day 3 of the NFL draft, it's wise to bet on players with distinct NFL-caliber traits rather than searching for immediate contributors.
Listed at 6-foot-2 and 201 pounds, Nacua may be a rudimentary route-runner, but he presents excellent deep speed, fluid movement skills and notable ball skills that make him an enticing ball of clay that can be molded into an NFL-caliber receiver.
Watching BYU WR Puka Nacua. Check back in later. pic.twitter.com/uGoLhONfbh

— Cory (@realcorykinnan) December 11, 2022
In addition, Nacua has some of the better run-after-catch ability in the class, as he averaged 7.4 yards after the catch per reception in 2022 (80th percentile).
While Nacua isn't likely to contribute to Dallas' offense early in his career, his size and skill set makes him a more enticing developmental project than Dallas' current developmental WR in Simi Fehoko.
Additionally, those traits should be easily leveraged into special teams production in the NFL, giving Nacua a definitive path to making Dallas' 53-man roster in 2023.
---
Given that Tony Pollard is the only "proven" running back on the roster and is playing on the franchise tag, the Cowboys will almost certainly take a running back at some point in this year's draft.
While waiting until the seven round to find a running back may be ill-advised to many, running back may be the only non-specialist position where immediate contributors can still be found — just ask the Kansas City Chiefs and Isiah Pacheco. 
MOHAMED IBRAHIM

NEEDED 1, GOT 50 ????

— PFF College (@PFF_College) September 3, 2021
Ibrahim isn't going to wow anyone with his athletic ability, but he is one of the most productive backs in the class for a reason, as he possesses the vision, toughness and balance to consistently string together positive gains, as evidenced by the fact that his 1,106 yards gained after contact leads all running backs in this year's draft class.
The 5-foot-8 and 203-pound running back has the kind of running style that could complement Pollard well in Dallas' backfield.