The PFF Draft Daily will hit on a number of NFL Draft-related topics including recent news, scouting reports, PFF draft takes, and much more on a daily basis.
---
More Draft Pass goodness
For those who have yet to purchase the PFF Draft Pass, now is a great time to do so with Version 2.0 set to be unveiled on April 3. Need more convincing? Here is just a small taste of some of the advanced scouting information that can be yours for just $19.99:
Texas Tech QB Pat Mahomes ranked second in the nation in big-time throws, but third in the nation in turnover-worthy plays
Mahomes was very much a boom-or-bust player at Texas Tech, a concept that is backed up by our analytics. His scatter plot gives a great visual of this as well, as it depicts his ability to connect on throws downfield while also highlighting his misses. One other point of interest from his plot: just two of his 10 interceptions came on throws to the right side of the field, and neither of them came on intermediate or short throws less than 20 yards from the line of scrimmage.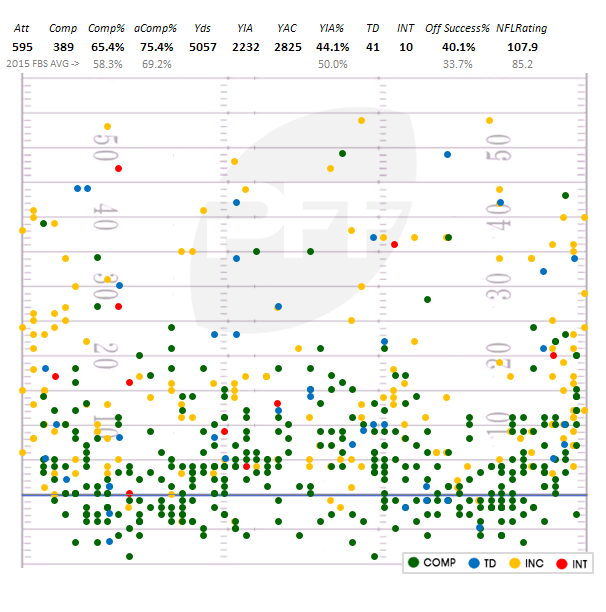 Western Kentucky OT Forrest Lamp allowed only 31 pressures on 1,620 attempts over the last three years
By this point it should be no secret that we love Lamp, regardless of whether teams want to kick him inside to guard or test him out at tackle first. Sacks, hits, and hurries have long been a staple of PFF offensive line grades, but we also have the ability to go much further. Within his advanced stats, it's clear his biggest weakness is bull rushes, where he ranked just 42nd in the country. However, he ranked in the top 10 in the country in all 14 other advanced metrics, including No. 1 rankings in pass-blocking efficiency, pass-blocking efficiency on 3-step drops as well as snaps versus outside pressure.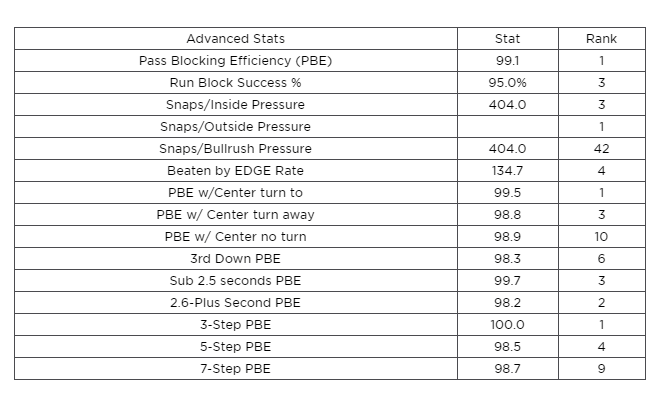 ---
PFF scouting report: Vince Biegel, Edge, Wisconsin
Somewhat forgotten because of the depth of the edge class and his absence due to injury against Big Ten powers Michigan and Ohio State, Biegel is a mid-round pick who could be a solid rotational player immediately. In 493 pass-rushes between 2015 and 2016, he racked up an impressive 99 total pressures. Here is our draft report on the former Badger, as well as his advanced statistics, as seen in PFF Draft Pass.
Vince Biegel's "short-area agility is superb. Can cross tackles' faces at will."

Scouting profile:https://t.co/2Rra05wTRz

— PFF College (@PFF_College) March 27, 2017
---
PFF Draft Board
The latest installment of our draft board is in, and it should be no surprise to see how SEC-heavy it is at the top. Check back weekly for further updates, as we will continue to adjust as we get closer and closer to day one of the draft.
---
PFF "My Guys"
Iowa TE George Kittle has become one of the hot names in recent weeks, as he tore up both the combine and his pro day. Anyone who has been a religious PFF college reader since last summer knows I was extremely high on him coming into the season, and despite his injury issues and limited production in 2016, my opinion on him has not changed.
His 79.6 run-blocking grade in 2016 – earned while playing injured much of the season – was the sixth-highest among FBS tight ends, and his 82.9 overall grade in 2015 was seventh-best in the country. While his production as a receiver was limited throughout his college career, I'm willing to give him a pass due to misuse and QB play at Iowa.
He ranks as our fourth tight end in the class, but teams in need of a competent blocker are likely to value him higher because he is outstanding in this capacity, especially as a move player for zone running schemes. Alabama's O.J. Howard may be the headliner of this year's tight end group, but Kittle is the better value, as he is unlikely to be selected until at least late day two.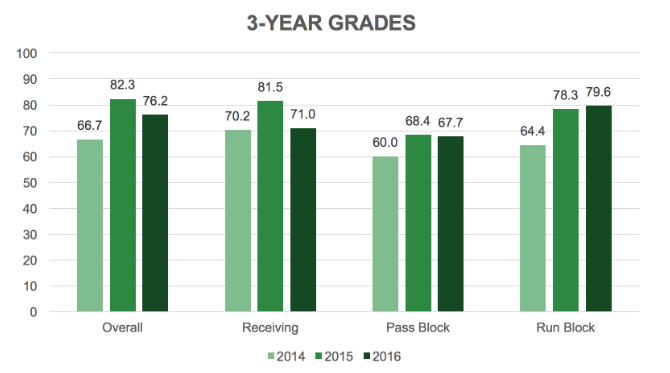 ---
PFF Podcast
I filled in for Mike Renner on this week's PFF Draft Podcast, and discussed with Steve my scouting background prior to joining PFF in 2015. We also discussed the lack of sure-fire prospects at the top of the draft (outside of Texas A&M edge Myles Garrett), as well the depth and specialization of the tight end class.
Be sure to download and subscribe to the PFF Draft Podcast from your favorite provider.