The year was 2015 and year two of the Charlie Strong era was about to get underway at Texas. The Longhorns were traveling to Notre Dame to face off with the Irish in one of the most anticipated games of the season. 60 minutes later, the anticipation had turned into despair. Texas was manhandled in a 38-3 loss that wasn't even as close as the final score suggests. Lost in the shuffle was the fact that a true freshman had started at left tackle for the Longhorns and earned the highest grade of anyone on the offense.
Two and a half years later, that left tackle is likely a first-round pick. From the moment he stepped on Notre Dame's turf, Williams was one of the top left tackles in college football. He allowed all of 16 pressures that 2015 season, and has only yielded an incredible 11 since. In 2016, Williams was the second-highest graded tackle in the FBS before he took a step back with injuries this past season. Even still, there are a ton of question marks about Williams' game that have those inside the NFL going so far as to project him as a guard at the next level. We still think he's a tackle, though, and one worthy of a first-round selection at that. Let's take a look at his Texas career.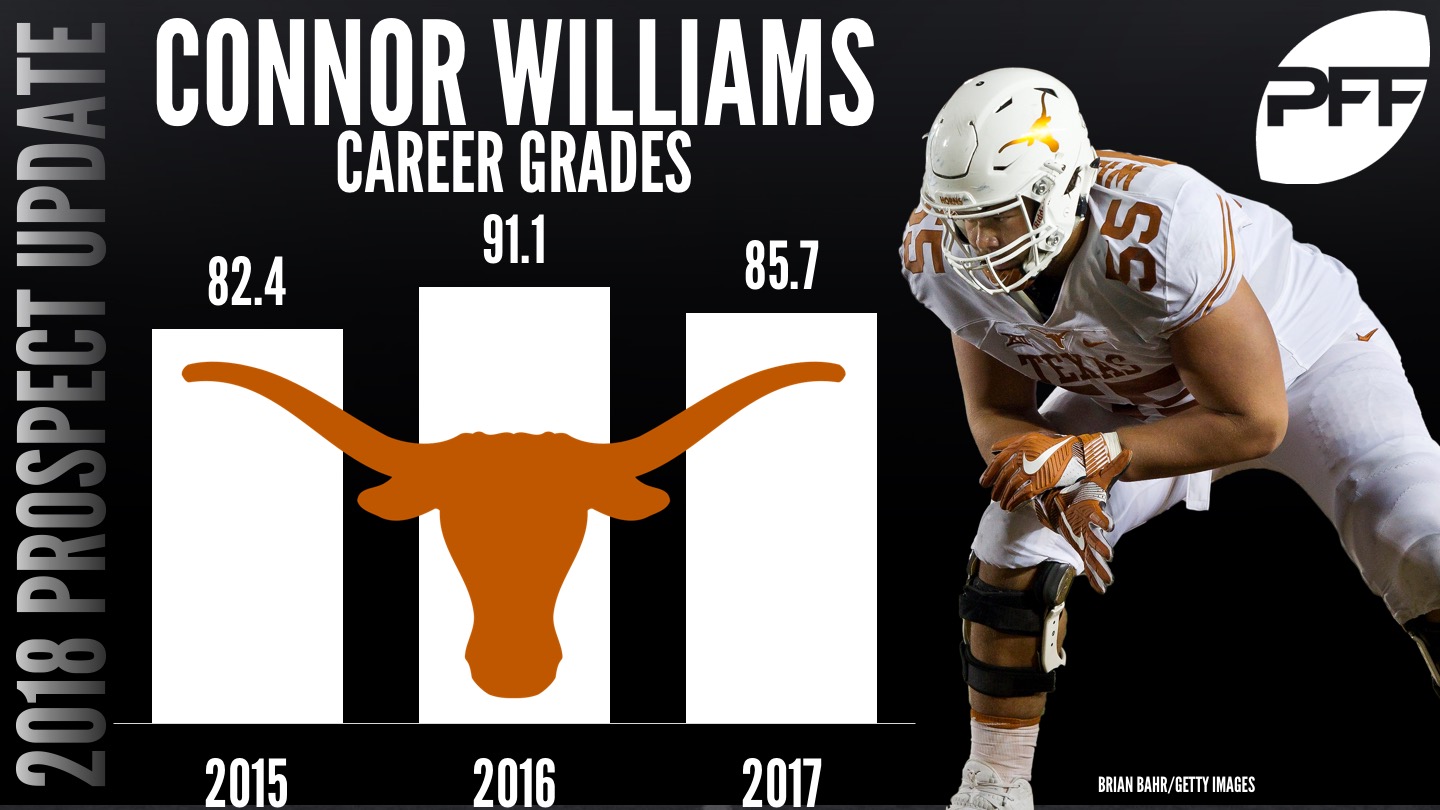 Pass Protection
One can get away with sheer physical dominance in pass protection on the offensive line in college, but technique and consistency are needed to win in the NFL. Williams certainly qualifies as the former. Listed at 6-foot-6, 320-pounds, the Longhorns star is a hoss by college standards and moves like a man 50 pounds lighter.
That 2016 season where he only allowed four total pressures also came in one of the easiest pass protection schemes in college football. The offense that former offensive coordinator Sterlin Gilbert employed at Texas that originated with Art Briles does a number of things to scheme help for the offensive line. Williams led the nation in pass-blocking efficiency in large part due to the fact that Texas ran play action an unbelievable 54.6 percent of their dropbacks – by far the most in the country. Play action makes it so defensive ends can't fire off the ball, making the number of different moves a left tackle has to defend decrease significantly. Even when they weren't running play action, Texas ran a good deal of full slides with their offensive line, giving Williams yet again more help.
It's definitely concerning that once Texas junked the Baylor system, Williams took a step back. He had to take true pass sets far more frequently this past season and looked noticeably uncomfortable at times doing so. His struggles are still somewhat overblown, however. Most of his 'ugly' reps came in the TCU game that came after his return from a left knee injury. Williams allowed four pressures in that game and only three in his other four outings combined. He's been consistent with his technique throughout his career and coordinated enough to execute it at a high level. All he needs is more seasoning in a pro-style passing attack at this point.
[Editor's Note: The 2018 NFL Draft Guide is coming. For PFF Edge & Elite subscribers, a comprehensive guide featuring player profiles of signature stats, grades and exclusive PFF content will be released on February 26.]
Run-Blocking
The run game is Williams' calling card and watching him move defensive linemen off the line of scrimmage, I can see why you might want him crushing double teams inside at guard. His location ability in space is as good as it gets for tackles in this draft class. The lateral agility he possesses is apparent every time he works to the second level and you can envision him clearing holes on power again and again in the NFL. He earned the second-highest run-blocking grade of any left tackle in the country as a true sophomore and took no real step back in that regard on 332 snaps this past season.
Bottom Line
Williams isn't the perfect blind side protector that you'd carve out of granite and take in the top five of the draft, but very few offensive linemen that spend only three years in college are nowadays. Ideally, he could have come back to Texas, performed extremely well as a senior and put all concerns to rest. His body of work as it stands now is more than enough to warrant a high draft pick still, and someone will be getting a steal if he free falls on draft day because of an injury-riddled junior campaign.