Miles Boykin is tired of hearing about his high ceiling at the next level. In fact, he's not even convinced he has one.
"I haven't hit my ceiling yet; I don't know if I have a ceiling," Boykin said in a March interview with Pro Football Focus. "Every time I step on the field, I'm just getting better. For me, it's just about being the best that I can be. I think that I'm definitely capable of being one of the best receivers in the NFL. And that's what I try to show every time I step on the field."
The 6-foot-4, 220-pound Notre Dame alumnus' rare combination of size and athleticism create for sky-high potential in the NFL. He tested into at least the 80th percentile in the 40-yard dash (4.42s), vertical jump (43.5"), broad jump (140") and short shuttle (4.07s) at the 2019 NFL Scouting Combine; his MockDraftable spider chart made waves on Twitter as a result.
Slotted as the No. 13 wide receiver and No. 87 prospect on PFF's big board, Boykin earned career highs in overall grade (79.0) and receiving grade (77.7) before his draft stock took flight in Indianapolis. He also dropped just three of his 62 catchable targets on the year, which tied for 20th in drop percentage (4.8%) among draft-eligible wideouts with 50 or more targets.
But Boykin doesn't attribute the lion's share of his career year to his absurd measurables. Instead, he points to his commitment to the film room and improved understanding of the game as key drivers behind his 2018 successes.
"[Film] is extremely important to me just because anything I can do to get a leg up on the competition I'm going to do," Boykin said. "So, that means watching four to five hours of film a week. That's what I do. Whether it's knowing a certain coverage or what play beats that coverage or how I run a route against a certain coverage, it helps tremendously.
"Playing football is tough when you don't know what you're doing, when you're just going out there running around. When you can learn what teams' schemes are, what they're trying to do to stop you, it makes everything so much easier."
Boykin played just 188 offensive snaps and caught 18 passes in the two years prior to his breakout campaign in 2018. He added to his frame, improved his play strength and speed as he waited for his opportunity with the Fighting Irish, but it didn't all come together until he prioritized the mental side of football.
"At this level and at the next level, of course, everybody is a good athlete," Boykin said. "Everybody can run. Everybody is fast. Everybody is strong. There's a reason why we're here. It's that mental element that separates people."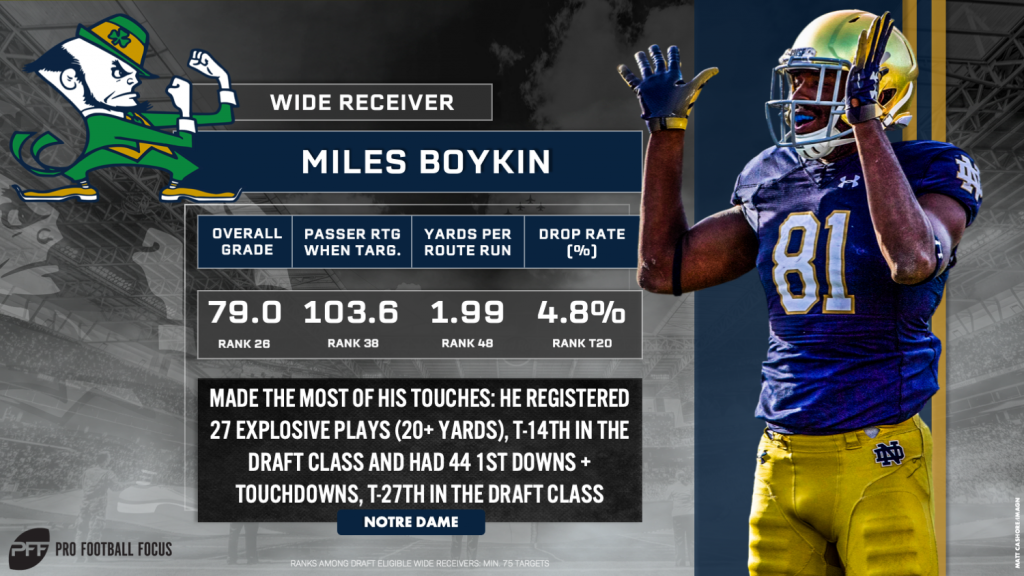 Continuing to refine his craft, Boykin has worked with Notre Dame's receivers coach, Del Alexander, and former NFL great Anquan Boldin in the offseason to expand his route tree, perfect his footwork and add to his release package.
"Just refining my route running," Boykin said when asked what he's doing now to get better. "Just making sure everything's clean. Translating college routes to NFL routes… Just being an all-around receiver."
Notre Dame's passing game didn't' ask Boykin to run a diverse route tree. Of his 867 receiving yards in 2018, 49.7% (431) came on just go routes (279) and out routes (152). Slants accounted for the third-highest percentage (10.6%).
Adding to his arsenal as a route-runner and continuing to develop technically and mentally, Boykin is chasing a ceiling that may not even exist in the NFL, and that should have all 32 teams chomping at the bit to call his name in this year's draft.