The next phase of the draft evaluation process is upon us as prospects gear up for the NFL Scouting Combine and pro days and we leave all-star season in the rearview mirror. The all-star circuit is a great place to see players in a competitive setting, though it certainly shouldn't be a make-or-break part of the evaluation. Still, every repetition matters, and an up-close look at players in a practice setting can be very telling.
Here's the PFF Draft Board at this point in the process (Editor's note: Player write-ups may be the same from previous editions in cases where the evaluations haven't changed. Updated Feb. 2):
1. Myles Garrett, Edge, Texas A&M
No change at the top as Garrett holds down the No. 1 ranking still. He's an excellent pass-rusher, capable of winning with speed, power and counters, all adding up to incredible three-year production that includes 31 sacks, 35 QB hits and 99 hurries. He's ranked among the top pass-rushers in the nation in each of those three seasons, but it's his work against the run that we wanted to see him improve coming into 2016. He did just that, taking on blocks better than ever while continuing to disrupt with his quickness off the ball, all adding up to a much-improved 87.8 grade against the run that ranked third among the nation's edge defenders.
2. Jonathan Allen, DI, Alabama
Allen went from first-round player to potential top-five pick with a monster season that saw him dominate as a pass-rusher while holding strong in the run game in an extended look at more of a full-time role in Alabama's defensive front. He can win up on the interior or on the edge, and he led all interior defensive linemen with a 93.4 pass-rush grade and 67 pressures. After playing just 143 snaps against the run last season, he nearly doubled that total with 282 this season and graded at 86.5 as he can jack up blockers and his run-stop percentage of 11.5 percent ranked 11th in the nation among interior linemen.
3. Derek Barnett, Edge, Tennesssee
It's an SEC 1-2-3 at the top of this draft class, with Barnett pushing Myles Garrett close for the nation's top edge defender in each of the past two seasons. His 62 total pressures, including 12 sacks and 18 hits, from the defensive end position give him a pass-rushing productivity rating of 14.9, good for the sixth-best mark at the position in college this year, while he has been a solid run defender in each of the past three seasons too.
4. Dalvin Cook, RB, Florida State
The nation's best big-play running back, Cook can turn the slightest crease into an explosive play as he possesses angle-changing speed. He led all running backs with 90 missed tackles forced on the ground while averaging 4.2 yards after contact per rush in 2016. He did a better job of maximizing yardage when his blocking wasn't there, all while maintaining his big-play ability that can change the game in a hurry. Florida State also used Cook a lot more in the passing game last season and that only adds to his value as a player who needs plenty of touches and he'll be sure to make a major impact on the offense.
5. Mike Williams, WR, Clemson
Putting on a show down the stretch is never bad for draft stock, and that's just what Mike Williams did in the College Football Playoff. The 6-foot-4 receiver has the big body to win in the short game as a possession receiver but also the body control and ball skills to win in contested situations downfield. That versatility has moved him to the No. 1 spot among receivers as he can succeed with different styles of quarterback and in various schemes, though a signal-caller who is willing to let him make plays down the field will help Williams to maximize his potential.
6. Corey Davis, WR, Western Michigan
We've had Davis in the top 10 for a while now as his route-running is exceptional and he pairs that with strong size, hands and ball skills. Davis was one of our top-graded receivers for three straight years, averaging an exceptional 8.1 YAC per reception as he showed the burst and shiftiness to turn short gains into explosive plays. Davis is also capable of making the spectacular catch while also making plays up and over cornerbacks, and he projects as a high-volume efficient receiver at the next level.
7. Jalen Tabor, CB, Florida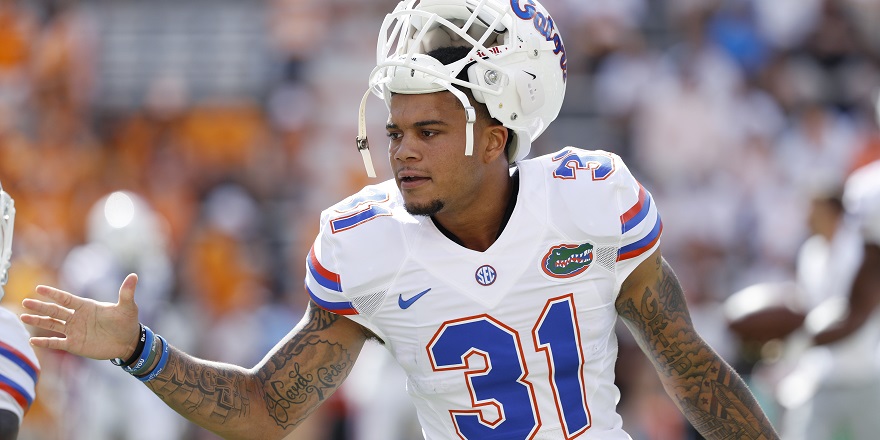 Few cornerbacks can close on the ball quite like Tabor, as he's notched an interception or a pass breakup on 26.5 percent of his targets the last two years, one of the best marks in the entire nation. Those ball skills and the aggressiveness make him an intriguing playmaker, though his aggressiveness can be used against him in the form of double moves. Still, in a cornerback class littered with different styles, Tabor brings an aggressive one who can play in both press and off coverage while making plays on the ball and potentially forcing turnovers.
8. Reuben Foster, LB, Alabama
Foster elevated his game this season with a dominant performance that saw him finish with the top grades among the nation's linebackers. He moves extremely well, mirroring running backs in the run game and in short coverage while also using that agility to slip blocks and make plays on the ball carrier. Not only can he move, but Foster also plays with great power, taking on and blowing up blockers while making runners pay when he closes in on the tackle. In coverage, Foster can have some issues moving backwards, but he's fantastic with the ball in front of him, and he also adds an explosive dimension as a rusher. Foster will add a versatile, three-down presence to a defense at a time when the value of a three-down linebacker may be higher than ever.
9. Jamal Adams, S, LSU
The NFL should enjoy the various safety options in the class and Adams is right at the top of the group due to his ability to affect the run game while also playing strong in coverage. Adams showed great consistency, ranking fourth in the nation in both grade against the run (83.1) and coverage grade (89.0), showing that he can have an impact in both phases, but he also did so from multiple alignments. He has the skills to play near the line of scrimmage or on the back end and he's been a major contributor to LSU's defense since his true freshman season in 2014. Adams has made impact plays, but also shown to be a sure tackler, where he's only missed 24 of his 191 attempts over the last three years.
10. Deshaun Watson, QB, Clemson
One of the most fascinating prospects during the draft process, Watson is extremely talented, though his season felt underwhelming due to the incredibly high expectations put on him as a potential No. 1 overall pick. His accuracy and decision-making were inconsistent throughout the season, but Watson has a knack for bouncing back from mistakes and making big plays when it counts, something he's done throughout his career and culminating with an incredible fourth-quarter comeback in the CFP title game against Alabama. He could stand to improve his instincts in the pocket, and read through his progressions more efficiently, but he throws with great touch and he has the zip to put the ball into tight windows up the seam. Watson is likely a starting NFL quarterback, but the question remains just how good can he be, and the NFL will ultimately determine where he lands on draft night.
11. Malik Hooker, S, Ohio State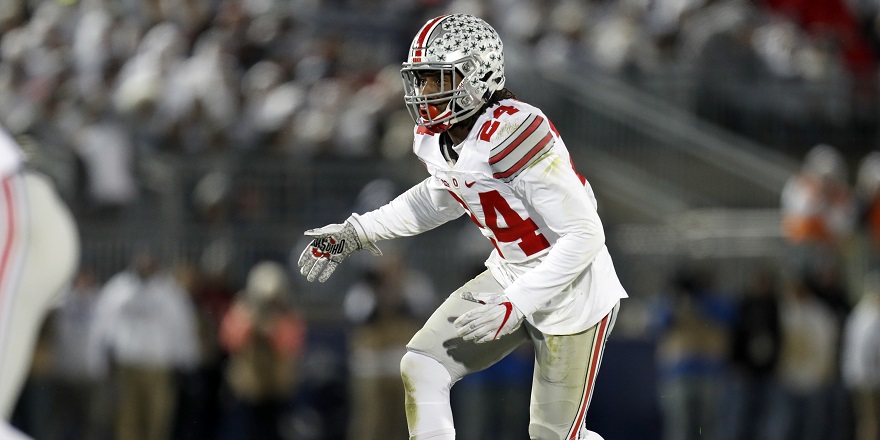 A new addition to the draft board since declaring for the draft, Hooker is intriguing for the range and ball skills that he showed in his one year of action at Ohio State. As a redshirt sophomore, Hooker stepped right in with immediate splash plays on the back end of Ohio State's defense, and his interception of Watson in the College Football Playoff semifinal was a prime example of the incredible range he brings to a defense. Few free safeties have shown those skills in recent years, making Hooker a rare commodity, perhaps so rare that teams will overlook his tackling woes that saw him miss a tackle every 6.5 attempts, good for 135th out of 242 qualifying safeties in the nation. Still, Hooker can be a game-changer in coverage, and he'll get plenty of looks near the top of the draft.
12. Cordrea Tankersley, CB, Clemson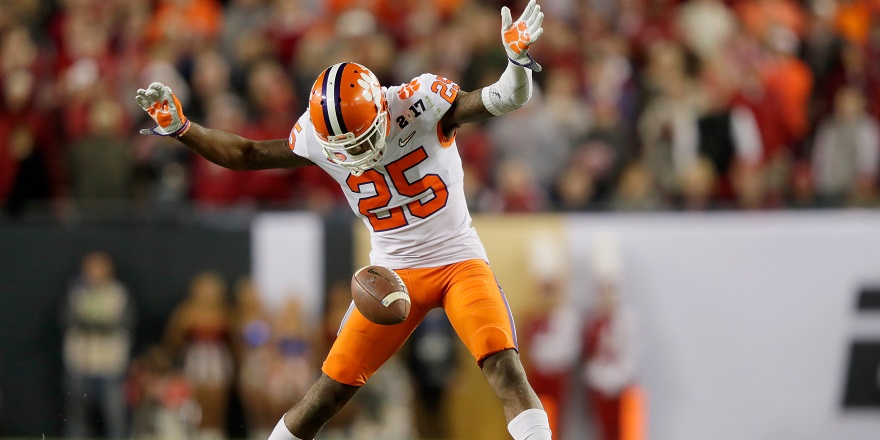 At 6-foot-1, Tankersley's size stands out immediately and he has the movement and ball skills to intrigue NFL scouts. He had the No. 6 overall grade among the nation's cornerbacks, allowing only 46.9 percent of his targets to be completed while intercepting four passes and breaking up nine. In two-plus years, Tankersley's allowed an NFL passer rating of 40.0 on passes into his coverage, and he should be coveted by many different styles of defensive coordinator.
13. Leonard Fournette, RB, LSU
Fournette's evaluation will still likely center on his incredible 2015 season that saw him break a nation-high 83 tackles while sitting as the Heisman favorite for two-thirds of the season. A poor November and injury-plagued 2016 have raised some questions for Fournette, who is certainly more about straight-line speed and power than wiggle when he runs the ball. Still, he added a level of agility to his game in 2015 that he'll need to maintain at the next level, and if he does, he'll be a strong runner in a downhill scheme. One big question surrounds Fournette's ability to contribute in the passing game, where he has little experience and may not have the route-running to affect the defense like some of the other running backs in the class.
14. Tim Williams, Edge, Alabama
Mostly a pass-rush specialist during his time at Alabama, Williams has the explosiveness off the edge to challenge offensive tackles but also the power to put them on skates, all leading to the most efficient pass-rusher in the nation over the last three years. Williams has notched pressure on an incredible 26.1 percent of his rushes (NCAA average is 10 percent for an edge defender), including 21 sacks, 20 QB hits and 82 hurries during that time. The question for Williams has come in the run game, where he nearly tripled his previous workload this season, but he showed the power and hands to make plays there too, easing concerns about his ability to contribute right away at the next level.
15. Tre'Davious White, CB, LSU
White remains in the first-round mix as he had a strong bounceback season this year after a subpar 2015. His 90.5 overall grade led all Power-5 corners and his 12 pass breakups rank second. He has the versatility to line up both in the slot and on the outside, which gives him another dimension that teams may be looking for come draft day. Before an injury ended his week early, White was having a strong showing at the Senior Bowl as his coverage skills were on display no matter where he lined up.
16. Sidney Jones, CB, Washington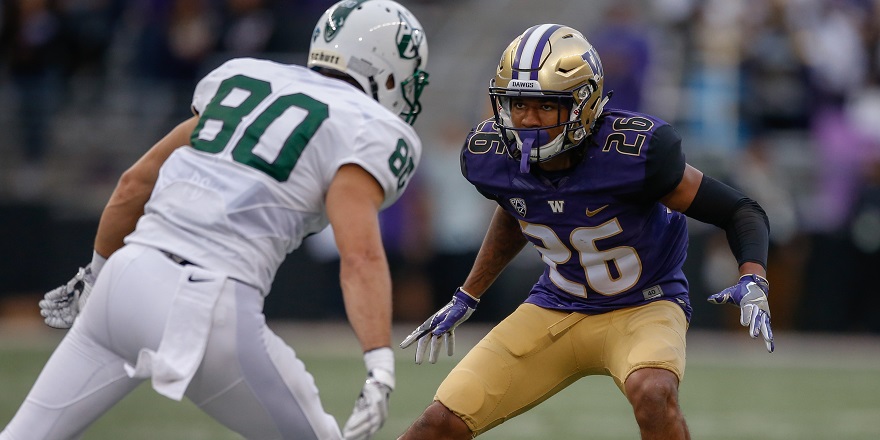 Opposing Pac-12 offenses wanted little to do with Jones this season, as he saw only 48 targets all season, good for 199th in the nation. His reputation is warranted, as he allowed a passer rating of only 42.1 into his coverage this season and his six-foot frame will have him coveted by a number of different schemes at the next level. Jones finished with the No. 11 overall grade in the nation at 86.5.
17. O.J. Howard, TE, Alabama
Howard is the best all-around tight end in the nation, leading the way as a run-blocker at 81.8 and showing the skills in the passing game to make big plays up the seam. The receiving skills were evident at the Senior Bowl as Howard consistently got open and showed his downfield playmaking ability that wasn't always utilized at Alabama. When he did see the ball, he averaged 7.3 after the catch per reception, and he can work both the short and intermediate areas as a receiver while providing strong blocking either at the point of attack or on the move.
18. Marshon Lattimore, CB, Ohio State
The draft is filled with long cornerbacks who can move and Lattimore Is another name to keep an eye on. He only has one year of experience under his belt, playing 682 snaps over the last two years, but in 2016, he allowed only 43.9 percent of targets to be completed into his coverage and opponents had a passer rating of 30.2 when throwing his way, fourth-best in the FBS among corners with at least 40 targets. Lattimore also showed excellent ball skills, intercepting four passes and breaking up six more on only 41 targets, and he's right near the top of a deep cornerback class.
19. Jourdan Lewis, CB, Michigan
Another cornerback with a different skillset, Lewis lacks ideal size at 5-foot-10, 175 pounds, but he's a feisty man-coverage corner with the movement skills to mirror the shiftier route runners. The lack of size will show up at times as Lewis can struggle with bigger receivers, but it's hard to argue with the production the last three years, as Lewis has allowed only 36.6 percent of passes to be completed into his coverage and he's made a few spectacular interceptions to go with an impressive 28 pass breakups.
20. Carl Lawson, DE, Auburn
Finally, a full season of health showed what Lawson can do as a pass-rusher, as he finished with the No. 5 pass-rush grade in the country with his nine sacks, 13 hits and 45 hurries on just 364 rushes. The concern for Lawson is his middling grades as a run defender the last two years, though he certainly has the strong, quick hands to shed blocks and make plays. However, with a run-stop percentage of only 4.5 percent, Lawson may come into the league as a pass-rush specialist as he develops in the run game.
21. Desmond King, CB, Iowa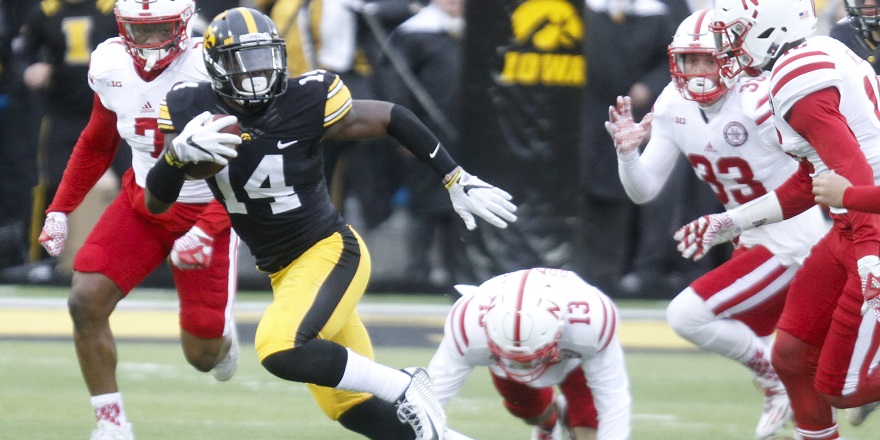 While there has already been buzz that King is better suited for safety, he has three excellent years of production at cornerback and he should excel in a zone-heavy scheme due to his feel for the game and excellent route recognition. That has led to King ranking among the nation's top cornerbacks for three straight years while allowing only 43.4 percent of targets to be completed to go with an NFL passer rating of 48.1. King has also gotten his hands on 14 interceptions and 24 pass breakups in the three years, while complementing his ball skills with sure tackling that has seen him miss only 11 of his 197 tackle attempts during that time span. Senior Bowl week was not King's finest showing, perhaps reinforcing the thought that he's limited schematically at the next level.
22. Malik McDowell, DI, Michigan State
While McDowell didn't have the monster breakout season we hoped to see, he was strong in the run game and disruptive as a pass-rusher, tying for 20th overall among interior defensive linemen at 85.8. McDowell even took his 6-foot-6, 286-pound frame to the edge at times, showing that he can push the pocket from the outside when needed. He can be a playmaker in the middle of the defense, or perhaps a movable threat as a rusher, and his continued progression as a player bodes well for the future.
23. Ryan Ramczyk, OT, Wisconsin
One of the biggest stories of the season, Ramczyk has made an incredible rise from Division 3 player to potential first-round pick. His skills were evident immediately in Week 1 against LSU and he rarely slowed down as he finished with the No. 1 run-blocking grade in the nation while allowing only 12 pressures on the season. Ramczyk is an efficient mover in the run game, winning at the point of attack and in space, and he's smooth in pass protection, leading to perhaps the top offensive tackle in the draft.
24. Charles Harris, Edge, Missouri
Yet another edge defender from the SEC, Harris brings a killer spin move as a pass-rusher and he's been one of the nation's most efficient at getting to the quarterback the last two years. His 88.2 pass-rush grade ranks 12th in the nation, though like his fellow SEC brethren, there are questions about his work in the run game. However, the same quick, strong hands that allow him to shed blocks as rusher should be able to translate to the run, it just may take time with Harris' best bet to contribute as a pass-rush specialist in the early going.
25. Mitch Trubisky, QB, UNC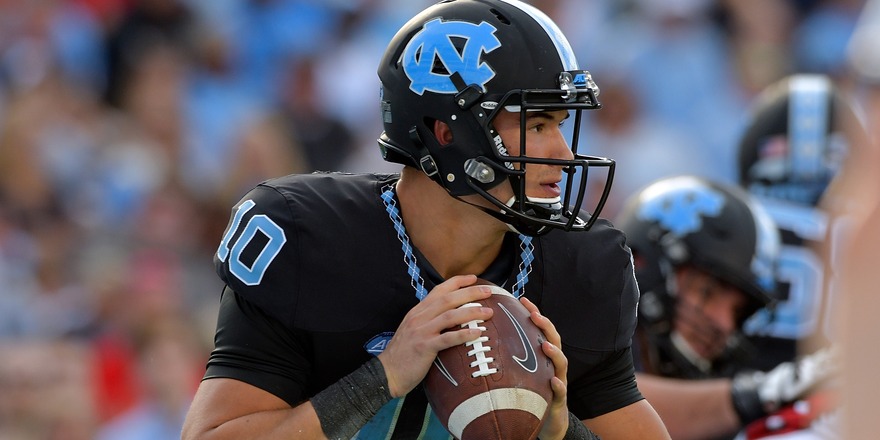 As our analysts go back and review each prospect, Trubisky continues to build momentum as he showed the arm to drive the ball outside the numbers and the pocket movement to create plays when pressured. He only has one year of action at UNC, raising questions about his coming out of school, but his talent is evident and worth a first-round investment. While there's more good than bad to Trubisky's game, he often left a few plays on the table in each game so there's still room for improvement after posting an 84.4 overall grade that ranked 11th in the nation in 2016.
26. Joe Mixon, RB, Oklahoma
Off-field issues aside, Mixon had an excellent season, showing the ability to create offense as a runner or as a receiver. He finished with the No. 4 overall grade among running backs at 88.1 overall, while leading the way with an 88.3 receiving grade. He averaged 3.7 yards after contact per rush and another 14.3 yards per reception and he can be a three-down versatile option at the next level.
27. Zach Cunningham, LB, Vanderbilt 
Cunningham's name continues to become more and more familiar as his strong play continues for Vanderbilt. He's very strong against the run, able to shed blocks and make plays as well as any linebacker in the nation. Cunningham's 56 solo run stops lead in the Power-5. One thing he'll need to work on is his tackling, as he's missed 34 total over the past two seasons. But if he can improve on that, he could be one of the best linebackers in this draft class.
28. Solomon Thomas, Edge, Stanford
Thomas is one of the better and more versatile defensive linemen in the country. The smart and talented Thomas can play a variety of different positions along the defensive line and is a devastating run-stopper who can also rush the passer. Thomas is one of the elite run defenders in the nation and his 11.0 run-stop percentage ranks No. 5 among Power-5 defensive tackles. Thomas's pass-rushing productivity rating of 8.7 also ranks No. 5 among Power-5 defensive tackles.
29. Jabrill Peppers, S, Michigan
Peppers has started to fall down our board just a bit, as his play on the field as of late hasn't quite lived up to his hype. While his elite athleticism and ability as a returner is blindingly apparent every time he steps on the field, his play on the back end has been less than stellar. When targeted in coverage this season, he yielded receptions on 20 of 27 targets and did not have a single pass defended when he was the primary defender (his lone interception against Ohio State was a case of him being in the right place at the right time off a pass tipped in front of him). He also lacks the size to consistently take on and shed blocks going forward, as the majority of his impact plays this year have come when he has been unblocked. Teams considering him will need sell themselves on the idea that his coverage struggles could be due to his hybrid role, but it may be difficult for some to come to terms with the thought that he may be a two-down player at the next level.
30. Taco Charlton, Edge, Michigan
Charlton was having a strong season, then took his game to a new level down the stretch, grading as our No. 4 edge defender from Week 9 through the end of the season. He was strong against the run and disruptive as a pass-rusher, picking up eight sacks, 10 hits and 32 hurries on only 251 rushes, and his two-year production is among the best in the nation.
31. Forrest Lamp, G, Western Kentucky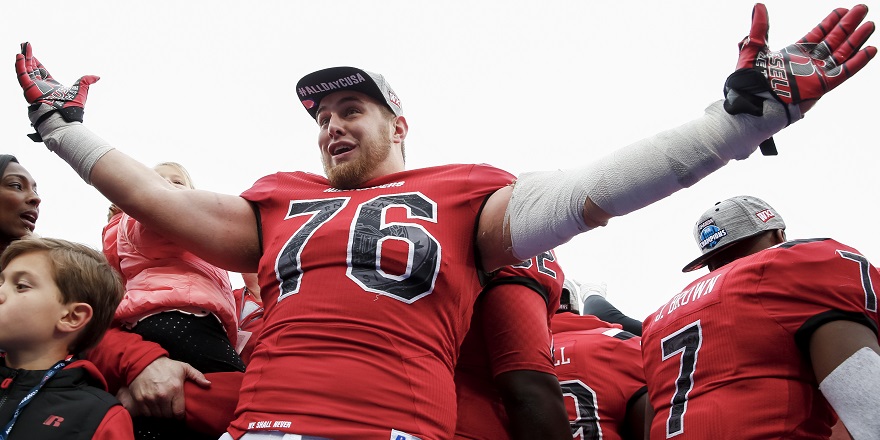 With three straight years of top-five finishes in our offensive tackle rankings, Lamp has plenty of good tape and he proved himself in his limited time in Mobile for the Senior Bowl. Before an injury ended his week after only one practice, Lamp showed well against top competition while playing both guard and tackle at practice. His short arms will likely make him a guard at the next level, though he's shown the skills to play tackle, including the best game any tackle played against Alabama's strong defensive front.
32. Dede Westbrook, WR, Oklahoma
No receiver was more dominant than Westbrook after Week 4. Whether it's turning short throws into big gains with his yards after catch ability, or catching deep balls for touchdowns, he can do it all. While Big 12 secondaries certainly aren't anything to write home about, Westbrook has been far ahead of the pack of receivers as QB Baker Mayfield's top option. He leads all Power-5 receivers in yards after the catch, and is currently the second-highest graded receiver at 88.2.