The 2016 college football regular season is over, with conference championship games up next. The past 13 weeks have given us plenty to work with in terms of analyzing prospects for the 2017 NFL draft. Some names have made a big statement this season, while others have failed to live up to expectations.
For this update of PFF's draft board, individual conference analysts have joined forces to provide their unique perspective and analysis after grading every players on every play, in every game. Here's a look at where the top NFL prospects stand:
1. Myles Garrett, Edge, Texas A&M
Garrett has occupied the top spot on this board since the October update and nothing in his play suggests that it's likely to change anytime soon. A phenomenal pass-rusher, Garrett has averaged a pressure once every 6.1 pass rushing attempts this season, and has totaled 66 combined sacks and hits over the past three seasons. For any team looking for a defensive playmaker who can knock opposing quarterbacks to the ground, Garrett is going to be at the top of the wish list.
2. Jonathan Allen, DT, Alabama
As good as Garrett is on the edge, Allen is on the interior. A completely disruptive force on the inside, he has racked up eight sacks, 11 hits and 34 hurries on 332 pass rushing snaps, good for a pass rushing productivity rating of 12.6, ranking third among 3-4 defensive ends in college this year. He's not limited to just being a pass-rusher though, and has added 28 tackles resulting in a defensive stop against the run, with his run stop percentage of 12.8 percent ranking second at the position.
3. Derek Barnett, Edge, Tennesssee
It's an SEC 1-2-3 at the top of this draft class, with Barnett pushing Myles Garrett close for the nation's top edge defender in each of the past two seasons. His 62 total pressures, including 12 sacks and 18 hits, from the defensive end position give him a pass rushing productivity rating of 14.9, good for the sixth-best mark at the position in college this year, while he has been a solid run defender in each of the past three seasons too.
4. Cordrea Tankersley, CB, Clemson
Press-man corners with shutdown potential are highly coveted in the modern NFL. Tankersley possesses all the traits to make him a defensive cornerstone at the next level. Although he has not made as many big plays this season, his reliability has overshadowed a lack of turnovers. In total, Tankersley has allowed only 23 catches for 236 yards, one touchdown, one interception and six pass deflections. With the desired production, size and athleticism, Tankersley ticks every box.
5. Corey Davis, WR, Western Michigan
Our love for Corey Davis is extensive and has long been documented, and that will not change even if he does not test out in February with elite speed numbers. He is the rare complete package at the position, as his size, route-running ability and competitiveness with the ball in the air makes him a dangerous target to all parts of the field, and his blocking ability far exceeds that of most of his power five conference counterparts. For his career he has caught 251 balls, has 44 touchdowns and has forced 41 missed tackles after the catch.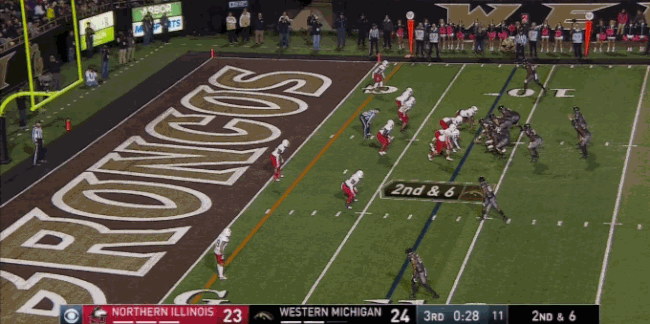 6. Jalen Tabor, CB, Florida
The fourth SEC defender on our draft board, Tabor is currently the top defensive back on our draft board. His coverage numbers this season are pretty ridiculous, allowing just 15 receptions on 302 coverage snaps so far this year, with an NFL passer rating allowed of just 39.3. Over the past three seasons he has shown his ability to make plays on the ball, with 32 combined interceptions and pass breakups since 2014.
7. Dalvin Cook, HB, Florida State
Cook's late-season performances further separated him from the chasing pack in this running back class. He still tops the nation in elusive rating, with 86 combined broken tackles this year, putting his slow start to the season well into rear view mirror. Cook certainly spent plenty of this weekend looking behind him, running clear of Florida defenders. In total, he broke nine tackles and generated 95 yards after contact in the Seminoles' rivalry game. With unmatched vision and acceleration, Cook could easily end up a top-ten pick this April.
8. Leonard Fournette, RB, LSU
Injuries may have prevented Fournette from being the dominant player he was in 2015 this year, but he is still one of the best running back prospects of the past few years, especially when you consider his ability as a pure runner. He has forced 136 missed tackles on running plays over the past three seasons, working out at an average of a missed tackle forced every 4.5 carries, and remains a terrifying prospect for opposing linebackers and defensive backs when he gets to the second level.
9. Desmond King, CB, Iowa
Listed at 5-feet-11 and 200 pounds, King is going to check off all the measurables boxes come February's combine. More importantly though, he has a three-year body of work that is unmatched in consistency and excellence at his position. QBs have a rating of below 60 all three years, and he has combined to allow just 79 catches on 172 targets while picking off 13 and breaking up another 24 throws during his prolific career at Iowa.
10. Mike Williams, WR, Clemson
Another physical freak out of a school renowned for producing them, Williams hopes to emulate, or even surpass, the exploits of former Tigers Sammy Watkins and DeAndre Hopkins. He'll be well worth a top-ten pick if he reaches that peak of performance. Williams is a terror at the catch point, where he uses his body effectively to shield the ball from defensive backs, but is also capable of catching a slant, breaking a few tackles, and taking it to the house. Everything appears set for Williams to become a feature receiver in the NFL.
11. Jourdan Lewis, CB, Michigan
Unlike his Big Ten counterpart King, Lewis is likely to be knocked down some draft boards because of his lack of ideal size (he is listed at 5-feet-10, 175 lbs). However, he has been every bit as dominant over the past three years, highlighted by the fact that this year on 35 throws into his coverage he has as many total balls defended, 10, as he does receptions allowed. QBs have a rating of 16.0 when testing Lewis this season, and for the past three years at Michigan that figure sits at 39.6.
12. Carl Lawson, DE, Auburn
The big question Lawson had to answer this season was whether or not he could stay healthy for a full season, and deliver on all the potential he had shown in half a season last year. With nine sacks, 12 hits and 37 hurries, he certainly answered that question to push him higher up draft boards. He still needs some refinement against the run, but averaging a pressure once every 5.9 pass rushing attempts, he will be able to make an impact as a pass rusher from day one in the NFL.
13. Malik McDowell, DI, Michigan State
While injuries and poor play around him prevented him from having the breakout year we had anticipated, the fact remains that McDowell has the NFL body and athleticism to develop into a dominant interior player, regardless of scheme. NFL scouts are sure to value his early-season film over his inconsistent late season efforts, as he was a force to be reckoned with when healthy this past September. Through the first four games of Michigan State's season he amassed 18 total pressures and 11 run stops.
14. Tim Williams, Edge, Alabama
With four SEC edge defenders inside our top 14 spots on the draft board, it's safe to say that the conference has produced a serious amount of NFL talent at the position over the past few years, but Williams just might be the most intriguing from an on-field perspective. He has played just 567 snaps over the past three seasons, and while he has graded well against the run, he only played 141 snaps in that role. Instead he has been a pass rush specialist, racking up 19 sacks, 17 hits and 75 hurries on 400 pass rushing snaps since the beginning of the 2014 season. That's an average of a pressure once every 3.6 pass rushing attempts.
15. Deshaun Watson, QB, Clemson
Inconsistency has plagued Watson's 2016 season, but the big-time throws will ensure at least one NFL franchise becomes infatuated with his skillset. Few quarterbacks display the kind of touch and accuracy Watson achieves down the field and in the redzone. His outing against South Carolina is exemplary in that regard, in particular his touchdown toss to Mike Williams. Watson played his best football down the stretch in 2016, and has an opportunity to repeat that feat this year.
16. Reuben Foster, LB, Alabama
Foster was already an NFL prospect heading into the 2016, but the level he has reached this year has helped elevate him into becoming the top linebacker in this draft class. He has shown incredible range against both the run and pass, recording 46 tackles resulting in a defensive stop this year. Foster isn't far away at this point of having a legitimate shot of hearing his name called in the top 10 of the draft.
17. Jamal Adams, S, LSU
This feels like the best safety class in several years, and it's headline by LSU's Adams. Showing his ability to cover the best tight ends in the nation, he played a key role in slowing down another NFL prospect in Ole Miss' Evan Engram earlier this year. He has also excelled in his work closer to the line of scrimmage, be it diagnosing screens and bringing players down in the backfield, or his work against the run, where he has recorded 18 tackles resulting in a defensive stop this year.
18. Charles Harris, DE, Missouri
Harris currently ranks 12th in the country with an 88.2 pass rush grade, thanks to his incredible spin move combined with quick but strong hands. His production as a pass-rusher has been among the best these past two seasons. Last time we wrote that we'd like to see him dominate down the stretch to cement his case as a first-round talent. Well he's done just that, racking up four sacks and 18 total pressures in three games, and grading out as the fourth-best edge rusher over the past three weeks.
19. Sidney Jones, CB, Washington
Jones is one of the more talented cornerbacks in the country and opposing quarterbacks often shied away from throwing into his coverage. On the year Jones has only allowed 22 catches for 280 yards and 0 touchdowns. Jones has the size, speed and coverage ability the NFL desires out of its cornerbacks and he should hear his name called early in the draft. This season opposing quarterbacks only have a 41.0 QB rating when throwing into Jones's coverage.
20. Zach Cunningham, LB, Vanderbilt 
Cunningham's name continues to become more and more familiar as his strong play continues for Vanderbilt. He's very strong against the run, able to shed blocks and make plays as well as any linebacker in the nation. Cunningham's 52 solo run stops ranks second in the Power-5. One thing he'll need to work on is his tackling, as he's missed 31 total over the past two seasons. But if he can improve on that, he could be one of the best linebackers in this draft class.
21. Jabrill Peppers, S, Michigan
Peppers has started to fall down our board just a bit, as his play on the field as of late hasn't quite lived up to his hype. While his elite athleticism and ability as a returner is blindingly apparent every time he steps on the field, his play on the back end has been less than stellar. When targeted in coverage this season, he has yielded receptions on 20 of 26 targets and does not have a single pass defended when he is the primary defender (his lone interception against Ohio State was a case of him being in the right place at the right time off a pass tipped in front). He also lacks the size to consistently take on and shed blocks going forward, as the majority of his impact plays this year have come when he has been unblocked. Teams considering him will need sell themselves on the idea that his coverage struggles could be due to his hybrid role, but it may be difficult for some to come to terms with the thought that he may be a two-down player at the next level.
22. Tre'Davious White, CB, LSU
White holds steady at his ranking as he continues to have a strong bounce-back season this year. He's allowing an average of just 0.66 yards per coverage snap and ranks third among Power-5 corners with 10 pass breakups. He has the versatility to line up both in the slot and on the outside, which gives him another dimension that teams may be looking for come draft day.
23. Ryan Ramczyk, OT, Wisconsin
Ramczyk's rise has been stunning and immediate, as he has been at or near the top of our tackle grades the entire season despite this being his first taste of FBS action. Through 12 games he has given up no sacks and just three QB hits, and his 83.2 run block grade is tied for fourth-best in the nation.
24. Joe Mixon, RB, Oklahoma
Mixon is a new entry on this list, but his play this season could not be ignored. Mixon is a complete all-around running back, and one of the best in the country. Every time he touches the ball he's a threat to turn it into a huge play, as evidenced by his 54.5 breakaway percentage. His 2.60 yards per route run ranks second among all Power-5 running backs, as does his overall grade of 87.1. He's got off the field issues, but going on just pure talent Mixon certainly deserves to be ranked this high.
25. Christian McCaffrey, RB, Stanford
McCaffrey is a talented player who is equally at home in the backfield or running routes out of the slot. McCaffrey is highly elusive with the ball in his hands and has forced 65 missed tackles on the year, 44 as a runner and 21 as a receiver. A creative offensive coordinator will get the most out of his skill set in the NFL, but McCaffrey can help any team instantly with his combination of quick lateral cuts and game-breaking speed.
26. Mike McGlinchey, OT, Notre Dame
McGlinchey hasn't been quite the dominant force he was last year at the line of scrimmage, but in a weak tackle class he is still sure to be near the top. As a two-year starter in South Bend he has given up just two sacks and four hits in pass protection, and his 81.4 run block grade ranks 10th in the country. Penalties have been a significant issue for him this year, as he has tallied 12 in 2016, after posting just five last year.
27. Dede Westbrook, WR, Oklahoma
No receiver has been more dominant than Westbrook has since Week 4. Whether it's turning short throws into big gains with his yards after catch ability, or catching deep balls for touchdowns, he can do it all. While Big 12 secondaries certainly aren't anything to write home about, Westbrook has been far ahead of the pack of receivers as QB Baker Mayfield's top option. He leads all Power-5 receivers in yards after the catch, and is currently the second-highest graded receiver at 88.2.
28. Solomon Thomas, DE, Stanford
Thomas is one of the better and more versatile defensive linemen in the country. The smart and talented Thomas can play a variety of different positions along the defensive line and is a devastating run-stopper who can also rush the passer. Thomas is one of the elite run defenders in the nation and his 11.0 run stop percentage ranks No. 5 among Power-5 defensive tackles. Thomas's pass-rushing productivity rating of 8.7 also ranks No. 5 among Power-5 defensive tackles.
29. Pat Elflein, C, Ohio State
While the level of consistency he achieved his sophomore and junior seasons in Columbus wasn't there this past season, Elflein still put together a strong campaign. His 81.0 run block grade ranks fourth-highest among all centers this year, and until finally giving up two sacks to Michigan this past weekend he hadn't yielded any. On the season he has given up just the two sacks, one hit and 11 hurries. Teams may prefer to kick him back out to guard, where he excelled prior to this year, but the fact remains that he is one of the top interior blockers in the 2017 class.
30. Eddie Vanderdoes, DT, UCLA
Vanderdoes is blessed with very quick hands and feet for a man with his size and build. Vanderdoes can use his quickness to move up and down the line of scrimmage to disrupt plays against the run or to penetrate into the backfield to apply pressure to opposing quarterbacks. Vanderdoes generated 24 QB pressures and 16 run stops this season. Vanderdoes' interior quickness and hand usage will see him highly coveted in the draft. The biggest question about Vanderdoes will be if he can keep his legs healthy.
31. Mitch Trubisky, QB, UNC
Hopes were high for Mitch Trubisky entering the year, and he has not disappointed. One game in a hurricane aside, he's been virtually flawless this year. Trubisky has the accuracy and arm strength to thrive in the pros, and is sneaky athletic for a man his size. Ultimately, the prudent decision is probably for him to return to school. After all, he has only 12 starts to his name at the college level. That said, he might jump at the chance to compete in a weak quarterback class where his inexperience will likely be overlooked.
32. Quenton Nelson, G, Notre Dame
Nelson was excellent as a first-year starter last season, but has been downright dominant for much of the 2016 campaign. After giving up three sacks and two hits in 2015, he has conceded no sacks and just one hit this year. He also has a run block grade of 85.3, and his overall grade of 86.7 ranks fourth-best in the country.
PFF's conference analysts: 
SEC: Gordon McGuinness
Big Ten: Josh Liskiewitz
Big 12: Bryson Vesnaver 
Pac-12: Jordan Plocher
ACC: John Breitenbach
Group of Five: Zoltan Buday