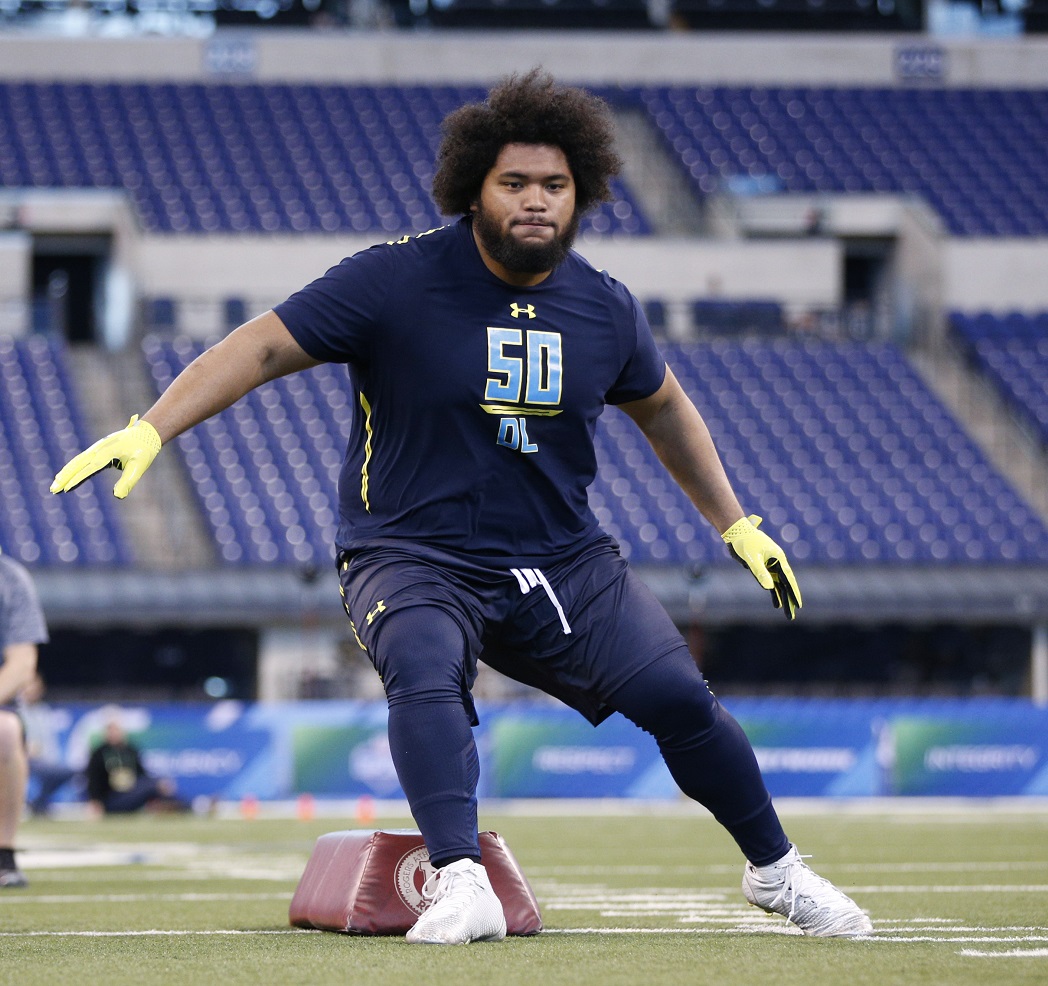 INDIANAPOLIS, IN - MARCH 05: Defensive lineman Stevie Tu'ikolovatu of USC in action during day five of the NFL Combine at Lucas Oil Stadium on March 5, 2017 in Indianapolis, Indiana. (Photo by Joe Robbins/Getty Images)
Day 3 picks are often utilized on players who may be unrefined in certain areas of their game, but have specific skills in which they excel. These types of players are critical to the success of teams, as they typically make up the back-end of a team's roster and are called upon in specific game situations like special teams plays and two minute drills. This draft class has plenty of these specialists to choose from, starting with five of our favorites listed below.
Return specialist: William Likely, Maryland
Injuries and a devotion to playing CB kept Likely from returning punts and kickoffs for Maryland in 2016, but he proved to be one of the more dynamic returners in the country in each of his two prior seasons in College Park. In 2014, Likely averaged 31.1 yards per kickoff return and 12.9 yards per punt return, and returned a kick 100 yards for a score and a punt 96 yards for another touchdown. In 2015 he was even better, as he put up the fourth-best return grade in the country while returning three kicks for six. Measuring under 5-foot-7 and right at 180 pounds, he is unlikely to make an impact as a cornerback on defense, but teams willing to devote a roster position to a specialist will covet his speed and open-field running.
Coverage linebacker: Jayon Brown, UCLA
Brown improved significantly as a run defender in 2016 for UCLA, but his slight frame and struggles against blockers will likely make him a third-down specialist at the NFL level. This is an area where he excelled, however, as he gave up completions on just 22 of 34 throws into his coverage last season while picking off three and breaking up three others. Opposing QBs had a rating of just 50.4 when testing him through the air, the lowest mark in FBS for linebackers with at least 25 targets against. I highlighted in February how his coverage skills would significantly upgrade Detroit's linebacking corps, but the truth is virtually every team in the league should be looking for strong coverage backers on Day 3.
Jayon Brown's play in coverage was outstanding this year – QBs had a rating of just 50.4 when testing him. @UCLAFootball pic.twitter.com/LkhtSTLvY2

— Josh Liskiewitz (@PFF_Josh) February 17, 2017
Run-stuffer: Stevie Tu'ikolovatu, USC
While he lacks the quickness to offer much as a pass-rusher at the next level, Tu'ikolovatu was a force both at USC and throughout Senior Bowl week in the run game. Never was this more evident than against Penn State in this year's Rose Bowl, where he regularly tossed Nittany Lion offensive linemen aside on his way to a sack, seven defensive stops, and an overall grade of 91.0 and run-defense grade of 95.8. He is a natural two-down 0-tech nose tackle at the next level, and warrants an early Day 3 selection despite his struggles to affect the passing game (just four sacks and one combined hit between 2014 and 2016).
Stevie snackin' #FightOn pic.twitter.com/96K2yutBbi

— Josh Liskiewitz (@PFF_Josh) April 21, 2017
Goal-line running back: Brian Hill, Wyoming
Backs brought in just to convert short-yardage plays seem to be a bit of a dying breed, but this year's class features a solid one. Hill gave up 12 QB pressures in pass protection last season (for a total of 32 over the past three years) and offered little viability as a receiver (just eight grabs for 67 yards and two drops), but he is a big, powerful back who is effective in tight spaces because of his aggressiveness and willingness to get to top speed in a flash. This makes him an ideal back to do the dirty work at the goal line and on third and fourth-and-short situations. While he likely won't offer much help on third-and-long (at least early in his career), his 30 runs of 15-plus yards last season ranked third in the draft class, and suggest he'll be of value on early run downs as well.
Pass-rusher: Pita Taumoepenu, Utah
As a prospect, Taumaoepenu has to excite defensive coaches, as he has an explosive first step off the snap and great edge speed, but needs significant refinement to his game. While he struggled against the run in each of the last three seasons at Utah (17 missed tackles in 2016), he's been a productive pass-rusher throughout, and really took a step forward during his senior season with 54 total pressures. He'd be an ideal fit in the middle of Day 3 for the Cowboys, where defensive coordinator Rod Marinelli would likely use him initially on third down from a wide-9 alignment to get after the quarterback while he developed his complete skill set.