The draft is just two weeks away, and the rumors about which players teams covet are starting to pile up. One of the exiting parts of draft weekend is the trading between teams, which frequently involve both players and picks. Predicting trades is a virtual impossibility, but that doesn't mean we can't take a look at team needs and draft positioning and create intriguing trade scenarios that make sense for both teams involved. Here are five potential trades that, while unlikely to occur and not based on any inside information, would set up the teams involved for both short-term and long-term success.
1. Jets trade Sheldon Richardson to the Oakland Raiders for a third-round pick
Considering Richardson's recent off-field issues and his 2016 dip in production (only nine combined sacks and hits last season compared to 16 in 2015 and 23 in 2014), as well as the fact the Jets are clearly in rebuilding mode, it now seems like an appropriate time to deal the talented-but-troubled interior defender while he still has value. With no teams biting last fall when New York tried to deal him for a first, the club will need to let up on its price tag a bit in order to secure a deal.
Enter the Raiders, who were legitimate Super Bowl contenders last season until starting QB Derek Carr broke his leg in Week 16. Having a healthy franchise QB for the playoff run will go a long way toward Oakland making a push for this year's Super Bowl, but so would an upgrade of their interior pass-rushing productivity. Last year's defensive tackle group managed just seven sacks and 13 hits, and Stacy McGee's three sacks depart with him to Washington this season.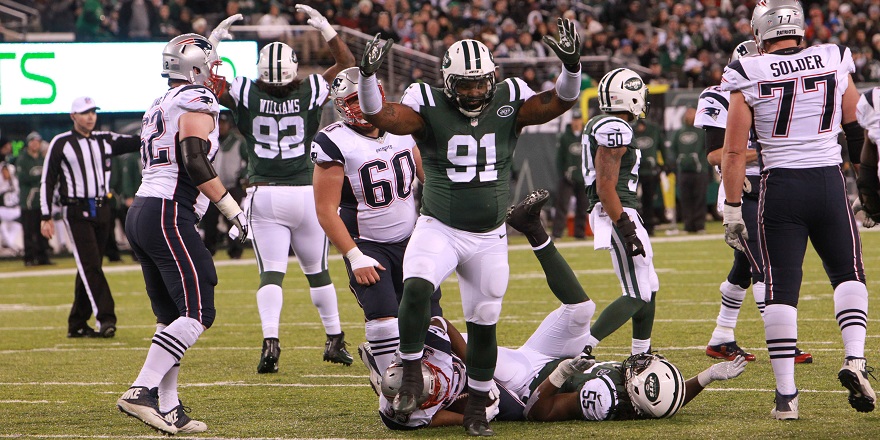 A deal between the clubs makes financial sense, as the move would take Richardson's $8 million cap number off the books completely in New York, and the Raiders still have $30 million to play with and can thus absorb the deal. Yes, there is risk involved from Oakland's point of view, as Richardson's current deal expires after this season, but if the change in scenery and motivation of playing for a contender helps Richardson revert back to his prior form, he'd be a gamble well worth taking.
In terms of fair compensation from Oakland, their third-round pick (No. 88 overall) should be enough for both teams. This pick is better than what the Jets for from a compensatory pick next year, and from the Raiders perspective, Richardson could be the final piece that gets them to Minneapolis next February.
2. Browns trade Joe Thomas to the Giants for a second-round pick
The premise behind this trade is very simple: The Browns aren't in a position to contend for at least three more seasons, and it's impossible to expect their future Hall of Fame left tackle to still be able to play anywhere near his current level if and when they do become more competitive. Conversely, the Giants do appear ready to make a run, as long as they are able to fix significant issues on the offensive line.
In his two seasons as New York's left tackle, Ereck Flowers has graded around average on run blocks, but his pass-blocking has been replacement level. He's yielded a total of 10 sacks, 26 hits, and 97 hurries, and has made matters even worse by racking up 24 penalties.
Meanwhile, there is no five-year stretch in Joe Thomas' 10-year career in which he surrendered as many pressures as Flowers did in two. While last season's 34 total pressures allowed was the second-most of his career, his 89.9 pass-blocking grade was fifth-best in the league, and his 89.1 overall grade placed him fourth.
New York's second-round pick is No. 55 overall, and considering the limited shelf-life remaining for QB Eli Manning, the massive short-term upgrade is well-worth sacrificing the pick. From Cleveland's perspective, this would give them six of the first 65 picks of the draft; plenty of currency to not only accumulate talent, but also the flexibility to negotiate picks for specific targets on all three days of the draft.
3. Jaguars trade Blake Bortles to the Cardinals their first-round pick
After taking a step forward in 2015, Bortles took about 10 backward in 2016. While he was sacked 33 percent less last season than he was the year prior, he still threw 16 picks and improved his completion percentage a whopping 0.3 percent to 58.9. While Jacksonville has made strides on defense, Bortles is at this stage holding the offense back, and it's tough to envision things getting better for him with the Jaguars this year considering the brand new coaching staff and system.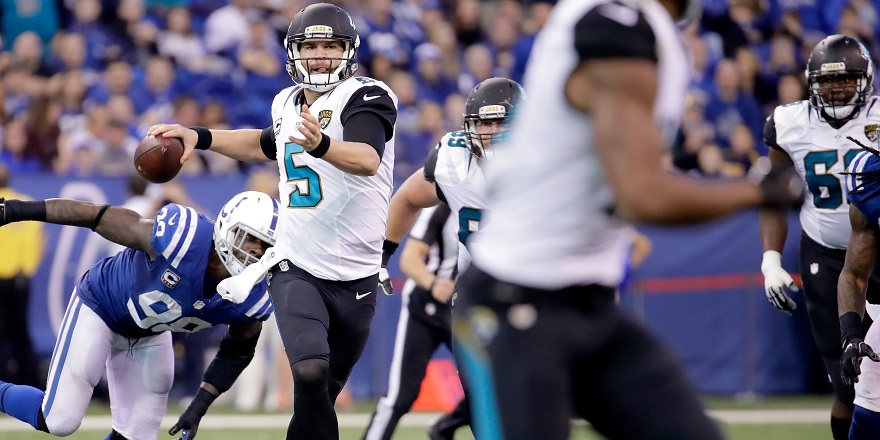 Arizona made it all the way to the NFC championship game in 2015, but missed the playoffs completely in 2016, as aging QB Carson Palmer looked broken. Finding a QB of the future should be priority No. 1 for them this year, and as poorly as Bortles played down the stretch last season, a restart with a better roster could help him realize his potential.
Make no mistake about it – this would be a huge risk on the part of both teams. Jacksonville would be left with Chad Henne and likely a rookie being forced to start on day one, while the Cardinals would be banking on the opposite, the idea that this draft class does not offer a viable solution ready to step in immediately. However, considering the sense of urgency in the desert with a roster with aging players in critical roles, and the year or so of house money for the new staff in Jacksonville, this deal could be positive for both sides.
4. Patriots trade RG Tre' Jackson to Packers for a sixth-round pick
Jackson had a reasonably solid rookie season in 2015, as he showed flashes in the run game while giving up 24 total pressures on 394 pass block reps. Unfortunately, a knee injury kept him out of action throughout 2016, and Shaq Mason and Joe Thuney look to have locked down both guard positions for the Patriots with their solid performances throughout New England's Super Bowl run.
The Packers lost standout RG T.J. Lang in free agency to division rival Detroit this offseason, and are currently without a viable option at the position. They could attempt to address the position with a high draft pick, but this is a weak offensive line class. Jackson will be essentially 18 months clear of his injury come training camp, and assuming he is fully recovered he could step in immediately as the starter for Green Bay.
The Patriots love picks no matter what the round, and getting value for a player not likely to have a heavy role for them in the future. Bill Belichick is a master at utilizing extra late-round picks to find diamonds in the rough and create extra picks, and the extra sixth would be welcomed in a year the franchise is currently short on currency. Green Bay of course would be gambling on Jackson's health, but a late-round pick is not much of a risk considering the upside of potentially finding a starter at a critical hole.
5. Titans trade pick No. 5 to Saints for picks No. 11 and 32
Both of these teams are closer to being serious playoff contenders than many realize, and this move would set up both franchises to fill significant remaining holes on their rosters.
The Saints need CB help, and while this is a very deep class at the position, Ohio State's Marshon Lattimore looks to be a cut above the rest. Teams coveting the Buckeye standout should make sure they get in front of the Jets at No. 6, as he would be a strong fit for them as well.
The Titans have three critical positions they need to address, but currently don't own a second-round pick. With pick No. 11 they would still most likely be able to score one of the top two WRs in the class, Clemson's Mike Williams or Western Michigan's Corey Davis, and pick 18 could be used on a strong edge-rusher like Tennessee's Derek Barnett or Takkarist McKinley of UCLA. Brian Orakpo has long been a solid (but not elite) player for the Titans, but turns 31 this summer and has just two years remaining on his current contract.
The final pick of the first round is one of the most powerful in the draft. QB-desperate teams will certainly covet the pick if their target is still on the board, as clubs have the opportunity to exercise a fifth-year option on all first-round picks. This means a team trading into the pick will have the ability to lock up a potential franchise QB for an extra year at a much cheaper rate.
Tennessee could also opt to use this pick to take their favorite remaining CB, their third and arguably greatest need. However, with the draft class being so deep at the position, dealing the pick again and moving back a few spots is unlikely to prevent them from finding a quality option at the position.