There is a select group of offensive tackles at the top of the 2022 NFL Draft who have all at different times been listed in mock drafts as the top player taken at the position and even the No. 1 overall pick. Alabama's Evan Neal has stayed roughly at the top spot since last season ended, but North Carolina State's Ikem Ekwonu and Mississippi's State Charles Cross have shown ability on tape to be the best tackles in the class. In fact, my list starts with the latter, who broke out in 2021.
---
Click here for more PFF tools:
Rankings & Projections | WR/CB Matchup Chart | NFL & NCAA Betting Dashboards | NFL Player Props Tool | NFL & NCAA Power Rankings
Best Bets Tool
---
Strength: Flawless Technique
Weakness: Inside Moves, 2020 Season
Cross, once a five-star prospect, was brought in to be a road-grading tackle in Joe Moorhead's triple-option offense. Following Moorhead's firing after the 2019 season, Mississippi State went in an entirely different direction, bringing in Mike Leach and switching the team's offensive philosophy from run-heavy to pass-heavy.
With the entire offense trying to adjust to these changes in 2020 along with the pandemic, the results were abysmal for both Cross and the entire offense. Fast forward one year, and Cross is one of the best tackle prospects in this class. He's improved everywhere: He anchors bull rushers with strength and power, maintains discipline against speed rushers and has strong mitts to get into defenders' chests and stop them in their tracks. There are some plays on tape where he gets beat by quick inside moves, but which tackle in this class hasn't been caught with his proverbial pants down on inside rushes?
If we take the stance that the coaching change was a big factor in Cross' not-very-good 2020 year and assume his 2021 campaign is who he really is, you could make a very real argument he's the best overall player in the draft. 
Charles Cross' PFF Grades 2020-2021
| | | | |
| --- | --- | --- | --- |
| Season | PFF Grade | Pass-Block Grade | Run-Block Grade |
| 2021 | 86.7 | 84.9 | 87.2 |
| 2020 | 64.4 | 60.7 | 72.0 |
Projection: Top-10 Pick
Strength: Continuous High-Level Play
Weakness: Balance
Neal was the No. 1 overall tackle prospect coming out of high school in 2019 and started as a true freshman at Alabama after winning the job in the preseason. His first two games with the Crimson Tide didn't go very well, as he produced lowly 27.6 and 37.1 pass-blocking grades against Duke and New Mexico State, respectively. If we take out that pair of outings from his 2019 sample — a fair exercise given the context already noted — he finishes his true freshman season with a very respectable 74.5 grade.
Getting his feet wet in 2019 then led to an excellent middle and end to his Alabama career, posting 83.7 and then 85.8 grades the last two years. Neal is a monster of a human being, listed at 6-foot-7 and 350 pounds on the official Alabama website with some athleticism built in. It sometimes feels like he is almost too big for his own good and his feet can get off-kilter. His balance has been a bit of a problem throughout his career both as a pass-protector and a run-blocker. Cross and Neal are closer to 1A and 1B rather than first and second, with their rankings really being in the eye of the beholder.
Projection: Top-10 Pick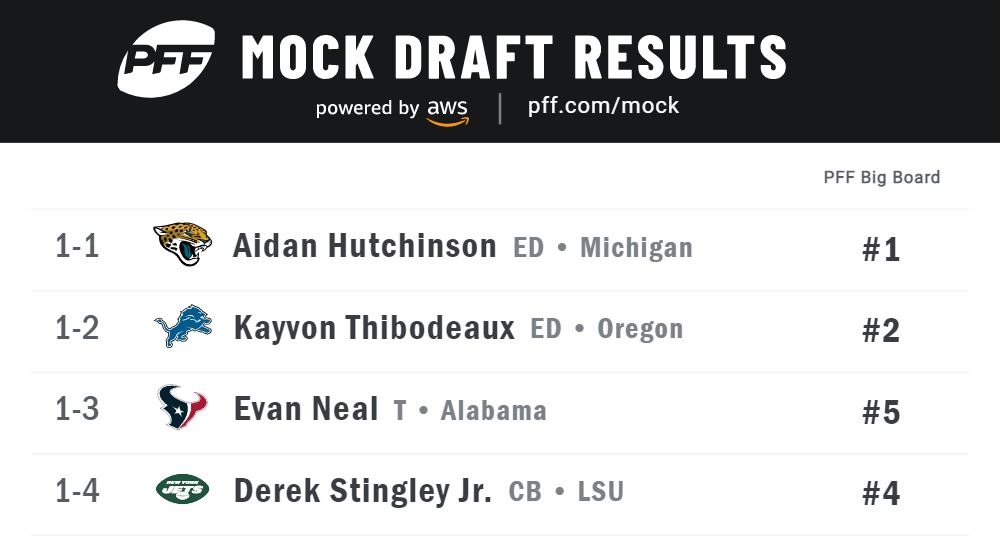 Strength: Tenacity
Weakness: Center of Gravity
Ekwonu seemingly burst onto the scene this season, but he's been playing at a high level since his true freshman season of 2019, just like Neal. His career started in Week 3 that year when he saw snaps against West Virginia, and it's been smooth sailing ever since. A 78.9 grade was followed by an 80.6 grade the next season before finishing his career at 91.6 in 2021. Ekwonu stands out as a tenacious run-blocker who absolutely mauls defenders all the way to the whistle on every snap. 
| | | |
| --- | --- | --- |
| Player | Career Positively Graded Run-Block Rate | Career Negatively Graded Run-Block Rate |
| Ikem Ekwonu | 21.9% | 14.4% |
| Evan Neal | 17% | 15.3% |
| Charles Cross | 14% | 11.8% |
The issues come in the pass protection realm. Ekwonu can sometimes lean into pass rushers and lose his center of gravity. Better pass-rushers will be able to get off an inside move or just snatch him and take his body where it's already leaning and get by him. He was able to immobilize a lot of pass-rushers doing this, but it remains to be seen whether NFL veterans will use it against him. 
Projection: Top-15 Pick
---
Related content for you:
2022 NFL Mock Draft: Jacksonville Jaguars select Alabama OT Evan Neal at No. 1 overall, Aidan Hutchinson lands in Detroit at Pick No. 2
via Trevor Sikkema
---
Strengths: Experience
Weakness: Experience
Raimann was a foreign exchange student coming over to Michigan for high school. He found football, became a tight end and eventually wound up at Central Michigan. He will most certainly lead this offensive line class in total catches, as he caught 10 in each of his first two seasons as a Chippewa. Mercifully, he was moved to tackle for the 2020 season and performed well at his new position with a 75.1 grade. At the same height as Neal, he's quite a bit leaner — listed at only 305 pounds. And once he found his footing, it was off to the races.
In his second season, Raimann boosted his grade all the way to 94.6. You could see his evolution through his tape as he started out this past season, playing against some top-level defenses at LSU and Missouri by letting pass-rushers have easy access to his chest. His hands were slow to punch defenders before they got to him, and it let the opposing player have control of Raimann.
As the MAC season wore on, though, you could see the execution and technique start to come around. From Week 7 against Toledo on, he didn't post a pass-blocking grade below 80.0, and he didn't allow a pressure or a sack during that span of six games. There's so much clay to work with to mold Raimann into a very good player at the NFL level, which is why his listed strength and weakness are both "experience."
Right now, he's just finding his groove at the position, but there still is a chance he never actually does find it at the NFL level. 
Projection: Late First-Round/Early Second-Round Pick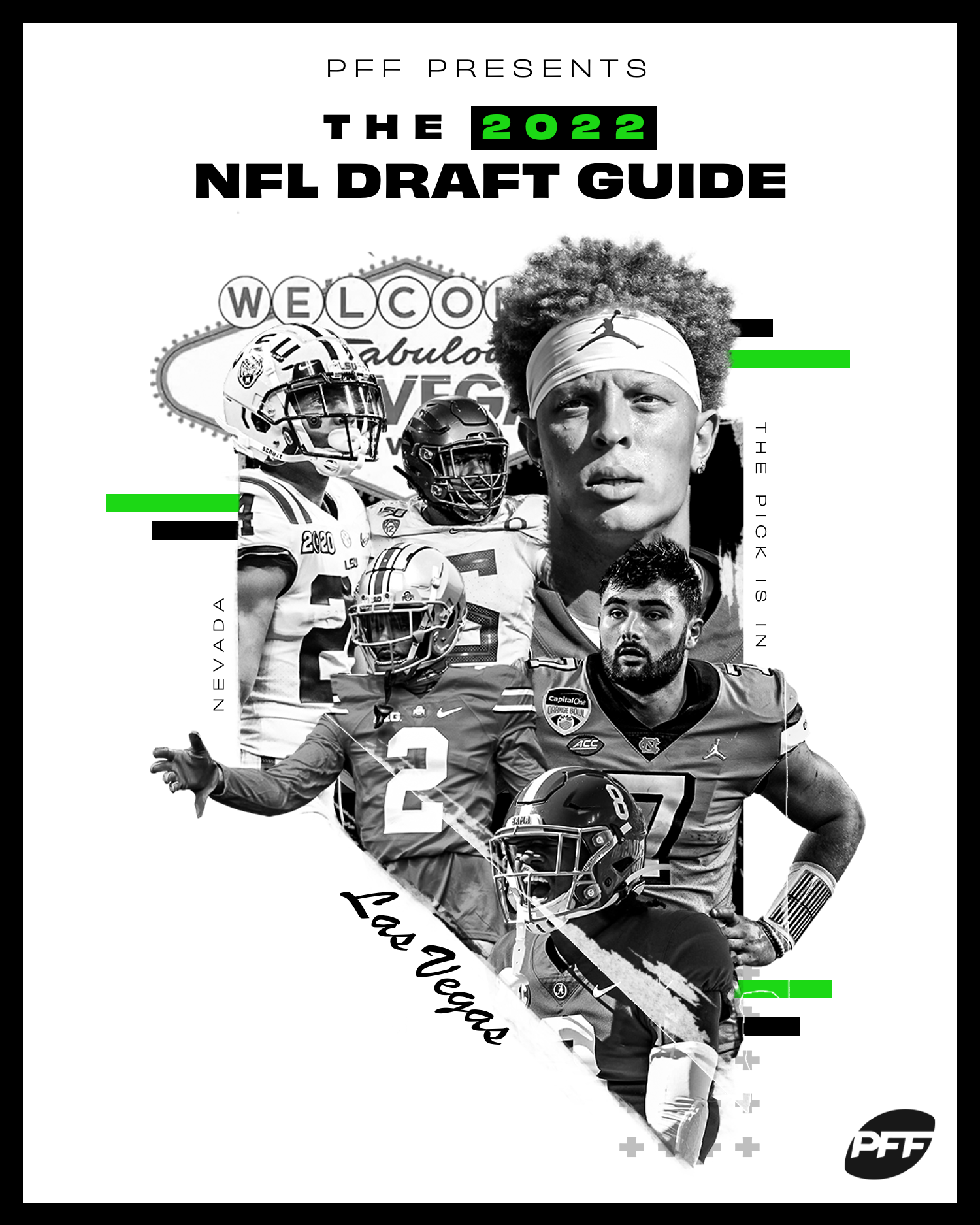 Strength: Size
Weakness: Opponent Strength, Athleticism
Penning played exceptional football at Northern Iowa this season, finishing with a 97.3 grade. At 6-foot-7 and 321 pounds, he is physically imposing and stood out at the FCS level. He played against FBS opponents only twice in his career, 2019 and 2021 games against Iowa State, but performed well as a pass-blocker with 76.1 and 84.0 such grades in those two games.
Still, there are some plays against lesser rushers where he is driven back into his quarterback's lap, his size maybe being a hindrance to him. Sometimes, you'll also see quicker players get to the edge against him. With that said, a 97.3 grade is nothing to slouch at. There are some kinks to work out, just like with Raimann, but there is an NFL-caliber starting tackle somewhere within Penning. 
Projection: Early Second-Round Pick