The talk surrounding the 2022 NFL Draft has been anchored by the top prospects. This is understandable given that the hit rate is obviously far lower toward the end of the draft, but the Day 3 prospects should not be completely ignored, as they can outperform their draft status. There are plenty of intriguing prospects that are going to be selected in the last few rounds of the 2022 NFL Draft or go undrafted that should be on your team's radar.
---
Click here for more PFF tools:
Draft Guide & Big Board | Mock Draft Simulator
Dynasty Rankings & Projections | Free Agent Rankings | 2022 QB Annual
Player Grades
---
Below are eight names that are all rightful Day 3 prospects but come with some reason to believe they can outperform in the NFL. 
At 6-foot-2, 248-pounds with 32-inch arms, Fayad is firmly an undersized edge defender. The Western Michigan product — who didn't even garner an invite to the NFL scouting combine — will likely be one of the last picks of this upcoming draft. While his physical profile leaves a lot to be desired, Fayad makes up for it with an advanced pass-rush ability that could help him succeed in some capacity at the NFL level. He has generated a 91.3 pass-rush grade and 19.8% win rate since 2020, and the Western Michigan Bronco procured the second-best pass-rush grade at the East-West Shrine Bowl.
Fayad is a man with a plan every down and can win in a variety of ways, but his highlight reel is littered with snaps where he baits tackles before winning with his spin or ghost rush. He times the snap and uses his hands well. His physical tools leave a lot to be desired, but he's refined and knows how to play the game. Fayad is a sleeper in the 2022 NFL Draft, and renowned pass-rush specialist Chuck "Dr. Rush" Smith agrees.
Western Michigan edge Ali Fayad getting Utah OT Bamidele Olaseni with the ghost move

Both have been standouts at the @ShrineBowl pic.twitter.com/V7qc3pT2zz

— Anthony Treash (@PFF_Anthony) January 31, 2022
With a slender frame, below-average length and less-than-ideal speed, Goodrich is slipping down NFL boards. All of this is understandable, but it could allow a team to steal the Clemson corner if he slips too far into Day 3. His size was never an issue at Clemson, as his physicality shined on tape. He is an instinctive and fluid corner who was quietly one of the best cornerbacks in the country last season. Goodrich was the most valuable cornerback in the ACC in 2021, allowing no touchdowns while intercepting two passes and breaking up seven others in the process. The ex-Tiger also held his own at the Senior Bowl, as he finished sixth of 16 cornerbacks in coverage grade during practice.
Volson has been one of the top tackles in the FCS over the last few years, but he is going to be a Day 3 selection who will end up at guard in the NFL. His subpar athleticism will kick him inside, and then there will be concerns about the 6-foot-6 lineman's pad level swelling too high. He also has a tendency to attack with wide hands. Still, there's plenty to like regarding Volson's potential, especially as a Day 3 pick.
The former North Dakota State Bison is strong and makes sure his opponent feels it. He is a violent blocker who has top-notch grip strength and carried his strong collegiate production into the Shrine Bowl. Volson lost just two of his first 49 pass-blocking reps en route to a position-leading 99.9 pass-blocking grade in practice.
North Dakota St. OL Cordell Volson has been one of the biggest winners at the @ShrineBowl so far. Plays with aggression and has such a strong frame.

Allowed just 15 pressures (no sacks) across 974 pass-block snaps playing mostly tackle at NDSU. pic.twitter.com/XVONY0evYu

— Anthony Treash (@PFF_Anthony) February 1, 2022
It's no secret that Melton's situation at Rutgers was incredibly underwhelming. Taking out screens since 2020, his catchable target rate was the seventh-worst among Power Five wide receivers, and it was the worst from 2017 through 2019. He doesn't have a problem creating separation, as he produced a separation rate that stood at the 86th percentile nationally over the last couple of years. Melton is an explosive and speedy receiver who did everything he could to produce highly-regarded deep receiving numbers with the Scarlet Knights. He ranked 19th in the Power Five in deep receptions since 2020 (15) while posting the second-most uncatchable deep targets (23). Melton is also shifty and excellent at selling vertical routes, which enables him to create separation when he throws on the breaks. Some team could get a steal with the Rutgers product after his lackluster situation hid his full talent.
---
Related content for you:
2022 NFL Draft: Is Travon Walker worth a top-five pick? via Ben Linsey
---
Kolar is a big tight end at 6-foot-6 and 252 pounds with 34.5-inch arms. He blew testing out of the water during his pro day, turning in a 4.67-second 40-yard dash, 1.62-second 10-yard split, 6.98-second three-cone, 35.5-inch vertical and 120-inch broad jump. On top of that, he's consistently been one of the highest-graded tight ends over his collegiate career, as Kolar has been a top-10 graded player at the position in each of the last three seasons. The Iowa State tight end has been reliable, posting just five drops on 256 career targets, and is a natural at finding soft spots against zone coverage while also holding his own against single coverage. His blocking is suspect, though. 
The Georgia pro day was full of uber-athletic Bulldogs, but a 6-foot-1, 300-pound guard from Mercer was also in attendance and caught the attention of some scouts after his elite showing: 
Jason Poe at Georgia's Pro Day today (w/ guard percentile historically):

6'1", 300
34 bench (92nd percentile)
4.89 40 (99th)
1.72 10 (90th)
31.5 vertical (89th)
9'3" broad (92nd)

Apparently was asked to workout at FB, too. https://t.co/decxPx1DkA

— Anthony Treash (@PFF_Anthony) March 16, 2022
Poe can flat-out move for his size. With the help of his athleticism, pulling is his specialty. While he laid down some impressive big-time blocks, he didn't impose his will enough as he should have given the competition level. Poe's awareness is also a work in progress, and he needs to do a much better job playing in control and staying low. His lack of experience is partially responsible, but at the end of the day, whichever team drafts Poe is taking a swing on his rare tools. A lot of his game needs to be reworked, but that's to be expected on Day 3. The only likely scenario where he sees the field right away is at fullback on the goal line. He is small, and it may take some time and good coaching for it to pay off, but Poe's athleticism is worth investing in.
Thompkins is pure electricity. Despite posting some of the best receiving numbers of anyone in college football last season, the Utah State product is viewed as a Day 3 option because of his size, as there aren't many 5-foot-7, 167-pound productive receivers at the NFL level. Thompkins does, however, have the traits to be a diamond in the small receiver pool that's been tossed to the wayside. At his pro day, Thompkins turned in a 4.35-second 40-yard dash, 38.5-inch vertical, 132-inch broad jump, 6.93-second three-cone and 4.18-second pro agility. He's innate at setting up defensive backs with the stems of his routes, which helped him lead the country in deep receptions (24) and yards (906) in 2021. Thompkins ended up with an impressive 87.1 receiving grade for his breakout campaign. His lack of size pushes him to the end of the 2022 NFL Draft, but Thompkins has what it takes to overcome the odds.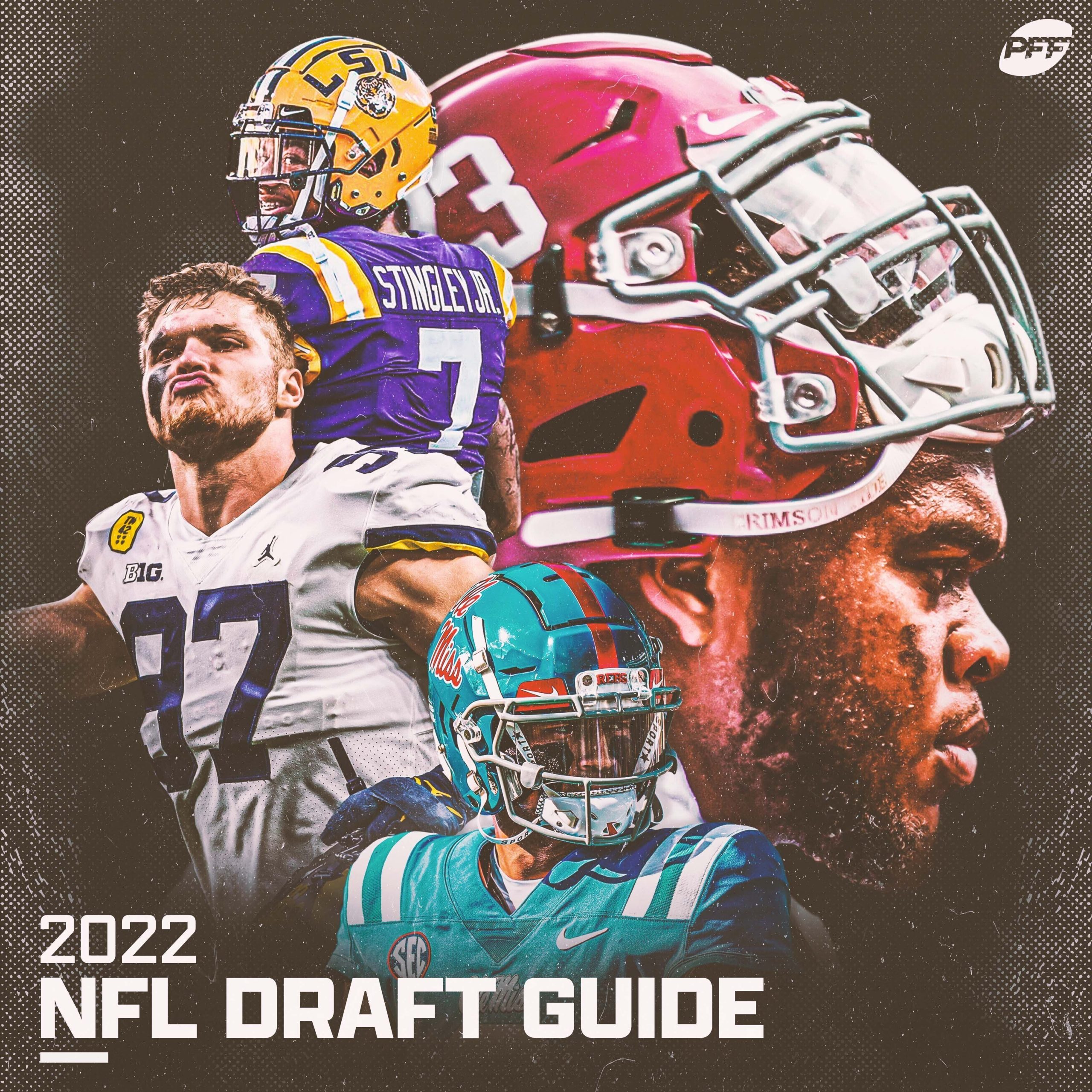 Butler was a reliable defensive back and special teams ace for the Ragin' Cajuns in each of the last three seasons. He produced a PFF grade on defense over 77.0 in each year while earning a collective 90.3 special teams grade in that span. The 6-foot, 194-pound safety has legit range, as evidenced by his 4.36-second 40-yard dash, and displayed sharp read-react ability. He isn't the biggest safety, but he certainly plays like it. Butler is likely to be an early Day 3 selection. Regardless of where he ends up on the third day, the team drafting him will get good value.