On paper, the 2021 safety class looks like easily the most loaded group at the position in the past few cycles. Whether they all declare, or even get to play, this fall remains to be seen. The top six on this list are all legitimate candidates to work their way into the first round, However, the quest to be the coveted first safety off the board is still well up in the air.
Subscribe to
1. Ar'Darius Washington, TCU, Redshirt Sophomore
We get it, he's 5-foot-8, 178 pounds with fewer than 500 snaps played in his career. Now, tell me what he does poorly on an actual football field. If you're trying to poke holes in Washington's game based on his 2019 tape, it's going to take you a while. He was lights-out from start to finish in a redshirt freshman campaign that saw him end the season with the highest grade of any safety in the country.
Washington simply processes and reacts at a different level than any other safety in the country.
This might be the best play I've ever seen a Quarters' Safety make… sees #2 going Vertical and bending for the Slot Fade, hears the China call which means he knows he's gonna get Corner help, so he peeks at #1 to see him running the Sluggo, comes off, bats the ball up. Unreal. pic.twitter.com/bLj4NskcY5

— Coach Vass (@CoachVass) June 8, 2020
His tape is so chock-full of plays where he seemingly breaks before anyone should know where the ball is going that you'd swear he has opposing teams' playbooks.
TCU's Ar'Darius Washington (@ad_washington24) is something SPECIAL.

????Natural ball skills and playmaking ability
????Fluid hips and quality range
????Triggers downhill with intensity
????Undersized, but sound and tenacious tackler
????Earl Thomas vibes?

Definite name to monitor. pic.twitter.com/xa2Co2fovr

— Carter Donnick (@CDonnick3) June 12, 2020
The things you often worry about with a player his size — tackling and playing the catch point — weren't issues for Washington whatsoever. He missed only three tackles on 48 attempts all last season. He gave up a mere five catches and had four downgrades in coverage all season. He had as many picks (five) as catches allowed. The only reason to not put him as the No. 1 safety right now is his size, and that's not enough to outweigh his vast positives.
2020 Outlook
Obviously, we'd love a larger sample size to draw from with Washington. You're never going to get much more than split-field looks from Gary Patterson at TCU, so don't expect any big role change from Washington this season. The scary thing is, I'm not sure where Washington can even take his game from here. If there is another level to him, it's going to be unlike anything we've seen in the PFF College era.
2. Jevon Holland, Oregon, Junior
Holland is as accomplished as any safety in the draft class after earning an 89.6 coverage grade in his true freshman campaign and an 85.3 coverage grade this past season while playing more in the slot. He's had 20 combined picks and pass breakups over that span to rank second among safeties in college football.
Oregon's Jevon Holland finished the 2019 season ranked third in @PFF grade (82.7) among Power 5 slot cornerbacks — impressive slot/box safety prospect. pic.twitter.com/k17ysjqTD3

— Austin Gayle (@PFF_AustinGayle) July 13, 2020
His film is solid, but it rarely screams special. Holland is a middling athlete with below-average physicality. He has missed 18 tackles on 129 attempts in his career and has run-defense grades of 52.8 and 72.4 in his two seasons. The NFL may ultimately see him as a slot cornerback instead of a true safety with his limited range and ability in the box. That's never a good thing for your draft stock.
2020 Outlook
With no 2020 season, it's going to be difficult for Holland to show he has improved his physicality prior to the draft. Without being able to show that, it's difficult to see him going any higher than the back end of Round 1.
3. Andre Cisco, Syracuse, Junior
Can I interest you in a 6-foot, 209-pound true junior with 4.3 speed and the best ball production of any safety in the country over the past two seasons? Meet Andre Cisco, the Syracuse safety who, quite frankly, shouldn't be putting up the numbers he has in a program like Syracuse's. He had seven picks and eight pass breakups as a true freshman in 2018 and then followed it up with five picks and five pass breakups in an injury-shortened sophomore campaign. Cisco is the best playmaker at the position in college football.
Andre Cisco's tape is a bit of a roller coaster (gives up some big plays/takes risks), but he can really click & close — dude has some legit speed/explosiveness.

Cisco (6-0, 210) has clocked a 4.33s 40, per @BruceFeldmanCFB. pic.twitter.com/DHPrYqZORp

— Austin Gayle (@PFF_AustinGayle) July 22, 2020
At times, he can also be the biggest liability. Whether it's his tackling woes (23 misses on 152 career attempts), his inability to get off blocks or his penchant for biting on double moves, Cisco has a ton to clean up in his game. The most head-scratching of which is his play against the run. Cisco is an explosive specimen who checked in at 25th on Bruce Feldman's Freaks List. In one-on-one situations, he hits like a brick. But when asked to come up and play in the box, he turns into a cornerback.
2020 Outlook
Eliminate the negatives. Cisco's physical tools and ball production may still allow him to come off the board in Round 1, but he could be a top-10 pick if he eliminates the ugly from his tape. While PFF's top safety, Ar'Darius Washington, was downgraded four times all season in coverage, Cisco saw 34 downgrades.
4. Hamsah Nasirildeen, FSU, Senior
A torn ACL late in Nasirildeen's 2019 season kept him from entering the 2020 NFL Draft. While he's listed as a safety here, Nasirildeen has really done it all for the Seminoles in his career. From deep safety to slot to linebacker —you name it, he's played the role. You can even go back to 2018 and watch him playing in press coverage split wide against Tee Higgins on the goal line. He's got that kind of versatile body type (6-foot-4, 220 pounds) and athleticism.
This pick from Florida State's Hamsah Nasirildeen is hilarious. Nos. 10 and 71 just never stood a chance haha

No. 10, btw, is listed as a 6-foot-2, 230-pound wide receiver lol — baby kelvin benjamin pic.twitter.com/4L0nzvele7

— Austin Gayle (@PFF_AustinGayle) July 17, 2020
What Nasirildeen doesn't have are the big plays. He's a clear step below someone like Isaiah Simmons when it comes to new-age hybrid defenders. In his two seasons as a starter, he has three picks and three pass breakups in total. At the moment, Nasirildeen firmly toes the "jack of all trades, master of none" line. Certain schemes will covet that versatility, but unless he can prove to be excellent in one role, it's difficult to see him going high in the 2021 NFL Draft.
2020 Outlook
Obviously, Nasirildeen's health is priority number one. Proving he's all the way back from his ACL is why he returned to school in the first place. From a draft stock perspective, I think he can push to go the highest if he buys into the linebacker role. There aren't many guys playing that position with his movement skills, whereas his height and length would be wasted playing deep safety. If he comes to the combine in the 225-to-230-pound range he could be a Round 1 linebacker.
5. Trevon Moehrig, TCU, Junior
Safeties at Nos. 2-5 on this list are all incredibly close on PFF's draft board, and each has a legitimate shot at leaping to the top spot when it's all said and done. Moehrig is the opposite of teammate Ar'Darius Washington in that he checks the physical boxes wholesale. At 6-foot-2, 207 pounds, Moehrig has the length to play the catch point from behind receivers, and he consistently did so en route to 12 pass breakups last season.
Former @SV_RangerFB standout Trevon Moehrig (@TheReal_Tre7) was highest-graded coverage safety in FBS per @PFF_College…Trevon also earned All-Big 12 honors this year. Had breakout season for #TCU…Former #KSATelite12 player. @valleyventana @SV_Rangers pic.twitter.com/a3jW7Vaqtm

— RJ Marquez (@KSATRJ) January 16, 2020
The rising junior also hits like a truck and forced two fumbles last season where he simply hit the ball carrier so hard that they couldn't maintain control. He's not nearly as smooth as his teammate in coverage, but Moehrig is explosive and has good range on the back end.
2020 Outlook
Moehrig struggled mightily last season recovering from false steps. He has to show more balance and patience in TCU's split-field looks this season to move up draft boards. He allowed seven passes targeted 10-plus yards downfield last season compared to one for Ar'Darius Washington.
6. Caden Sterns, Texas, Junior
There are reps on Sterns' tape where you see why he was a decorated five-star recruit back in 2018. The 6-foot-1, 207-pound safety glides across the field like a cornerback who's 20 pounds lighter. He has tight end eraser physical tools, and you see that natural ability when he plays man coverage.
However, processing route concepts and overall play speed are concerns for Sterns. You see the wheels turning in his head too often. He's consistently reacting to obvious stimuli instead of seeing how a play is going to develop and breaking before it does. The play below against Oklahoma State is a prime example of that.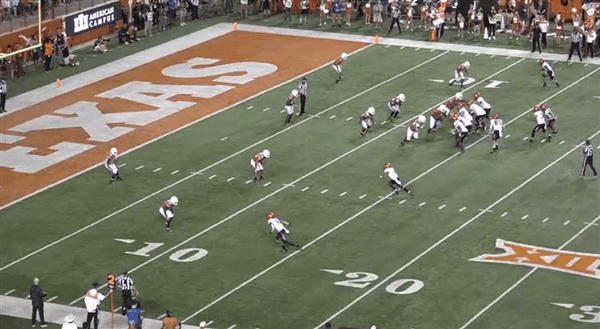 While the coverage may call for him to back into his half, there's no other receiver who is a threat to go vertical on that side. Instead of recognizing that and cutting down the space between him and the receiver, Sterns stares at the quarterback flat-footed. A poor throw saves him, but that never should have even been an option.
2020 Outlook
The game has to speed up for Sterns in 2020. However, it's not like we're asking a redshirt senior to change his stripes. Sterns is still very young as a rising junior and can be forgiven for not playing like a seasoned vet at this point.
7. Reed Blankenship, Middle Tennessee State, Senior
Blankenship joins Washington, Cisco and Moehrig as one of the four safeties on this list who also made Bruce Feldman's Freaks list. You routinely see his easy movement skills in space, as he never seems to get off balance. He can move seamlessly from the slot to deep and never look out of place.
Reed Blankenship takes it 100 yards to put @MT_FB up big going into halftime! pic.twitter.com/amIqWFiUQX

— Conference USA (@ConferenceUSA) October 27, 2018
Where Blankenship does get in trouble is in the box. He will probably never be a preferred box safety in the league. He gets driven backward against pretty much every block he faces, and he's far too quick to leave his feet as a tackler and grasp for shoelaces. If a team is drafting Blankenship, it's because of what he can do in coverage.
2020 Outlook
While I've advocated for guys on this list to play slot or linebacker at the next level, Blankenship's best position may actually be outside corner. His smooth hips and explosiveness are his biggest selling points, while physicality and tackling are not his strong suits. The latter has to improve for him to be picked on Day 2.
8. Paris Ford, Pittsburgh, Redshirt Junior
A former cornerback for the Panthers, Ford too often looks like a cornerback who was dropped in at safety. Some of the angles  he took when tasked with a deep role were disastrous. He was at fault for two different 50-plus yard passes in his coverage this past season.
Ford does have an uncoachable mentality for the position, though. He is out for blood snap after snap and is willing to put his body on the line to prove it. That's rare for a 6-foot, 190-pound safety.
I'm fully prepared to run through a wall for Paris Ford after watching him against Virginia Tech.pic.twitter.com/q3u9cuF4Dz

— Carter Donnick (@CDonnick3) June 9, 2020
You can tell through his tape that he's a student of the game, and ithat's likely why he still graded out fairly well (74.9 in run defense, 73.9 in coverage) in his first year at safety despite some glaring hiccups on the back end.
Pittsburgh's Paris Ford using the ref to hide before making a play on the crosser — savvy. pic.twitter.com/0eq7X2haWR

— Austin Gayle (@PFF_AustinGayle) July 15, 2020
2020 Outlook
Ford has the range to be an early-round pick at the position. He just needs more reps at this point. The flashes are exceptional, but knowing when to play under control and when to crank it up to full speed is a skill he still needs to develop.