As the door swings open and different styles of quarterbacks are allowed to ply their trade in the NFL, certain aspects of the position still remain constant. Being able to throw from the pocket will always be the make or break factor. When we look at the potential first-round quarterbacks — Tua Tagavailoa, Justin Herbert, Jordan Love and Joe Burrow — they all have question marks surrounding their ability to do so. Looking at what we chart as "straight dropbacks" gives us a glimpse into some of these questions.
[Editor's note: Check out PFF's 2020 Mock Draft Hub, NFL Draft Big Board and NFL Mock Draft Simulator. PFF Elite subscribers can also download the 1,250-page 2020 NFL Draft Guide.]
Tua Tagavailoa, Alabama
Biggest Question: "What happens when we remove the receivers?
Tagovailoa grades extremely well in our system — his 93.0 two-year grade on straight dropback passes ranks second in the class. He's been groomed to be a quarterback for a long time, and I believe, aesthetically, it's made him look almost robotic in his movements. A natural righty, the left-hander throws without any glaring mechanical issues — although, he could find ways to create more torque via hip-chest disassociation before he throws. Trying to separate Tagovailoa from the gimmick offense that Steve Sarkisian employed for him last year at Alabama is interesting. It's certainly not Tua's fault that Sarkisian wanted to take shots downfield all the time. You would, too, if you had Jerry Jeudy, Jaylen Waddle, Henry Ruggs and Devonta Smith. It wasn't quite the modern Run n' Shoot that coaches like Josh Heupel employ, but it's a tremendously vertical attack nonetheless. With the absurd talent at receiver at Sarkisian's disposal, not attacking downfield at will with double moves and shot plays would have been malpractice.
Tagovailoa's 2018 tape shows off a slightly more realistic setting when trying to imagine him, conceptually, in an NFL passing attack. Mike Locksley, Tua's offensive coordinator that year, gave him more progression reads that attacked the intermediate parts of the field. The rate at which Tagovailoa threw the ball to the intermediate parts of the field (8 to 20 yards) increased by 8.5 percentage points in 2018.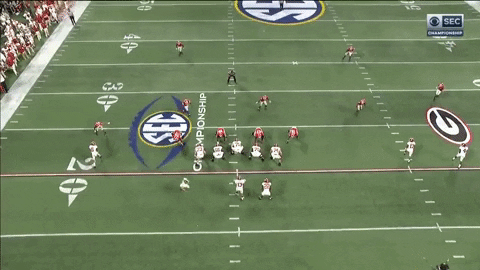 If you can get the Tua Tagovailoa who can do this on a consistent basis — a big if — he can be a tremendous NFL player. The problem is that he hasn't shown this ability consistently. In the 8-to-22 yard range, Tagovailoa's 2019 grade was a disappointing 81.9, which ranked 28th in this class and was below some guys who are probably on their way to starting a challenging yet fulfilling accounting career. When we look at what we chart as "horizontal lead" throws at any distance, Tua ranks 12th in the class. He can be a little jumpy with his eyes when an intermediate concept is called. He's not as efficient with his feet when going through reads as you'd like to see. He might look like a well-rounded quarterback as he moves around with quick foot movements while building a good base to throw, but the results haven't matched the look.
Where Tagovailoa won consistently was down the field. His 99.5 grade on throws past 22 yards is 3.2 points higher than anyone else. His 58.2% adjusted completion percentage dwarfs the next highest in that category (51.5%). The deep ball passing is clearly what props up Tua's overall grade.
Oh, and he gets injured a lot.
*pulls ejector seat*
Subscribe to PFF Edge to continue reading
Already have a subscription? Sign In