Each week at PFF, we've given you an overview of all the top draft-eligible quarterbacks across the college football world, with eyes towards the 2018 NFL draft. Now nine weeks into the season, with reputations building and some performances shining, we continue our rankings of these top 12 draft-eligible quarterbacks.
Below you will find the top draft-eligible quarterbacks from across the country, and how they stack up against one another in both traditional and advanced statistics, ranked by their overall PFF grade so far this season. While these rankings are obviously not how they'll either finish, nor how they are projected to be drafted, these rankings serve as a guideline to rank how each quarterback has fared for their respective teams, while our advanced stats further depict how they may fare at the next level.
With that, here are our takes on the top 12 draft-eligible quarterbacks, that you won't get anywhere else.

1. Baker Mayfield, Oklahoma – 96.4 overall grade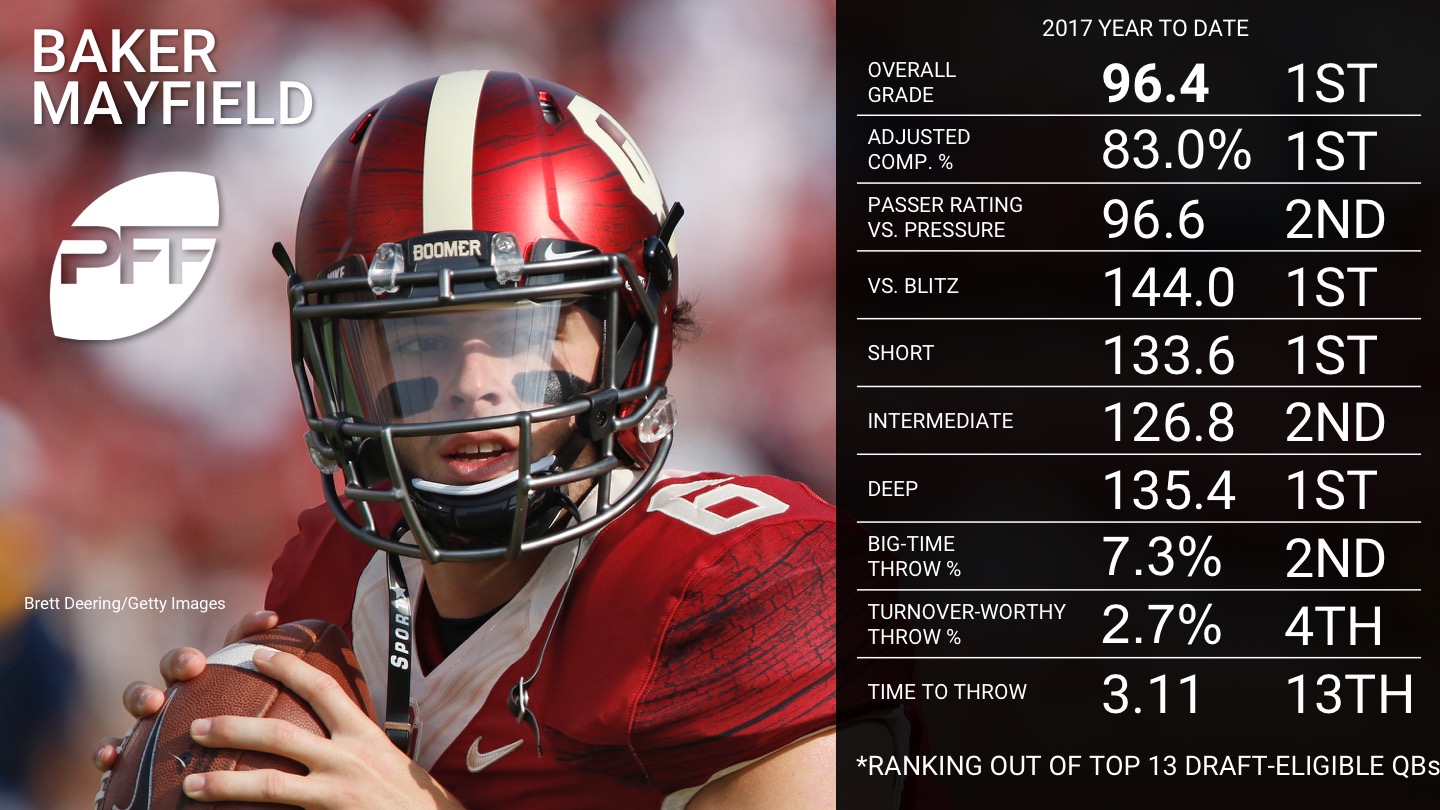 Game Grade vs TCU: 91.4
The best player in college football delivered on a big stage once again. Mayfield showed all the throws, placing a corner route on the move in stride that ended up being bobbled and dropped for a would be touchdown, moving within the pocket to find digs over the middle of the field, and his best throw of the night up the seam in the red zone, placed over the linebacker and in between the safeties for a first quarter score. His down field ability was on display as well, going 4-of-6 for 120 yards and two touchdowns on throws traveling 20-plus yards in the air. Most impressively, on non-play action attempts Mayfield finished with a perfect passer rating of 158.3, going 16-of-20 for 322 yards and three touchdowns. With the accuracy, decision-making, and playmaking instincts, he continues to show he's worthy of possibly being the first overall selection come April.
2. Will Grier, West Virginia – 92.0 overall grade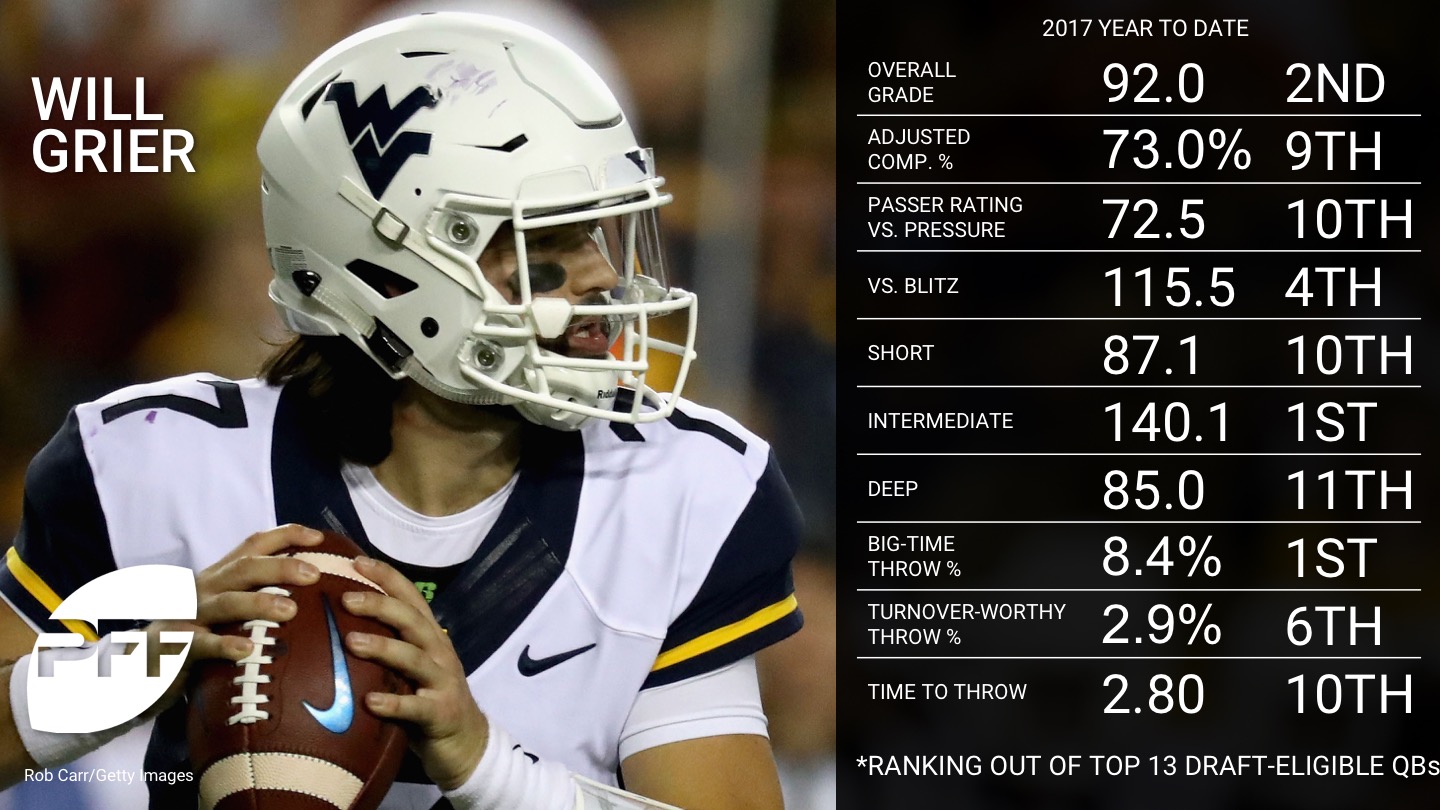 Game Grade vs Kansas State: 82.7
It was another solid game for Grier who continues to run the West Virginia offense at a high level. He came off his first receiver multiple times to move the chains while showing off his touch on a well-placed deep throw at the end of the first quarter and following it up with a post for a touchdown that he put right on his receiver in red-zone traffic. Perhaps Grier's most spectacular play, and the one that left some scratching their heads, was at the end of the first half with 10 seconds on the clock and in field goal range, Grier passed up the quick pass and eventual field goal to break the pocket and find his receiver in the end zone for a miracle 30-yard touchdown. Grier missed on a few throws up the seam, down the field, and on a short slant, but overall it was a clean outing with his top-end playmaking ability on display.
3. Mason Rudolph, Oklahoma State – 91.2 overall grade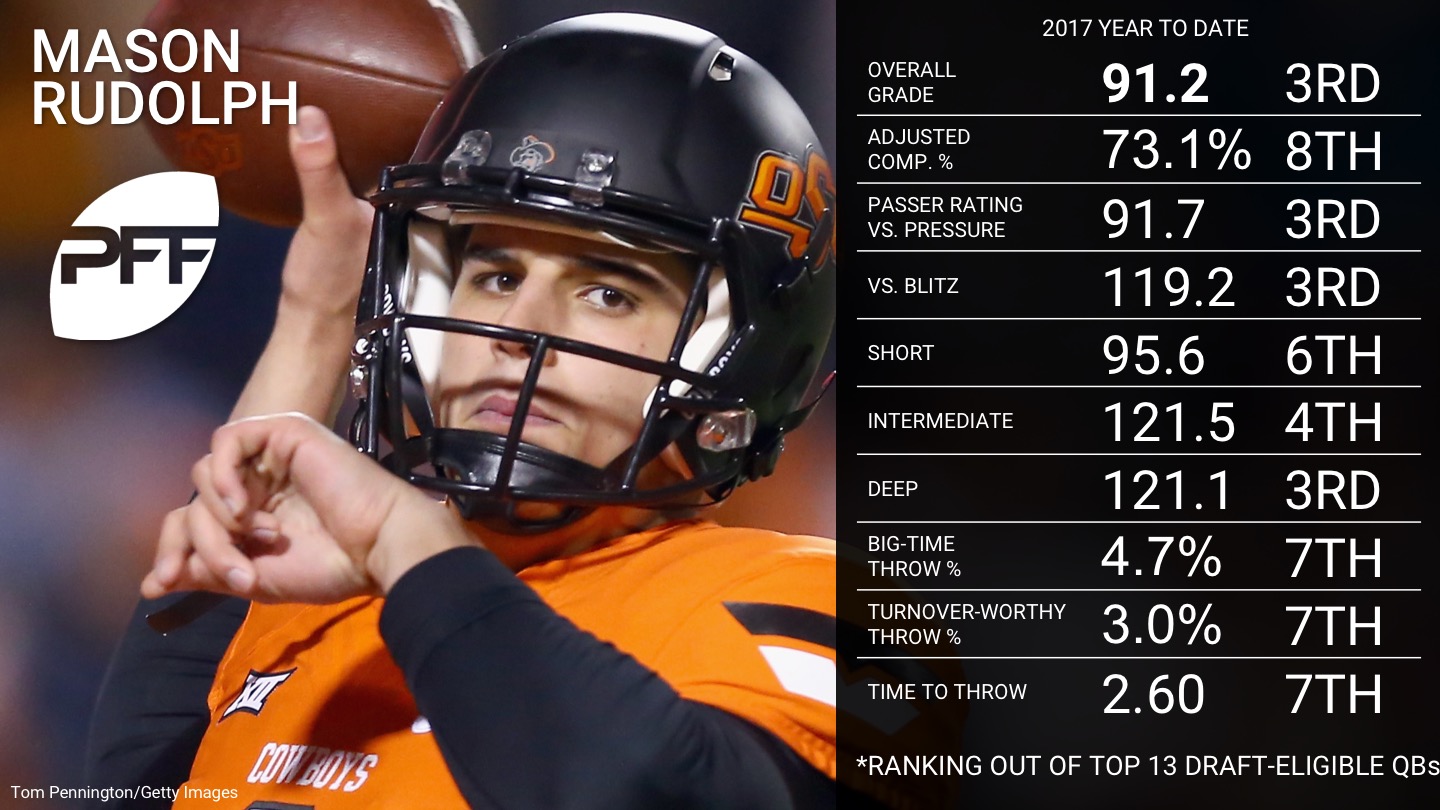 Game Grade vs Iowa State: 92.2
Rudolph played a clean game, finishing 25-for-31 for 376 yards and three touchdowns in Oklahoma State's win over Iowa State. He simply didn't miss throws, throwing efficiently at the intermediate (10-19-yard) level going 6-for-9 for 160 yards while dominating down the field with a line of 5-for-6 for 127 yards and two touchdowns. He had his usual array of open throws that get created through the scheme, but also a few impressive tight-window throws, including a touchdown up and away from coverage and a cover-2 shot. Overall, it was one of Rudolph's best games of the season.
Join PFF Edge for the rest of the rankings, including Lamar Jackson, Josh Rosen, Josh Allen and many more.
Subscribe to PFF Edge to continue reading
Already have a subscription? Sign In