A lot of talk has surfaced about the recent departure from Ohio State by Nick Bosa. Although he hasn't played in some time, he was largely considered the best edge defender in all of college football and even topped our latest draft board despite his injury.
Bosa's departure opens up not only the top spot among edge defenders it also got us thinking: which team currently has the Power-5 conferences' best edge defender duo? We hit the PFF play-by-play grades on every player during every game to shed a little light on the subject.
This list of top edge defender duos is brought to you by Eckrich, the Official Smoked Sausage of the College Football Playoff.
While these 10 players each have been impressive in their own right, their collective force as a duo was quantified by their aggregate ranking out of 183 edge defenders in the Power-5 who have played at least 150 snaps on defense this season. The top five Power-5 edge defender duos as we enter Week 8 are: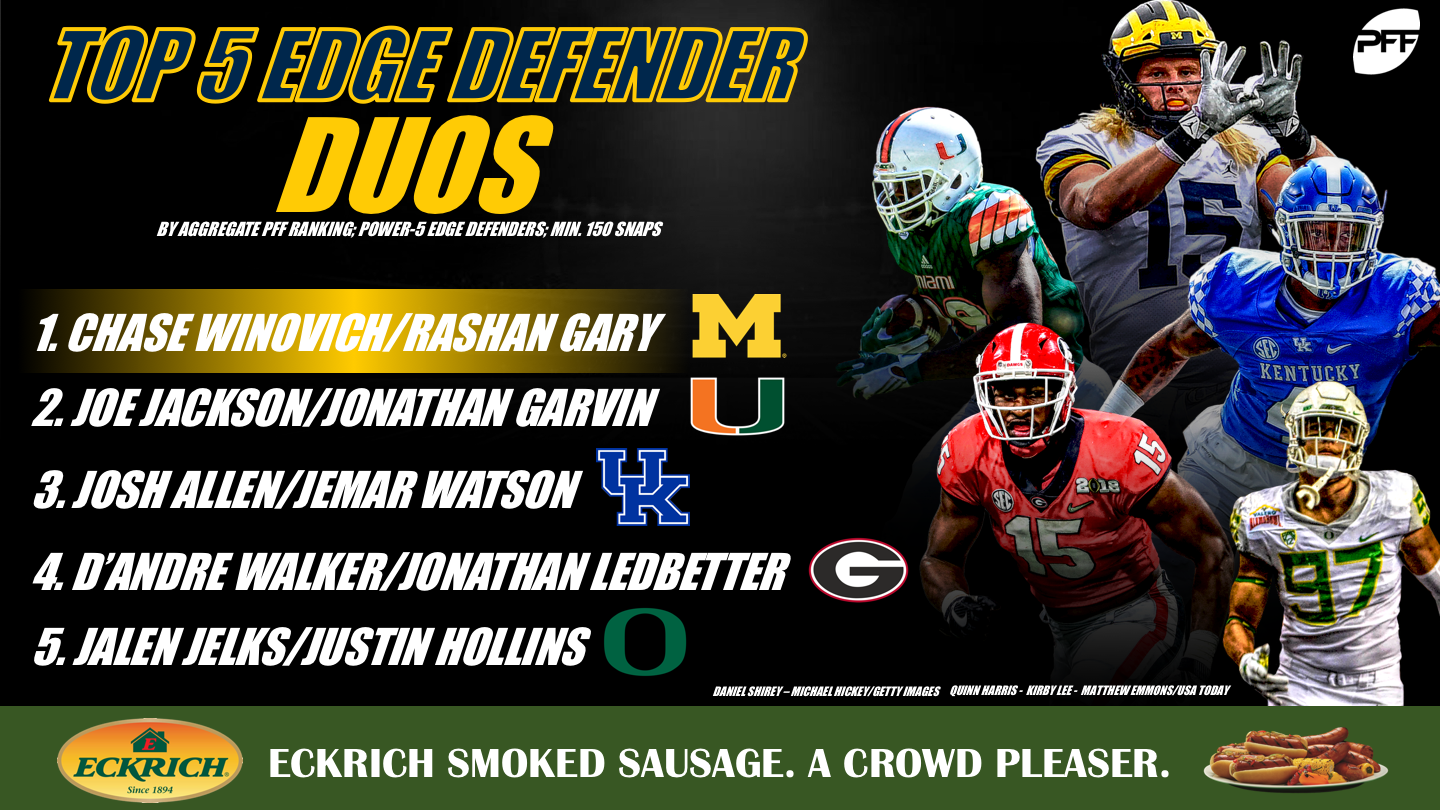 1. Chase Winovich & Rashan Gary, Michigan
The only duo to find themselves both in the top 15 of the individual rankings, Winovich and Gary have been unstoppable this season for the Wolverines. Winovich holds the edge with 29 total QB pressures, getting home on three sacks and nine QB hits with an additional 17 hurries compared to Gary's 18 total pressures that include three sacks, five QB hits and 10 hurries. Winovich has won 19.1% of his pass-rushing snaps this season and his 18.5% pressure percentage per rush is the highest among any Power-5 edge defender with 150 pass-rushing snaps.
Gary has rushed the passer less than Winovich yet his pass-rush productivity which measures pressures created on a per-snap basis is ranked 10th among all edge defenders with at least 100 pass-rushes. Gary's presence on the field (when healthy enough to do so) combined with the fact that they both have run-defense grades in the top seven among the group, and you've got yourself one complete set of bookend edge defenders.
2. Joe Jackson & Jonathan Garvin, Miami (Fl.)
Jackson headlines the Hurricanes duo here, checking in just behind Winovich and Gary. Jackson has recorded 28 pressures this season including 11 combined sacks and hits (5 sacks, 6 hits) while he's also been an incredibly solid tackler and has a highlight-reel pick-6 against UNC to cap his season's performance to date. This takes nothing away from Garvin who has racked up 19 pressures of his own also including five sacks, but they get it done in different ways and in different facets.
Jackson's 19.8% pass-rush win percentage is 10th among this group of edge defenders with 100 pass-rushes, while Garvin's 18 stops in run defense are second only to Winovich while his 12.2% run-stop percentage ranks eighth.
3. Josh Allen & Jemar Watson, Kentucky
The top-ranked edge defender in all of college football has buoyed the Kentucky defense to their surprise 5-1 start. Allen leads the nation with his 27.8% pass-rush win percentage and is nearly 4.0 whole percentage points higher than any Power-5 edge defender. He's racked up 33 total QB pressures, second only to FSU's Brian Burns, and racked up 26 total tackles on the season with only one missed attempt to his name. He's dropped into coverage more than any defender on this list, and done so with great success, allowing just eight receptions on 13 targets and recording two pass breakups.
Watson may be the less-heralded of the two Wildcats but that shouldn't take away from his ability to both drop in coverage and rush the passer as well. He also has allowed less than 62.0% of passes thrown his way to be caught on 49 coverage snaps and also recorded a pass breakup in addition to 17 QB pressures on just 78 rushes.
4. D'Andre Walker & Jonathan Ledbetter, Georgia
We highlighted Walker this offseason, stating that if you lowered the snap-count threshold to just 100 snaps from all of 2017, he finished with the highest pass-rushing productivity. With an extended role in the Bulldogs defense this season, he's rewarded Georgia with more of the same, ranking sixth among the group of Power-5 edge defenders with a 21.7 pass-rush productivity. He's brought in 21 pressures on just 120 pass-rushing snaps while he's won 20.8% of his pass-rushes this season.
Opposite Walker is Ledbetter, who shines in run defense. In fact, all 10 of his defensive stops have come against the run and his 13.3% run-stop percentage is fourth in the Power-5.
5. Justin Hollins & Jalen Jelks, Oregon
Hollins and Jelks are putting together one of the more productive edge rushing complementary pairs in the nation, racking up a combined 38 pressures, 30 defensive stops and three batted passes at the line of scrimmage. Hollins has won on 18.2% of his pass-rushes this season and has done an admirable job when dropping back into coverage, something he's done on 75 occasions in 2018, bringing in an interception and a pass breakup on five targets.
Jelks moves around the defensive front for the Ducks and though he's only recorded one pressure in each of his past three games, he's still brought down multiple defensive stops in all but one matchup this season.