Penn State running back Miles Sanders is having a fantastic season for the Nittany Lions, eclipsing the 1,000-yard mark this past week against Wisconsin. He's shown that he's a very capable runner through 10 games and has compiled the fifth-best rushing grade of any running back in the Big Ten.
Yet, it was inevitable this season that his success would not be compared to that of his peers, but to his predecessor in Saquon Barkley, the No. 2 overall selection in the 2018 NFL Draft and the New York Giants starting running back.
This feature is brought to you by Eckrich, the Official Smoked Sausage of the College Football Playoff.
If they are going to be compared, it should be done fairly and equitably. At Pro Football Focus, we go beyond the raw stats to tell you the full story using advanced metrics that take into account a player's individual performance.
In that light, to make it a fair comparison, one must compare Barkley's first 10 games of his sophomore season in 2016 against Sanders' first 10 games this year, for good reason:
Penn State ran a different scheme under former offensive coordinator John Donovan in 2015
Barkley did not start or consistently see the field for the first five to six weeks of 2015
Through the first 10 games of these respective seasons, Sanders actually has a better overall grade at 80.1 than Barkley's 79.0. He has also done more with fewer touches as a runner with 34 fewer carries (166 to 200) to this point in the season. His yards per carry are a full half yard higher at 6.1 yards per carry to Barkley's 5.5. Also, despite his growing reputation as a fumbler, Sanders has only lost one more fumble (3) than Barkley had through 10 games.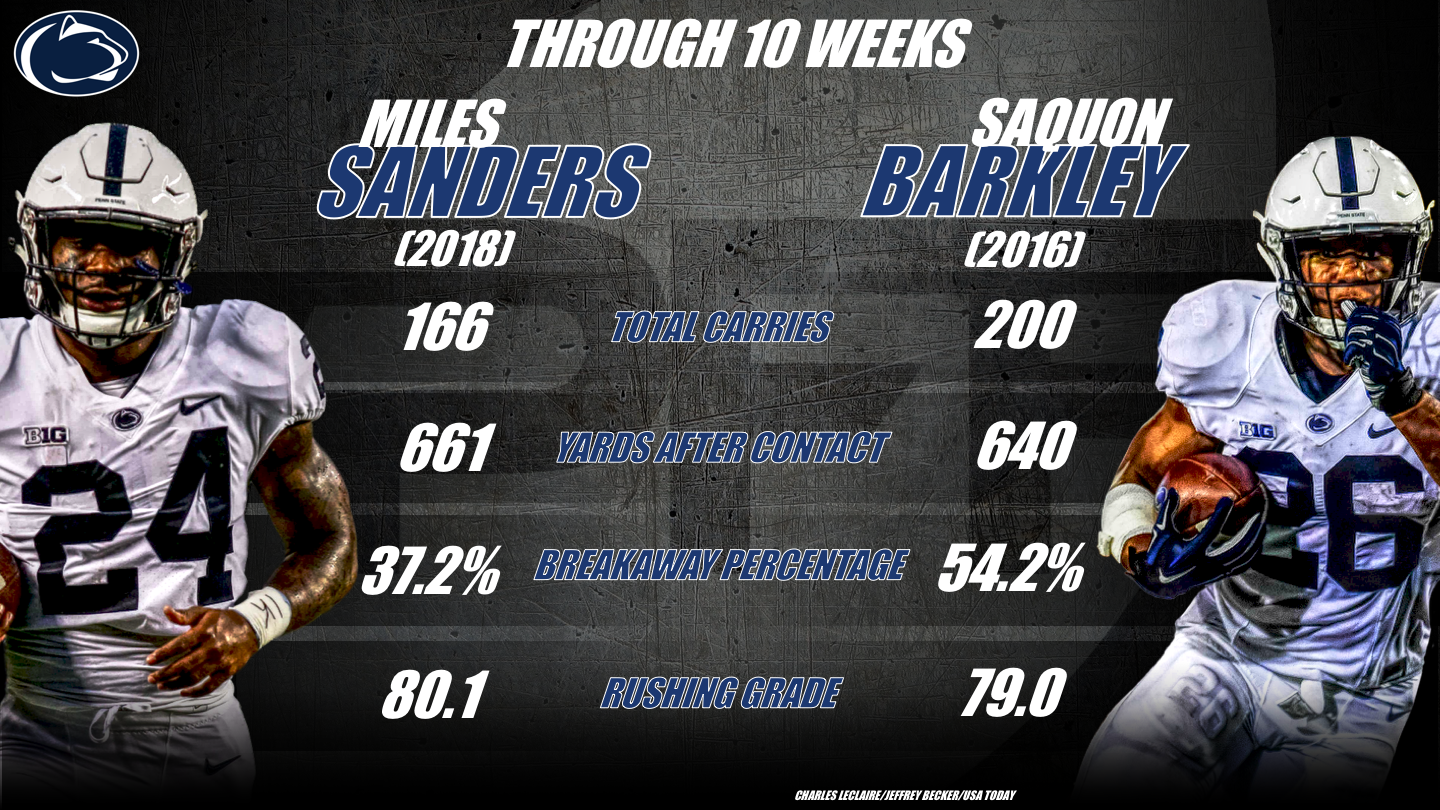 The difference between the two runners comes in how they have gotten their yards. Sanders shines through contact, averaging nearly a full yard more per rush after contact at 3.98 to Barkley's 3.20. Despite adding 15 pounds in the offseason between his sophomore and junior year, Barkley's yards after contact never jumped past 3.20 and in fact, it went down in 2017 to 3.14.
Sanders has gained 661 yards after contact on 166 carries through 10 games, while Barkley gained 640 yards after contact, but on 200 carries in 2016. Sanders also has eeked out first downs at a higher frequency than Barkley did, rushing for a first down 41 times on his 166 attempts compared to Barkley's 44 first-down carries on those 200 attempts.
While Barkley was a true breakaway threat in college, seeing a breakaway percentage of 54.2% through the first 10 games of the 2016 season, Sanders has only broken away on 37.2% of his rushing attempts. A breakaway run is classified as any carry that goes for over 15 yards. Sanders has gained roughly two-thirds of his rushing yards on runs of under 15 yards while Barkley rushed for over half of his on runs of 15 yards or more.
As much of a 'breakaway threat' that Barkley was in 2016, both runners actually have accumulated 33 runs of 10 or more yards at the 10-game mark of their respective seasons.
Yet, Barkley possesses a true boom-or-bust running ability, a runner who can break off highlight-reel runs but also struggles to consistently gain yards in college. Sanders is a tough runner who nearly always gains positive yards but doesn't possess the breakaway speed/ability of his predecessor (few do).
In the Penn State system, both players have shown their ability as complete backs. Sanders has never given up more than one pressure per game and just five this season, better than Barkley's first 10 games in 2016 where he surrendered eight pressures and two hits on the quarterback.
What truly separated Barkley as a 'generational talent' was his prowess in the passing game. Barkley was clearly more effective as a receiver, and that's okay since that is not Sanders' game. Both backs caught 17 receptions through 10 games but Barkley gained 291 yards to Sanders' 120.

By comparing more than total rushing yards it should be clear to see that Sanders and Barkley are both great runners with completely different styles. Sanders is a punishing runner who gets yards between the tackles and will seemingly always get positive yards. Barkley is a home-run threat who is shiftier in space and out of the backfield.
With plenty of comparisons of the current Nittany Lion to his predecessor, keeping in mind their differences in style of play, it's clear that Sanders is a completely different back than Barkley. And that's just fine.