It feels like they are constantly overshadowed by SEC rivals Alabama but the strength of Georgia defense is why they are the team best positioned to beat the Crimson Tide, either in the SEC Championship Game or in the College Football Playoff. From front to back, this is a unit that has as much strength in depth as it does star power, and it is why the Bulldogs once again have a legitimate shot at a National Championship.
This feature on Georgia is brought to you by Eckrich, the Official Smoked Sausage of the College Football Playoff.
Deandre and D'Andre
If you're looking for stars on the Georgia defense, it starts with cornerback Deandre Baker. Our highest-graded cornerback in the nation so far, Baker has allowed just 14 receptions for 111 yards in coverage through six games. He has yet to allow a touchdown this year, and has six pass breakups and two interceptions, resulting in an NFL passer rating allowed of 35.2. For context, an incompletion in the NFL is worth a passer rating 39.6, so opposing quarterbacks would have been statistically more successful if they just dropped back and threw the ball away than targeting Baker.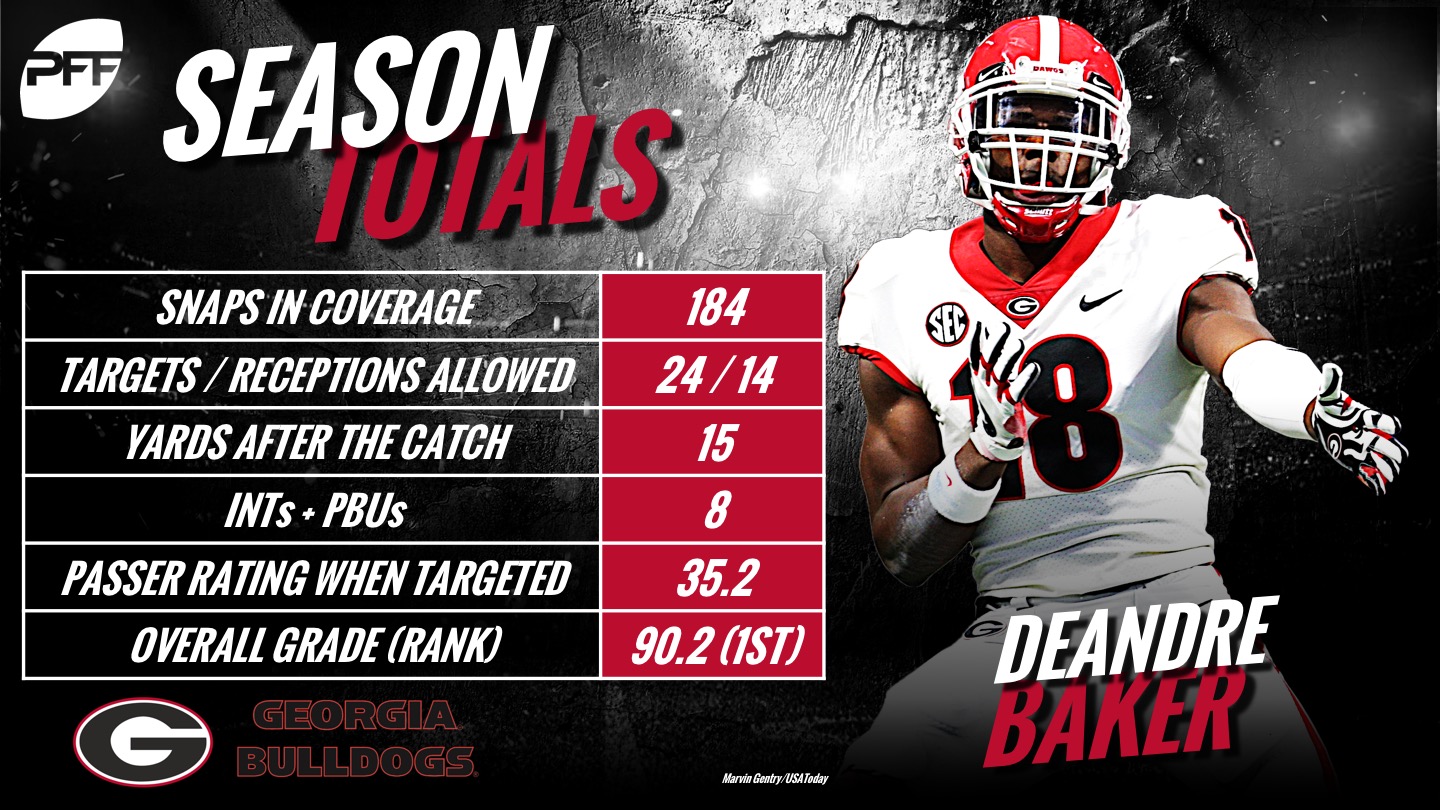 His streak of games without allowing a touchdown in coverage now stands at 21 games, and in that same span, he has allowed 50 yards or more in coverage just once, against No. 1 overall draft pick Baker Mayfield and the Oklahoma Sooners. Having that level of success on the back end of your defense provides a safety blanket, and also essentially takes away a receiver every time an opposing offense steps on the field.
If Deandre Baker is a nightmare for opposing quarterbacks in terms of shutting down opposing receivers, edge defender D'Andre Walker is a nightmare for the level of pressure he can bring. Walker ranks 12th in the nation in PFF grade among edge defenders and has racked up four sacks, six hits and eight hurries through six games. He's not just a pass-rusher though, with a PFF run defense grade of 75.3, and has even done a solid job on his 22 snaps in coverage, and has missed just two tackles so far this season.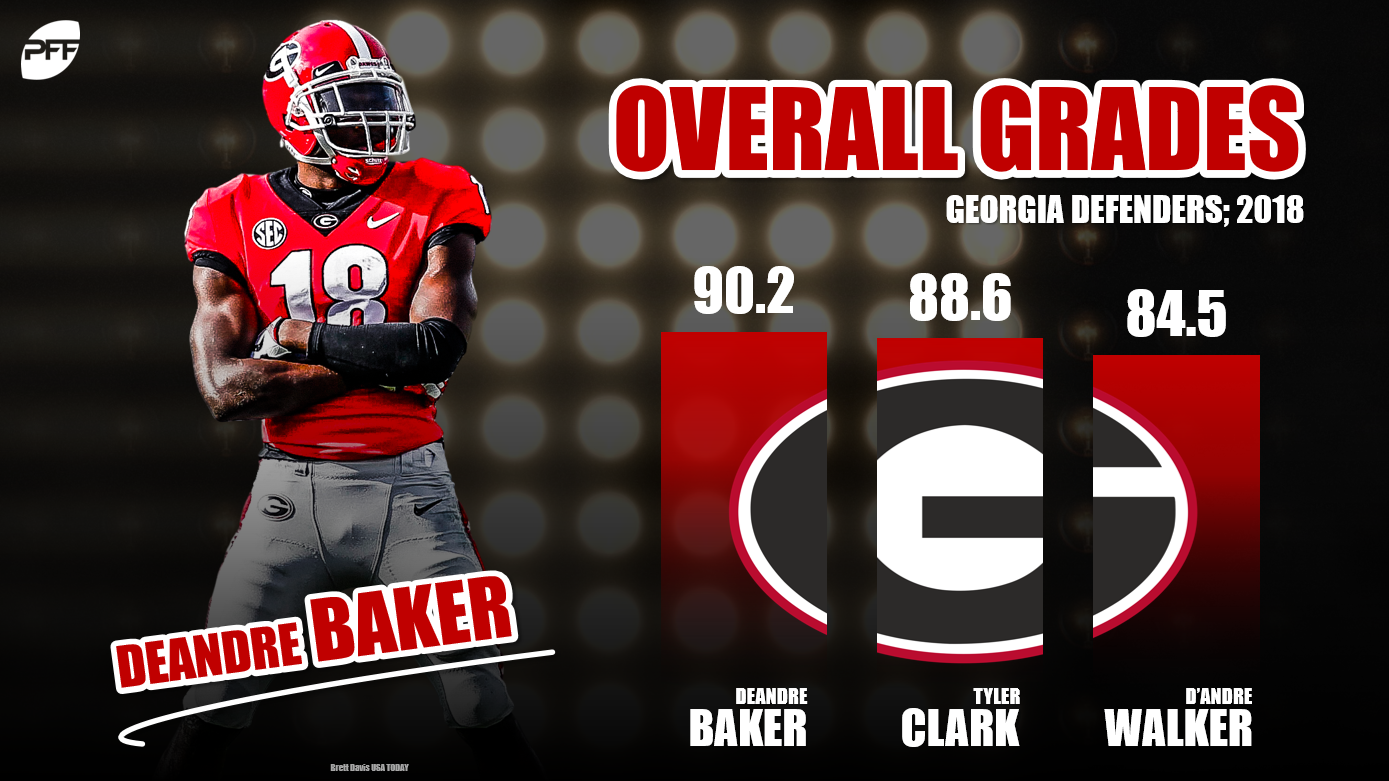 Strength in depth
Beyond Baker and Walker, Georgia's defense is also boosted by the fact that are ridiculously strong further down the depth chart. 21 players on their defense have played at least 40 snaps this year and produced a PFF grade of 70.0 or higher. For context, Alabama's defense has 16 players who meet the same threshold, while Ohio State have 15. This is a defense which can survive injuries and still thrive, and has the talent to cause opposing offenses significant problems with the strength of their rotation, while also being able to keep their top players fresh.
William Poole (80.4), Eric Stokes (78.0), Tyson Campbell (75.8), Mark Webb (73.7) are the four cornerbacks on the defense along with Baker, and Poole is the only one of those who has missed a tackle this year. The top five cornerbacks on the Georgia defense have combined to miss just one tackle through six games.
On the defensive interior, Devonte Wyatt (81.2), Jordan Davis (81.5) and Tyler Clark (90.4) have all posted PFF run-defense grades above 80.0, and they are joined by David Marshall (86.1) and Jonathan Ledbetter (88.2), forming a formidable front against the run.
The bottom line
Alabama has been dominant this year, and they rightly deserve all the attention they get. That being said, the No. 2 ranked Georgia Bulldogs have the strength on the defensive side of the ball to cause them, and anyone else in the nation serious problems, and the potential for these two teams to clash at the end of the year to decide the SEC Championship, and almost certainly decide the No. 1 seed in the College Football Playoff, is something every neutral-sided fan should be salivating at the prospect of.