Last week, PFF's now No.3 Georgia Bulldogs punched their ticket to Atlanta, setting up essentially a college football playoff quarterfinal in the SEC Championship game against Alabama. With that matchup now set in stone, the Bulldogs must continue to focus on taking care of their remaining business – starting this week with PFF's No. 10 ranked Auburn Tigers.
Auburn's NBA-like offense
The Golden State Warriors and Houston Rockets have shown the value of the three-point shot and giving players space in basketball. Typically, these teams produce a shot chart that is almost entirely made up of shots at or near the rim or three-pointers with little to nothing in between. Head coach Gus Malzahn and Auburn's offense has basically taken that approach with their passing game. The Tigers offense is built on the screen and quick passing game, with true deep shots mixed in when the opportunity presents itself. Here's a breakdown of quarterback Jarrett Stidham's (67.5) passing chart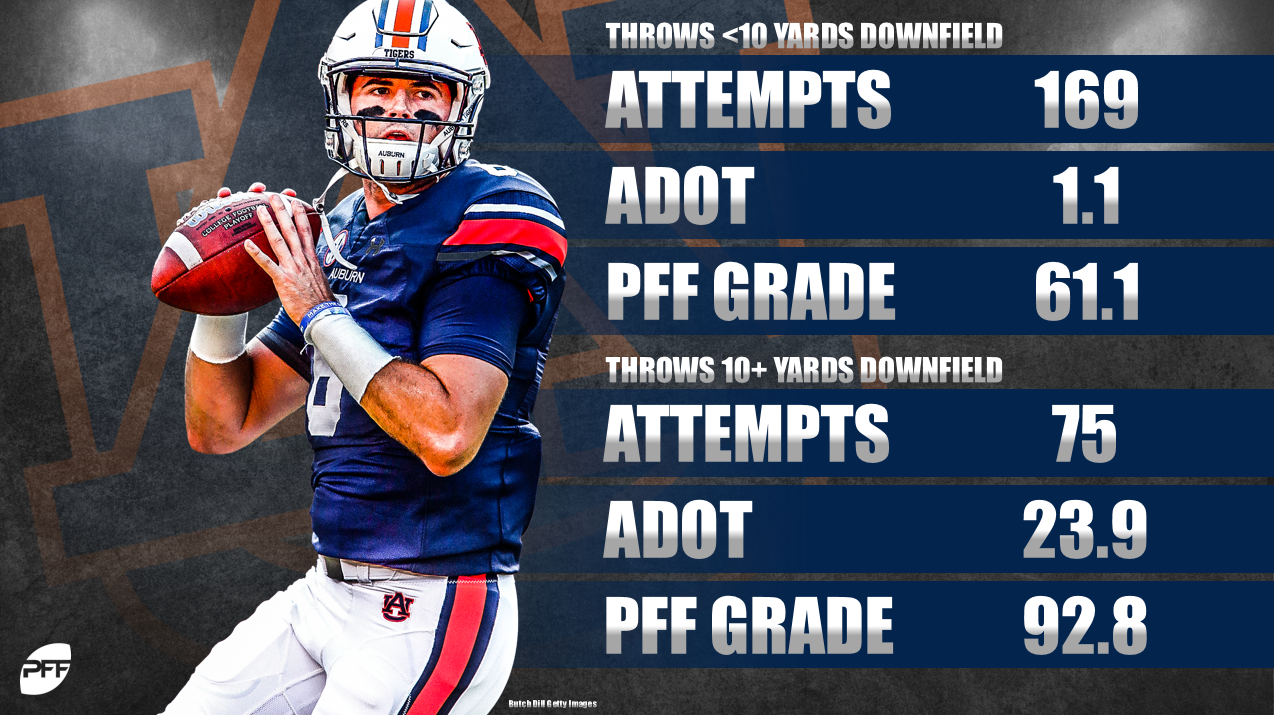 Overall, the Tigers' average depth of target is 8.1 yards or the 11th-lowest in the FBS. Thus, Auburn's passing offense greatly depends on yards after the catch (64.4% – third-highest in the FBS) or hitting those deep shots. The Bulldogs have rarely been tested down the field as their aDOT against them is 7.8 yards – second-shortest in the FBS.
Can Georgia pressure Jarrett Stidham to the point where those deep shots are not possible? The Bulldogs would sure hope so after getting a career-best performance from senior Jonathan Ledbetter (87.8 game grade) to go along with increasing contributions from their talented young players to the tune of 19 total QB pressures against Kentucky. Pressure affects Stidham more than the average quarterback as well, as his 36.9 grade under pressure is in the bottom quarter of FBS quarterbacks. In addition, he was only 3-of-14 for 48 yards against pressure in the two games against the Bulldogs in 2017.
Swift, Holyfield & UGA's O-Line
D'Andre Swift (79.0 overall grade), Elijah Holyfield (79.4) and the Bulldogs offensive line are coming off a dominating performance in the run game against Kentucky. Of the Dawgs 341 rushing yards, 224 (66%) came before contact and they also shut out Kentucky's Josh Allen in the passing game. Swift looks back to his normal explosive self after battling injuries early in the season and has ripped off back-to-back 100-yard performances while Holyfield also continues to churn out yardage and rack up the yards after contact. They'll have a stiff test against Auburn's talented and experienced front, led by our seventh-highest graded interior defensive lineman Derrick Brown (89.9).

Growing Up & Getting Better
While many might think Georgia is an experienced team given its appearance in the National Championship last season as well as their success this season, the Bulldogs are actually the youngest team in the SEC. Last week against Kentucky, 23 different true or redshirt freshman or true sophomores saw significant time against the Wildcats, 10 on offense and 13 on defense. Georgia's youth is continuing to get better and providing significant contributions at key positions. Led by sophomore left tackle Andrew Thomas (87.3), our second-highest graded tackle in the country, the Bulldogs are rushing with great success with Thomas and three other true or redshirt freshman on the line for significant snaps. Defensively, sophomore safety Richard LeCounte (80.7) is the highest-graded youngster, with sophomore defensive lineman Malik Herring (78.4) and true freshman nose tackle Jordan Davis (78.0) beginning to anchor the Bulldogs defensive line while also giving added depth.
This Georgia-Auburn preview has been brought to you by Eckrich, the Official Smoked Sausage of the Georgia Bulldogs.
While Auburn looks to shake up the college football landscape in their last two SEC games, the Bulldogs look to finish their season strong in advance of the December 1st SEC Championship in the 2018 edition of the deep south's oldest rivalry.