Trevor Lawrence, rightfully, gets all the hype as we enter the 2019 NCAA football season. After all, he was the highest-graded true freshman quarterback we've ever seen at the college level.
But what about some of the other incredible performances we saw at the FBS level last season from some true freshman quarterbacks not named Trevor Lawrence? There were plenty of them, and today we highlight those individuals.
This post is brought to you by Eckrich, the Official Smoked Sausage of the College Football Playoff.
The best of the rest
Brock Purdy, Iowa State
Purdy finished with the second-highest grade we've ever given to a true freshman signal-caller for his work in Ames last season. Purdy was dominant once finally inserted into the lineup as the starter against West Virginia in Week 7. He put forth above-average game grades in all but one contest last season (a 24-snap tuneup against Drake in Week 14) and his highest-graded performance actually came in Week 11 against Baylor.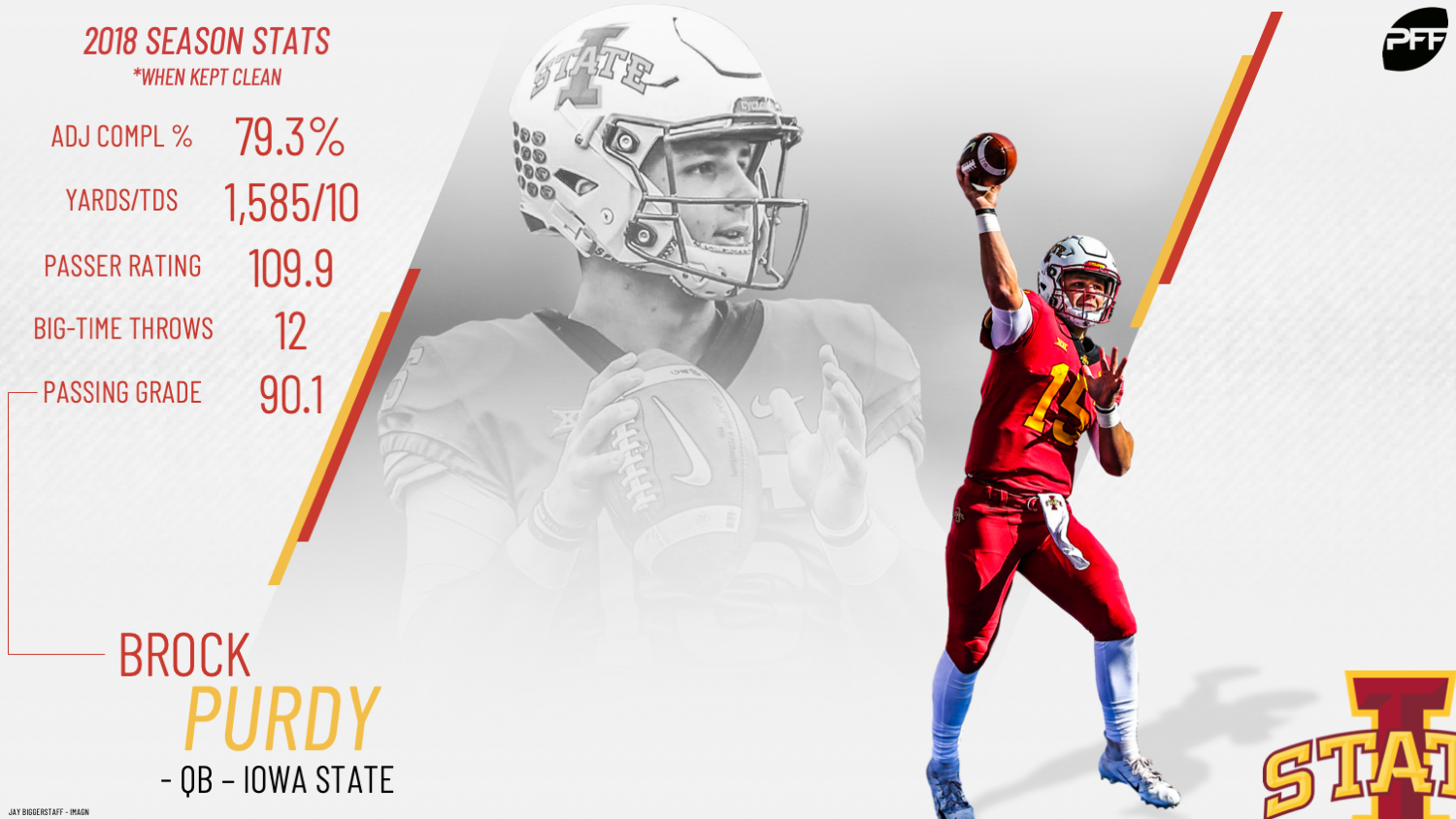 He was outstanding from a clean pocket, completing 71.4% of his passes for 1,585 of his total passing yards and a ridiculous 91.0 overall grade. Making matters even worse for Big 12 defenses, he stared down pressure like a man well beyond his years and enters the season with the Power-5's highest passer rating under pressure. On 104 pressured dropbacks, he completed 35-of-66 pass attempts for 660 yards, had a 6:1 TD:INT ratio and also leads the Power-5 in adjusted completion percentage under pressure at 71.9%.
Pressure, clean, with play action, without play action, deep, short — it didn't really matter, Purdy would have been the highest-graded true freshman in PFF College history had it not been for Lawrence, and the sky is truly the limit for the true sophmore heading into 2019.
The next tier of true sophomores
Zach Wilson, BYU
Expectations are sky-high for Wilson as he enters Year 2 on the heels of an incredible performance in the bowl game against Western Michigan. Offseason shoulder surgery aside, Wilson was impressive down the stretch in 2018 and enters this season with the sophomore class' highest passer rating from a clean pocket at 113.8. He already has a few records both at the BYU level (youngest starter) and national level (tied most consecutive completions in a row in a bowl game), and he should pick up right where he left off, which will be pivotal to the Cougars who open the 2019 season against four Power-5 opponents, three of which they get at home.
Alan Bowman, Texas Tech
It's Year 1 of the Matt Wells era in Lubbock but Year 2 of the Alan Bowman regime at the helm of the Red Raiders offense. Bowman was lights out to open the year before a collapsed lung shortened his bright season. Bowman had elite game grades in his first two starts including Week 3's contest against Houston in which he broke Patrick Mahomes school record for passing yards in a game.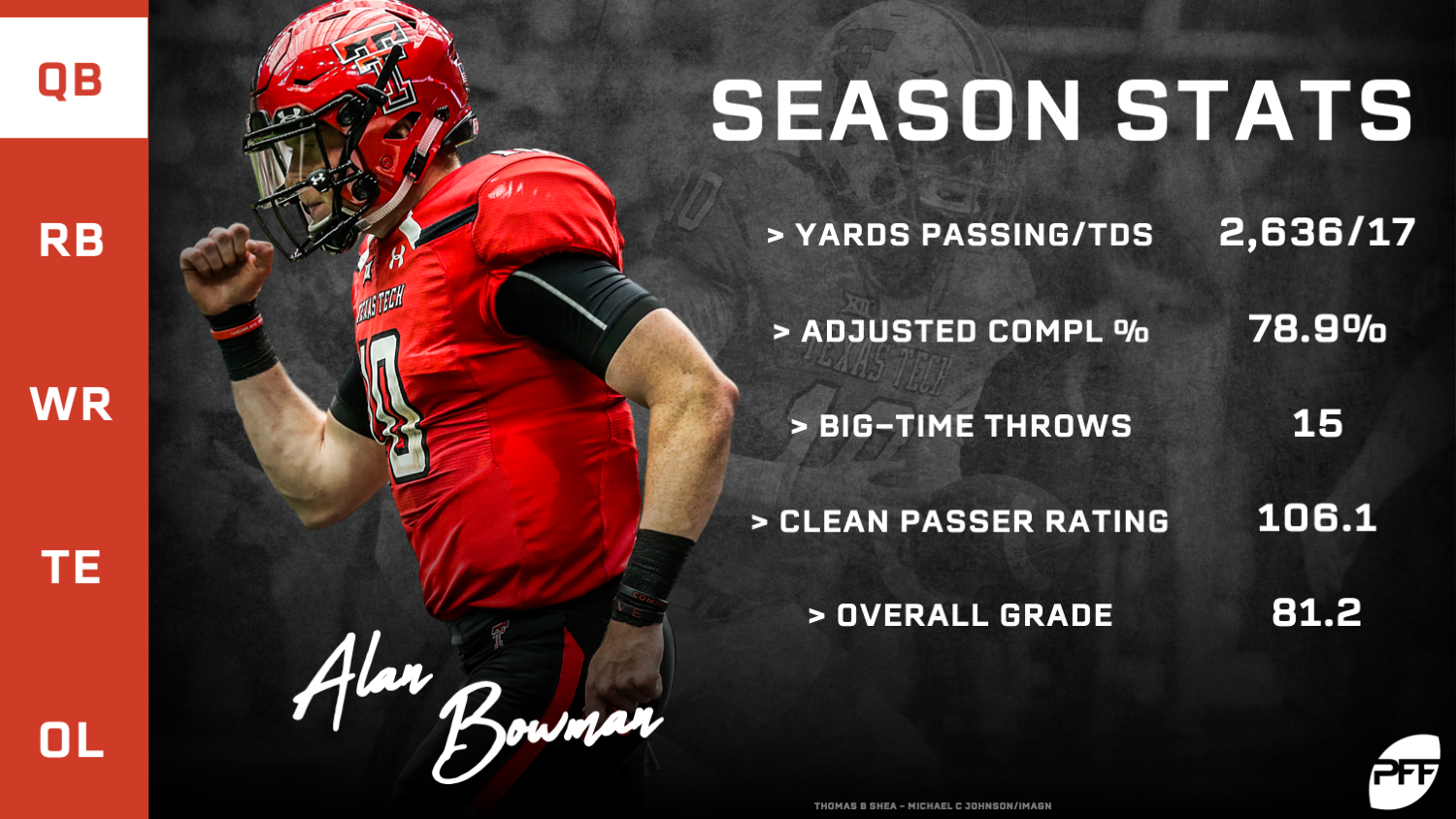 He was remarkably careful with the ball while also hitting the big play in the high-flying Texas Tech offense. Wells enters as the head coach after transforming Jordan Love into a potential NFL draft sleeper at Utah State which should mean good things for Bowman in 2019.
Sam Hartman, Wake Forest
Hartman has all the tools to potentially beat out Jamie Newman, again, to start the season for Wake Forest but the competition and another year in the Dave Clawson system should only yield good results for what was a balanced, strong true freshman season. He had some highs and some lows in his first year on campus but his three-game stretch to open the year was among the best three-game stretches we saw all season long. He handled pressure well and teased a strong deep ball and if he earns the nod, could be in store for some surprises against some ACC foes this year.
Has the tools, still work to be done
Adrian Martinez, Nebraska
All did not go well in the first year of the Scott Frost era in Lincoln, but all did end well for the most part as they won four of their last six. Adrian Martinez entered the fold as a highly-touted, 4-star recruit from California and after Tanner Lee declared for the draft, was thrust into the starting role in Frost's offense. He lit up the field in his high moments, finishing with very strong performances against Minnesota (81.9 game grade), Ohio State (83.1) and Illinois (83.3) but saw struggles against Wisconsin (57.2), Northwestern (58.2) and Michigan State (46.5) to end the season with a slighty above-average season grade.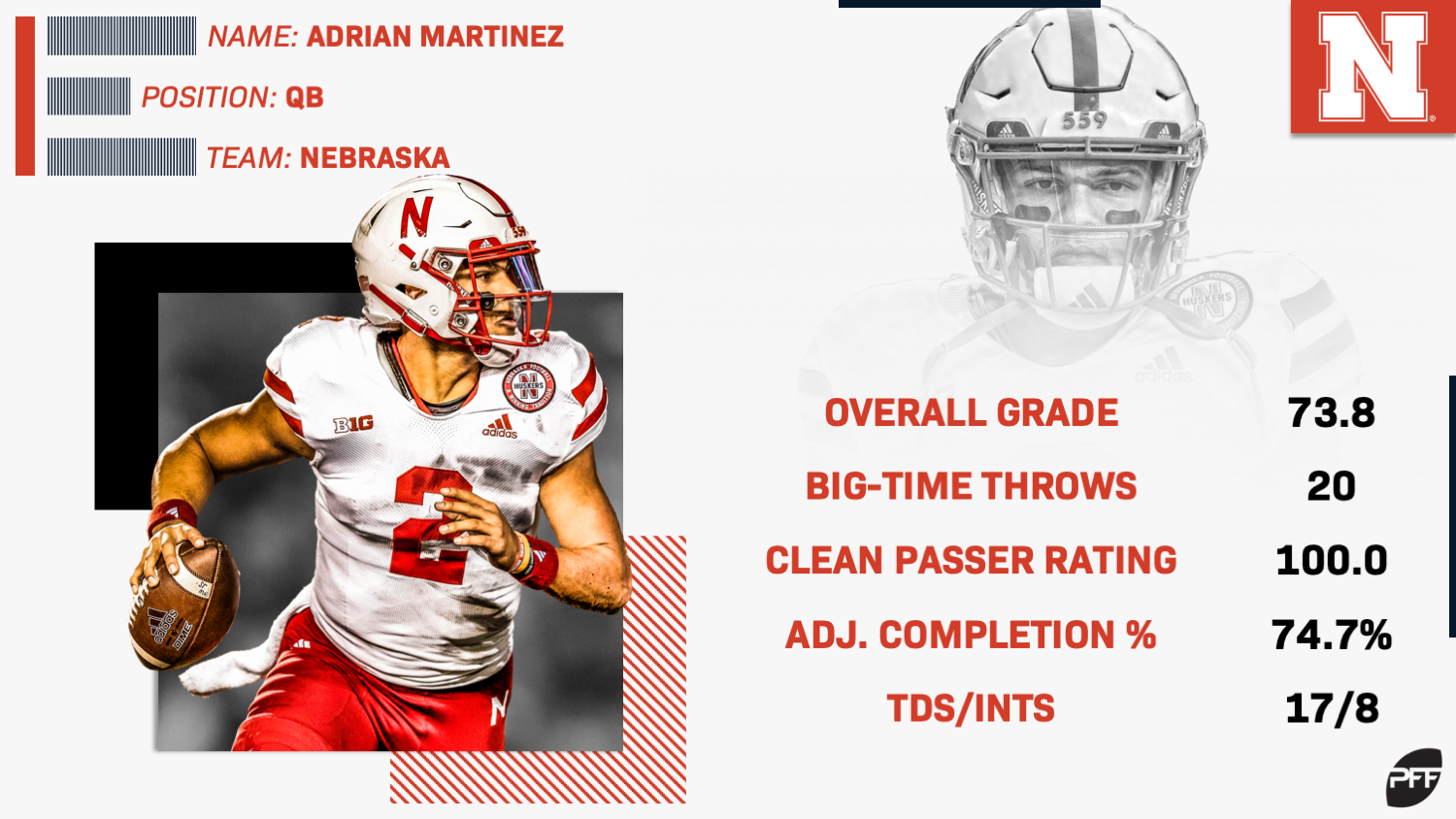 He showed an ability to make plays happen and led all true freshman quarterbacks with 13 touchdown passes on longer-developing plays (2.5+ seconds to throw) and he fits this tier of quarterback perfectly as he has all the tools but there is still work to be done not only with him throwing the ball but with his program around him.
Holton Ahlers, ECU
The first (and only) Group of 5 quarterback on this list, Ahlers took over at ECU after Gardner Minshew departed to Washington State and he finally outlasted Reid Herring. In five starts for the Pirates, showcased a skillset that is a rarity in Greenville as a dual-threat quarterback. In just those five starts and limited snaps elsewhere, Ahlers still led the team in rushing yards and forced 20 missed tackles on 104 carries while putting forth a slightly below-average passing grade. He limped through the end of the season and struggled in his final outing after an elite game against UConn but with a year to rehab an injury, he should return to form and if he were to take a bounce in Year 2 as a passer, may pressure to be a top-tier AAC quarterback.
JT Daniels, USC
Daniels entered the Trojans backfield as one of the more heavily-touted 5-star recruits of the 2018 class, and with sky-high expectations, largely disappointed as he finished with a 5-7 record, a 61.6 overall grade and just 14 touchdowns against 10 interceptions. There were moments in which he carried the team and showcased why he was indeed the 16th-ranked player overall in the class according to our friends at 24/7 Sports but a few bad stretches showcased the need to grow as a passer. Once again, the tools are there and if he can excel where he excelled a year ago and improve under pressure and outside of structure, Daniels could explode in 2019.
Dorian Thompson-Robinson, UCLA
DTR also entered his backfield in southern California as a highly-touted recruit and also largely disappointed in his first year. Like his counterpart at USC, Thompson-Robinson did do well from a clean pocket with above-average grades there but really struggled under pressure. His best game of the year came against Oklahoma but he had six games with a game grade under 60.0 which really turned his grade upside down. Avoiding the negative plays and improving his play under pressure will go a long way into his development this season.
True Freshman 2018 QB Grades
Trevor Lawrence, 90.7
Brock Purdy, 89.3
Zach Wilson, 80.5
Alan Bowman, 80.8
Sam Hartman, 75.6
Adrian Martinez, 73.8
Holton Ahlers, 69.5
Jason Shelley, 66.8
Kaleb Eleby, 63.7
JT Daniels, 61.6
Tyler Vitt, 61.3
Dorian Thompson-Robinson, 58.4
Clayton Tune, 57.9
Zack Annexstad, 53.7
Artur Sitkowski, 27.0