It was a strange Saturday of football last week and as we look ahead to the College Football Playoff, it will be interesting to see how much or little clarity we can derive from our data. Like all ELO systems (including our version for the NFL), PFF ELO is an iterative system that updates each team's rating after each game based on two things: how well they played against their opponent and how well they were expected to play against their opponent. The PFF ELO rating system measures the former using our unique offensive, defensive and special teams grades, while the latter is determined by the PFF ELO ratings leading up to the game and where the game is played.
For example, a heavy favorite playing at home is expected to outplay the visitor, so a victory would result in only a small rise in their PFF ELO rating and a similarly-small decrease in the defeated team's, but if an upset were to happen, the visiting team would see their PFF ELO rating rise substantially, and the home team's see a similarly-sized drop.
In a week where we saw Notre Dame and Georgia off in the top 10, Ohio State was handled by Purdue and LSU came away with a victory that was mostly on the back of turnovers keeping an inefficient offense afloat. The Big Ten appears to be on the outside looking in, despite another great showing from Michigan, while teams like NC State were found out in tough matchups.
Sometimes in football, the best team does not win, and PFF ELO accounts for these oddities by using our grades. Hence there will be teams rated higher or lower in this system than their win-loss record would suggest. Since PFF began charting college football in 2014, the difference in PFF ELO values alone has been able to explain over three-fourths of the variance in the closing Vegas line. Check back to profootballfocus.com for weekly college spread picks using this model and check out PFF Greenline for our NFL version of the product.
The PFF ELO College Power Rankings are brought to you by Eckrich, the Official Smoked Sausage of the College Football Playoff.
1.

Alabama rolled to an early lead and never looked back, thrashing Tennessee 58-21. Alabama now has a week off before their matchup on the road against LSU. Tua Tagovailoa is simply playing at a level we haven't seen before in college football. Among qualifying quarterbacks in the PFF era, Tagovailoa has the highest passer rating when kept clean and also the highest rating on deep passing. The Tide may have the most dominant player on both the offensive and defensive side of the ball with the play of Quinnen Williams who has 25 run stops while missing only two tackles. His 26 total pressures are tied for the most among interior defensive linemen.
2.
Clemson proved our model wrong on Saturday by absolutely blanketing NC State at home. Trevor Lawrence reaffirmed the faith head coach Dabo Swinney had in him by putting together his highest-graded passing game since becoming the starter. Lawrence has generated the second-highest EPA per dropback in the ACC at 0.16, with a minuscule 0.9% turnover-worthy throw percentage per attempt. Defense becomes pretty easy when you generate pressure at the highest rate in the FBS and the Tigers have also allowed a successful rushing play on less than 25% of early-down attempts meaning there is really no good options when facing the Clemson defense.
3.
Notre Dame dropped one spot on their week off as they prepare for a matchup against Navy. Their remaining schedule looks relatively easy with winning out firmly solidifying their position in the College Football Playoff. QB Ian Book has been an absolute revelation for the Fighting Irish. His EPA per dropback of 0.20 is a significant upgrade over what Brandon Wimbush was providing. Te'von Coney has been one of the best coverage linebackers in college football with a 43% catch rate allowed and his passer rating when targeted is just 30.5.
4.
Even with their stumble against Texas, Oklahoma remains the class of the Big 12, and it all starts with the quarterback Kyler Murray. Each air yard from Murray averages 1.25 actual passing yards – but unlike many quarterbacks that are helped by their support, Murray has generated positive and big-time throws on 39.7% and 8.5% of his dropbacks, respectively, so far this year. His 0.68 EPA generated per pass play is best in a wide-open conference, and bodes well for the Sooners future as they move forward.
5.

Georgia is up there with Alabama in terms of early-down success throwing the football but QB Jake Fromm has been buoyed quite a bit by support, as his 0.35 EPA per dropback is third in the SEC, while his PFF grade per snap is seventh. The average air yard from Fromm has been turned into 1.06 actual passing yards, which helps make up for the fact that less than 5% of his passes have been big-time throws in our system. With a defense that is allowing over 45% of early-down passes to gain success against them, we think the Bulldogs have an uphill battle for the playoff moving forward.
6.

While doubting LSU has not been profitable for those that have done it so far this year, they have not been the type of team, fundamentally, that you would consider a top-10 group. They are in the bottom half of the SEC in early-down efficiency both passing the ball and running the ball, while defensively they are allowing more early-down passes to generate success than teams like Kentucky, Florida, Alabama, Auburn and Mississippi State. Can they continue this way? It will be interesting to find out.
7.

Despite a slow-at-times performance against the Spartans, Shea Patterson and the Wolverines have been on the steady incline and have positioned themselves nicely for a run at the Big Ten title and a possible spot in the College Football Playoff. They are the most efficient defense in the conference, allowing roughly 35% early-down success rates on both run and pass while creeping above 50% in terms of early-down passing success. With tough matchups against Penn State and Ohio State still left on the schedule, the race to the finish in the Big Ten will be fierce.  
8.

Penn State is largely living off of a good performance against Ohio State, since the last two weeks, they have struggled in losing to Michigan State and having a game given to them by Indiana. On a per-dropback basis, quarterback Trace McSorley is the best Big Ten quarterback on a per-dropback basis, even though the Nittany Lions have generated a negative EPA on his dropbacks. His combination of efficiency and running ability should see those two things converge as the season progresses, which should help Penn State moving forward.
9.

They had a scare mid-game but eventually, the Badgers ended up beating Illinois in the snow on Saturday to keep their spot in our top 10. Alex Hornibrook continues to be an enigma, as his passer rating drops almost 70.0 points when going from clean to pressured. Jonathan Taylor didn't score a touchdown Saturday, but he did go over the 1,000 and 1,100-yard thresholds and might get over 1,000 yards after contact by the time the season is over.  If they can improve defensively, the Big Ten is wide open enough for them to make a run at it come season's end.
10.
Saturday was a shock, as Ohio State was a big favorite against a Purdue team that would not have been first on any list to upset a team like the Buckeyes. Dwayne Haskins dropped back a whopping 77 times against the Boilermakers and was able to generate 426 yards when clean and was sacked just once. David Blough matched him, though, generating 290 yards and three touchdowns from a clean pocket to go along with D.J. Knox' 70 yards after contact against an overrated Ohio State defense. They have to get better on that side of the ball if they want to compete for the title after being left out a season ago.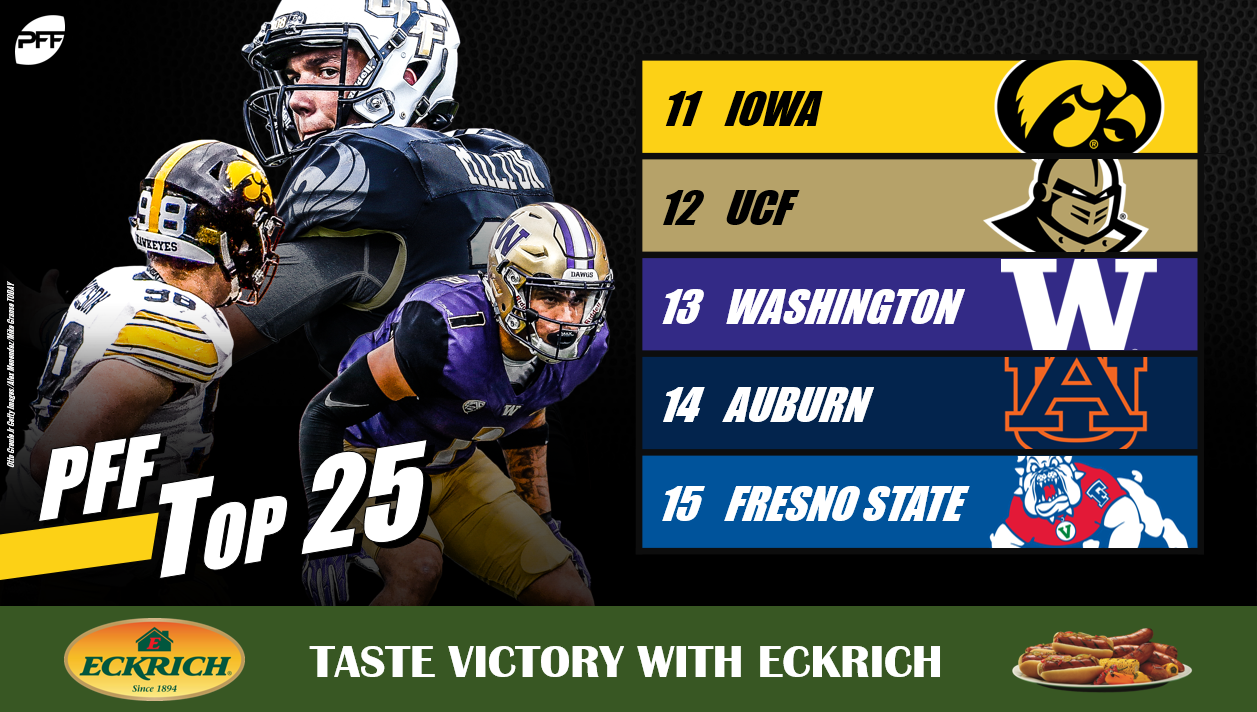 11. Iowa (+1)
12. UCF (-3)
13. Washington (-)
14. Auburn (-)
15. Fresno State (+4)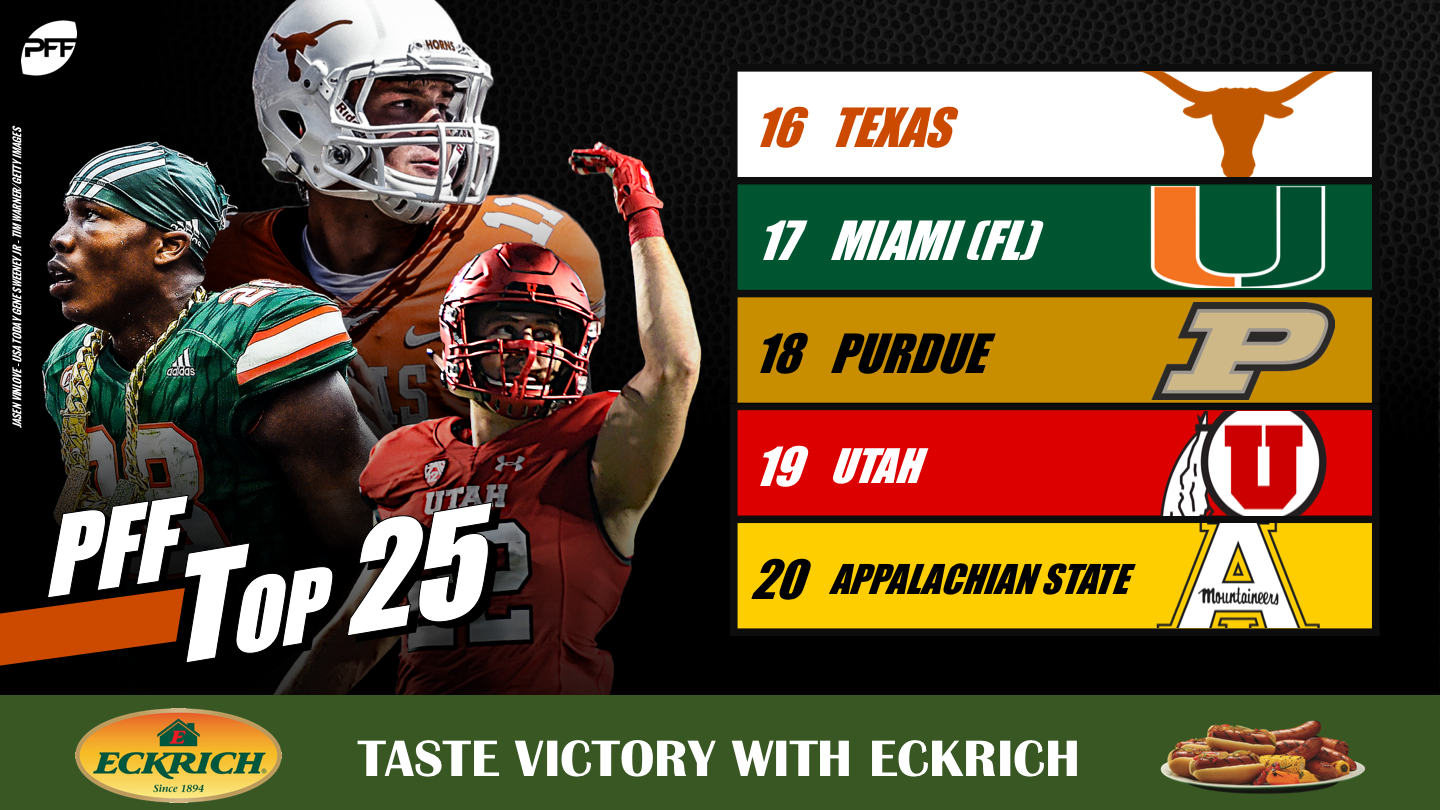 16. Texas (-)
17. Miami (Fl.) (+1)
18. Purdue (+13)
19. Utah (+4)
20. App State (+4)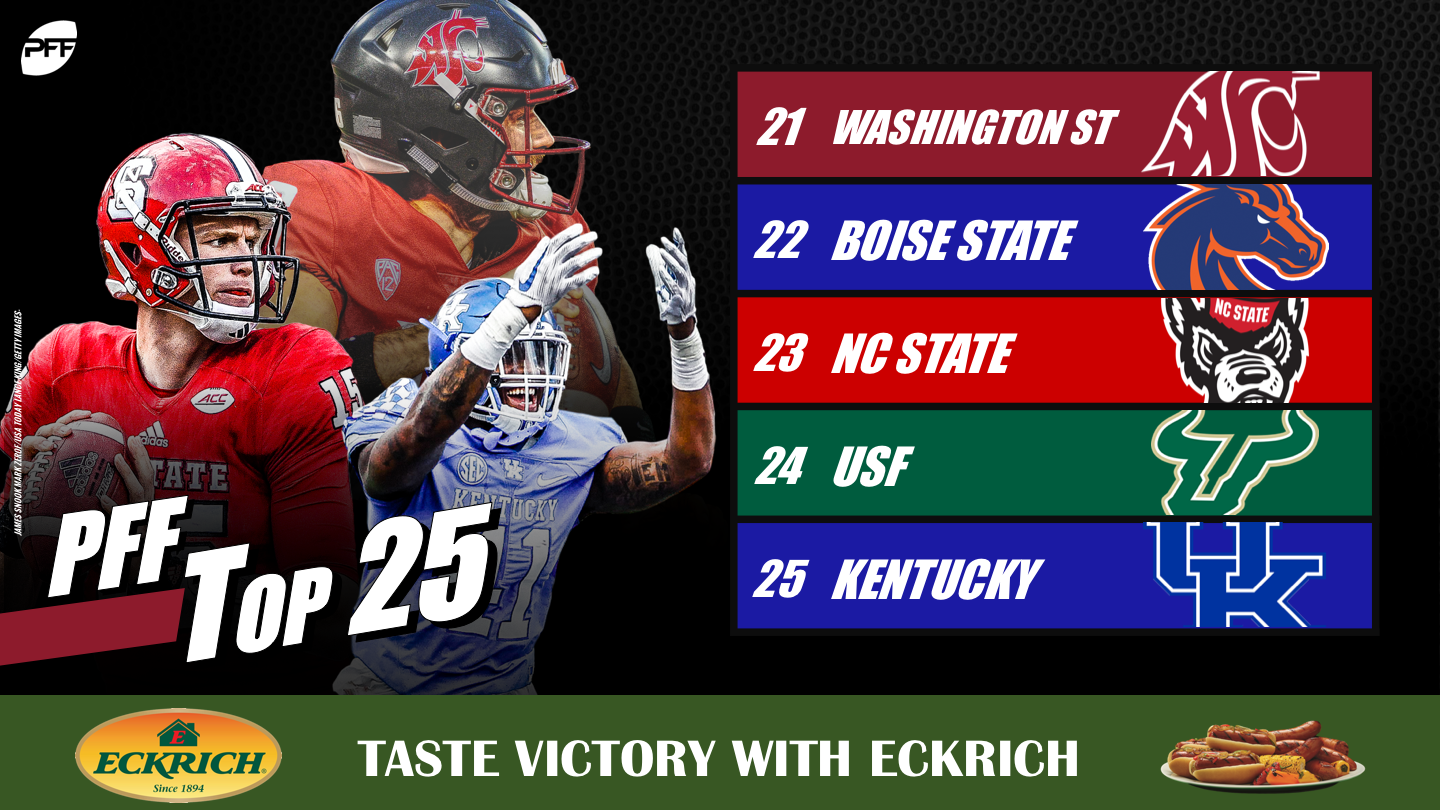 21. Washinton State (+4)
22. Boise State (+4)
23. NC State (-8)
24. USF (-3)
25. Kentucky (+4)