In just six (seven, if you count Week 0) weeks, Colorado's Laviska Shenault Jr. has transformed from a relatively unknown, unproven commodity into arguably the nation's top wide receiver (91.9 overall PFF grade, first among all FBS wide receivers). An unheralded three-star recruit from Texas, Shenault Jr. flashed with a 91.1 overall PFF grade as a true freshman last season, yet he was only on the field for a mere 44 offensive snaps.
The 6-foot-2 and 220-pound sophomore's evolution into a bona fide game breaker has emphatically launched into hyperdrive in 2018. Let's examine some of Shenault Jr.'s advanced metrics to understand what makes him such a special pass-catcher.
This feature is brought to you by Eckrich, the Official Smoked Sausage of the College Football Playoff.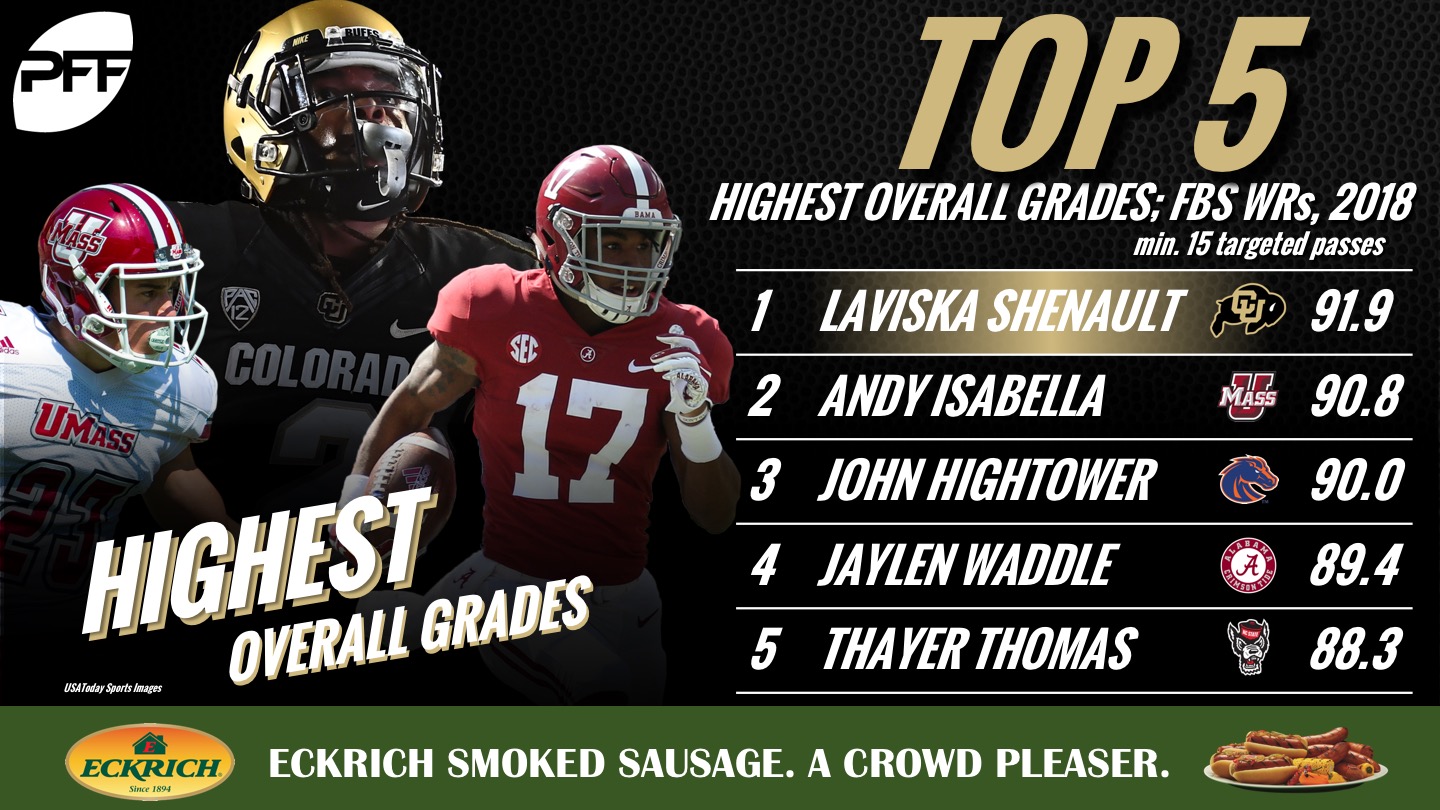 He catches everything
The most important quality in a wide receiver is the ability to catch the football and Shenault hauls in passes better than anybody. He has caught 52 of the 59 passes thrown his way for an 88.1% catch rate this season. Among the 187 wide receivers in the nation with at least 25 targets, Shenault Jr.'s catch rate tops them all. In fact, since PFF began tracking college football data in 2014, only one other wide receiver with at least 50 targets has ever had a catch rate above 88% (Ryan Davis in 2017, a 5-foot-9 slot receiving weapon from Auburn).
Shenault is a versatile weapon and operates out of the slot on 57.1% of his snaps. When lined up inside, Shenault's catch rate skyrockets to an astonishing 96.2% (first). Since 2014, no slot receiver has even come close to a 90% catch rate, let alone ventured into the upper 90s.
Of the 69 passes thrown to Shenault Jr. in his brief career, none have been intercepted. However, Shenault Jr. dropped his first and only pass in Week 1 against Colorado State. He has been perfect in that regard since.
Dynamic after the catch
Shenault's dynamic ability in the open field is unparalleled, where he has racked up 479 yards after the catch this season, most in the nation by nearly 100 yards. He has forced 19 missed tackles in the process, five more than any other receiver.
He is also wildly productive on a per route basis, averaging 4.54 yards per route run (third in the nation, trailing only Jerry Jeudy and Marquise Brown among 323 WRs with 20-plus targets).
Situational metrics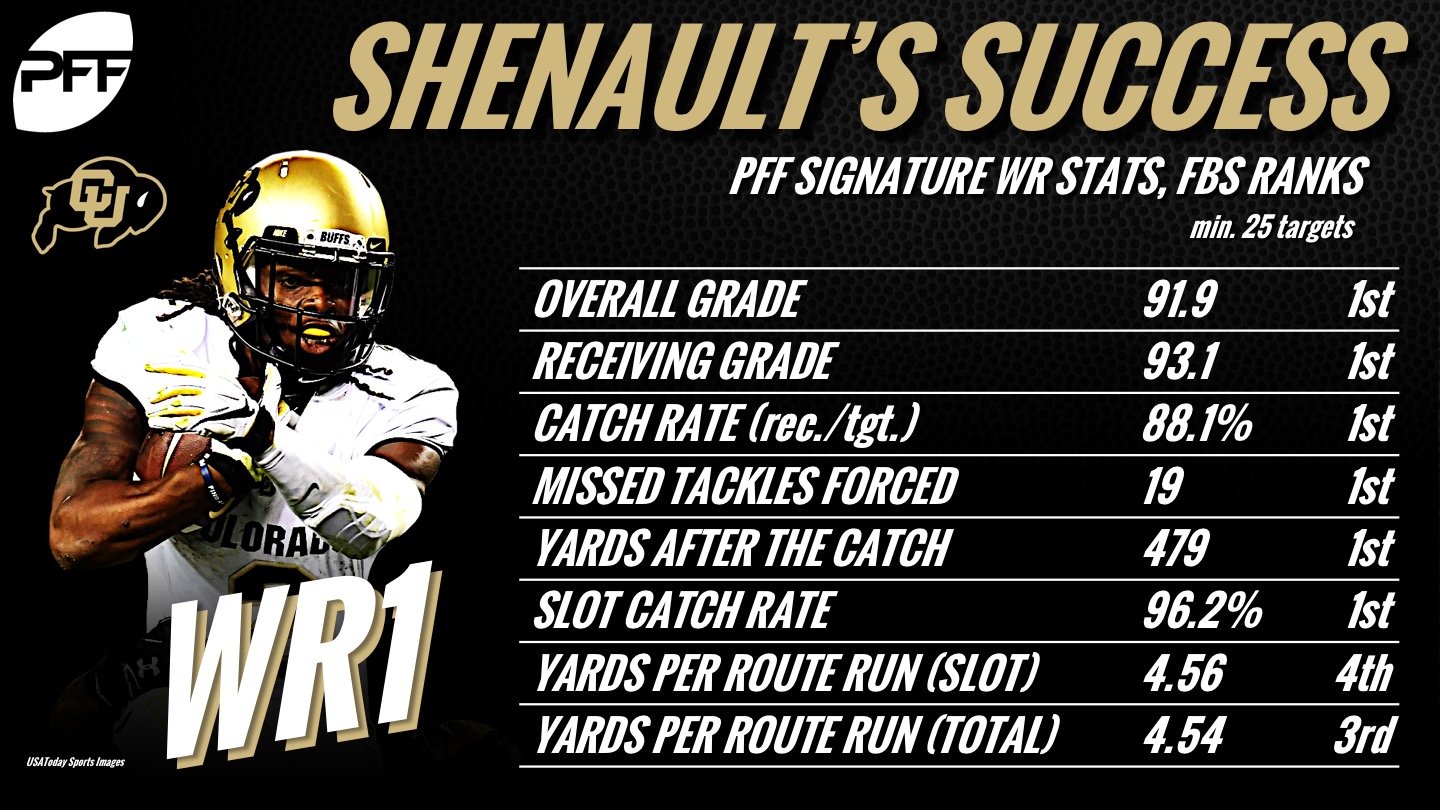 – Passes thrown to Shenault have generated a 151.1 passer rating (tied for third in FBS, first in Pac-12) and 28 first downs (tied for seventh in FBS, first in PAC-12).
– When the defense brings extra pressure with a blitz, Shenault has caught 16-of-19 passes for 295 yards, five touchdowns and a perfect 158.3 passer rating (all tops in the Pac-12).
– On quick passes with a snap to attempt of less than 2.5 seconds, Shenault has caught 41-of-46 passes for 472 yards, five touchdowns and a 145.7 passer rating (second in Pac-12).
– When the Colorado offense needs to convert on third down, Shenault has caught 10-of-11 passes for 239 yards, two touchdowns, five first downs and a perfect 158.3 passer rating.
Can USC slow down Shenault Jr.?
Undefeated Colorado has a must-win home affair with USC looming in the Pac-12 after-dark slot this Saturday night. The winner of this de-facto Pac-12 South elimination match will hold the all-important conference tiebreaker and if they run the table, will head to the Pac-12 Championship.
The key to this game lies in USC's plan to slow down Shenault Senior USC slot cornerback Ajene Harris (62.7 overall PFF grade, 25th in Pac 12) will take his best shot at one of the nation's premier receivers. Outside of a rough outing in Texas where the entire defense struggled, Harris has been dynamic in slot defense, allowing 1.20 slot yards per cover snap (seventh). Throw out the Texas debacle and Harris' numbers drastically improve to 0.65 slot yards per cover snap (second) and just a 71.0 passer rating when targeted.
When Shenault lines up on the outside (42.9% of snaps), he will likely be covered by Iman Marshall (77.1 overall PFF grade, tied for fourth in Pac-12). Marshall has been USC's most consistent cornerback on the season and quarterbacks rarely look his direction, targeting receivers in his coverage every 10.2 cover snaps (third-lowest rate).
Final word
Shenault has exploded on the field this season and is well on his way to becoming a household name across the country. He'll attempt to keep it rolling and cement his name as the nation's best receiver when he goes up against USC and the Pac-12's fifth-ranked coverage unit.